APAC South came to a close this week following five weeks of play. As the top four teams all prepare to face the best of the North and South Asia, here's a rundown of all the action since Stage 1 kicked off.
Jump to:
The Teams
Four teams from the 2020 Oceanic Nationals and the four Southeast Asian participants of 2020's APAC North Division had been joined together to compete in the APAC South Division this year, with the following lineups for Stage 1:
Knights -- Dino, Hayward, Jsh, Juicy, Sageon, Pikniq (coach), and Sketchy (analyst)
Wildcard Gaming -- EmoRin, Giovanni, Pat, Vincere, syliX, and Fluxx (coach)
ORDER -- JackDaddy, Cutie, ItBeStyle, JKR, Speca, and Nikoh (coach)
Chiefs Esports Club -- Dgtl, Vast, GodLeg1on, Worthy, Fishoguy, WarTurtle (coach), and Hell (analyst)
Giants Gaming -- Lunarmetal, Ysaera, HysteRiX, SpeakEasy, jrdn, and GiG (coach)
Elevate -- Sapper, DCH, Nay..Pew, sprOnigiri, AnGryX, Dr.Bestsiar (coach), and redsun (analyst)
Qconfirm -- Lycolis, Producerboom, Hajime, Roldinii, Darkk, and CheckmATE (coach)
Seventh Heaven -- Ray, Pikan, Ed, Souffle, S1no, Odin (coach), and Ratio (analyst)
While ORDER picked up Ōkami and Electrify left their organisation in the pre-season, the biggest change happened just before Day 4, when The Chiefs Esports Club entered the scene by picking up the Elevate roster, with Elevate then acquiring Xavier Esports in return.
The rosters above and when referenced below are with their current organisations, not their pre-season organisations.
The Chiefs CEO, Nick Bobir, stated the following about the pickup in their announcement article:
We've been keeping our eyes on Rainbow Six for several years now. We love everything that Ubisoft have been doing in the space, in particular their willingness to work hand in hand with esports organisations to create a thriving esports ecosystem

We touched base with Ubisoft several times a year to see if the right opportunity ever became available. Finally everything clicked into place with a strong performing team and a great group of guys willing to do what it takes to keep climbing. We couldn't be happier to dive head first into the scene.
As for players, Chiefs picked up Fishoguy from Noble to replace Hotshot, while HealthcareOG was benched on Qconfirm for the first half of the season due to academic commitments.
HealthcareOG was then replaced by their sub of Darkk, but, most notably, Wildcard's captain of Diesel was benched indefinitely due to "unforeseen personal reasons", forcing their coach of syliX to sub-in after not having played for nearly two years.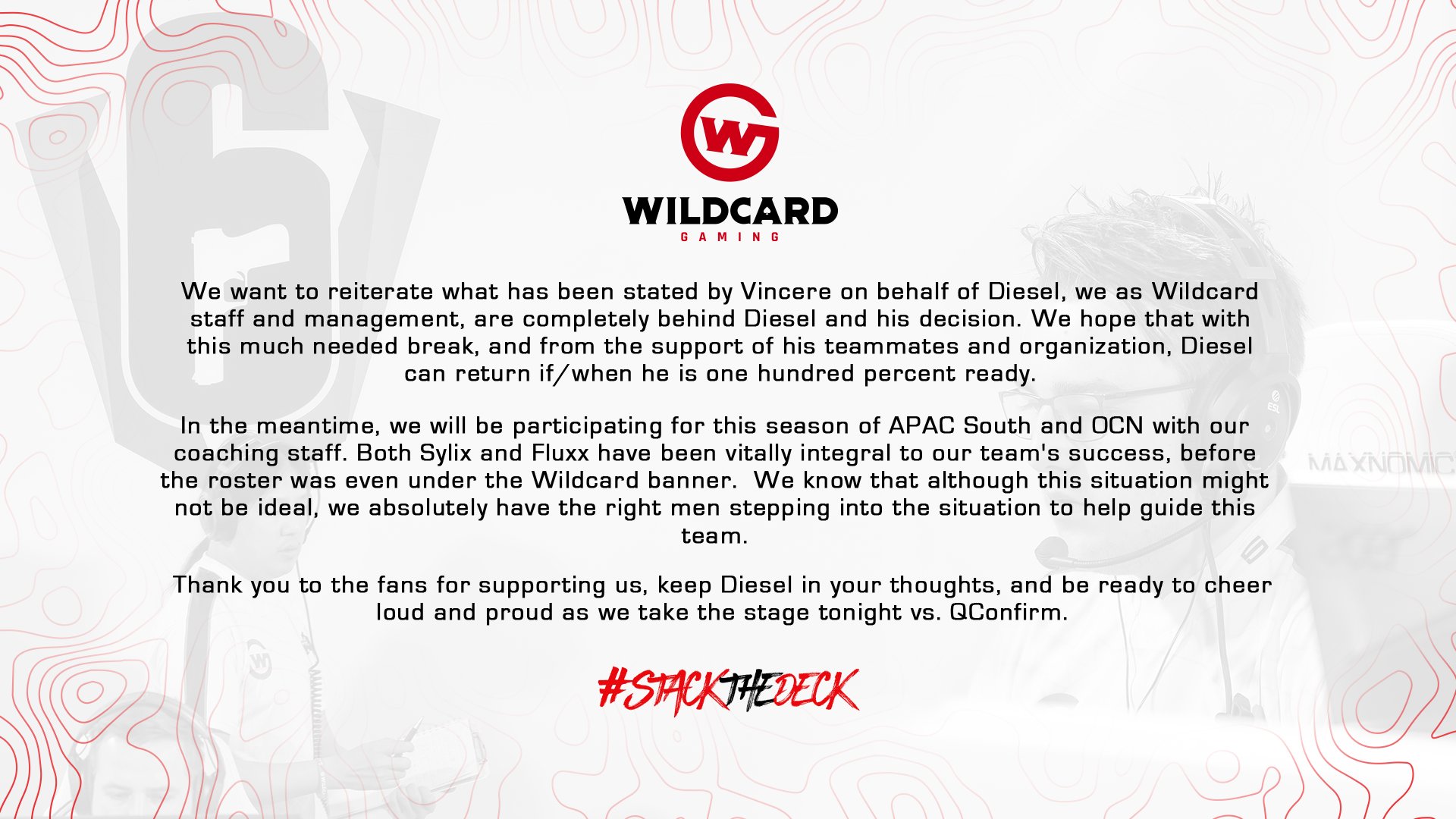 These relatively few changes meant that the new APAC South rosters remained the most consistent between seasons of any league in the world, with LATAM and NA seeing multiple entirely fresh new teams entering the league.
Nevertheless, the standings for OCE and SEA rosters have been pretty much reversed, compared to 2020 as new challengers upset the status quo.
The Season
Week 1
The league began in mid-March with a number of upsets from the get-go. While Giants and Wildcard both led their respective SEA and OCE scenes throughout 2020, both were toppled by the two Thai rosters of Elevate and Qconfirm.
Starting with WC vs Qconfirm, EmoRin's executes on Gridlock initially worked well on Kafe as they gained an initial two-round lead, but four triple-kills came from four separate players on QC across the remaining four rounds in the first half gave them the lead.
This fragging prowess continued as the sides swapped all the way to a 7-2 end as the same four players all achieved a 2.0 K/D or higher.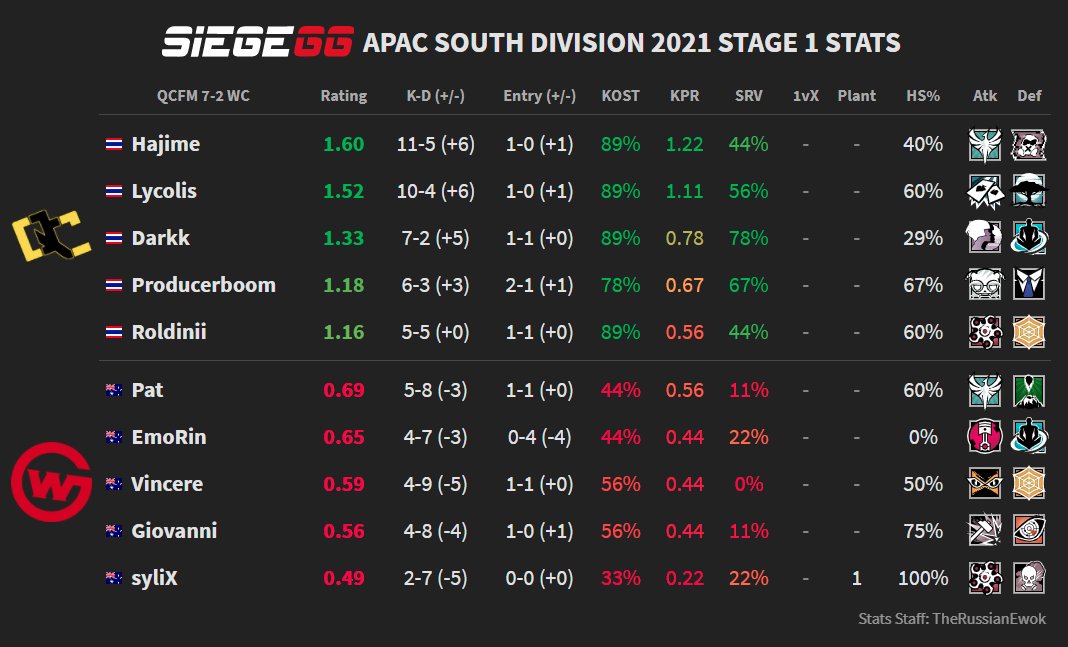 Giants vs Elevate, meanwhile, was Elevate's game throughout. Despite a quad-kill from HysteRiX giving Giants Round 2, Elevate looked to be much more organized and were getting the kills needed as a 1v1 from Nay..Pew put them ahead to an eventual 4-2 half.
In a rather remarkable switch, the second half initially saw Giants win their opening defense, only for them then to lose three rounds in a row in a flawless fashion, giving the match to Elevate, 7-3.
A third upset also happened between 7th Heaven -- previously known as Electrify -- who finished APAC North last year in 11th and ORDER, OCE's Regional Major runners-up. Here the standout player was Souffle who, as well as going 12-5 also got the only plant of the match and clutched a 1v1 on their way to a 7-3 victory.
Finally, the Knights continued their winning streak against the Chiefs in a 7-4 scoreline to add to their prior APAC League 2020 title and OMEN Gauntlet title won in the months prior.
Week 2
Kicking off playday two came another test for 7th Heaven who, after shocking ORDER the week prior, now had to face the Chiefs.
After the game went back-and-forth for the entirety of the first half, 7th finally broke the mold to win three rounds running and reach map point at 6-4. The Chiefs fought back, though, with a flawless round 11 and a two-second triple kill from GodLegion on round 12 to put the game into overtime.
Here, the Chiefs closed it out in two fairly easy rounds to get two points and their first win.
In a somewhat similar game, after week one's results both ORDER and Wildcard were eager to get their first wins after heavy losses against SEA opponents. These two teams met on Oregon and were even through Giants' defensive half thanks in part to a few massive plays from SpeakEasy.
Giants broke the status-quo on round 10 to go up 6-4 before ORDER pushed it to overtime with a 1v2 victory by Speca on round 12 by time. Finally, Giants closed it out with two overtime round wins which include a HysteRiX 4k on round 14.
Elsewhere, Wildcard's woes continued with a 3-7 defeat to Elevate with a 4k by Pat being the net improvement compared to week one's 2-7 loss.
Finally, Knights got another impressive win, this time against Qconfirm as they effectively ran through their opponents with ease. The lone obstacle in their way was seemingly Lycolis who held his own on Maestro and Ace and achieved a number of notable plays including a quad-kill on round five to win one of QC's only two round victories in their 2-7 defeat.
Week 3
Week three was in fact the last with the normal schedule before the two following super-weeks. This single playday saw a relatively mundane set of results with no real upsets, however, did still provide some good action.
Starting with Knights vs ORDER, this game was a lot closer than expected considering their prior record this season with ORDER having two losses while the Knights had two wins. On Villa, Knights initially got an advantage before ending their offensive half 3-3 after a number of very quick attacks.
While the second half also ended 3-3, it was much closer with four total clutches; a 1v1 from Jsh on Jager, 1v2s from Dino, and ItBeStyle on Melusi and Zofia, and a final 1v3 from Jsh on round 12 to put the game into overtime. Here the game went all the way to round 15 where a post-plant retake from Jsh and Dino won Knights the map 8-7.
Next up was Wildcard's third game, this time against 7th. Unlike their prior games, this started very well for WC with a 1v1 by EmoRin starting a very strong set of attacks which took them to a 4-2 half win. A short comeback from 7th on their own attacks was shut down on round 10 where two 3ks in a row from ray and Vincere ended the map, 7-4.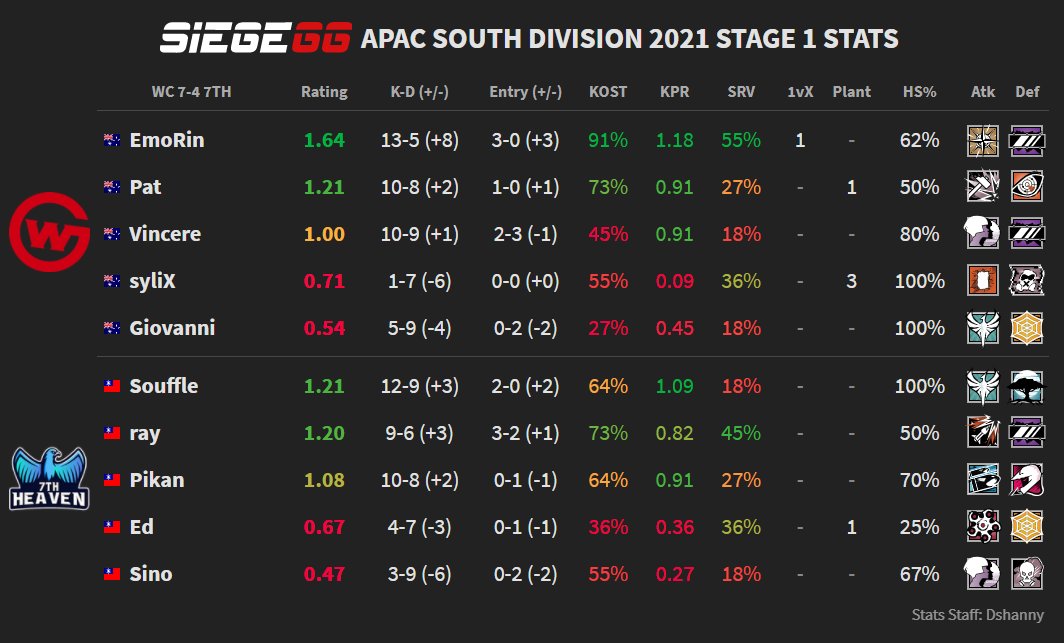 Finally, Giants and Elevate both also found wins against the Chiefs and Qconfirm with HysteRiX excelling for Giants and a 1v2 by sprOnigiri being the difference in his matchup:
Week 4
APAC-South's first-ever super-week started on April sixth with the Chiefs Esports Club's R6 debut. This game against Wildcard was initially even until Vast stepped up with subsequent triple kills putting the game from 2-2 to 4-2 in Chiefs favor. In a very similar story to WC's prior game, WC did manage a very short-lived comeback with two round wins before Vast once again ended it on round 10 with a quad-kill Dgtl giving Chiefs the 7-4 win.
Following this was the debut of Elevate's new roster who then sat as the undefeated leaders of the league. This game against ORDER started off incredibly close with the two teams even well into the second half as a frag battle evolved between sprOnigiri and ItBeStyle.
The back and forth was broken on round 11 where despite two kills from sprOnigiri, Elevate ran out of time in a 2v3 situation giving ORDER map point which they won once again by the clock as sprOnigiri suffered an opening kill and Chiefs were left in another 2v3 with no time remaining.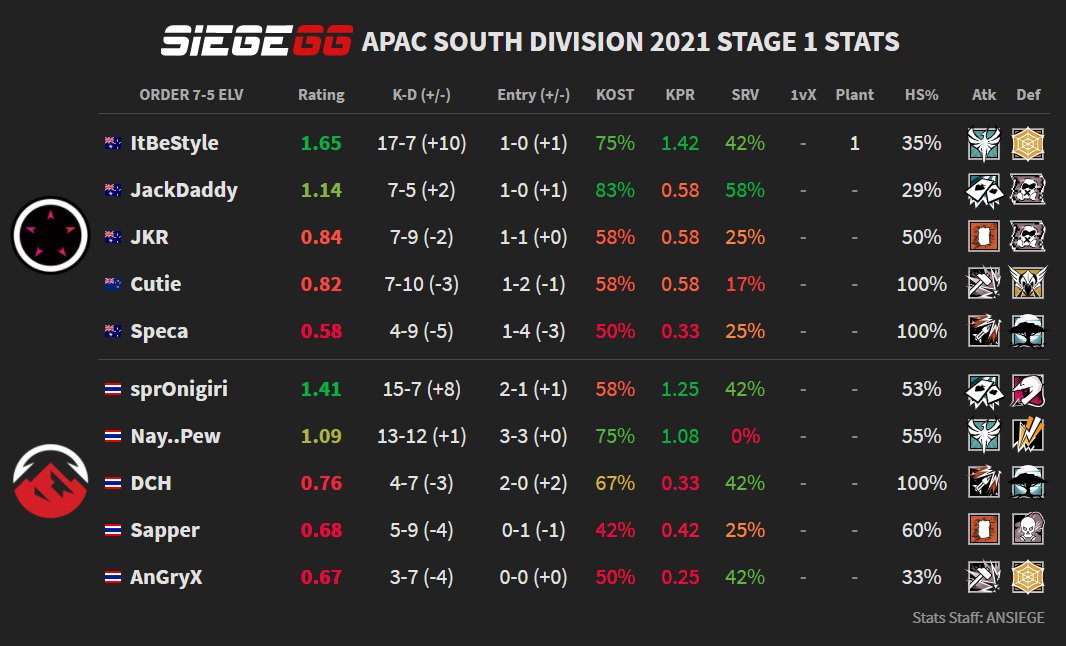 The day ended with Giants losing to QC putting them down to joint fourth with three other teams while 7th Heaven took Knights to overtime thanks to three total 1vXs before eventually losing 6-8. With Elevate losing their game, this win put the Knights atop the league table.
Two days later APAC South returned which immediately began with Knights losing their top spot to Elevate once again. This is as the opening game of Knights vs Wildcard on Villa saw outstanding performances by Giovanni and EmoRin to take Knights to round 12 which Gio then took with a triple kill.
This loss then gave Elevate the opportunity to get back their spot straight afterward as they faced the Chiefs -- the ex-Elevate roster -- who were playing with Milostka subbed-in due to Dgtl being ill. Despite Milostka playing pretty well and even securing a 1v3 by round timer, this was one of just two rounds the Chiefs won with DCH excelling with 15 kills to three deaths across the nine rounds:
Finally, the week ended with two more close games in QC vs ORDER and 7th vs Giants. The former game saw another frag battle between Producerboom and ItBeStyle with ItBeStyle peaking with a 1v1 post-plant 4k while consistent mult-kills from Producerboom won the action-packed map, 7-5.
Finally, in another 7-5 scoreline, 7th took their second win of the season against Giants after two close defeats in the prior weeks. This game stood out due to the sheer number of clutches with a 1v1 from SpeakEasy and three 1v2s from SPirited, Pikan, and Lunarmetal:
Week 5
And so, finally, we came to the closing week of action which once again saw two playdays take place on Tuesday and Thursday.
Firstly, Tuesday saw two notable upsets, the biggest being Chiefs vs QC. While Chiefs sat down in seventh place with just one clean win the entire season, Qconfirm was third, just three points away from leading the league. This meant that when Chiefs won in the first and only 7-0 of the APAC South season, it was quite a shock.
This result came despite HealthcareOG securing an ace on defense -- he couldn't disable the defuser in time -- and with QC winning most opening engagements as they kept on losing simple gunfights in the late round. The result pushed Chiefs up to joint fourth while QC remained in third but lost any hope in winning the league.
Elsewhere, Giants and Wildcard both lost key games against ORDER and Knights which put both of the SI-qualified rosters out of the running for a playoff spot. While the results had been trending this way throughout the season, this was still quite a shock. While WC can somewhat explain the bad performance due to them playing with a stand-in, the results are much more troubling for the Giants who had hoped SI2021 would be their big breakout after their APAC North success last year.
The fourth game ended in a somewhat expected result as Elevate beat 7th Heaven 7-4 which initially saw 7th ahead 4-3 before Elevate won four consecutive rounds which included clutches from Nay..Pew and AnGryX:
And so with those results, a single playday was left to decide who came first, last and who will continue on into the APAC Playoffs:
Firstly, Chiefs vs ORDER in which the winner qualified for the playoffs. Here, after a tied first half, Chiefs won all four of their attacks on Coastline making this the best tournament performance to date from the Chiefs roster. For ORDER, meanwhile, this comes as a major disappointment as 2020 had positioned themselves as an OCE title contender and this was the last game for ItBeStyle -- the team's top-performing player -- before his move to a coaching role.
Next up was the battle for first between Elevate and Knights. After a number of one-sided rounds, the game really picked up with Knights up 3-1 as a 3k from Sapper and a 1v1 from Nay..Pew tied up the game. With Elevate moving to attack, they continued their streak with eight kills from sprOnigiri including a 1v2 giving Elevate the APAC South title!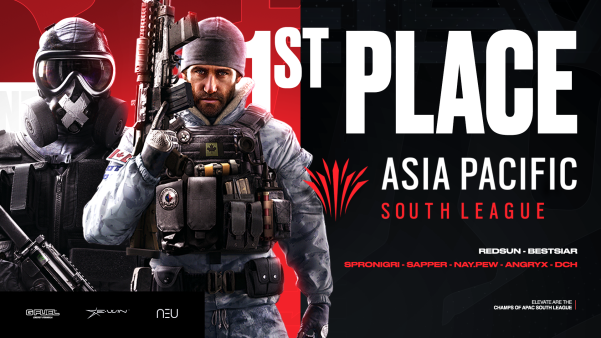 Another battle for playoffs up next between two SEA teams in 7th Heaven vs Qconfirm which was a somewhat similar game. An initially close match was first tipped to 7th favor due to a 1v1 by SPirited giving them a 4-2 initial lead before they then ran away with their Consulate defenses with a lone flawless round from QC stopping their march to a 7-3 win.
This meant after finishing APAC North 2020 in 11th place, 7th Heaven will play in the Stage one playoffs while Qc will just miss out.
Finally WC vs Giants in the battle to not be last:
On Kafe, Wildcard initially took the lead on the attack thanks to a very successful upstairs clear to the site before then losing two rounds due to back time management. Giants added to this with an almost flawless round four, a post-plant 1v1 from HysteRiX against Vincere, and a 3k from Lunarmetal to take the half, 5-1.
Finally, Giants closed it out with two triple kills in a row from HysteRiX to take the game 7-1 and end the APAC South season. This result pushed them up to sixth above ORDER and WC and just three points shy of a playoff position:
What's Next
With this league now over, the top four teams will progress to the APAC Playoffs taking place next weekend from the 23-25th of April.
This playoff will see two separate tournaments take place. Firstly, the winners of the APAC North and APAC South League -- Elevate and either C9 or CYCLOPS -- will face off in the Stage Championship where the best team in APAC will be crowned. This tournament is worth a massive $93,750 and offers 900 SI Points meaning the victor will get a spot at SI2022 even with mediocre results for the rest of the year.
Secondly, the second to fourth-placed teams in APAC North and South as well as the top two South Asian teams will play in a double-elimination playoff for $43,250 and a further 1265 SI Points.
At the moment just the South teams of Knights, Chiefs, and 7th Heaven are confirmed for this with the APAC North League ending tomorrow and the South Asia Playoffs happening this weekend.
Finally, the two APAC South teams of Wildcard and Giants Gaming will compete at the upcoming Six Invitational in May which they both qualified for last November.
---
Keep an eye out here at SiegeGG for full coverage of these games over the next few weeks as Stage 1 comes to a close in APAC.