One of the biggest Oceanic esports organisations, The Chiefs Esports Club (ESC), has signed the Australian roster of Elevate midway through Stage 1 of the 2021 APAC South season, excluding the substitute of Joseph "Milostka" Kaleske.
Chiefs ESC are a well-established organisation in the region, fielding teams in Counter-Strike, Rocket League, Fortnite, Street Fighter V, and, most notably, League of Legends (LoL).
The Chiefs are perhaps most notable in LoL, with a team first in the Oceanic Pro League (OPL) and now in the LoL Circuit Oceania (LCO). In the OPL, The Chiefs had won the first four splits in a row, dominating in 2015 and 2016, while second in four other splits, and third in three.
Its Rocket League team also finished in the top-four at the RLCS World Championship in 2017.
To know more, SiegeGG spoke to Josh Harvey, from The Chiefs' management:
Congratulations on joining us here in Siege esports! What made you considering signing a roster in Rainbow Six and one in ANZ?
Thanks, it's awesome to finally be involved in Siege esports. We have followed the scene closely for a couple of years now and have been in constant contact with the local Ubi ANZ team about possible points of entry for us over that time, but it wasn't until now that all the pieces fully aligned.

Ubisoft have done an amazing job growing the esports ecosystem here, which has gone from strength to strength domestically and internationally.
What made you settle on this roster and what are your expectations of it?
The team has impressed us both with their performances in server and their general passion and demeanor. They have been really good to deal with so far and eager to play under The Chiefs and call us home.
Was this an expensive buyout or something reasonable at this time, especially given the situation with COVID-19 having a big financial impact all around?
I think it was reasonable and at a value that all parties were happy with. COVID has obviously had a massive effect on people and business financially around the world, but that being said, things such as contracts do still have a value that should be upheld in the interests of integrity.

We think Rainbow Six: Siege is a worthwhile investment and aligns to our objectives and growth plans, so it was quite an easy decision for us.
What kind of support will you be offering your new roster, especially being a local organisation?
We have quite a few plans in place thanks to our awesome partners and we can't wait to have them rolled out in due course. We are definitely here to support both the team and the wider local ecosystem with our involvement.
The Chiefs' entry marks only the second Australian organisation in APAC South, with ORDER being the only other such organisation and both having Australian rosters.
The newly-signed Chiefs Rainbow Six roster had been playing in Stage 1 of the 2021 APAC South season and the Oceanic Nationals under Elevate.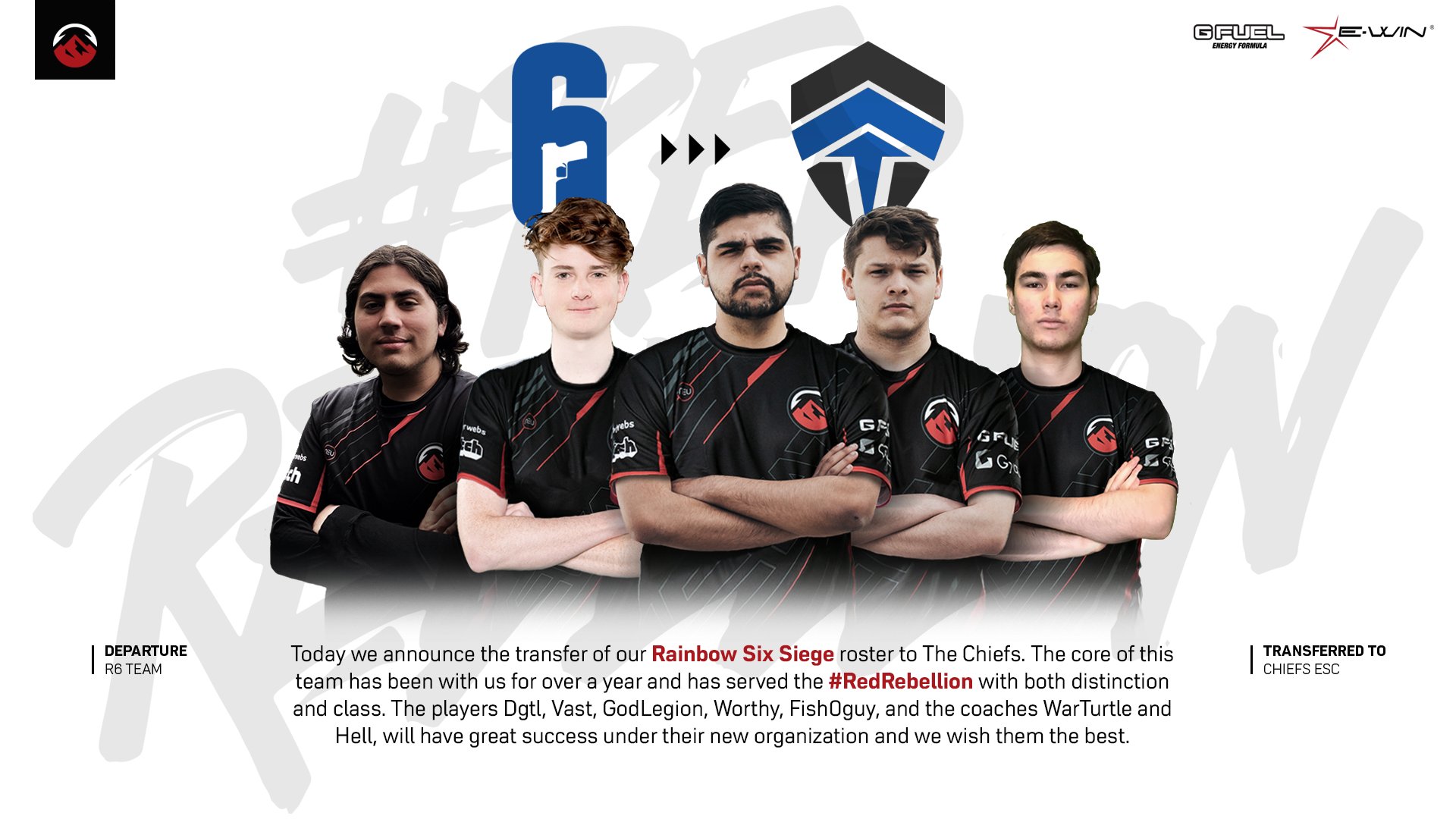 The American organisation had signed the Australian roster just a year prior, but has now accepted a buyout offer from The Chiefs.
While playing well in the Nationals, currently third with nine points from five games, the roster is currently second-from-bottom in APAC South, ahead of ORDER. However, Elevate had finished second in ANZ in Season 11 of the ESL Pro League in 2020 and second in the REKT Omen Gauntlet earlier this year.
The Chiefs will thus be hoping their signing helps their roster achieve its former Pro League glory once more, now with added support from a home-grown organisation.
Catch this new roster in action later today, as it takes on the struggling Wildcard Gaming in APAC South in what could be its first regular-time victory this season.