Having kicked off on the 9th of April, the GSA League is the biggest national Rainbow Six Siege tournament in Germany.
The GSA League is considered one of the strongest European national tournaments as three European League teams are part of it, which include Rogue, Team Secret, and the current champions of G2 Esports.
Teams will be playing each week to win a part of the prize pool, which is valued at €40,000. Moreover, five rosters will be fighting to get their hands on the invitation to the European Challenger League for 2021.
Read on to find out what went down in the first week of play from the best in Germany.
Day 1
The very first game in GSA League 2021 saw Rogue take on a GoSkilla playing with Kapkan as a stand-in for M4DMAN for the first five play days.
While Rogue is considered a strong candidate to win the championship, GoSkilla are labelled as one of the favorites to take the Challenger League invitation, as their roster has members with previous experience not only in Challenger League but also in European League.
The map vetos took us to Clubhouse, a perfect map to kick off a German competition. The very first round was packed with action as both AceeZ and Solotov got triple kills, but it was Exp0 who gave his team the round as he clutched it in a 1v1 situation with less than 10 seconds left.
The first half of the game ended with a 4-2 result in favour of Rogue. After swapping roles, Rogue were on the preferred defense, but GoSkilla won the very first attack after Mekses led his team with a quad-kill. However, Rogue did not capitulate and quickly closed out the match, as the European League roster only conceded five kills in the last three rounds combined.
Undoubtedly, Rogue's MVP of the game was AceeZ, who finished with 14 kills closely followed by korey, with 10. LeonGids, with an impressive 100% KOST, also left a very good impression.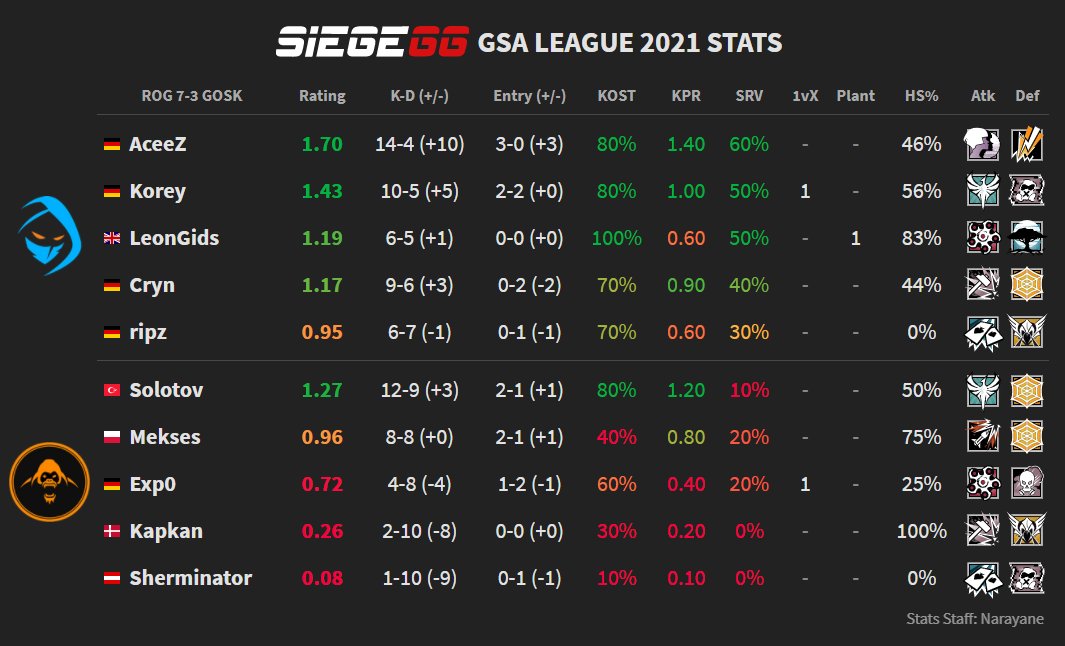 The most anticipated game of the day was undoubtedly the first match between two European League competitors. And, despite having British citizenship, a very well-known member from G2 took control of the German region for a brief moment.
CTZN's game was incredible as he secured 17 kills — and a K-D split of +15 — in just nine rounds, numbers that gave him an impressive rating of 2.20. This was 1.05 more than Kanto, who finished in second place with 1.15.
Kayak was the only G2 member of the game with a rating under 1.0, probably a victim of G2's playstyle in Germany, which is completely different to the one seen in Europe.
G2's GSA play reminded us of the team we saw in the previous edition, where players rotated roles, as they were constantly picking operators not usually seen in official games, such as Kapkan, Tachanka, Vigil, Zero or Amaru.
The same could be said of Secret, as we saw them with operators such as Frost or Warden.
Despite starting on defense, Team Secret only won one round, as SlebbeN helped his team with a triple-kill. G2 Esports quickly put the game onto match point (6-1); despite Secret surviving to the first one as Drvn got a triple-kill, but a two-piece from Kayak in the last round condemned Secret to a 7-2 loss.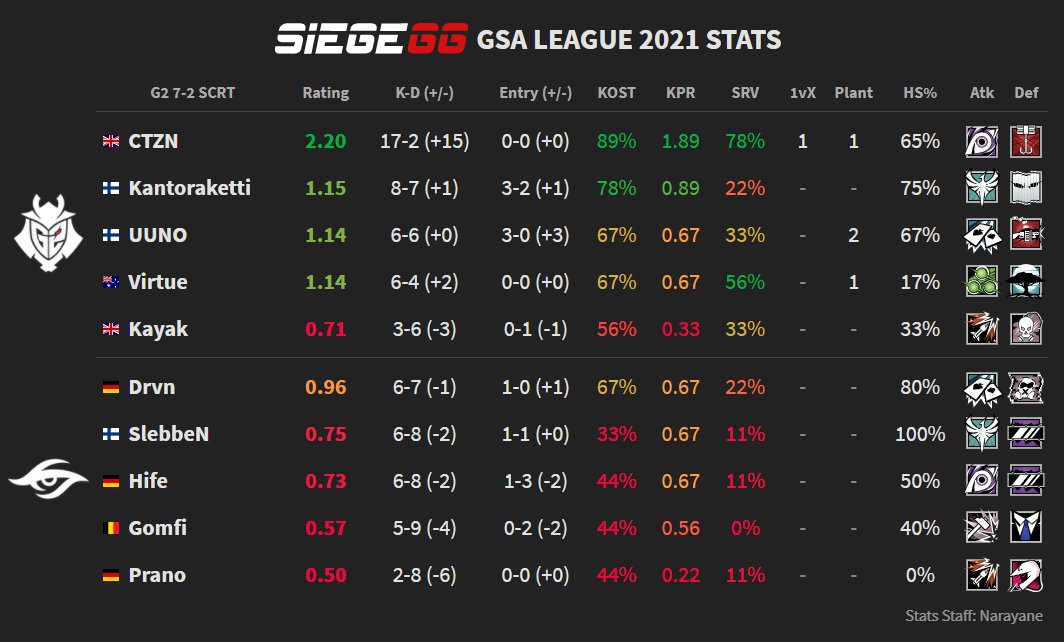 Playing on Oregon, Looking For Org was the team that had the better start, as they won the first two rounds. After a great double-kill, Acelele was free to defuse and give his team an initial 0-2 lead.
But that is where the real game began. SSP managed to win three rounds before half-time, equalizing the score before swapping sides. Now, on defense, the team quickly took control of every round and won by a comfortable 7-3 margin. The best round of the match was undoubtedly the one with BZ's 1v3 clutch in Round 9.
SSP's performance was led by Tooobi, BZ and Gisela, who ended with ratings of 1.77, 1.76 and 1.33. However, both Daya and Zenoxo ended with ratings under 0.7 and got a combined total of five kills.
This means that those three huge performances were vital for SSP's success in their GSA debut. It is worth noting, however, that both Tooobi and BZ have two of the current three best ratings in the league and are only surpassed by CTZN's impressive game.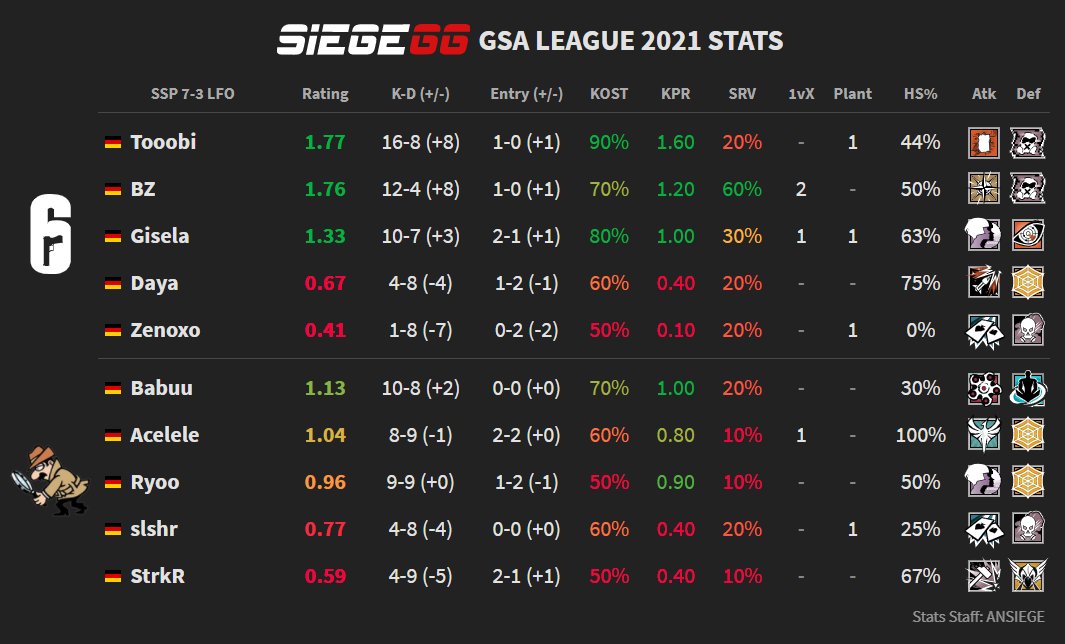 The very last match of the day saw PENTA returning to Germany's top-division after their brief path in France. And what a game this was.
The match was played on the newest map in the competitive map pool, Chalet. GC's start to the map was brilliant, as a doube-kill from Konkih in the first round and a 1v1 clutch by Paiin0 with Frost in the second gave their team the lead.
However, it did not last for long as two successful attacks by PENTA — with Sadrzm getting a quad-kill in the fourth round — quickly equalised the score.
Both teams were matched when swapping sides and, considering that Chalet has been a defensive map so far, PENTA were the favorites to take the early lead. But, that did not happen, as GC won their two attacks onto Kitchen/Dining.
However, PENTA arrested the slide just in time. Sadrzm, who finished with a solid 1.42 rating, was key as he got a give kills in the following two rounds. With the score tied at 5-5, PENTA took control of the game and did not let the win slip through their hands.
Looking at the stats, we can note that Sadrzm, Levolution, and wiNo led PENTA to their first win in the competition, as they all finished with ratings over 1.2. It is also worth mentioning that Levolution scored a 92% KOST.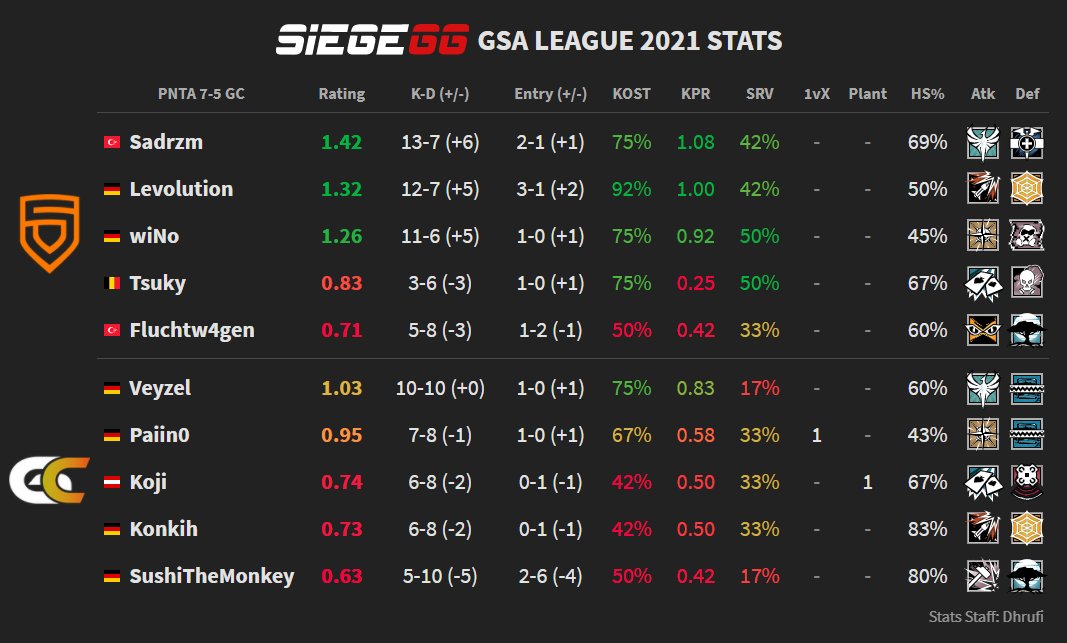 What's Next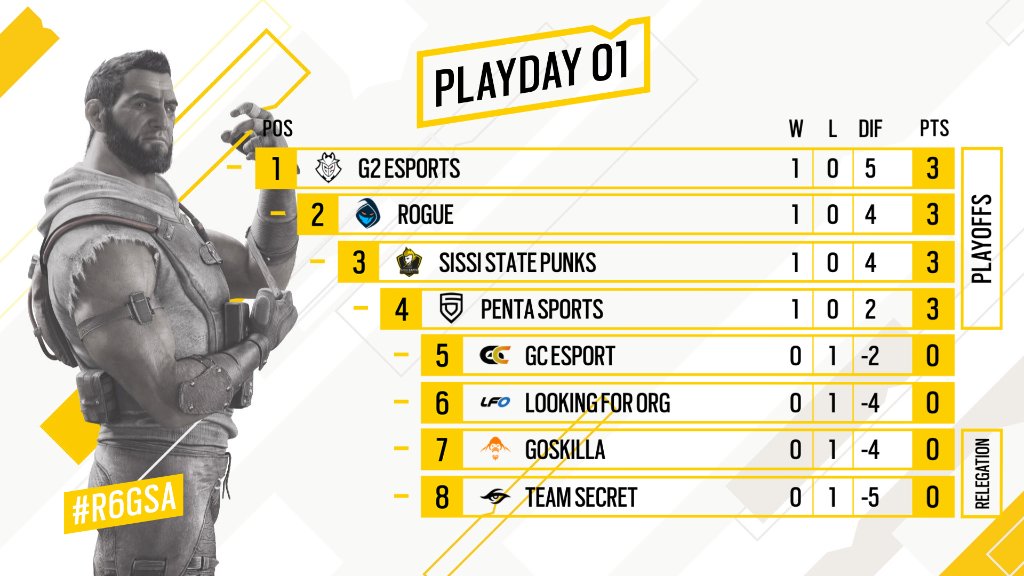 Disappointingly, Day 2 will not see any other game between two European League sides; in fact, we won't have any other game like this until the 29th of April.
Sissi State Punks will be playing against Rogue in what could be the game of the week after what we have seen on Day 1.
GoSkilla will face Looking For Org, while G2 Esports will face GC Esport. In terms of organisations, the most interesting game might be PENTA against Secret, as the European League side aims to win its very first game in the competition against one of the most historic names in the scene.
The very first game of the day will be the clash between the two Challenger League candidates of GoSkilla and Looking For Org and will begin at 19:00 CEST.
In order to not miss any of the action on Day 2, make sure to tune in the GSA's official Twitch channel.