After the exit of both eUnited and Luminosity Gaming last season, as well as the collapse of the Canadian Division, the 2021 NAL season has a very different look to it as compared to last year.
There are four new lineups and a very different format as all the action finally moves to the LAN environment in Las Vegas.
Jump to:
New Format
Last year's Canadian Division, GSL Groups, and NAL Qualifier systems have all been removed from the 2021 NA League format, as the competition has been streamlined and now mimics the other international pro-tier tournaments.
Instead, the NA teams will play a simple round-robin, Best-of-One (Bo1) map league with no overtime; the exact same format as in Europe. The only change is, with just nine teams compared to the planned 10, only four matches will take place per play day.
Each week will see NAL play days on Wednesday, before an eventual "super-week" on April 20-22nd. Tonight sees the following games, as Spacestation Gaming waits for an extra week before their 2021 League start.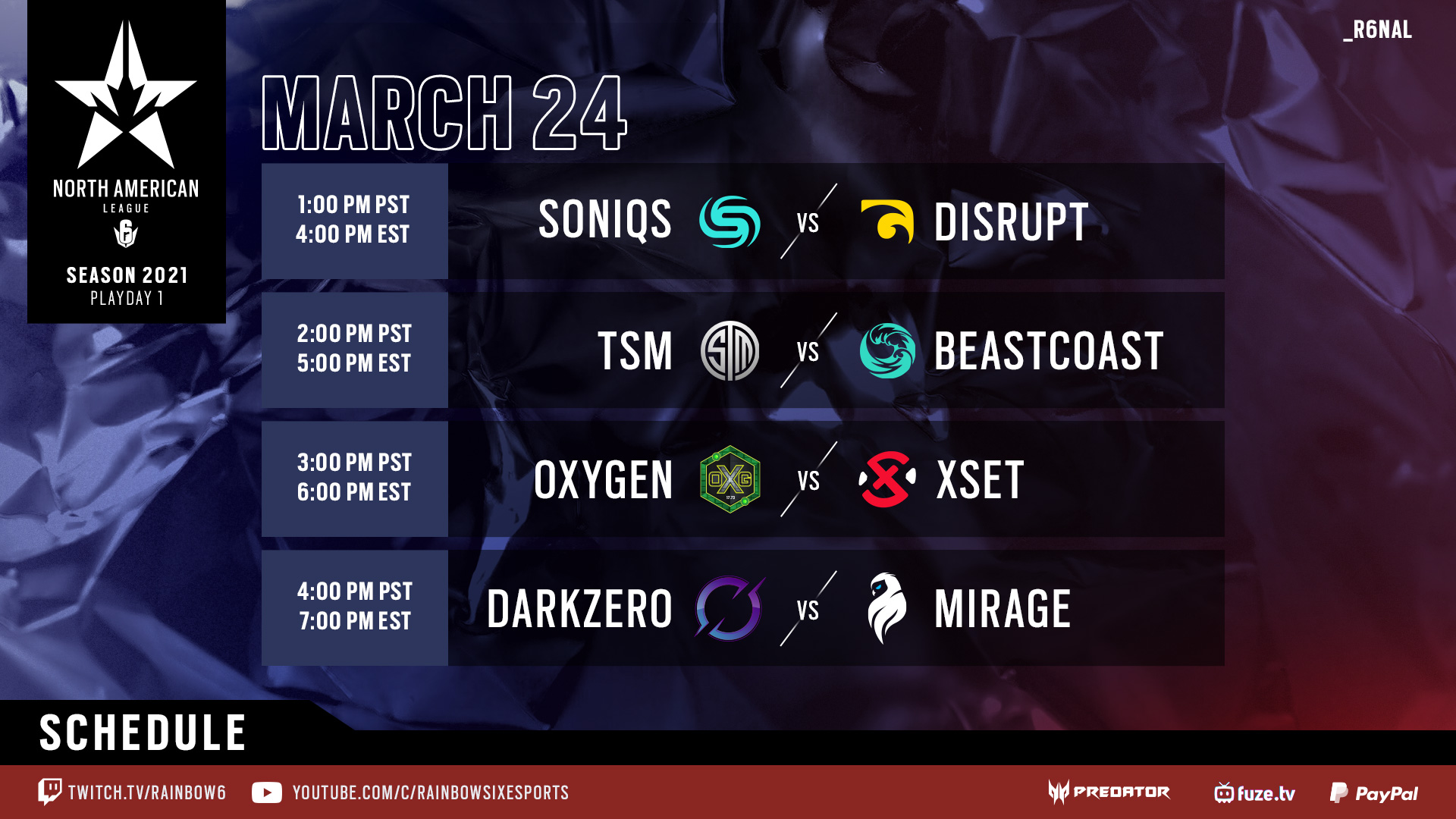 While the top four would usually qualify for the Six Major, the Major has been cancelled for Stage 1 and will be replaced by the delayed Six Invitational event. Instead, the Major's prize pool and SI Points will be distributed based on the regional standings as of the end of the super-week.
The Teams
Six returning organisations are joined by two Challenger League teams and a Canadian Division org in this season of the NA League:
Team SoloMid -- Achieved, Beaulo, Merc, Geometrics, Chala, Pojoman (coach), and Daeda (analyst)
DarkZero Esports -- Mint, Hyper, Skys, Ecl9pse, njr, BC (coach), and Grant (analyst)
Spacestation Gaming --Thinkingnade, Rampy, Bosco, Fultz, Luke, Lycan, Sov (two coaches), and DrewSpark (analyst)
Oxygen Esports -- FoxA, LaXInG, VertcL, Yoggah, Kyno, HOP3Z, and Redeemer (two coaches)
Susquehanna Soniqs -- supr, Yeti, Gryxr, kanzen, Rexen, and Jobro (coach)
Disrupt Gaming -- Retro, Shuttle, J9O, iconic, Mark, EvlWaffle (coach), and Mango (analyst)
XSET -- Tomas, Butterzz, Creators, Filthy, Drip, and Brycer (coach)
beastcoast -- Phozzo, Sippin, Rooty, AnthonyMGS, and Ghxst
Mirage -- NotLoading, Quartz, Nyx, Hotancold, Dream, Benjimoola, Guerra (coach), and DnA (analyst)
The biggest changes are the new, incoming rosters of XSET, beastcoast, and Mirage.
The first two are 2020's Challenger League winners and runners-up, with Butterzz and Creators joining to replace Sweater and Filthy on the XSET roster, while beastcoast remains unchanged since last August.
These teams have already impressed in a way, with beastcoast beating Oxygen and Disrupt in recent months, and XSET having taken down the suprSoniqs at the NA SI Quals.
Mirage, meanwhile, comes over from the Canadian Division with four new players in Nyx, Hotancold, Dream, and Benjimoola, alongside their old players of NotLoading and Quartz. The six-man roster will see the Canadian of Quartz benched until he is able to move to Las Vegas with the rest of the team.
Mirage is most notable for including three ex-members of DarkZero (DZ) in Nyx, Hotancold, and Guerra, with DnA also being related to the two players. With Mirage already having defeated DZ in a Best-of-Three (Bo3), and with them playing once again tonight, they are a very promising team this season.
While they are a returning team, the Soniqs have also undergone a lot of changes by picking up the ex-eUnited roster, with supr replacing Alphama.
With eU having finished Stages 1 and 2 in eighth and seventh, it'll be interesting to see how the players work under new support staff and with supr on the lineup.
Disrupt, meanwhile surprised everyone after picking up Mark and Iconic to replace njr and Read and beating OxG, XSET, SSG, and DZ to win the $50,000 DZ x NSG Pro-Am tournament. While many of these teams wouldn't have been playing at a 100%, this is a very promising result.
Looking at the top four teams, four changes were made, as Hotancold was replaced by njr on DarkZero, Oxygen replaced b1ologic and Slashug with Yoggah and Kyno, and, most notably, Canadian retired from R6, forcing SSG's analyst of Luke to step into his role for Stage 1 and the Six Invitational.
While SSG will likely have a good pick of players come May, trying to defend their SI title with Luke will be a Herculean task, especially with their main NA rivals of TSM unchanged from last year.
As well as finishing SI20 in third place, TSM are the reigning NA League and NA Regional Major titleholders and have had no worse than a second-place finish throughout the last 12 months, likely making them the new SI favorites.
Finally, DZ and OxG will be spending the next few months practicing with their new additions in the hope of being fully prepared for their own SI appearances.
Challenger League
With the Canadian Challenger League dissolved, the new NACL will invite the top teams from the US and CA Challenger Leagues, as well as three from the main CA Division, into a 16 team tournament.
These teams will be split into two groups of eight, which will play as a Best-of-One map round-robin league, with the bottom teams playing a relegation match before Stage 2.
The 16 teams are as follows:
US lineups: APE, Slaughter House, Favelas, VaLe, LennyGG, Honor Esports, PDHM, OCEANUS, Nemesis, Delete, dGeneration, Orgless (ex-NordiK), and LiViD
CA lineups: Windstorm, Hype Unit, and Parabellum Esports (ex-Altiora)
Most notable out of the teams above is the SI-qualified Parabellum Esports roster (previously known as Altiora), Orgless (previously known as NordiK) which now includes the former TSM player of Jarvis, and the fourth to sixth-placed USCL teams of Slaughter House, Favelas, and APE.
During Stages 1 and 2 of the Challenger League, teams will be playing purely for the $40,000 prize pool, while Stage 3 was initially to also offer a NA League relegation spot. However, with the NAL only having nine teams at the moment, it is possible this becomes an auto-promotion.
Further details will likely not be announced till August, when Stage 3 approaches.
As for now, this is how the $120,000 in prize money will be divvied up, with each stage offering its victors the following prizes:
1st -- $12,000
2nd -- $8,000
3rd -- $5,000
4th -- $3,000
5-6th -- $2,400
7-8th -- $2,200
9-10th -- $1,400
LAN League Content
The new Las Vegas-based LAN League has already created a lot of great content we did not see last year.
Primarily, Ubisoft has started an interview series with players based around their hobbies to try and get to know the personalities in the scene better, with episodes with Yeti at the gym, LaXInG cooking, and Butterzz skateboarding released so far.
As well as this, Ubisoft also released a NAL preview, hosted by Velly, in a roundtable format with Geometrics, Tomas, and supr, which we'll hopefully see more of as the season progresses.
Mirage also just yesterday released the first episode in a documentary surrounding their R6 team, which stars their coach of Cristian Guerra.
And elsewhere, DarkZero has been producing a number of interviews and highlight videos on their YouTube channel and TSM has launched a new TSM Rainbow Six Siege channel for the team's more casual content, which so far includes stream highlights, Among Us games, and game-show like challenges.