The fifth season of the CCS league took place over the last few months after an almost two-year-long gap from Season 4. This season saw a bigger focus on tier-three teams and a lower prize pool from last Season yet still did attract 250+ teams to the qualifiers as the top teams fought it out for the prestigious title.
Jump to:
Season 5 Details
CCS Season 5 was split into the regions of EU and NA once again as they ran two identically formatted tournaments. Both regions saw a best-of-three map double-elimination competition worth $1,500 each (considerably lower than the $10k each on offer during Season 4) which included eight qualified teams in each with pro-tier teams barred from competing.
The bracket kicked off in mid-November with the best-of-five Finals over the last week. The games were cast by a number of names including AceOfPyrite, Demo, XRTROIKA, and Fraser in Europe and CookieZ, CaliberJacob, Crow, and BennyAu in North America.
Europe
Teams
White Tigerz -- Fluchtw4gen, cCcaaNaVar, Neemo, wiNo, Siix9iine, Volto (coach) and Lion (analyst)
Pandore Esport -- Nay0Z, Anthym, ApK, StiZ, Dreoz, and Azrod
Team WanteD -- Thamsen, AzoXx, Linkoo, DEADSHT, LikEfac, and Sorrow (analyst)
DED Inside -- Johnny, Niko2k, skiteyyy, Kszar, Amision, and Primarx (coach)
LaLoosance -- MfzZ, sSLaAaZz, Masdemort, MGSTK, BlaZ and MOWWWGLI
Homeless -- Ryba, Optyk, Foster, AueR, Mekses and Bugs (coach)
Sleepy Gang -- EiZ, Ayzenn, DjuZ, Easy, Meloo, Bolt (coach) and Olxen (analyst)
renjichimu -- Jeyash, TrakotIN, Zeosh, Shenji, and IToroQI
The standout thing to notice here is the sheer number of French teams and players involved in this season, especially after the 6 French League had a particularly weak year for up and coming teams. At the beginning of the season, there were 23 starting French players, five Russians, five Poles, two Germans, and Turks and one player each from Belgium, Switzerland, and Moldova.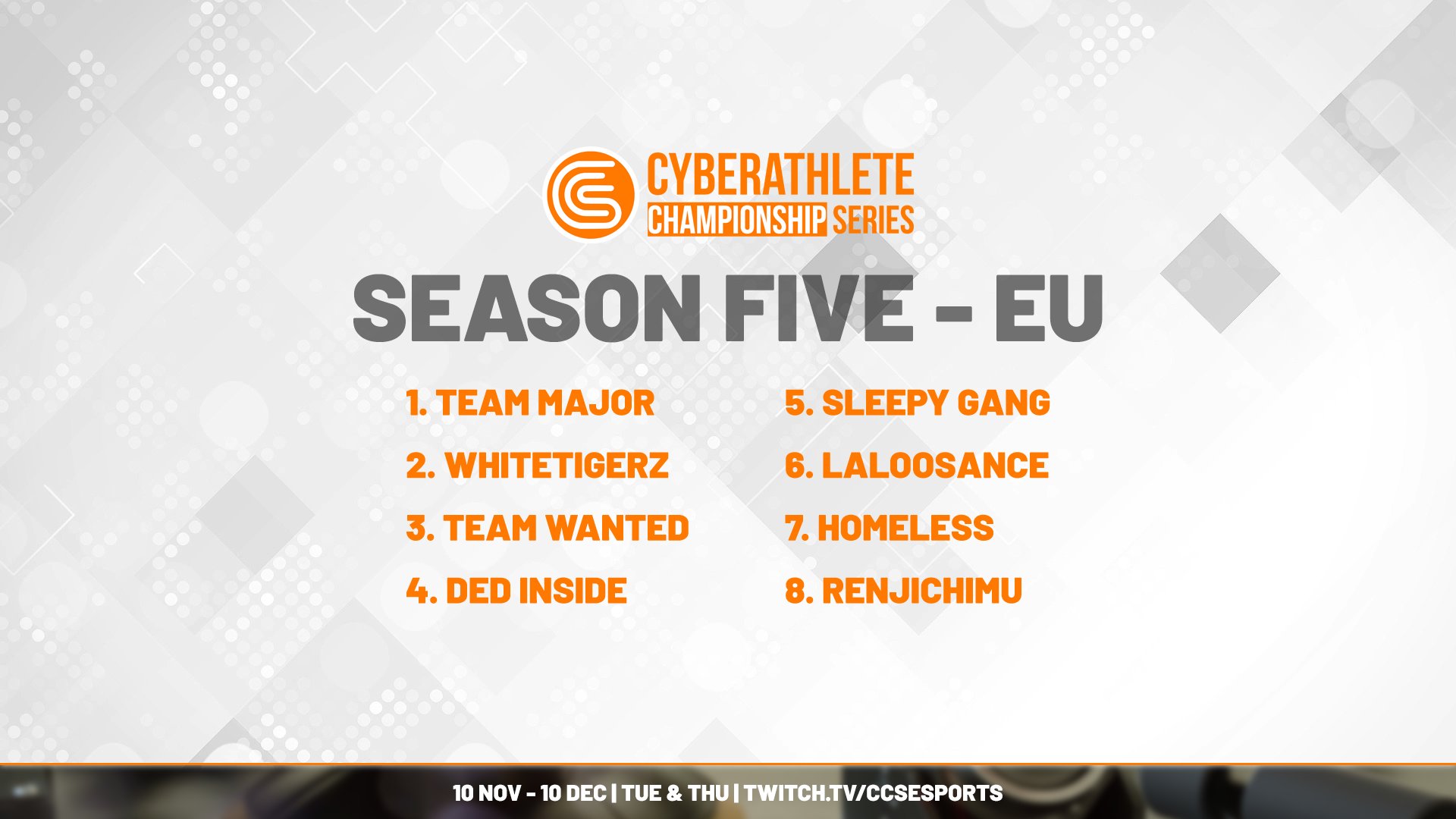 Talent-wise, Homeless was the team to watch as they had competed in last season's Challenger League finishing in the quarter-finals, and are the reigning Polish champions. DED Inside, meanwhile, attended the last two Russian Major League Finals and includes the ex-Vp player of Amision (who has since left the team to join Winstrike). Finally, the French teams include players such as the ex-pro for Supremacy of DjuZ, the ex-PENTA player of BlaZ (who has since left to join TrainHard eSport) and his teammate of Masdemort who's lone Pro League season saw him be disqualified on beGenius alongside Shaiiko.
Season
The double-elimination format means there were a total of 14 best-of-threes which saw major upsets from week one. Two weeks after their CL Playoff game and after making a single roster change -- Optyk for Royal -- Homeless fell very hard to become the second team to be knocked out in Europe. After a 2-1 defeat to WanteD punctuated by a close 8-6 loss on map two, LaLoosance were the ones to knock them out with it coming all the way down to round 15 on map three.
LaLoosance were in the loser's bracket themselves due to an opening game against DED Inside which, as many expected, DED took in two somewhat straight maps 7-3, 7-4. What was unexpected, however, was LaLoosance's recovery as after a forfeit victory over renjichimu in round two, they went on to beat two more French lineups in straight maps to run through the lower bracket all the way to the grand final.
Finally, joining them from the upper-bracket came a familiar name as DED Inside continued to run it through themselves. After beating LaLoosance they took down WanteD 2-1 thanks to a 8-7 result on map one before beating Sleepy Gang 2-1 in the winner's finals to set up a BO5 rematch in the grand-finals.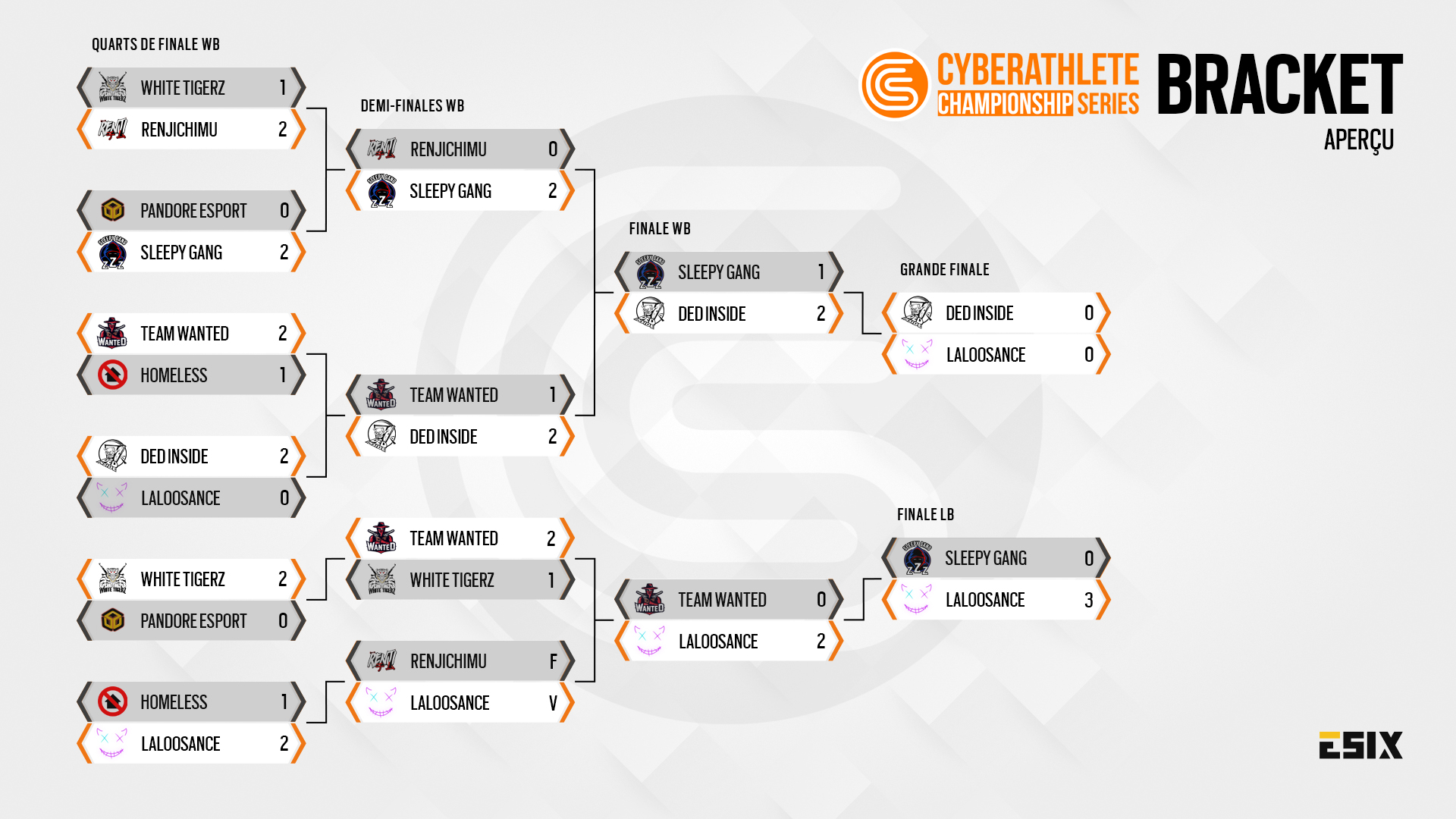 Finals
Both DED Inside and LaLoosance only made it this far thanks to 8-7 victories very early on showing how somewhat close this season had been. Now DED Inside came into these Finals with an earlier victory and flawless record while LaLoosance entered with no map disadvantage and an impressive lower bracket run behind them in which they beat Sleepy Gang in a stomping 3-0 scoreline. it was either team's game.
The game started with Oregon -- DED's pick -- which, after an initial round win, saw LL win three in a row including a flawless ace from MfzZ within 30 seconds on round four. With a 4-2 lead at the half, DED only managed to claim a single round back themselves which ended in a 10-kill round. A 1v1 between MagestiK and skiteyyy ended with them killing each other meaning, as the defuser hadn't been planted, the defenders take the win.
With LL taking DED's primary map pick, DED Inside desperately needed to win Villa to stay in it. With DED starting on defence they took a weak initial lead after a retake disable on round one, a quadruple kill by Niko2k on round four and a 1v1 win by Amision on round six to go up 4-2. LL at the same time achieved a 1v1 win and a 4k themselves as well as a 1v1 triple kill clutch by sSLaAaZz. After winning a round each to start LL's defensive half a 4k by Amision then put DED Inside on map point. The end was delayed by a single round thanks to another 1v1 victory from sSLaAaZz, however, the game still ended on round 11 after Amision had secured a remarkable 10 kills in the last three rounds alone.
Onto map three of Clubhouse which saw a ridiculous number of clutches. The first five rounds alone saw LaLoosance secure a 1v1 by sSLaAaZz and a 1v3 by Mowwgli while DED Inside pulled it back with a 1v1 by Johnny and a 1v2 by skiteyyy. These rounds unsurprisingly ended with a tied first half before the first real lead of the game was first gained on round 10 as LaLoosance took a 6-4 scoreline and closed it out the following round.
So LaLoosance needed just one more map and their own pick of Consulate was up next. While last map started with constant clutches, this map saw a lot of multikills as the first three rounds saw quadruple kills come out from skiteyyy then Mowwwgli and then sSLaAaZz, each of which effectively winning a round solo. The following five rounds all saw triple kills come out as DED Inside retook the lead to end the half tied. Once again LaLoosance pushed up to map, and now series point at 6-4, however, unlike on Clubhouse, DED Inside did manage to mount a comeback to push us to overtime.
Mowwwgli took the first round with an eight-second triple kill before a 1v1 triple kill from Amision lead us to round 15. Here a very early kill onto DED's Jager player of Niko2k allowed an effective take from LaLoosance as they swept the site with no casualties to take the round, map, series and title of CCS Season 5 European champions.
North America
Teams
APE - Melted, Yoggah, Forrest, Callout, Jaay and XecratioN (coach)
Wichita Oblivion -- Vladr, Seezyy, Gasher, England, and Acid
MoneyBall -- Luiz, Ph1sh, Milano, GMZZ, and KyNo
Project Neo -- JJBlazt, x24, Esteem, Indy, Tater, and Rated
GlowUp -- TPA, Hox, Psyko, Kizer, Gush, and Geleau (coach)
Seven Spades -- Mohesse, Moroqo, Surf, Rexevy, and Noske
Team Oblation -- Inryo, Gity, GuyOnaBear, Vivid, and Benjimoola
Arial Arise -- Gunnar, Dommy, Lxva, Wittloc, and Macks
The two Challenger League teams of Oblation and APE who finished stage two in fourth and sixth place are likely the standout favourites here with APE having won a number of prior regional events already and includes the ex-eU players of Forrest and Callout. As well as this, there is Wichita Oblivion which includes two more ex-pros in England and Acid both of which were last seen during Season 9 on Rise Nation.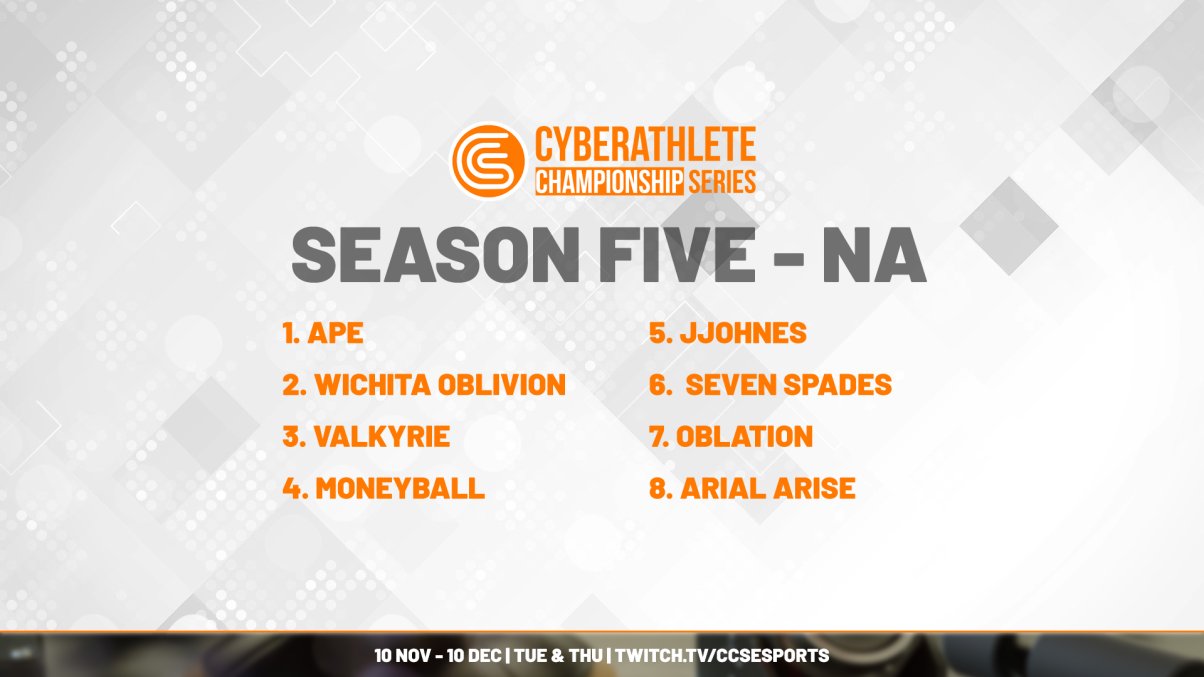 The remaining players are all somewhat fresh with KyNo also previously playing in the Challenger League for The Favelas while macks went on to play for e-Lemon-aters alongside MarkTheShark, Krazy, Suzaku, and karnageb in the Six Invitational qualifiers just after the finale of Season 5.
Season
Just like in Europe, week one saw a pretty huge upset as APE lost the opening game of the tournament against Arial Arise in three very one-sided maps. The game saw Forrest on Jager be APE's lone positive player while every member of AA achieved a positive rating.
While APE did manage to recover with two wins over lower-tiered teams (including the lone Canadian roster), their matchup against their fellow Challenger League team in the loser's bracket semi-finals led to their exit as they fell in straight maps (7-5, 7-3) to finish in fourth. Oblation themselves saw a short campaign as they were forced to forfeit their next game to exit in third place themselves.
This meant the grand-finals was a repeat of the winners' bracket final. This game saw Arial Arise and Wichita Oblivion -- both of which had beat Challenger League teams in the opening round -- meet on Villa and Consulate which AA had taken in a very clear 7-2, 7-3 scoreline. Now, with Arial not receiving a map advantage for this victory, Wichita will be hoping they can keep it close and win by having a wider map pool than their opponents.
Finals
Map one while being Wichita's pick was a wipe for AA as they took an initial 5-1 lead on the defence with a 1v1 win by Seezyy making up Wichita's lone round win. Another 1v1 by Gunnar for Arial put them on series point before they secured the map two rounds later following a flawless round eight.
Next up, Consulate which Arial Arise had beaten Wichita on 7-3 a week prior. The game, however, looked completely different with Wichita taking a comfortable lead and only missing out opn a 5-1 half of their own due to a 1v1 victory by macks over Seezyy. While Arial Arise looked to be making a comeback with two back to back round wins, this ended on round nine as Acid both secured a triple kill and planted the defuser. Two more fairly comfortable round wins granted Wichita the map showing they had improved from their prior loss and can take Arial on their own map picks.
A 1v2 clutch by Acid led Wichita to trade rounds back and forth with Arial Arise throughout their offensive half before Arial took a real lead for the first time by wipig Wichita for the rest of the map. Wittloc on Maestro stepped up this half with him achieving six kills to zero deaths in the final three rounds of which he was in the killcam of all three. This put Arial up 2-1 on maps and just one away from the title.
So, finally, we have Villa which is the second map Arial had beaten Wichita on the week beforehand, 7-2. With four round wins in a row by Arial on attack it looked like we'd see the same type of scoreline, however, Wichita did manage some level of comeback with a 4k by Seezyy taking round five before a very impressive 1v3 retake from England ended the half 2-4.
This round loss was not to slow down Arial as they won round seven flawlessly, round eight was won by a Gunnar 4k and round nine ended it with over two minutes remaining in the round. Arial Arise is, therefore, the NA CCS Season 5 champions!
NSG x CCS Monthlies
Halfway through Season 5 an even bigger tournament was also revealed and kicked off as CCS partnered with Nerd Street Gamers for a monthly $2,500 NA-only tournament. These tournaments ran in November and December with APE and The Gatekeepers taking the November and December titles.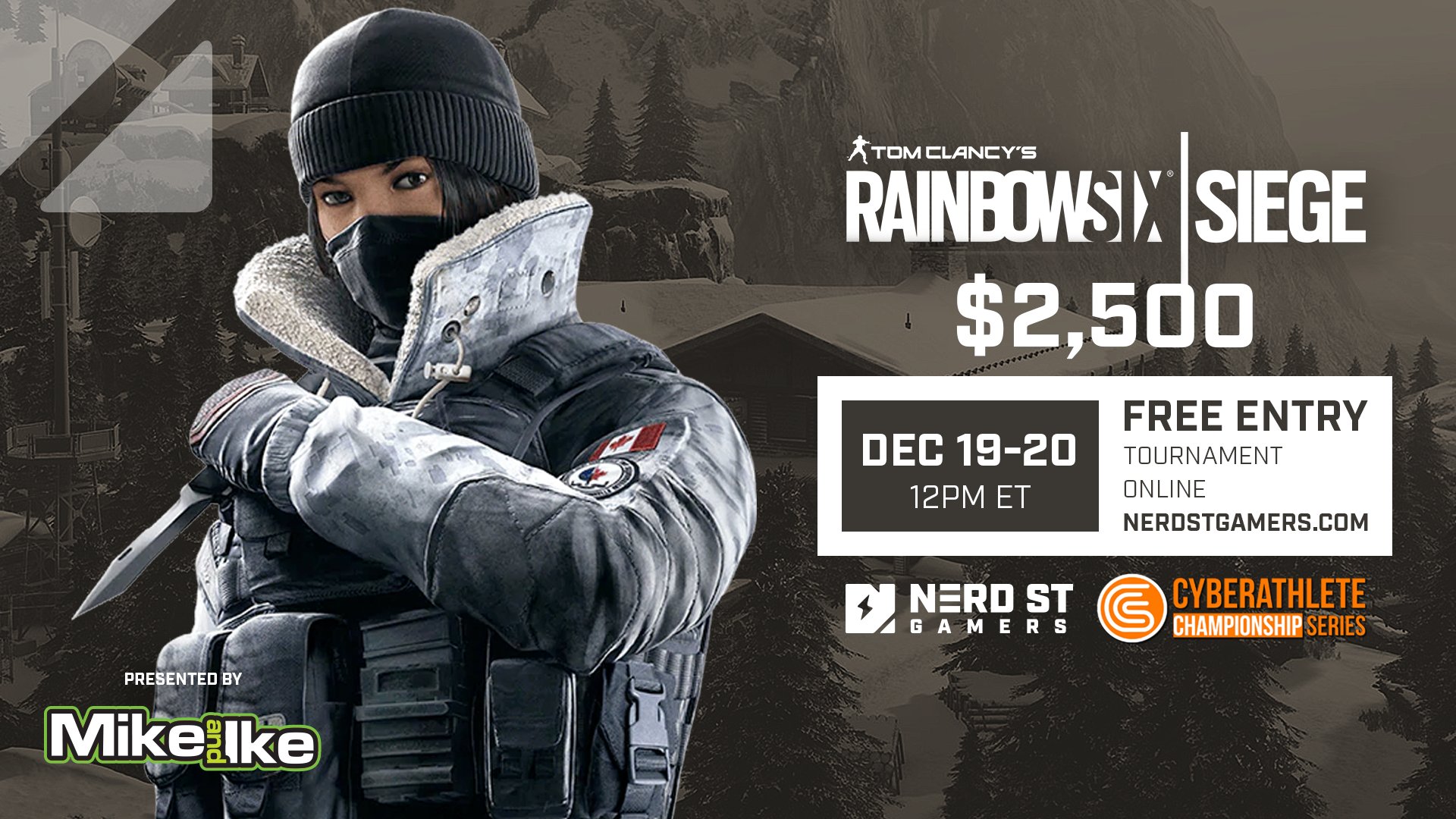 Following these monthlies, January will see a three-day final with a $10k+ prize pool with the following teams:
POGchamp -- NSG September Monthly champion
Beastcoast -- Prior NSG tournament victor
Wichita Oblivion -- Prior NSG tournament victor
JoeAcademy -- Prior NSG tournament victor
Arial Arise -- CCS Season 5 victor
Team Oblation -- CCS Season 5 runner-up (as Wichita already has a spot)
APE -- November NSG x CCS victor
The Gatekeepers -- December NSG x CCS victor
This tournament is one of the biggest things to happen for tier-two to three R6 in North America to date. The is the first time a prize pool for a tournament this size has been able to rival that of a European national tournament with $10k being equal to that of CCS Season 4 which kicked off in December 2018.
As well as this, with no NAL or Six Invitational qualifiers ongoing in January, these Finals are likely to be one of the biggest events in the R6 world ahead of the Six Invitational in February.
Keep an eye out here at SiegeGG for coverage of future CCS tournaments as we hopefully don't need to wait another two years for Season 6.