The 2020 Canadian Division season comes to its end today, ahead of the Six Invitational Qualifier which kicks off tomorrow. Here's a look at the games and what's at stake for each of them.
Jump to:
CA Finals: Mirage vs Altiora
Starting with the big-money game, Mirage will be the very clear favourites as they go up against the second-best team in Canada, Altiora.
Mirage -- Flynn, NotLoading, zilchy, Silent, Quartzy, imp and Devpetm (two analysts)
Altiora -- Misio, Guns, Spiritz, Sonar, Euphoria, Eskaa and P3NGU1N
These two teams have met twice so far -- once in each stage's winner's final -- with Mirage winning both games 2-1 in very similar scorelines. This win then allowed Mirage to go onto the NAL Qualifiers against the US Division teams, in which they beat Tempo Storm and took a map off the Soniqs during Stage 1 before falling in straight maps in Stage 2.
As well as these very disappointing losses against SSG and Disrupt in October, the team recently lost their coach of Forceful, who left to join the USCL team of APE, creating a gap for Altiora to finally get a win after two very close attempts.
This time, instead of a NAL Qualifier spot on the line, the teams are playing for the biggest prize pool in Canadian R6 history.
1st -- $30,000, SI Closed Qualifier Invite & 2020 Canadian Champions title
2nd -- $20,000
We spoke to the North American League caster of Jesse Chick to get his view on the games:
What chance do you give Altiora in their third meeting against Mirage?
I think Altiora actually has a pretty realistic chance of taking down Mirage. Maybe like 40% if you want a number for it. I believe that the fact that they're now playing with their full roster is going to make a big difference, and even without Penguin they came pretty close last time around.
How competitive do you think the Canadian Division teams will be during this weekend's SI qualifiers?
The thing about SI quals is it's a lot of single elimination games over only a couple days. It's going to come down to who's hot on those days and so I think we'll see some upsets for sure. You also have to consider that the majority of US teams participating will be relatively fresh rosters, so you have to assume that Canadian teams will have a big coordination advantage. Overall I expect an American team to take the spot, but you can not count the Canadians out.
CA Relegations: Nordik vs Oblivion
Just before this game, we'll see which team will be joining Mirage, Altiora and LiViD in the 2021 Season -- Nordik Esports or Team Oblivion.
Nordik Esports -- Bosak, S4, Stormz, LakQii, and Skvz
Team Oblivion -- Whiskerzz, Boomski, Ferda, Cabal, Dfult, Dscovr, and B4cca
Nordik began the year with a second-place finish during Stage 1. After taking a map away from Mirage, the team went onto defeat both LiViD and Altiora in straight maps without needing an overtime map.
The team was confident with this performance, and so opted to not make any changes in the mid-stage transfer period, while both LiViD and Altiora brought in two new players. This led to Nordik losing against both of these teams, with just a single map won against Altiora which put them in this relegation position.
In fact, the only change the team made in this time was to drop their coach of Fame, who joined Oblivion in Canada's Challenger League. This move, along with the pickup of the Canadian Nationals victor of Whiskerzz, led the team to convert the second place in Stage 1 to a victory in Stage 2, to set up the meetup against Nordik.
With Oblivion winning the Canadian grand-final in a 7-3, 7-2 scoreline, they seem to be the favorites going into this game. However, Nordik showed their teeth in Stage 1, and so do have the ability to put the challengers down if they can regain that form.
This is what Jesse had to say about the matchup:
Nordik are going into this with a lot of pressure behind them. Not only are they fighting to retain their spot, but as the only relevant Francophone roster in the scene, they're representing an entire sub-region of NA that doesn't get a lot of positive coverage. On the other side Oblivion looks like a really scary team. They destroyed Canadian CL and everyone I've talked to believes they could hang in the CA division. No matter who wins it's going to be one of the most intense games NA will have all year.
The Schedule & Broadcast
These two games will kick off at the same time as normal on the main rainbow6 Twitch channel and cast by the same talent as the NA November Major.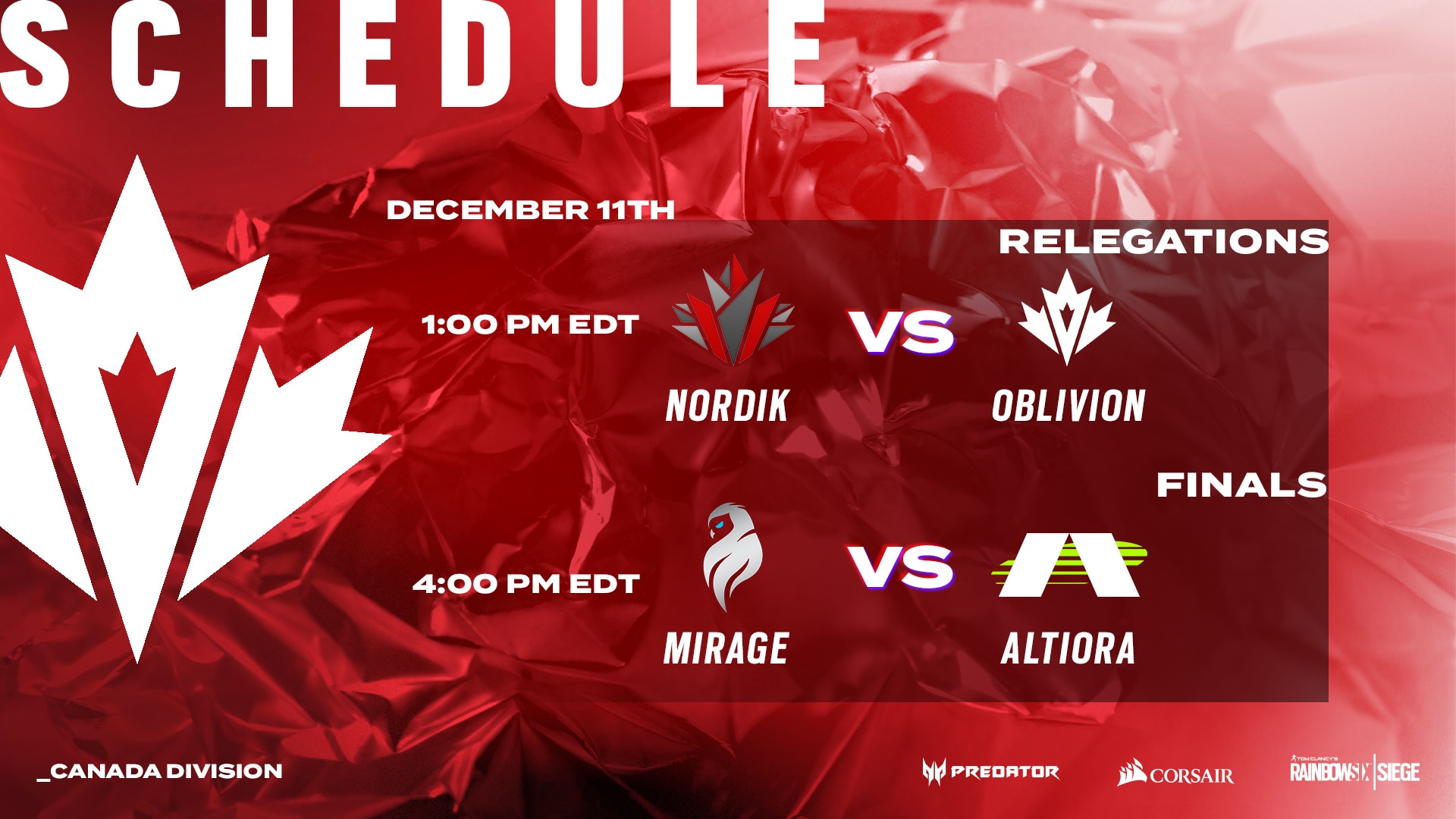 These games, along with the NA SI Closed Qualifier Finals the next weekend, make up the final events in the North American 2020 esports calendar, with almost all these teams not seen again till after the Six Invitational itself in mid-February.
And so in preparation of these games, we asked Jesse some final questions about what we should expect for the 2021 season:
Firstly, LiViD's newest addition of Nyx seemed hopeful of their chances next year in challenging Mirage for the top spot. While we haven't seen them in action yet, what do you think of this new lineup?
Nyx joins Bryan as the second big pickup LiViD has gone for this year, and while Bryan clearly wasn't enough to push LiViD over the edge, he was one of their best performers in the games he played with them. I think it shows how committed the organization and team are to finding success in the Canadian region, and while these players are not going to cause LiViD to instantly win the CA division, I think it's a really good start.
Mirage managed a win against Tempo this year across five games. How well do you think Canada will fair in the 2021 Season?
I think top 4 NA will continue to be a pretty tall order for any of the CA teams, but I do think we'll see them improve. I hope we get more opportunities to see CA and US teams compete, as the more real game experience CA gets, the faster the region will grow.
There's been a lot of complaints about the lack of games in the Canadian Division's format. What changes, if any, would you make to it?
It's hard with broadcast limitations to justify more games than there already are. I'm not sure how you would logistically do it, but if possible I would like to see more interplay between the two divisions of the NAL. As it stands, I feel as though the Canadian and US divisions play like two separate leagues, while I wish they functioned more like divisions from traditional sports.
Check out Jesse in action casting these games tonight as he guides us through the finale of the very first Canadian season.
The US Finals
Following the exit of the eUnited and Tempo Storm organisations, the US Finals have been delayed, while the US Relegation match has been canceled. More details on why it has been canceled can be found here.
When the Finals do take place, they will include SSG, TSM, DZ, and OxG, and be worth a whopping $150,000, of which $75,000 will be won by the victor. This will be an effective replacement of the US Nationals event, of which Spacestation currently sits as the reigning champions.
It is very likely the event was delayed in the hopes it can be played on a LAN environment at a later date, as the NA Regional Major was in November. Either way, it seems almost certain that the best US team in 2020 will now be decided in 2021.