Update:
Following this announcement, Kevin "Easilyy" Skokowski has announced his retirement from R6 Esports. Easilyy previously competed across various teams on both Xbox and PC since Year 1 including Elevate, Rogue and, most recently, the Soniqs. In this time he attended five Pro League Finals, three Six Invitationals and won both the 2018 US Nationals and the 2019 DreamHack Valencia event.
Just want to keep this pretty simple and as short as possible so here goes nothing. I will be retiring from Rainbow Six pro play permanently effective immediately. I would like to thank everyone who has supported me on this 5 year journey. R6 will always be a huge part of my life, I have been through all the ups and downs of the game and sure I complain about it but I love this game and its the reason I've met people I consider some of my closest friends....
---
After earning their spot in the league via a licence acquisition at the beginning of this year, and spending the two stages since fighting to break into the top four, supr has announced during the Six On Six podcast that the team has opted to completely remake the team by benching four players with their replacements currently being determined.
After initially forming way back in mid-2018, the Elephant Gang roster led by supr narrowly missed out on promotion to the Pro League during Season 8 after losing their relegation game to Noble esports. After briefly disbanding and being first rounded at the 2018 USN event, the team then joined the Soniqs just as the 2019 season began.
This year the team qualified for the Pro League and attended both the Allied and DH Montreal Minor events before finishing Season 10 in eighth place and being relegated back down to the Challenger League after a number of roster issues caused by visa problems around their European imports of SlebbeN and Gomfi. These two were next put into action at the 2019 USN event where they fell to the eventual winners of SSG in the semi-finals.
With no NAL spot on offer, the team opted to forgo the Season 11 CL competition with them competing next in the NAL thanks to the Soniqs org acquiring a licence to the spot instead. This year while being the definite underdogs they made it very clear they were hoping to break into the "top four" currently held by SSG, TSM, DZ and OxG. Their Stage 1 results saw them finish in fifth with them being just a single round on map three away from defeating the soon-to-be Regional Major champions of DarkZero and qualifying for the Major themselves.
With this loss behind them, they hoped in Stage 2 they'd be able to go a step further, however, they fell once again. While the team did recover from an early 2-0 loss against eUnited, they then fell to Disrupt Gaming in another map three 7-8 defeat during the NAL Quals, a result they would definitely would have been angry about.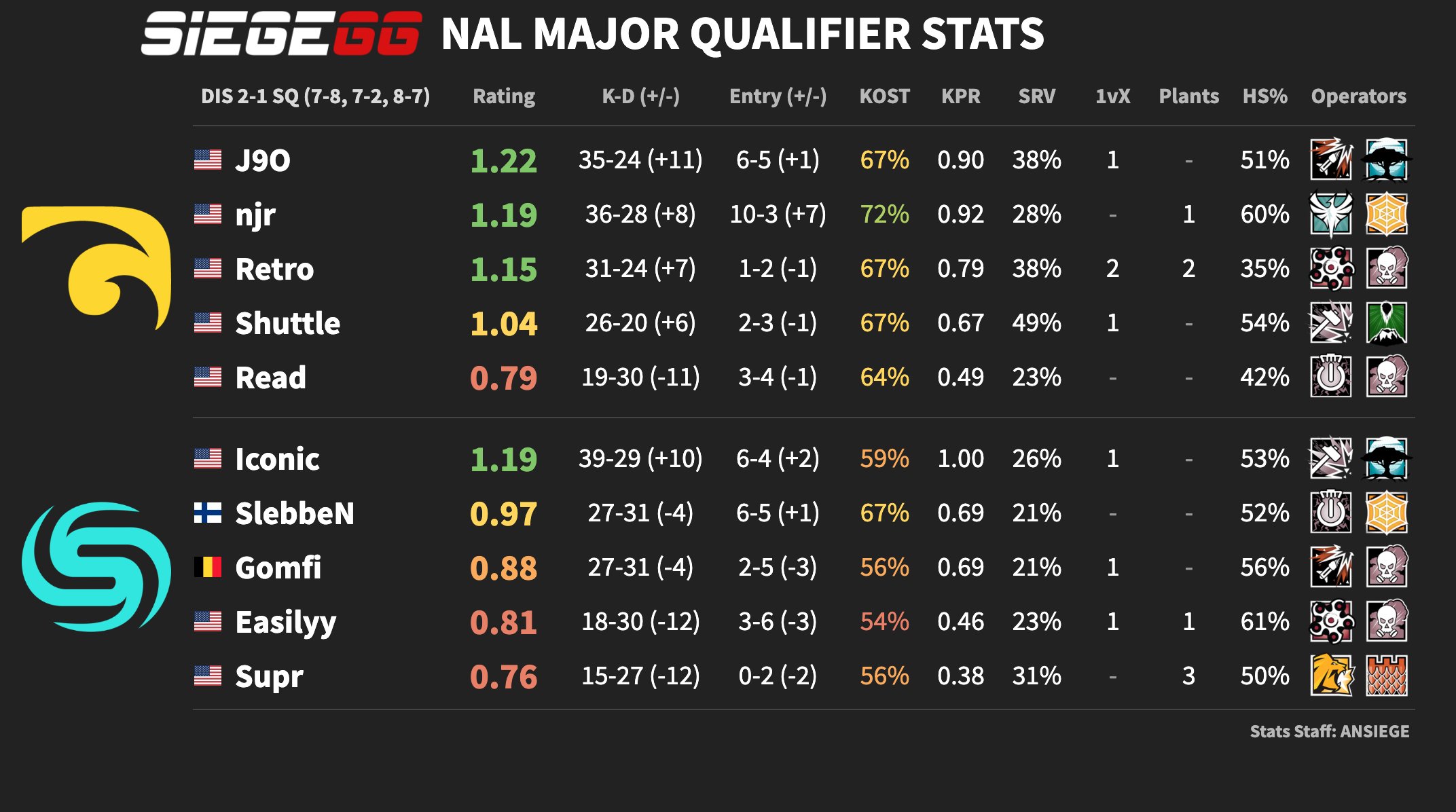 With these results not going their way, the roster opted for a very extreme answer in benching almost all of their team with players from ex-eU, ex-Tempo and various Challenger League rosters likely looking to join the team.
These changes do, however, mean that Soniqs cannot play in the upcoming Six Invitational qualifiers -- a tournament they were favoured to win -- as these new players can't officially join the team until the February transfer window. Until then the roster is locked and no changes can be made. Supr and prospective Soniqs players will likely compete in the SI Quals away from the Soniqs organisation to test out the new players. This gives Disrupt Gaming a pretty good chance at qualifying to the Six Invitational and securing a much-needed org in hopes of achieving a spot in the 2021 NAL season.
As of now, the Soniqs roster looks like this as just supr remains as a player:
Seth "supr" Hoffman

Joe "Jobro" Reyes (coach)