The Challenger League tournaments in both the US and Canada will come to a close this weekend with the winners of each facing the bottom-placed team in the main leagues. Here's a look at how the leagues are progressing and a preview of the possible relegation matches coming up next month:
Jump to:
US Challenger League
Both the US and CA Challenger League seasons kicked off on the weekend of October third. In each region the eight teams were split into two GSL-format groups with the victors of each then facing off in a grand-final this weekend. This format has caused a lot of controversy as it effectively means the Challenger League victor needs a perfect season or must wait a whole year to try again.
This became quite an issue this stage as in the United States Division last stage's victor and the standout favorite to win the relegation spot of The Last Dance fell in their opening game against APE -- Callout, Forrest and XecratioN's new team. This very close 2-0 scoreline (8-6, 8-7) was thanks to an amazing performance by Yoggah in which he secured a 1.83 K/D and won all seven opening engagements.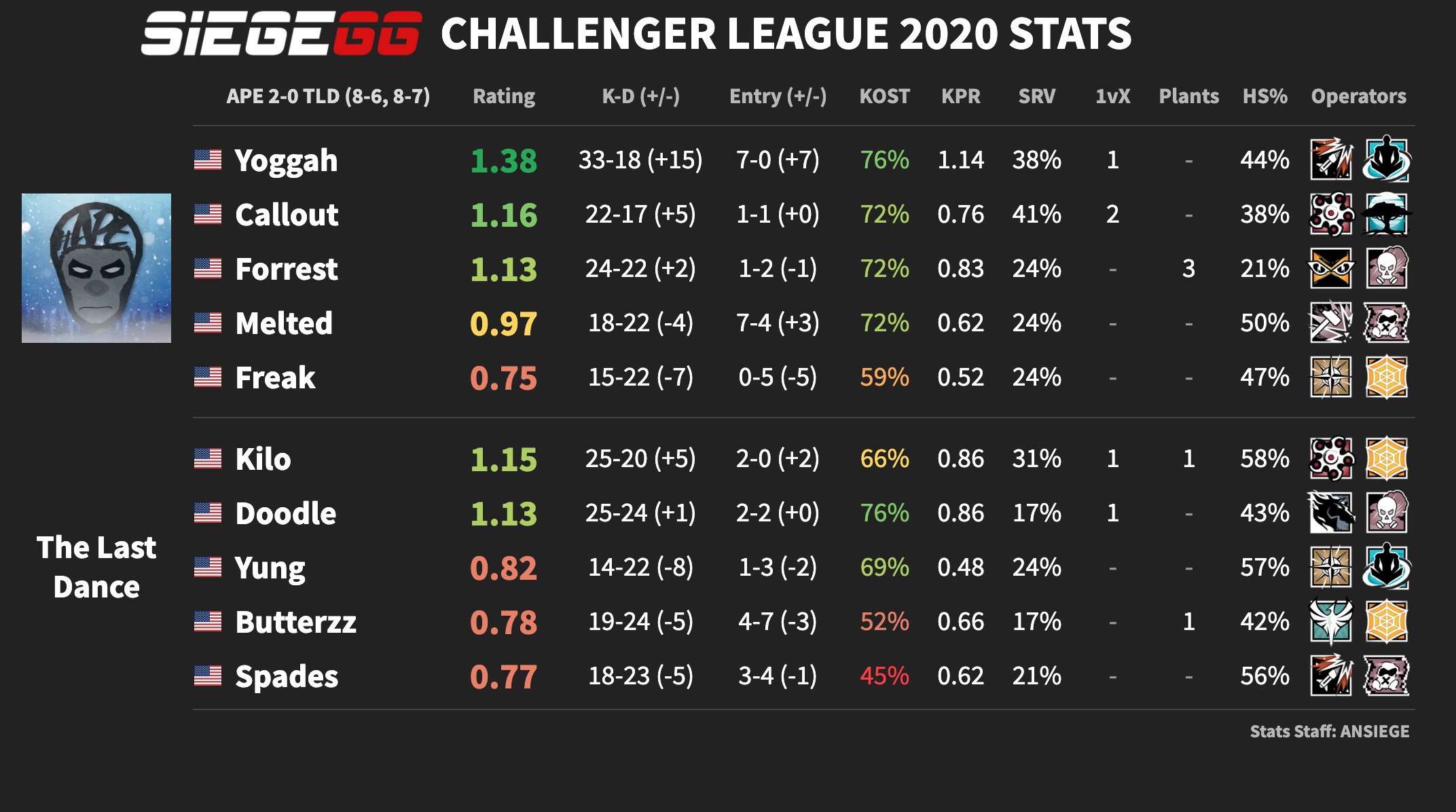 Following this result, the upsets continued as APE was then bested in the next round by beastcoast (6-8, 7-5, 7-5) -- a team which only retained their Challenger League spot from last season thanks to PogChamp disbanding -- giving beastcoast a spot in the grand final.
In the other group, however, we didn't have as many upsets with last stage's runners-up of RentFree taking their winner's final 4-7, 7-2, 7-1 against the partially Brazilian lineup of The Favelas. This put them in their second final in a row making them the likely favourites to take the relegation spot against Tempo Storm.
RentFree - Tomas, Prophecy, Sweater, Filthy, Yardy, Brycer (coach) and neverswimalone (analyst)
beastcoast - Phozzo, AnthonyMGS, Rooty, Sippin, GhxsT and Frozen (coach)
The two teams above have a number of well-known players with RentFree including two ex-Pro League players in Filthy (ex-Tempo Storm) and Tomas (ex-Luminosity) while beastcoast includes the ex-Pro League player for the Soniqs in GhxsT. As well as these players there are also two ex-Challenger League victors in Phozzo who won Season 10 and Drip (previously known as Yardy) who won Season 9.
This all amounts to a lot of experience in these two teams with the beastcoast organization also well known for winning Season 7 of the Challenger League and including players such as FoxA, EvlWaffle, Retro, LaXInG and Goddess.
The winner of this best-of-three map game taking place on Saturday will face Tempo Storm after the team won just a single game during stage two -- surprisingly against TSM -- before losing against both the Soniqs and eUnited in the loser's group. This performance puts Tempo in a weak but recoverable position as we have seen some good things from the roster despite the weak finish.
This matchup will likely also be one to watch should they face RentFree as this would be a grudge match for Filthy against his old lineup which he was kicked from last February and replaced by the Italian import of Sloppy. Tempo's newest player of Jarvis meanwhile is an ex-teammate of Sweater, GhxsT and Drip from his time on PogChamp over the last year.
Tempo Storm Krazy, Creators, Dream, Mark, Jarvis, KenZ (coach), DnA and RaMz (two analysts)
CA Challenger League
Canada's Challenger League saw an upset of its own as stage one's winner of Honor Esports was taken down by PDHM in a 7-3, 5-7, 7-5 scoreline in Group A's final. PDHM was the only team able to take Honor to three maps in stage one making this result a predictable one but still a surprise nonetheless.
In Group B, meanwhile last stage's runners-up of Oblivion won their own games in straight maps with help from the three-time Canadian champion and ex-Challenger League player during Season 8 of Whiskerzz who joined the team between stages.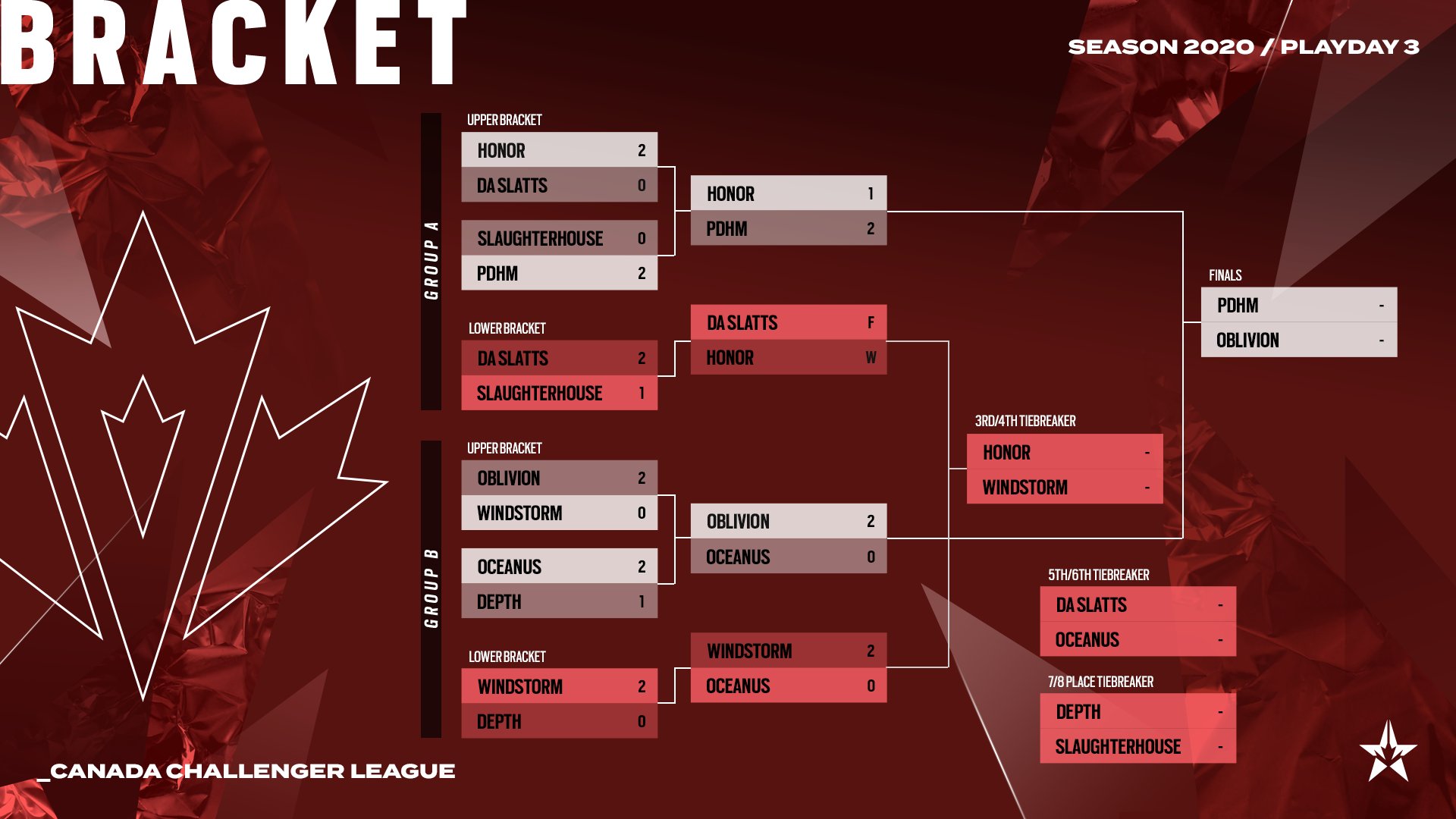 This sets up a somewhat even looking grand-final which could go either way with the eventual victor facing Nordik Esports.
Team Oblivion -- Whiskerzz, Boomski, Ferda, Cabal, B4cca and Fame (coach)
PDHM Gaming -- LsG, Wav, Headless, NiceH4x, Wick and Dispa (coach)
Nordik Esports started the Canadian Division as one of the top teams as they took Mirage to three maps in the opening game of the season before eventually finishing in second. Between seasons, however, the two teams below them made changes with LiViD bringing in Bryan and Hiperzz while Altiora completely changed the look of their team as Sonar, Euphoria, Eskaa and P3NGU1N all joined. This allowed them to both pass Nordik who remained unchanged in this time with Nordik winning just one map across their two matchups in stage two.
The lone change Nordik made saw them drop their then analyst of Fame to be replaced by Vezzy with Fame now supporting Oblivion in the Challenger League finals.
Nordik Esports -- Bosak, S4, Stormz, LakQii, Skvz, oGrievous and Vezzy (two coaches)
Meet the Teams feat. CookieZ
We spoke to the Challenger League caster and ex-Pro League player for Ronin Esports of C.J. "CookieZ" Brooks about the teams and matches to come:
Firstly, can you introduce yourself?
I'm an ex-pro player and Challenger League caster, cookiez r6!
Which teams and players in US and CA CL have impressed you the most?
Im most impressed by Ferda from CACL's Oblivion, and Yoggah from USCL's Ape.
Beastcoact only just avoided relegation last stage and are now in the grand-finals. What would you say led to this improvement?
BC was USCL's first victim of the very unforgiving format, imo. Them finishing eighth wasnt nearly as convincing as one would be led to believe. They had lost to a team who had their best game of the entire season (Favelas) and then lost to the Stage 1 Champs in TLD. And then played a relatively meaningless seventh/eighth place game. Not much of a sample size. GhxsT for jay was definitely a change in the right direction going into stage 2, it was an upgrade in firepower, saying that though: the Stage 1 BC roster also had plenty of potential and firepower (Jay being one of the better players from ESL's last CL season, XI).

If they actually matched against other teams from other groups i think they would've placed way higher than seventh/eighth. So I'd say its a combination of the format and the roster change putting them over the top.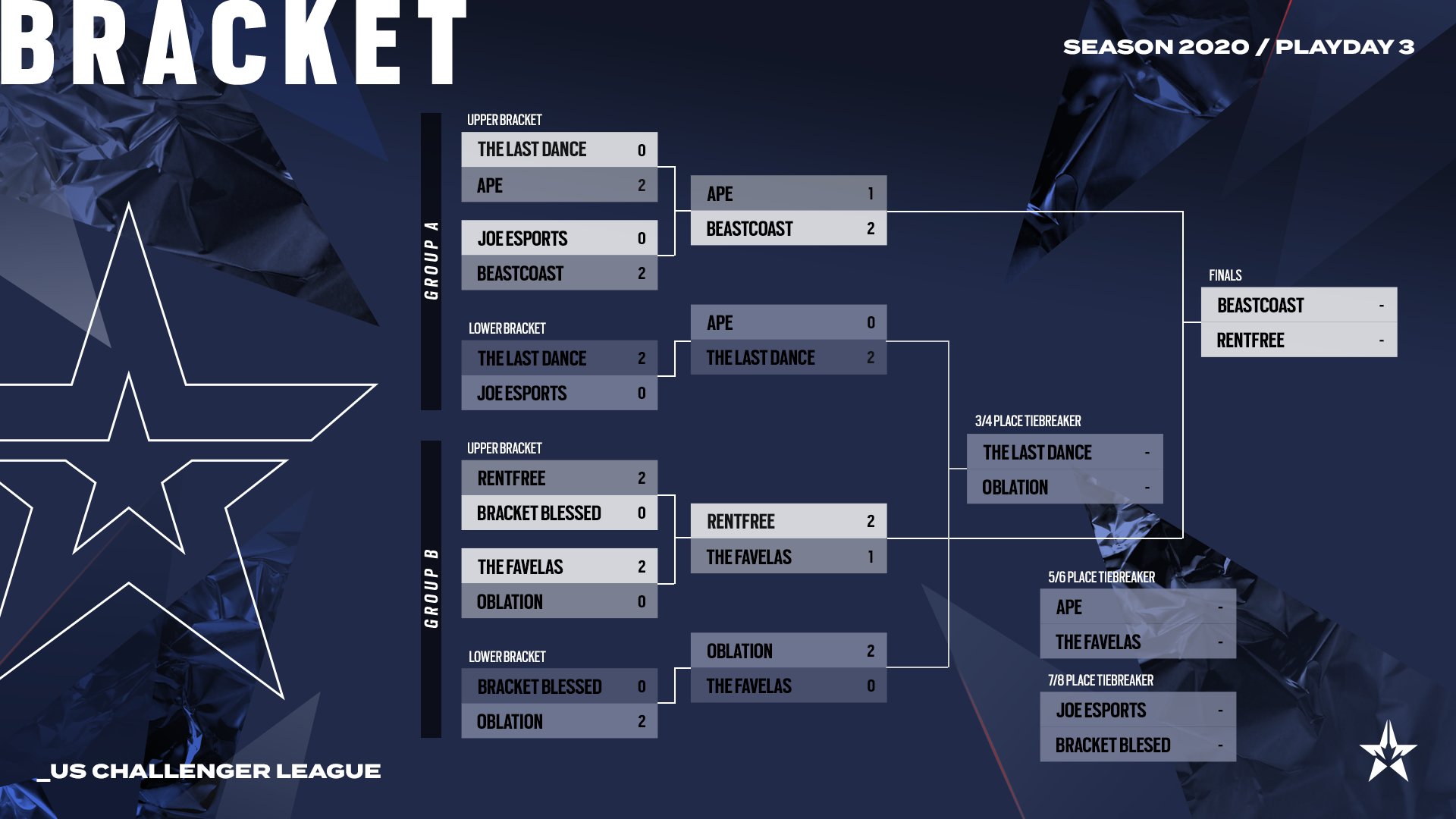 Who do you favor between RentFree and bc and how do you think both teams stack up to Tempo Storm?
I think RentFree has way more experience at the highest levels of play, especially in these do or die matches. bc is comparatively super young. I say that as of course Prophecy and sweater aren't exactly veterans themselves: however, between those two they have multiple seasons of T2 experience in either CL or CCS (in sweaters case, winning it multiple times) while both being among the most highly touted upcoming players in NA T2 for a better part of the past couple of years. What makes the difference for RF is pairing that raw talent alongside Tomas, Filthy, and Drip, who all have won CL and won relegation matches against all odds in some combination.

On BC, however, the only ones with comparable exp is Phozzo; having won Season 10 and the relegation with Obey, and Ghost, with Pogchamp and Soniqs.

The rest of bc; the CCS champ trio of Sippin, Anthony and Rooty; compared to RF at least; have a very limited scope of T2 especially outside of S11 which had a level of stakes that just doesn't compare to most seasons of CL that RFs players played in. On top of a total lack of T1 exp compared to RF overall.

The CCS champions trio of rooty, sippin and anthonymgs, did slay old oC back in the day in CCS, but again it just doesn't compare to RFs exp collectively. I think RentFree wins the close butt-clencher rounds that make the difference thanks to their superior history of "being in the moment". It'll be a very close one, for sure though!

I think both teams could take Tempo; in their current state. It seems to be the Tempo Tim show, so unless the rest of Tempo can get some traction going; they will have serious problems with either of these teams who; on paper at least have equal if not more talent and have Tempos backs against the wall.
---
Similarly, who would you say are favorites between PDHM and Oblivion in the Canadian CL Finals and how would you compare these teams to Nordik?
I really like oblivion. They have some serious gun skill and long term synergy, if im Nordik im deeply concerned. If I'm PDHM, I gotta play my absolute best game. Oblivion can't overlook this new PDHM roster though; which has seemingly flipped their script from Stage 1, becoming a top contender in CA.
How would you improve the NA CL tournament for 2021?
The CL format NEEDS to make concessions for all the teams to play each other before they are "eliminated" from Relegations or before any sort of playoff stage begins. The ideal format to me is some sort of round robin (bo1 2 or 3, doesnt matter.) into a playoff BO3 double elim bracket, into the final relegation bracket vs the pro division. Thats the most fair and most consistent, and produces the most memorable seasons and the best possible teams to promote upward. I wouldnt mind casting more games either, lul.

i would also love to see US VS CA division crossover matches. expanding major quals; and allowing these regions to play eachother in a super bracket to decide major participants. Imagine a bracket with DG, Mirage, oblivion, Tempo, Rent free, Etc, all playing for a spot in the major. It would be an added benefit of giving teams a reason to stick around should they not make the NAL pro division during relegations or CL; they still have something to play and practice for; and heck, give them potential SI points as well.
---
Check out the games on the R6EsportsNA Twitch channels with full coverage here at SiegeGG!