With Wildcard Gaming being crowned the Oceanian champions last weekend, we saw the conclusion to the second part of the APAC South region's leagues as the playoffs of the South Asia nationals took place over the last few days.
The tournament saw players from Bangladesh, India, Nepal, Pakistan, and Sri Lanka compete for a spot at the Regional Major, for $35,000 and 275 Six Invitational Points.
Jump to:
The Teams
Five returning teams from the Stage 1 playoffs joined three new rosters, which included the first Sri Lankan team to make it this far:
MercenarieZ -- DOC7ER, Hasib, Mii7, NINJAFREAK, Taha, M4KER, and FATAR
Team L2K -- FaTaLz, BL4NK, Nos, Jayv, Skipper, and Coffee
Deimos Force -- Aynngel, Notorious-09, Pointdex, SniperwanTCandY, TsukishimaGOAT, Kobra, and SnoowW
MonkaS -- Xjora, Firefly, Ishan, Lusty_Boi, QB-, and DefinitelyaNoob
KIRA E-Sports -- Khajiit, Ratz, R4ttl3r, amarhbk, and Atharv
Union Gaming -- Beat, EX7, Sparko, Jittery, Sandy, and Poseidon
LYSE Valiants -- Dipjol, Kingslayer, ArchAngel, Hermi0ne, Killin, Mu_SalimShady, and Kaustav
Vanquished Paradox Gaming -- DopePope, Ghostfreak, Mellow, NOstalgia, UnknownGamR, and Nany
MRCZ, Union, KIRA, MonkaS, and Deimos each finished in the top six during Stage 1 and so made it through into these playoffs fairly early on after a few false starts for Union Gaming, who struggled in the first two qualifiers. One major surprise from the qualifiers, however, came from Team L2K (Live to Kill) -- a Sri Lankan majority team, which includes the India Series champion of Skipper -- who qualified as the number two seed ahead of many better-known lineups.
Out of these eight teams, all eyes were on Union and MercenarieZ, with these teams being the grand-finalists for both the Stage 1 Playoffs and the August Mini-Major, with each team taking a game each.
The Games
Despite directly leading into a Regional Major, the South Asian National Playoffs saw no official streams be hosted, with a number of the games instead broadcast by a number of community streamers. This is a notable improvement from last season, which saw just two games streamed, but still well below the support level you'd expect from an "officially supported region" when compared to even the MENA sub-region which isn't a part of the Global structure.
After many of the favourites won the initial quarter-finals in the double-elimination bracket, the semi-finals were two highly anticipated games that were unfortunately off-stream. Firstly, we saw the Union vs MercenarieZ rematch, which went very clearly in MRCZ's favour, with them winning 7-4, 7-5, while the new challengers of L2K took down Deimos in a three-map contest, 7-3, 6-8, 7-5 scoreline.
In an almost identical scoreline, MercenarieZ then defeated L2K in the winners' final to book a spot in the grand final to be met by Union once again, as the Indian lineup took down KIRA, MonkaS, and L2K to complete a lower-bracket run all the way to the grand final.
The best-of-five map grand final saw MRCZ start with a map advantage as the upper bracket winners, giving them the initial advantage, which was seemingly compounded after a very favourable map ban phase. The 2-0 victory by MRCZ over Union earlier in the bracket was on the maps of Oregon and Clubhouse. with these two being maps two and three giving MercenarieZ a fairly clear path to a 3-0 victory.
While Oregon went the same way as before (7-4 to MRCZ), Union managed to claw back Clubhouse (7-4) again to set up map four on Theme Park. The only prior time these teams had played this map was as the opening map of the Regional Major grand final, which Union had won 7-5, putting them at the advantage here. However, MRCZ came back from 2-4 down to take the map 8-6 and win the Stage 2 title.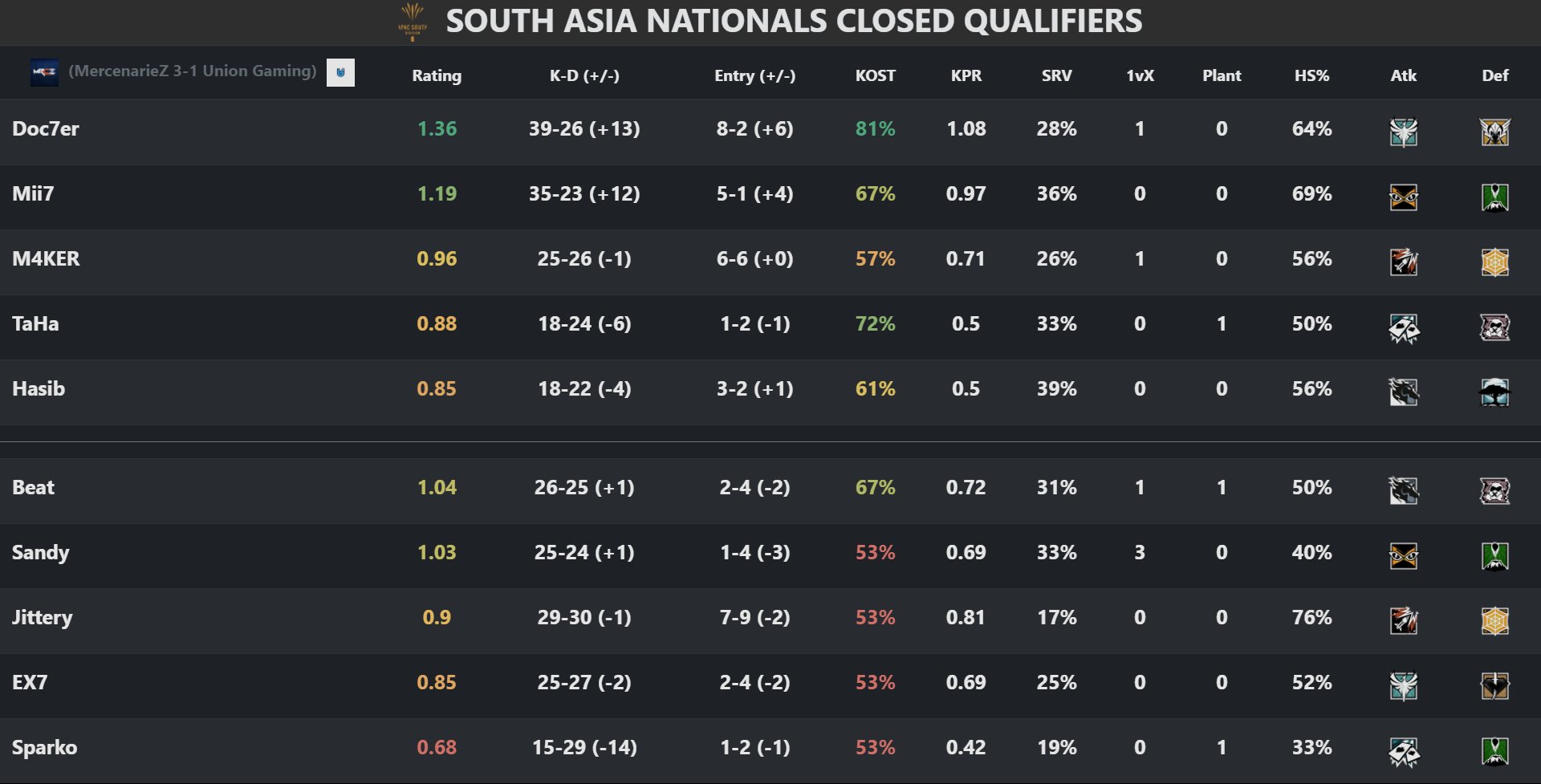 ---
Six Major
While MercenarieZ won this tournament, it was largely just for the prize money, with the top four teams qualifying for the Regional Major on November 25-29th, where another $15,000 and 275 Six Invitational points will be doled out:
1st Place -- $7,500 and 275 Six Invitational Points
2nd Place -- $3,750
3rd Place -- $2,250
4th Place -- $1,500
The teams competing will be MercenarieZ, Union, L2K, and MonkaS, as L2K effectively just replaces KIRA for the event compared to the last stage. The games will likely once again be cast on the official rainbow6 channel, with this being the first time the region has been given any level of official promotion or coverage on any medium since the last Six Major in August.
The event itself will very very likely come down to yet another rematch between Union and MercenarieZ with the teams currently 6-6 on maps across Stage one, two and the August Major. Since last Major, however, the momentum has somewhat swung in MRCZ's direction with MercenarieZ besting Union on the three maps they lost against Union during the Major grand-final -- Theme Park, Clubhouse and Oregon -- indicating that Union needs a new playbook by next month.
Six Invitational Chances
While 275 Six Invitational Points are on offer, these will only be of use to Union as they already sit with 275 points from Stage 1. Should Union win the November Major and earn 275 more points, this puts them up to 550 Points and in a fairly high likelihood of qualifying for the Six Invitational should it go ahead.
At the moment there are already 12 teams at a minimum of 550 Points meaning even if Union does win the Major they are reliant on other team's results going their way as well. More precisely, they need no more than three of the following to happen:
MIBR finishes top two at the BR Major
Tempra wins the EU Major
Empire wins the EU Major
CYCLOPS finishes top two at the APAC North Major
Xavier finishes top two at the APAC North Major
GUTS wins the APAC North Major
FAV wins the APAC North Major
Wildcard wins the OCE Major
Should four of the above results happen, then Union can still get through to SI on a tiebreaker. They would then also need either Oxygen or Team oNe to be first rounded at their own Major. Should all five of the above happen, then both Oxygen and Team oNe both need to get first rounded at their Majors.
While that seems somewhat convoluted, a lot of these results listed are fairly unlikely, giving Union a pretty straight path to the Six Invitational. All they need to do is win one best-of-three and one best-of-five next month.
Should Union make it, it would likely be ahead of teams such as G2 Esports, Natus Vincere, Team Empire, the Susquehanna Soniqs, Xavier Esports, and GUTS Gaming. This will likely cause a lot of controversy as many expect they will struggle to win many rounds at the event and yet will be guaranteed $60,000+ in prize money.
The other side of the argument is that they need this experience and exposure to improve, just as the APAC and LATAM regions did in Year 2. Nevertheless, the South Asian teams will likely be focused on winning the games in front of them and attempting to claim South Asian glory for themselves.
---
Keep an eye out here at SiegeGG for further updates on the South Asia sub-region and the upcoming Regional Major Regional!