A number of tournaments aimed at every level of R6 in the LATAM region will take place over the coming weeks from the fight to qualify for the November Regional Major event to the University and Women's events aimed at nurturing up and coming talent in the region:
Jump to:
Major Circuit -- BR6, Mexican and South American Championship
Stage 2 in each of these sub-regions will kick off this week with identical formats, talent, and schedule to that of Stage 1. The main difference in the competition is the teams as we saw a number of notable roster changes in each sub-region since the Regional Major:
Brazil
Team oNe eSports -- reduct, Faallz, LuKid, Rappz, FelipoX, Budega (coach) and Vivas (analyst)
Team Liquid -- nesk, xS3xyCake, Paluh, psk1, muringa, Sensi, Silence and mav (their three coaches)
Ninjas in Pyjamas -- Kamikaze, Psycho, julio, Muzi and pino
FaZe Clan -- Astro, yoona, ion, live, KDS and Sn4rFx (coach)
MIBR -- Cyb3r, soulz1, Bullet1, MKing, cameram4n and Guille (coach)
W7M Gaming -- panico, freezao, Guii, pdr1n, HerdsZ, Abreu (coach) and Alpha (analyst)
INTZ -- Dudds, Vnx, DRUNKKZZ, Vittzzz, Alem4o, JP (coach) and igoorctg (analyst)
Black Dragons e-Sports -- pzd, hugzord, Hornetao, Lagonis, Patoxy and sSeiiya (coach)
Santos e-Sports -- Mity, SKaDinha, cypriSs, wag, rhZ and Rovida (coach)
FURIA Esports -- Bersa, LENDA, fredQx, h1ghs, Novys, Twister and TchubZ (their two coaches)
The biggest roster change by far saw Rafael "mav" Loureiro Freitas leave FaZe Clan after three years on the team to be replaced by the ex-Singularity player of KDS as they hope to regain their top two positions in the region they had held from seasons 5 to 10.
Mav tweeted the following to announce his departure from the team:
Today I got told that FaZe Clan has decided to replace me. I respect the decision.

...I know nothing about my future, I only wish my team mates the best of the lucks, despite our differences you're all great players and amazing human beings that will make it far.
Mav instead will spend Stage 2 as Team Liquid's third coach and substitute player as the team coalesces even more of the best-known players in the region onto one team.
Most of the other changes all took place in the newer teams with FURIA picking up the ex-MIBR player of Daniel "Novys" Novy as well as the Singularity player of Thiago "LENDA" Torres after a very disappointing last-place finish during stage one. Ninth place Santos also picked up some well-known players to boost their experience with the ex-NiP player of Wagner "wag" Alfaro and another ex-Singularity player of Renato "Rhyze" Costa joining the team.
---
Mexico & South America
Both these sub-regions see very few changes across the 15 teams. Starting with Mexico:
Estral Esports -- XigmaZ, SkMzY, Toski, P1XIE, Fungi, and GOKU (coach)
Timbers Esports -- Vector, Navy, Biz, Raven, Morphed, RE4PER, Puji2, Thumper and FBK (their two coaches)
Atheris Esports -- Gabo, Guicho, AlanDerf, Kef, Lua and Royz (coach)
Pixel Esports Club -- Ravellion, BOPE, Olimpo, Slaay, Mireles and EzPz (coach)
Chivas eSports -- Cerberus, Harry, Luxor, Xploidz, Victory, BOBi and Physicz (their two coaches)
Infinity Academy -- Fuyobii, Atlas,D4rk, Scr and Mani3 (coach)
MeT -- Rubyz, TenseK, Ravz, Hydre, Wrath, DotDash and Luk3 (coach)
One of the main changes sees the second-seeded team of Timbers Esports pick up the 2019 Mexican national champion of RE4PER as the team's new in-game-leader as they hope to overtake Estral into first place during stage two.
As well as this, the big change is the introduction of the Americans of Mason "DotDash" Brasher and Brandon "wrath" Matousek onto the MeT lineup (which you can read about here). This injection of talent and experience into the team will be the focus of this Stage as we see if the investment pays off for the team. When asked about the move, MeT's co-owner of Aslan stated:
We know that to get to a Major (to really compete) we need to bring in experiences from other regions, which will help our team to further develop a more structured gameplay, individual and collective skills, as well as a strong mentality.

...In the case of Wrath, his gun skill, game sense and experience in CL were more than enough for us to want to sign him in.

...With Dot, we were looking for a smart player that knows how to handle his players and rivals; a natural IGL.
In South America, meanwhile, not many changes of note happened with the biggest seeing Anarki replace AtlaS on Nocturns Gaming with AtlaS then moving to replace Jager on 9z in return. This leaves the Stage one victor of Coscu Army in an excellent position going forward:
Coscu Army -- wikS, Pechito, NesT, shoxo, F0RBIZERAA and Novag3x (coach)
Malvinas Gaming -- Ragn4r, Prede, Patan, Soco, Chainaa and D4riolos
Furious Gaming -- Yekko, Dauert, DirTy, PretzL and SUPREMAA
9z Team -- denike, TomHagen, Skillz, zeta, AltlaS, RICK (coach) and Asterix (analyst)
LBS Esports -- DarthYayo, DaKrozz, FlyKer, PepunY and el_barto
Nocturns Gaming -- Masher7, HazeldorF, Kraften, Cueva, Anarki and xChugo (coach)
Infamous Gaming -- Nic00, Lautixs96, kurt, xChiLeaaN, Luimica and OneTap (coach)
Azules Esports -- Elmuza, Elozo, Tucu, Nefu and Tilarian
Considering Coscu ended Stage one with a flawless record, they will be the absolute favourites to continue their success and win the sub-region once again to confirm themselves as the standout team in the sub-region.
---
LATAM Regional Majors
The Latin American Six November 2020 Major will be played out from October 30th to November 1st. Due to its separation into three divisions, three separate tournaments will be held. Brazil, Mexico, and LATAM South will have four, two, and one team each to earn prize money and SI Points:
The prize pool of the Major will be split as follows:
Brazil Division Online Event:
1st place: $50,000 and 510 SI Points
2nd place: $25,000 and 390 SI Points
3rd place: $15,000 and 330 SI Points
4th place: $10,000 and 275 SI Points
BR6 Stage 2 5th place: 180 SI Points
Mexico Division Online Event:
1st place: $10,000 and 225 SI Points
2nd place: $7,000 and 140 SI Points
South Division Team:
1st place: $8,000 and 115 SI Points
This adds on to the current Points total which sees the following top in the LATAM region sit with the following points:
510 Points -- Ninjas in Pyjamas
390 Points -- FaZe Clan
330 Points -- Team Liquid
275 Points -- Team oNe eSports
225 Points -- Estral Esports
180 Points -- MIBR
140 Points -- Timbers Esports
115 Points -- Coscu Army
This likely already means NiP and FaZe have locked in a spot at the Invitational, however, a good performance at the Regional Major by Liquid and oNe will likely be the difference between attending the event or missing out to an international rival.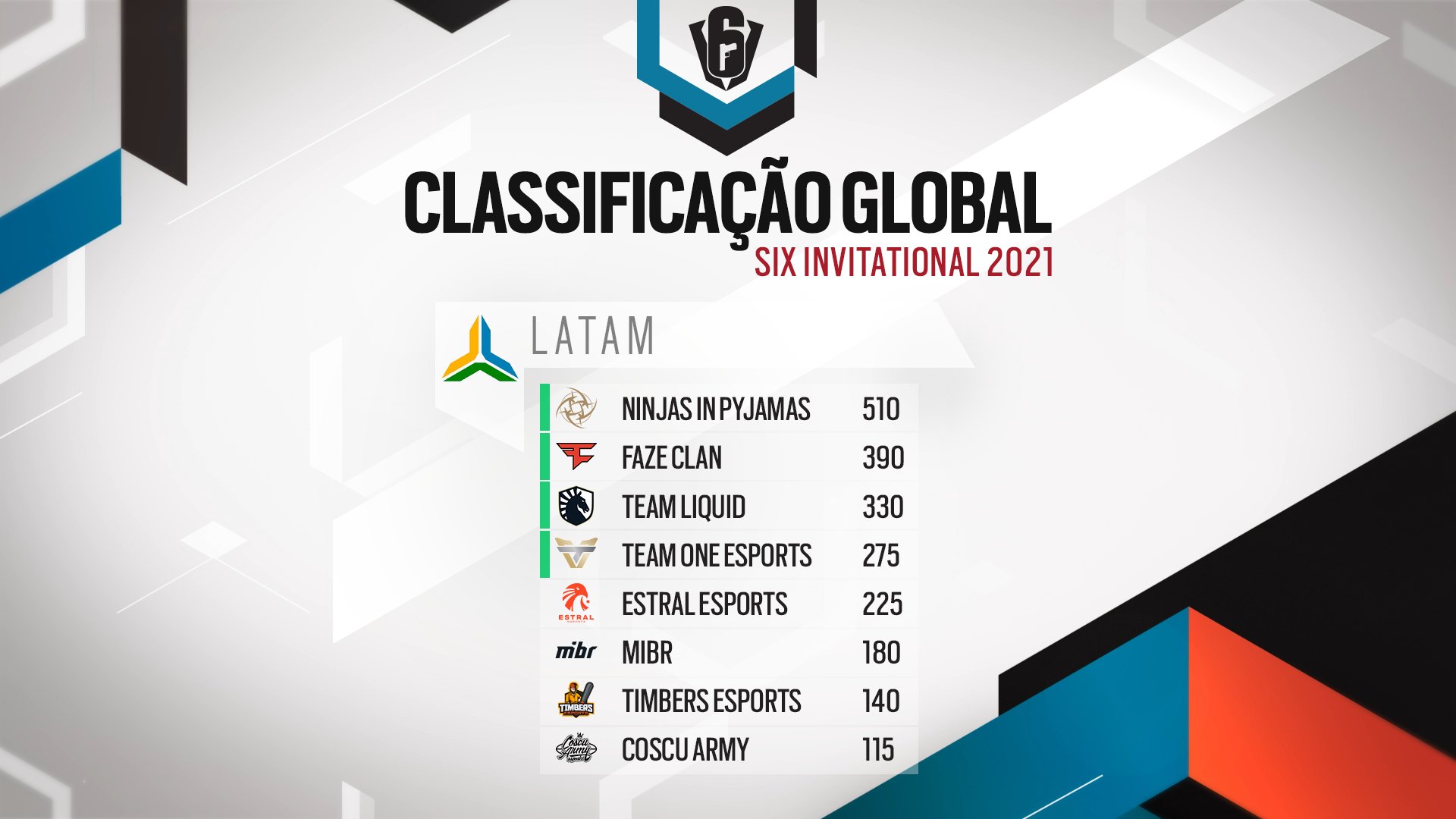 ---
Challenger Leagues -- Series B for each sub-region
The Series B tournament saw qualifiers over the last three months to see which eight teams in each sub-region will join two open qualified teams in the ten-team league which will run in tandem with Stage 2's schedule.
Brazil
Following three months of tournaments to find the first eight teams and two open qualifiers to determine the last two, here are the teams competing in the 2020 BR6b season:
Isurus -- Maia, Kurtzzz, naka, rdz, yangiii and mcunha (coach)
SuperNova Team -- Ar7hr, DOOTZ1, d4shzera, Emptzz, sxles, Bor (coach), Jota and rPonteS (their two analysts)
NT Esports -- Ghost1, Mauro, R4re, TradyZz, Hxnteer, BmH and RafadeLL (coach)
ARMY5 Fearow -- LuMyy, Mallorkz, Sk1llera, arxy, zFuzioNNN and LGS (coach)
Falkol -- StroKer, GdNN1, Jango, kondz, mgN and Kizi (coach)
Sixth Gear -- AsK, Florio, Luixx, Travellz, hermS and dan (analyst)
Royal Republic -- destiny, maddi, ScorpioN, DreeuZ, dustii and THUG-LIFE (coach)
Team Singularity -- Neskin, Levy, Ghost, KingSt4r and Zaak
Carnage Gaming -- Bassetto, Kheyze, NemeS1s, Soladoo, Sieghart, AdamTheCoach (coach) and L1nk1n (analyst)
Guidance Gaming -- VelveT, Pandex, Hyper, Fressato, Awakenz, BrZ (coach) and MiNiMuS (analyst)
This season saw an unprecedented number of transfers even compared to previous LATAM Challenger League seasons. Firstly, three teams which topped the qualifier tournaments were unable to progress to the BR6b league:
Kids Team -- Despite topping the three-month-long qualifier competitions they couldn't compete in the BR6b due to the team being underaged
Team Singularity -- KDS, LENDA and rhZ exited to BR6 teams leading to a disband. Was replaced by ex-Guardians Imperium
FA ORG -- Following the realisation and correction of a math error by Ubisoft Brazil, the team lost their spot in the tournament to be replaced by GT-R
With these changes in mind this means we saw the following organisation changes take place:
Team Singularity lineup --> Replaced by ex-Guardians Imperium
ex-Guardians Imperium lineup --> SuperNova Team
SuperNova Team lineup --> Team Singularity
Guidance Gaming lineup --> Isurus
FA ORG lineup --> Replaced by GT-R
GT-R lineup --> Guidance Gaming
FURIA Academy lineup --> NT Esports
Team Synergy lineup --> ARMY5 Fearow
Uniao Flasco lineup --> Sixth Pick
Meta Gaming lineup --> Royal Republic
Salamandras lineup --> Carnage Gaming
On top of this, most teams also made huge numbers of roster changes making the lineups hard to measure against each other and making it a competitive tournament this stage. The team to look out for will likely be Isarus as the lineup topped the Liga Six tournaments and includes a number of well known tier-two players.
These teams will compete in a BO2 round-robin league with the top four progressing to a King of the Hill bracket. From here they will play BO3 matches with the eventual victor facing the 10th placed Brasileirão team in December.
---
Mexico & South America
Both the Mexican and South American sub-regions will run their own Series B Challenger League tournaments also with the victors qualifying for to a relegation spot in their own sub-region.
In Mexico the team to watch is Team Aze which after impressing during the Liga Six tournament recently picked up the Spanish player of Flama who previously competed during stages one and two of the Spain National tournament. This means he enters the team as the most experienced player on the lineup and becomes the third international transfer ever into the Latin American region, all of which have joined the Mexican sub-region.
South America meanwhile sees a single Columbian lineup of RusherX Gaming be joined by nine Argentinian lineups with it being a fairly open tournament. All three sub-regions saw their Series B tournaments kick off earlier in the week with 10 best-of-twos played every week due to the compressed schedule caused by the three-stage tournament.
---
Women's Circuit 2020 -- Online Finals
Over the last three months, the 2020 Circuito Feminino has been ongoing which acts as a tier-three to four tournaments aimed at getting more women into competitive play. The format saw three closed double-elimination, best-of-three map tournaments take place with each team's placements earning them points. The top four teams by points at the end are then invited to the 2020 grand-finals taking place in November.
At the moment the current Black Dragons lineup has won all four Women's Circuit events -- two in 2018 and two in 2019 -- as well as the 2019 Women's Super League, the 2020 Queen of Hearts and both Stages of this 2020 competition in which they played in making them the clear favourites going into the grand-final. Joining them there are the women's lineups of both the INTZ and FURY organisations, both of which are well known for the Pro League rosters.
Finally, entering as the fourth seed is Tiltadinhas which narrowly pipped Granit Gaming Female (the same organisation which recently qualified for Europe's Challenger League) to a spot in the final in a head-to-head matchup during the final stage of qualifiers.
Black Dragons e-Sports Female -- Lara, russa, Carol, bits, aliine, and trak (coach)

FURY Female -- PinkSouls, Pessima8, yElektram GaB, and Dii

INTZ Female -- Pome, Lari, jubiX, Fabi, and Buga

Tiltadinhas -- Ch3rn4, Brun4, Chl0e, dudaZera, iMooN and IsoAcontece (coach)
---
University Esports LATAM
Brazil has run Collegiate tournaments for the last few years with the two São Paulo based Universities of Anhembi Morumbi University (which included the ex-Challenger League player of p0PStarr) and Universidade Positivo (which had both the ex-Challenger League player of Fressato and the Women's Circuit player of Isa) facing off in a LAN event just ahead of the 2019 BR6 Finals with the former team taking the title. Now, University tournaments will expand outside of Brazil with both Mexico and South America gaining tournaments for their 2020-2021 year.
The new format sees separate University tournaments take place in the nations of Columbia, Peru, Mexico, Argentina, Uruguay and Chile with national champions being crowned in each of the above. This is the first organised national tournament of any kind for a number of these nations which will likely lead to an influx of new South American championship players over the next year.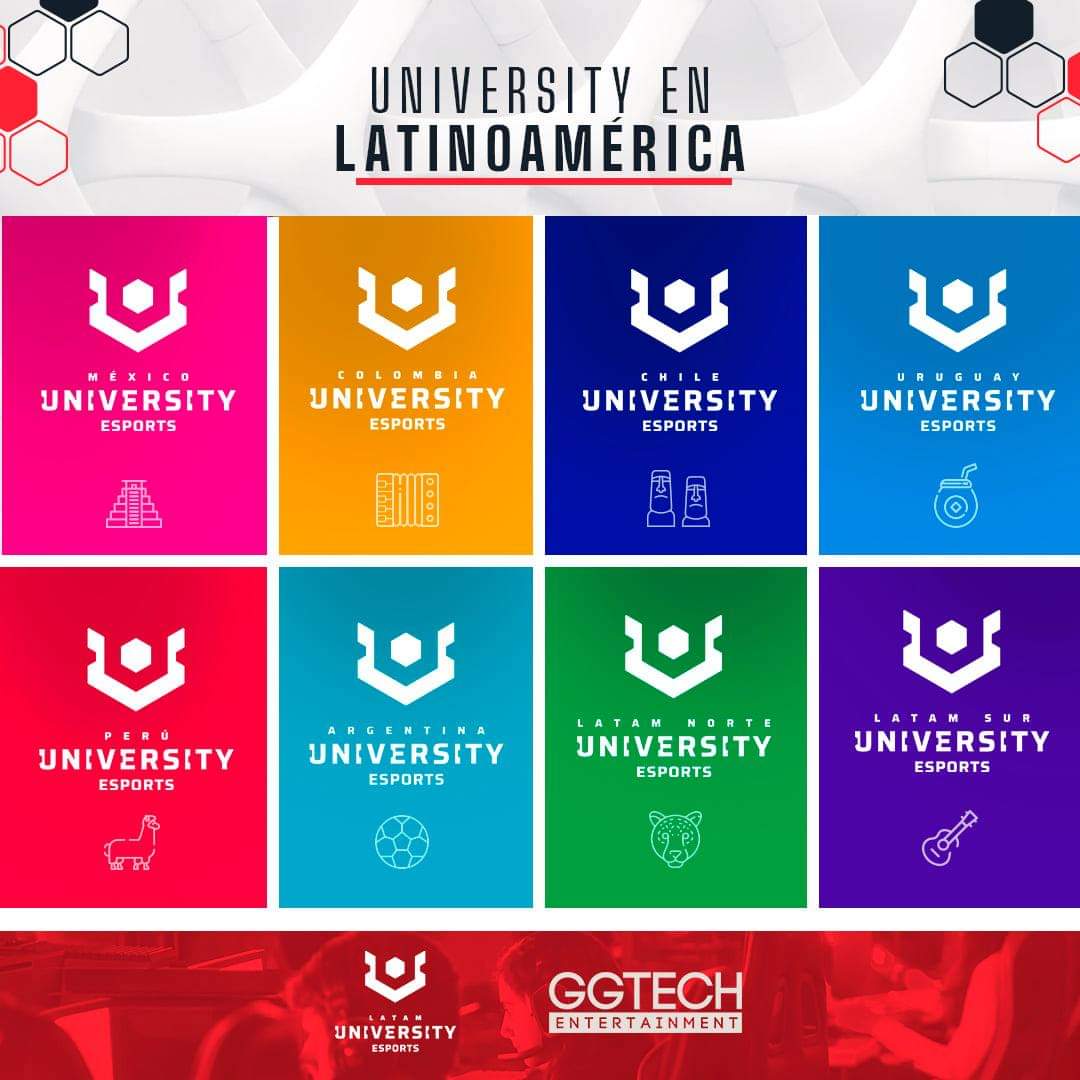 ---
Keep track of these tournaments here at SiegeGG with news and stats coverage over the next month.