The ₩30,000,000 (US$25,000) Korean national tournament got underway about a month ago, featuring three APAC North teams in attendance and other teams not to be scoffed at either. Despite past struggles with making the numbers for the Pro League, the Korean domestic scene has been going along strongly.
The new Korean Open series of nationals is the latest in a line of a few prior successful tournaments, so here's a rundown of the games from the week prior and here's what to expect from the final week ahead.
Map Scores: 7-2 (Consulate), 7-1 (Theme Park), Not Played (Oregon)
With both SGA eSports and Use Drone winless so far, the final Group A match for both teams was not quite a dead-rubber, despite no differences in prize money either, as the loser would have to play in the relegation playoffs to take part in the Fall edition of the Korean Open 2020.
Starting on SGA's map pick of Consulate, Use Drone drew first blood with a defensive win, but that basement site was all that it would get across its defensive half -- with the second floor site the only other attempted by Use Drone and won four times by SGA. Switching to attack, SGA then completed the win with ease, completing a full three-site rotation and moving onto Theme Park. There, five rounds went to SGA on defense, and while Use Drone finally took a round in their sixth attempt, that was all they got from the entire map.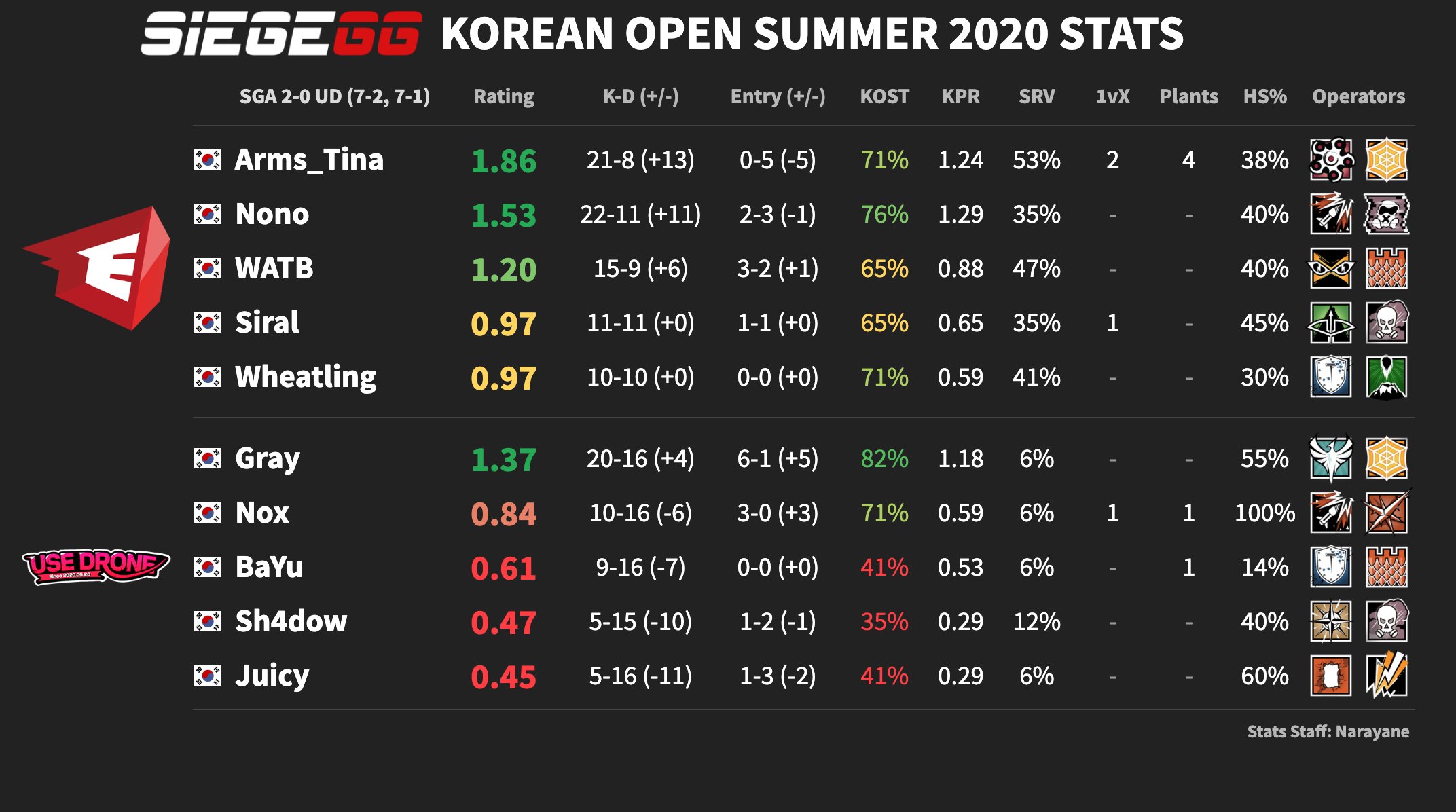 Map Scores: 8-6 (Clubhouse), 7-3 (Oregon), Not Played (Consulate)
The next game was not quite a dead-rubber, with SCARZ's qualification to the playoffs possibly contingent on a win here and Faust possibly avoiding the relegation playoffs. However, things were not quite easy for the APAC North squad. Despite picking Clubhouse and racing to a 3-0 lead on defense that soon became 6-3, it was then unable to prevent a similar three-round defensive streak for Faust. Now in overtime, SCARZ still managed to pull off the map win, taking both rounds there after a far closer map than expected.
Things were less difficult for the APAC North side on Oregon, though Faust kicked things off with two attacking victories. SCARZ brought its experience to bear, however, pulling off four rounds in a row on defense. Switching over to attack, the team got to match point within the minimum two rounds required. While Faust managed to delay things by a round, there was not going to be any heroic overtime push this time, as SCARZ closed things out the very next round.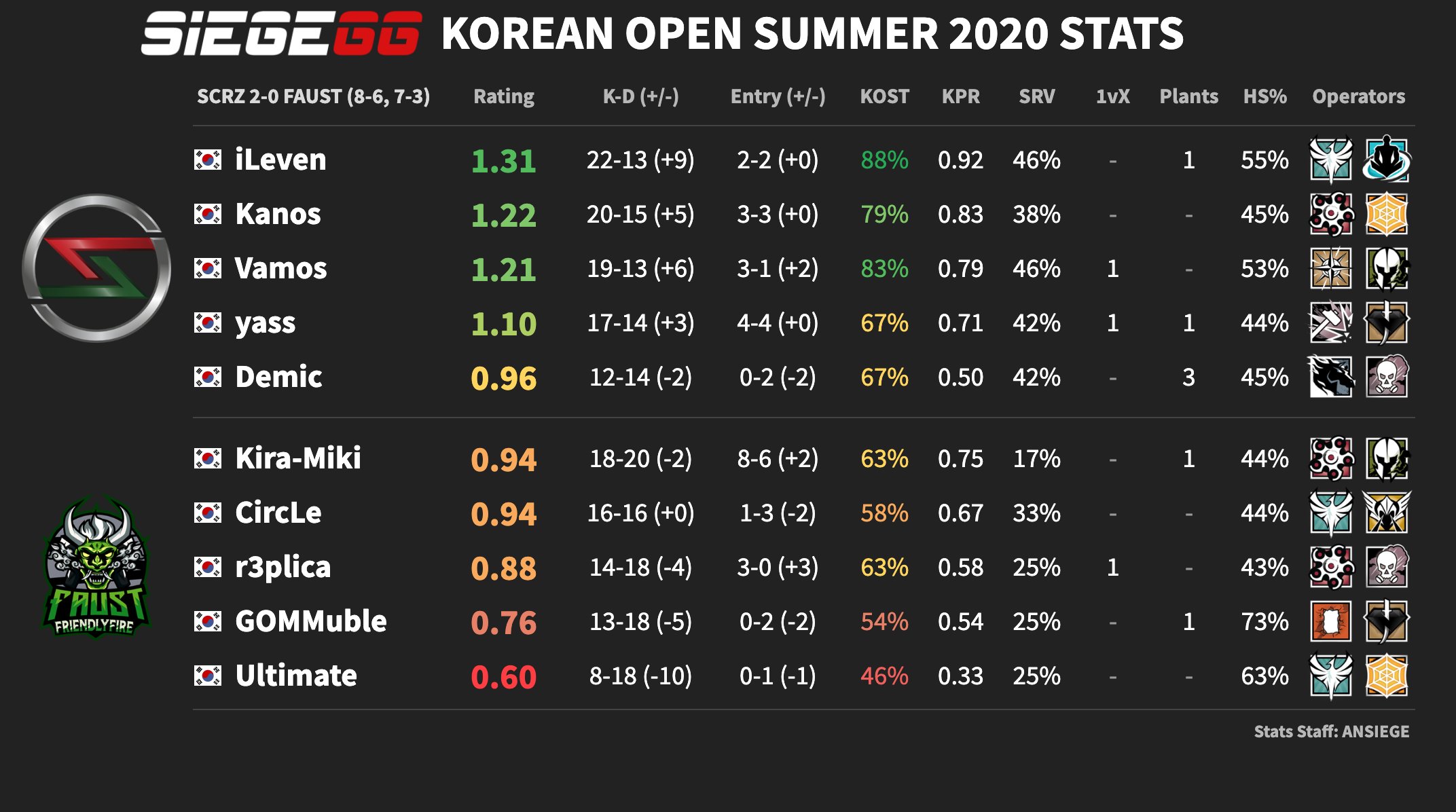 Map Scores: 7-2 (Kafe), 3-7 (Clubhouse), 7-2 (Oregon)
Opening Sunday's games was possibly the most anticipated game in the regular season between Cloud9 and GC Busan Spear. In particular, this would be the first time that CATSang and h3dy had faced their old teammates, with the duo having been on Cloud9 together during Season 10 of the Pro League. What's more, Spear's JaekDow and Cloud9's SyAIL had both played together in the same season on TRIPPY and had made it to the Season 10 APAC Finals as well.
Cloud9 kicked things off with absolute dominance on Kafe, a map that they would crush Stage 1 APAC North champions Giants Gaming 7-0 on the next week. A 5-1 defensive half was followed up by a 2-1 offensive split, with Spear absolutely outclassed. However, Spear had clearly done its homework on Clubhouse, as this time it boasted a 4-2 defensive half and a 3-1 offensive one.
This crushing 7-3 victory -- against the eventual APAC North mini-major champions no less -- was not only a clear herald of Spear's strength, but also the first time in this tournament a result would not be 2-0. However, going to the decider Oregon saw a reversion to Cloud9 dominance, dashing h3dy and CATSang's hopes with a 4-2 defensive half that was followed up a lossless three-round attacking split.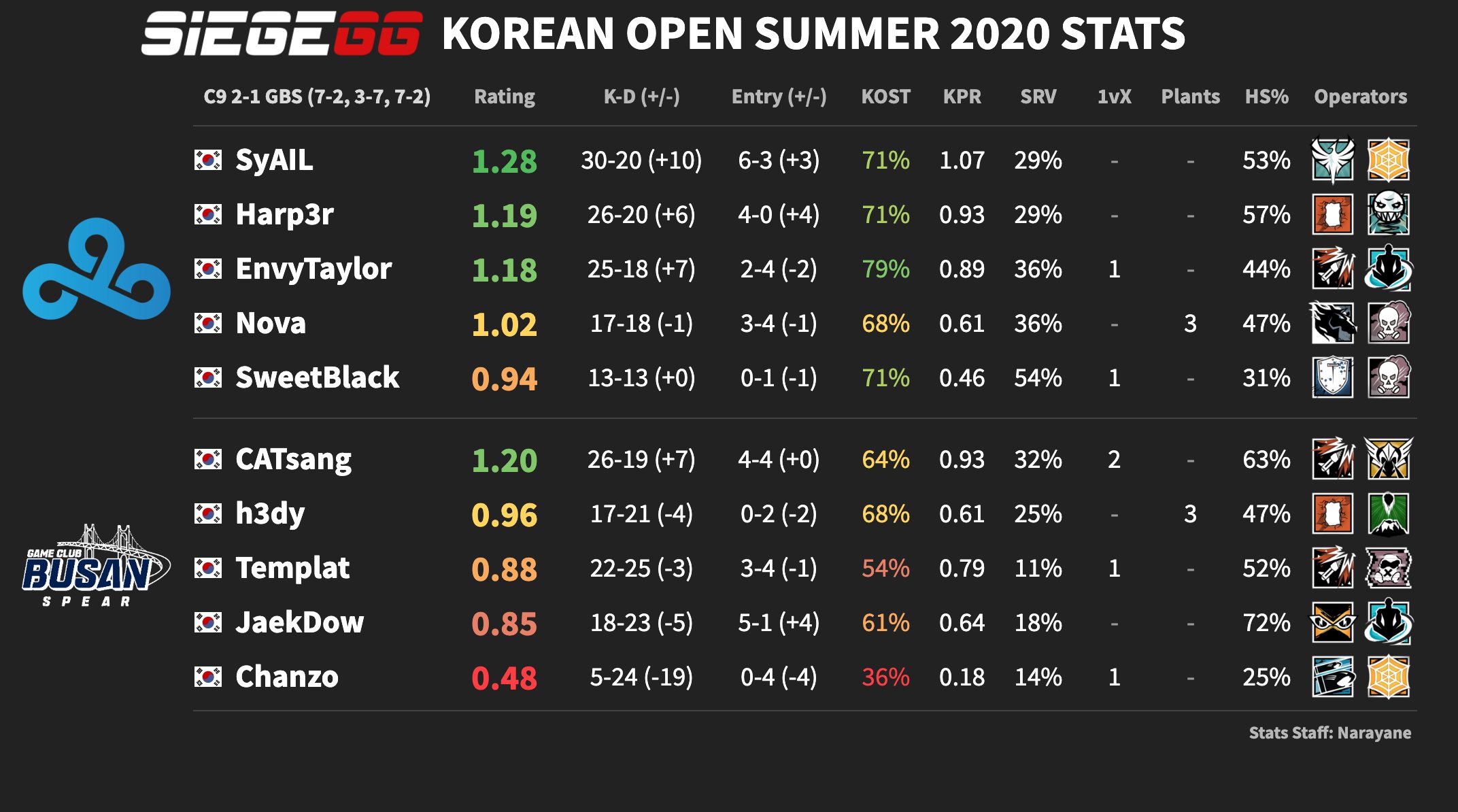 Map Scores: 7-0 (Kafe), 7-4 (Consulate), Not Played (Theme Park)
Closing out the group-stage matches would be Talon Esports and WHALE, with the former the heavyweight favourites to take the win. With Talon guaranteed to be first and WHALE gauranteed to finish safe from relegation, there was not too much to play for. As such, Talon wasted little time in getting things onto Consulate, as the first map was a crushing 7-0 victory over WHALE after a flawless defense.
The second map was slightly closer, though initial signs seemed just as dire for WHALE as they had on Kafe. A whopping five attack wins kicked things off, though WHALE managed to pull one back to go into the second half 1-5 down. Another three rounds would follow on attack, but with Talon already on the precipice, two defenses of the top-floor site were enough to secure the win.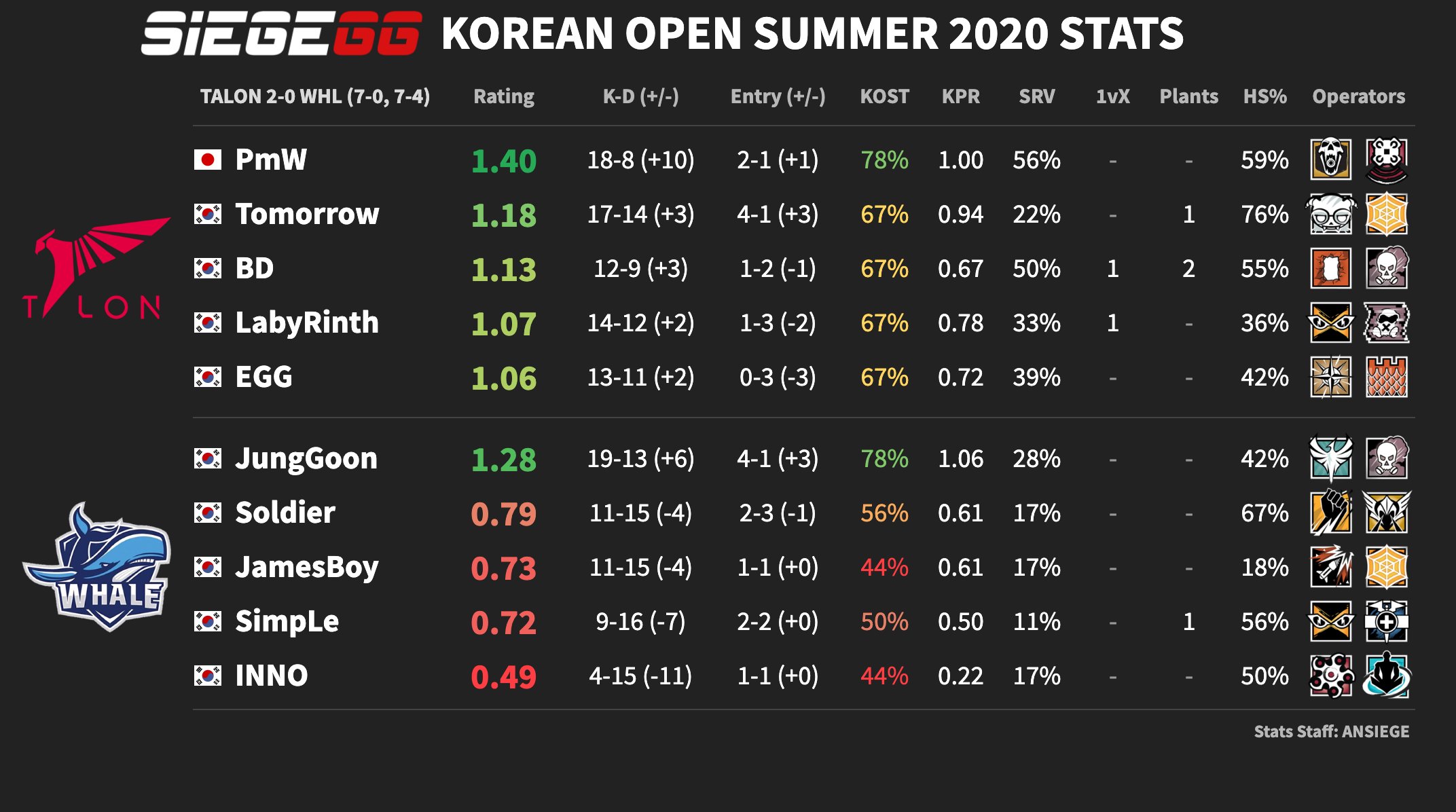 This week, be sure to tune in for the final week of matches in the playoffs on the 15th and 16th of August at 2 PM KST (UTC+9) each day.
On the first day, Cloud9 is set to take on SCARZ in what will be a very tough match for the latter, while the second Best-of-Three semi-final between Talon Esports and GC Busan Spear will likely be extremely close. The second day will then see the Best-of-Five grand final, crowning the first Korean champion in this new format.
Furthermore, the third week's results mean that both Use Drone and Faust will be in the relegation playoffs, with new teams eager to try and replace them for the Fall edition of the tournament.
---
Keep an eye out here on SiegeGG for further updates from the Korean Open 2020 Summer tournament as the games continue for the final week, and be sure to follow us on Twitter for instant updates.