The next Korean national tournament will kick off in the coming weeks as the three Korean APAC North teams compete with five challengers who will each hope to take the national title. Teams will also be aiming to accumulate enough points across this tournament and the subsequent Autumn variant to get to the APAC North relegations and be one of 12 Asian teams in the top-flight.
Jump to:
The Teams
Four invited teams, having been selected from the top-four in the five-team Korea Open in Season 1, join four open qualifier teams in the tournament.
Invited Teams
Cloud9 -- EnvyTaylor, SweetBlack, Nova, Harp3r, SyAIL, and RechoTZ and OniChan (Coaches)
Cloud9 needs little introduction to the wider world, having signed this Korean roster just days before the Season 9 APAC Finals. Since then, it has continued to do well in Korea and has won multiple domestic titles, however has struggled on the APAC stage as well as its lone international event since -- DreamHack Valencia 2019. In Season 11 of the Pro League, Cloud9 was even beaten to the top spot across the season by SCARZ.
However, recently, the team has had a renaissance in the APAC North Division, with a 5-3 win-loss record so far (including wins against Fnatic and SCARZ). As such, Cloud9 is the clear favourite to take the title here, with others expected to be playing catch-up.
SCARZ -- Demic, iLeven, yass, Kanos, Vamos, and Revi and Hybrid (Coaches)
Forced to play with their coach, the ex-pro of Junyoung "Revi" Shin in the APAC North Division so far, SCARZ will be far happier heading into the Korean Open. Returning to a coaching position for this tournament, Revi's spot will be taken up by newcomer Kang "Vamos" Sang-Eun. However, SCARZ has been having troubles beyond that in the APAC North Division so far, having only had two wins to six losses.
A far cry from its Season 11 Pro League winning form, the team will be hoping that Vamos can unlock its true potential.
Talon Esports -- EGG, BD, Tomorrow, LabyRinth, PmW, Nero, and Sunbi (Coach)
Talon Esports has been having somewhat of a better time in the APAC North Division so far, with a 3-5 record that includes wins against SCARZ, Fnatic, and NORA-Rengo, and close losses to Cloud9 and Cyclops Athlete Gaming. The team is new to this level of competition, but has not been doing poorly at all, with Han "Tomorrow" Dag-Gyu and Someya "PmW" Masaki being standouts for the team.
Now, it will aim to bring its added experience to bear on the domestic circuit and perhaps surprise Cloud9 and SCARZ to take the title.
GC Busan Spear -- JaekDow, Templat, h3dy, CATSang, Chanzo, and DongUk and Fanxy (Coaches)
Formerly TRIPPY and Axiomatic, GC Busan Spear only recently bought its new roster and made changes, and features four former Pro League names. Yugeun "h3dy" Kwon and Sewoong "CATSang" Heo will certainly be the two biggest names there, having played for Cloud9 before.
Jeon "JaekDow" Yeong-Jin, Kim "Templat" Yosep, and their coach of DongUk, on the other hand, had been together in their respective roles on TRIPPY (later absorbed into Axiomatic) and had played in multiple seasons of the Pro League. The former two had even made it to the Season 10 APAC Finals alongside h3dy, but with little to go on except their past individual achievements, there is an air of tempered excitement around this dark-horse of a team.
Open Qualifier Teams
The open qualifier teams will certainly not be ones to be scoffed at either, with Siral, WATB, and JungGoon most notable for being former Pro League players.
Faust -- Squ4d, CircLe, Ultimate, r3plica, GoMMuble, Kira-Miki, and LATEPARTY
SGA eSports -- Wheatling, KNET, Arms_Tina, Nono, Siral, and WATB
Use Drone -- Nox, Sh4dow, Gray, KIA_STINGER3, Recomer, BaYu, and Song_the_J2Z
WHALE -- JamesBoy, JungGoon, Simple, INNO, and ChickLord
The Schedule
Games will be played on Saturdays and Sunday, with the single round-robin, Best-of-Three (Bo3) group stage set to be played from 18 July until 2 August. The top two teams from each group will advance to a single-elimination set of playoffs, scheduled for 15 and 16 August, with the two semi-finals each a Bo3 and the grand final a Best-of-Five (Bo5).
All action will be streamed on the Rainbow6KR Twitch and YouTube channels, with games starting at 2 PM KST (UTC+9) each day.
The Prizes
The monetary prizes for the tournament will be as follows:
1st -- ₩10,000,000 / ~$8,400
2nd -- ₩6,000,000 / ~$5,000
3rd-4th -- ₩3,000,000 / ~$2,500
5th-8th -- ₩2,000,000 / ~$1,700
However, five of the teams will be mainly playing for accumulating points toward a spot in the APAC North relegation matchup, which will be in one of four formats depending on the number of Korean teams in the bottom four of the APAC North Division. This relegation format and the points allocation is summed up as below:

Points Allocation
| | | |
| --- | --- | --- |
| Position | Korean Open 2020 - Summer | Korean Open 2020 - Autumn |
| 1st | 70 | 90 |
| 2nd | 50 | 70 |
| 3rd-4th | 40 | 60 |

Relegation Format
No teams in the bottom four -- the top non-APAC North team in the Korean Open automatically qualifies.
One team in the bottom four -- this APAC North team plays a relegation match against the top non-APAC North team for promotion.
Two teams in the bottom four -- those two play the top non-APAC North team in a three-way playoff for two promotion spots.
All three teams in the bottom four -- those three play the top non-APAC North team in a four-way playoff for two promotion spots.
This is rather confusing, but can be summed up as such: the worse the Korean teams do in APAC North, the more teams the challengers need to face to in the relegations to make it into the top-flight in December.
Prior National Events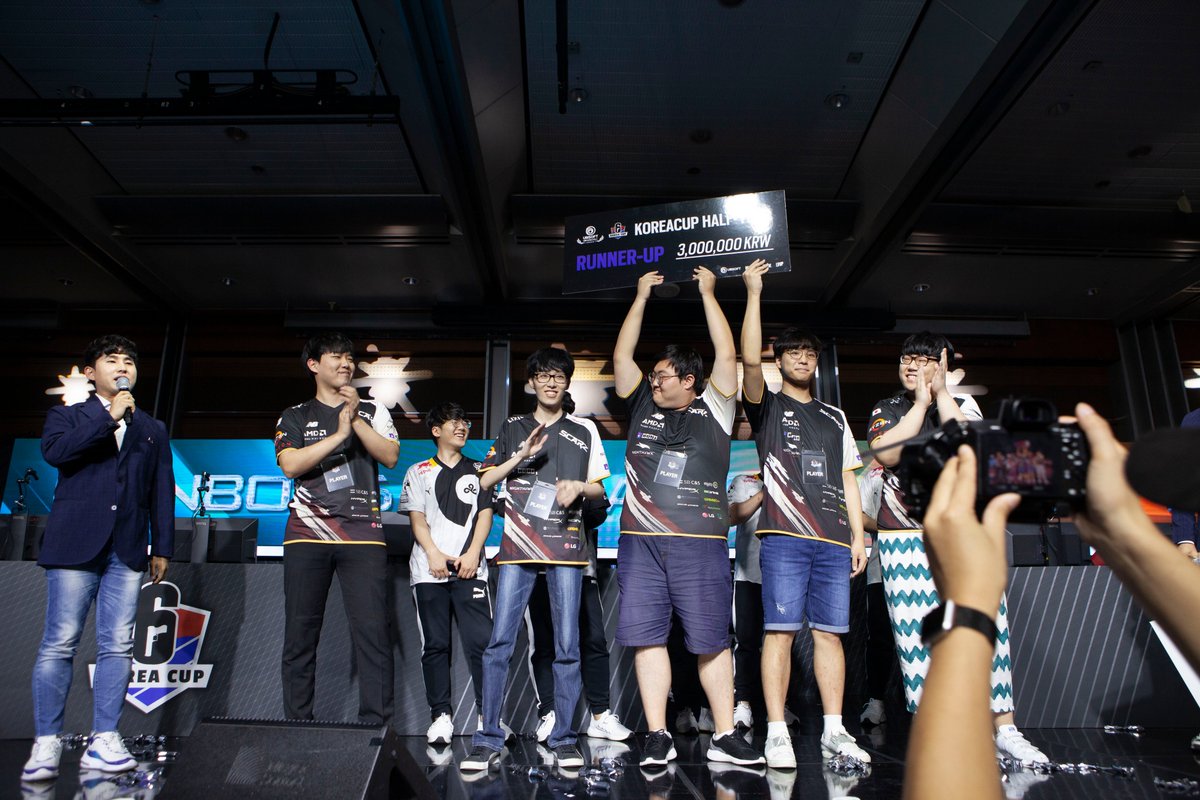 Previously, the Korean sub-region has seen a fair few big-money national tournaments take place, as it had the best supported national scene in the world.
The old format saw weekly open cups take place (effectively Go4s), in which your positioning earned you points. The top four teams by Weekly Points that month were then invited to the Monthly Finals worth around $5,000, as well as earned Monthly Points. These Monthly Points earned them places into the Quarterly and Half-Year Finals (worth $10,000 to $20,000), with their positioning in these leading to the yearly finals worth a massive $40,000.
This format has been in place since the beginning of 2018, with almost every single tournament being won by the Cloud9 lineup, including the 2019 and 2020 titles.
Now, however, as the national leagues are being integrated into the wider APAC North format, the Korean Nationals are also changing to a simpler, more streamlined format, hence the single open qualifier for each of three National events in the 2020 Korean national calendar -- namely, the Summer, Autumn, and Winter Korean Open championships.
---
Catch these games and full SiegeGG coverage for the tournament across the whole season starting at 2 PM KST (UTC+9) on July 18, and stay tuned for weekly news and statistical updates about it right here.