This week saw the European League continue with two more games for each team while the winners and loser's matchups in the US Division took place. For a deeper look into this week's games be sure to check out the following articles:
Jump to:
European League
Day 1
Kicking off the week were the eighth and tenth-placed teams in the league playing each other, as both looked for their first win. While the game did go back and forth, it was a number of clutches that made the difference as wTg won a 1v2 and 1v4, Renuilz won a 1v1, and Sha77e won a 1v2. Ultimately, Virtus.pro managed to secure the win largely thanks to p4sh4, who, as well as securing six kills in the final four rounds, totalled 15 kills overall across the 7-5 scoreline.
Next up was what this time last year would've been the biggest game in the world -- a game between Empire and G2 which was a largely bland match with a few standout highlights. In total, six out of 12 rounds ended in a 1v4 or 1v5 blowout with both teams winning three rounds on each side. This was thanks to two clutches in the game, both on the side of G2, as Pengu won a 1v1 on Buck and UUNO won a 1v2 on Bandit to earn their team a single point out of the game.
The final game of particular note saw BDS Esport secure their third 7-1 win in three maps against Team Secret in the strongest start by any team in the European region since Season 6. This result was primarily thanks to their new player of BriD, who secured nine kills to just two deaths, including a 1v2 on round four following a 1v3 by Shaiiko on round three.
The remaining games were similarly one-sided games as Rogue demolished Natus Vincere 7-1, while Team Vitality emulated that with a 7-2 win against Tempra Esports.
---
Day 2
After the stomping by Rogue on Monday, Na'Vi started Wednesday by taking Empire down 7-4 on Villa as they won three out of their five played offensive rounds. This was more than enough to take the win as JoyStiCK secured just three kills on Ash and Jager as he secured a 0.58 rating in an uncharacteristially poor game from him.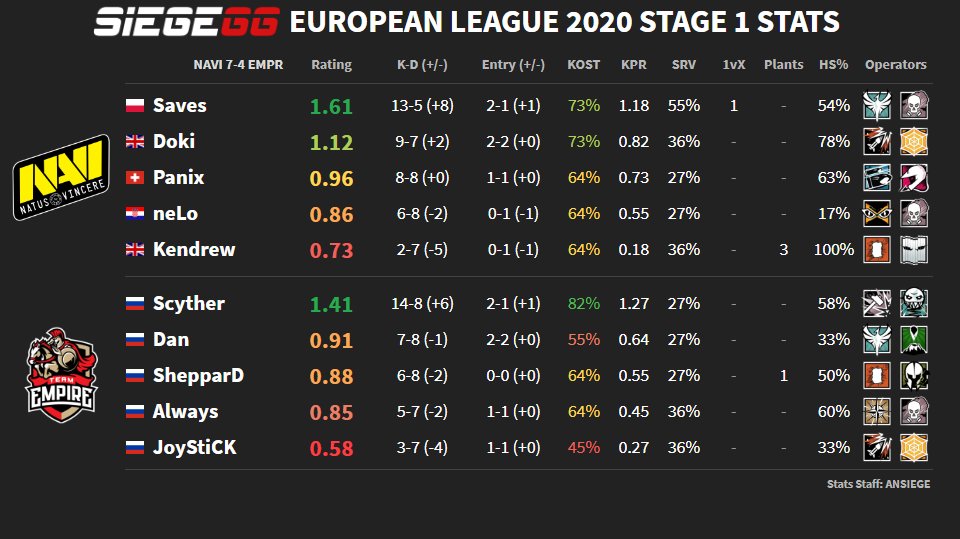 With three 7-1 scorelines under their belt so far, BDS Esport was eager to keep its record going against G2 this week as Shaiiko and Pengu met yet again. By round four, their 7-1 streak was over, however, as two round wins -- including a 1v1 by Pengu -- had been secured by G2.
Nevertheless, BDS was still the better team, consistently able to outfrag G2 throughout the map. After a 4-2 half turned into three match points at 6-3, two double kills on rounds 10 and 11 by Virtue helped G2 stage a comeback which was shut down on round 12 in a 1v1 between RaFaLe and Virtue to keep BDS' record flawless.
Finally, in the Tempra vs Secret matchup, Chaoxys stood out as he secured 10 kills to five deaths, including a 1v1 victory on round two to get his team on the board. Five rounds in a row followed this before Secret could find a response, which came as Tempra attempted a rush with 20 seconds remaining. A plant by Chaoxys led to an easy hold and a map win for Tempra, pushing them up to third in the standings in their debut season in the league.
With these results, as well as a win by Virtus.pro over Vitality and a draw between Rogue and Chaos, here's how the European League sits with four play days played:
---
North American League: US Division
Day 1
Kicking off the week were the losers' matchups of Disrupt Gaming vs eUnited and Tempo Storm vs Susquehanna Soniqs.
This first game saw the two teams start on Coastline, with Disrupt pulling out a number of unorthodox strategies and going ahead thanks to their sheer gun skill. By the halfway mark, eU was down 1-5 while their Ash main of Alphama sat with just three kills. They came back into the game with a number of somewhat one-sided wins on Hookah and Kitchen, before a 1v2 by Shuttle was countered by a clutch by Yeti and then njr finally ended the map with a 1v2 of his own.
Dirsupt's opponents of eUnited picked it up the following map after a tight opening half punctuated by a total of three triple kills and a quadruple kill. Displaying a defensive half on Kafe that had not yet been seen from the team in any of its previous maps over the last few weeks, eUnited took four rounds running including two very successful retakes to win the map 7-3 as Nyx, Retro, and Read only got a combined nine kills to 27 deaths between them.
This pushed the game to Clubhouse, where a mere four deaths total in the opening four rounds gave DG an early 3-1 lead. A 1v1 by Retro added to this on round five, before Disrupt ended the half up 4-2. This was certainly recoverable for eU, however a 2v1 loss on round seven followed by an almost-flawless retake on round eight put DG on series point, which they secured two rounds later despite Forrest's successful 1v1 the round prior.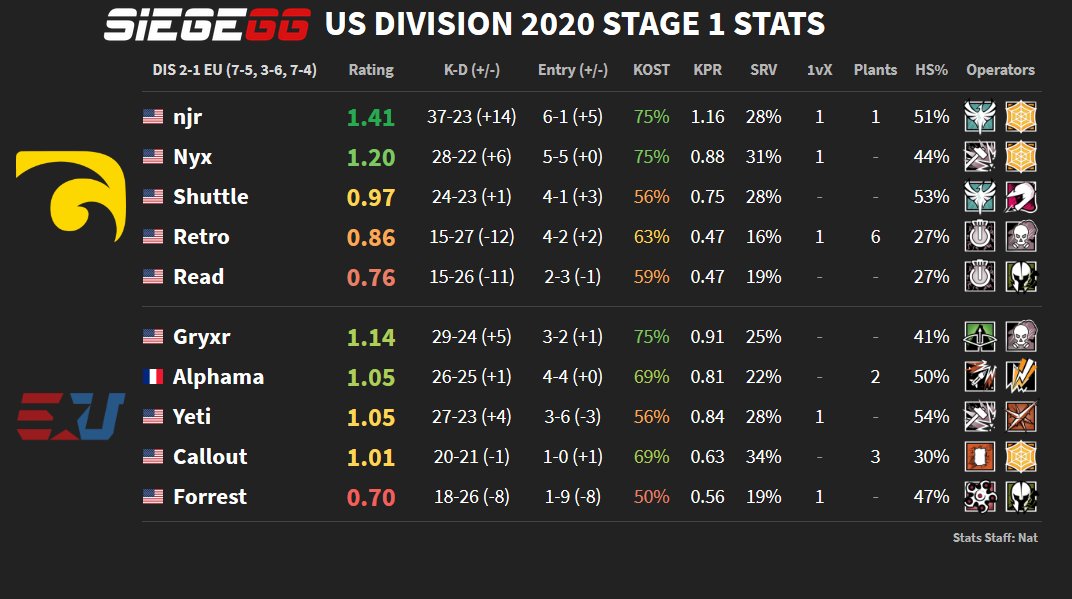 Next up was Group B's losers' game between Tempo and Soniqs, with the latter team playing with Gomfi as he returned to the starting lineup as his visa renewal was approved.
Theme Park kicked off swinging as the players seemed eager to one-up each other and end the match in style. A quadruple kill by Easilyy started the match, followed by a flawless round two by Soniqs before the best play of Stage 1 so far saw Krazy secure an incredibly rare post-plant 1v5 ace clutch on round three to put Tempo on the board.
---
Day 2
With the losers' matchups done, Wednesday saw the highly anticipated winners' games of Oxygen Esports (OXG) vs Spacestation Gaming (SSG) and Team SoloMid (TSM) vs DarkZero Esports (DZ).
This first matchup was a wild game as the current World Champions, US National Champions, and North American Pro League Champions holders were taken down in straight maps by OXG, who themselves had struggled against Disrupt the prior week.
This result came despite SSG winning the first half of OXG's map pick, Oregon, the world champions seemed unable to take map control on the new map effectively, with both their rounds coming in post-plant multi-kills from Rampy. This led to a comeback from OXG all the way into overtime, with a 1v1 victory by b1ologics being crucial to the half scoreline. Overtime then saw OXG start on the advantageous defensive side, allowing them to get the two rounds they needed to take the map.
Next up was Consulate -- SSG's map pick -- into which OXG walked confidently after the Oregon comeback. After SSG opening up the scoring, Oxygen won four back-to-back rounds on their defences, including two triple kills by VertcL. After a small comeback from SSG, another clutch by b1ologics -- this time a 1v2 -- put OXG on series point, with the win confirmed three rounds later as SSG suffered its first defeat in pro-tier tournaments since January.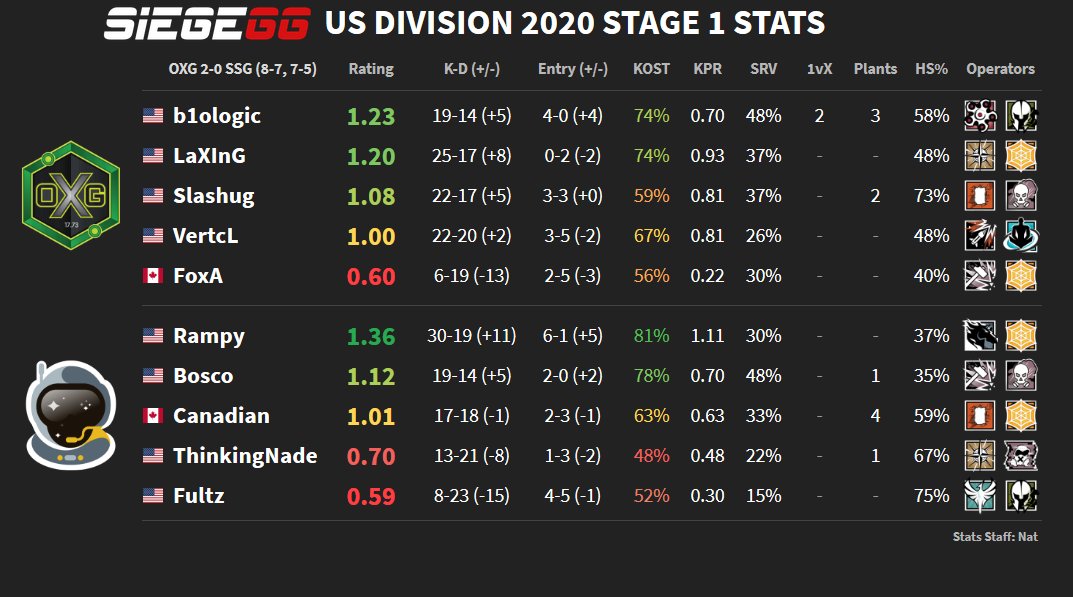 Finally, we had DZ vs TSM where the latter was defeated in straight maps as well (and even with the same scoreline), despite also finishing in the top-three at the Six Invitational. The first map of Villa was extremely close as it went all the way to round 15, however this was completely down to three clutches on rounds two, three, and ten -- all by Chala, who was single-handedly keeping his team in the game. Despite this, it wasn't enough to hold back DZ, as the Season 10 North American champions took the lead in the series.
Next up was Theme Park, where despite having just one player with more kills than deaths, DarkZero managed to win as the team effectively found and cut down Achieved and Chala consistently, with a 4k by Mint ending the competition with a 2-0 scoreline.
This means OXG and DZ go to the winners' group, while eUnited and Tempo Storm fall to the losers' group. On Monday the remaining four teams will face off to determine where these teams will fall as well.
---
North American League: CA Division
This week we saw the second opening game in the Canadian Division between LiViD Gaming and Altiora (previously known as The North and Squires).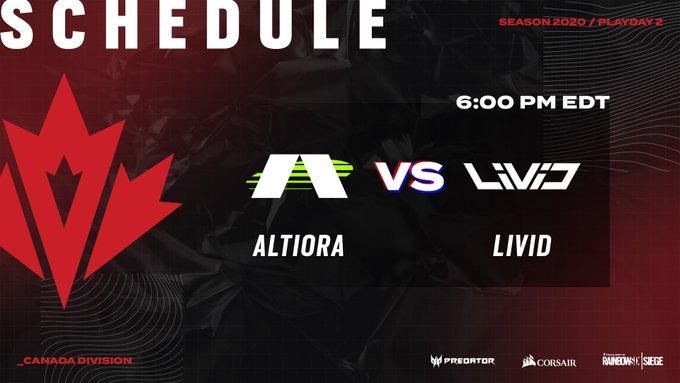 The game started with the ex-CCS Champion of DotD4sh running through LiViD on Oregon as he achieved nine kills to two deaths in the opening four rounds. The team did, however, manage to stay in the map thanks primarily to Omega on Kali (likely picked due to the Thatcher ban) as he picked up a triple kill on round three to get his team on the board and another double kill on round five leading to a 4-2 half.
The second half saw LiViD come back to draw the game thanks to two almost flawless defences which included a total of four kills from both RowdyOwly and Spektrum before a successful 1v2 by Misio kicked off three back-to-back round wins giving map one to Altiora.
Map two started almost exactly as Oregon did, with LiViD's attacks falling largely flat, leading to a 4-2 half before a series of 1vXs brought the team back into it. Round seven saw a 1v3 by RowdyOwly seen below, while round nine saw a technical 1v1 victory by Zigalo on time. This helped push the team all the way to match point, before a 1v2 by Misio pushed the game into overtime. Here, the momentum swung the other way, with all three rounds going to the attackers, giving LiViD a 8-7 map win.
This pushed the game to Clubhouse for map three, which was very similar to map one. After a 1v1 victory by Zigalo over Misio on the opening round, Altiora went on to sweep the entirety of the rest of the map, which included a 1v2 by DotD4sh on round four and kill-death ratios of two and three from Gunz and Misio.
This 2-1 result gives Altiora the win to set up a matchup against Flynn, NotLoading, and Zilchy's team of Mirage in two weeks' time. The winner of this match will then attend the regional playoffs to compete against the fourth, fifth, and sixth-best team in the US Division for a spot in the North American Regional Playoffs.
North American League: Challenger League
This week saw Group B's winners' match play out between The Last Dance, which includes the ex-Pro League players of Yung, Butterzz, and Spades, and Joe esports, which finished last season's Challenger League season in fourth place.
Map one of Clubhouse was a very one-sided affair, with The Last Dance taking an initial 4-2 lead on their defence before the team fell in a similar scoreline in the second half, ending it 7-4. The next map of Oregon was a much closer game, in which Joe not only took the lead, but was on match point before a number of standout plays from Butterzz helped close the distance. The map was eventually won on round 15 to end the game in a clean 2-0 scoreline for TLD, pushing them onwards.
Elsewhere, these were the results for the off-stream games:
US Division:
RentFree 7-2, 7-4 PogChamp
Polar Ace 7-5 7-2 Spiker GG
The Favelas 7-2, 2-7, 7-2 beastcoast
CA Division:
Team Oblivion 7-3, 7-5 Oceanus Gaming
Windstorm 7-0, 7-1 AcaRa Gaming
Honor Esports 4-7, 7-1, 8-6 PGHM Gaming
Axios 8-7, 5-7, 8-7 Valors
Caster Predictions
After 49 total games played, the Caster Predictions currently have the following standings:
The points listed are calculated as a way to standardise all three regions, so those with more games aren't given precedence. The methodology can be seen here.
---
Keep an eye out here at SiegeGG for further updates of each region as they continue for the next three weeks.