The European and North American League kicked off this week with 10 European best-of-one games and five North American best-of-three games (four in the US Division and one in the Canadian Division). You can read in detail about the teams and formats in this article here and be sure to check out the following articles for a more in-depth look at the action over the week:
Jump to:
European League
Day 1
The first European League play day was welcomed with much fanfare and excitement, with audiences having been starved of top-flight competitive games save for the charity EU Open Clash tournament. While fans expected the Russian derby between Virtus.pro and Team Empire, or the clash of the super-teams between G2 Esports and Rogue to be the games to watch, it was the final game of the night that wowed all.
Played between the newly promoted German roster of Team Secret and Natus Vincere, fans had initially been uncertain as to what could be expected. The uncertainty was further compounded when it was revealed that the two teams had chosen to play on the newly reworked Oregon, though fans across the world eagerly awaited the spin that the pros would be putting on the new map.
Starting off on defence, the Season 10 champions of Na'Vi took an early with a rapid lockout of the Meeting Hall/Kitchen bomb site and then a solid defence of the basement. The third round came with threes, as Hife got his team its first round with a triple-kill to deny neLo more than his own three kills as well. Hife then helped equalise things with another triple-kill before Secret took the lead with two more rounds as KS hit his stride on the Kali and made it a 4-2 at the halfway mark.
Na'Vi though struck back with a well-executed round on attack, but Secret pulled out all the stops with a flawless round followed up by a merciless LMG spree from Exp0 that netted him three, putting the Germans up 6-3 on match point. Na'Vi then pulled off a dicey attack win, but it was Doki who then took the game by the scruff of its neck, charging into the basement with jaw-dropping confidence to get four of five Secret members. Yet another triple for Doki then followed, though, as Na'Vi successfully pulled things back and made sure to take at least a point home.
Elsewhere, Team Empire marked a remarkable return to form as the Raleigh Major champions smashed Virtus.pro 7-1, newly promoted Tempra Esports was held by Chaos Esports to a draw. On the other hand, BDS Esport seemed unstoppable in its 7-1 takedown of the new Team Vitality roster, while Rogue, too, seemed to need more time to gel as its roster was swept aside 2-7 by G2 Esports.
Day 2
The following play day kicked off with Virtus.pro (VP) yet again, this time against the promising newcomers of Tempra. Starting on the defence on Consulate, VP managed to win the Garage objective twice, but lost elsewhere, leading to a 2-4 half before a number of slow attacks allowed Tempra to increase the lead all the way to match point. Finally, Tempra took the game 7-4, thanks to a 1v1 victory by Shiinka against wTg who almost secured a 1v3 himself.
Next up was Empire vs Rogue, as karzheka met his old team for the first time and simply demolished them with a 2.0 kill-death ratio (14 kills to seven deaths) and 1.55 rating, while Empire's Ash/Jager main of JoyStiCK ended with just a 0.57 rating. This 7-4 win was quite a show of the team's prowess after a very weak opening game against G2 Esports, which will hopefully reinject some faith into the lineup going into week two.
Following this was the battle of the shields between the Montagne players of Kendrew and Pengu, with the former coming out on top overall as he achieved the highest rating on his team despite the odd picks. The game itself ended as a draw -- an improvement on G2's 2-7 loss last time they met -- as neither team ever gained a lead greater than two as the rounds swung back and forth throughout.
After taking a 4-1 lead on their Villa defences, Secret was unable to keep this lead intact on their attacks, particularly thanks to BiBoo's standout performance on Ash and Jager as he secured 15 kills to eight deaths, almost twice the kill count of his next best teammate. The game eventually ended with a draw after four total offensive wins all on the Kitchen/Dining site. With this performance, Exp0 now sits as the lowest rated player across two maps with seven kills to 22 deaths so far this Stage.
Finally, to finish the day was Chaos vs BDS, both teams of which come in with major additions to the lineup. On the third Consulate pick of the playday, BDS utterly dominated their opponents with a 7-1 win thanks to a 1.63 rating by Elemzje on Sledge and Mozzie. The only round Chaos won was a Lobby attack as BDS picked it as their fourth site, consistently shutting down Chaos' entry fragger and primary roamer of Cryn every round with him securing just two kills total.
With this, BDS ends the week as the only team with two wins in two games. They play their fellow French lineup of Secret on Monday, followed by the classic BDS vs G2 matchup on Wednesday, while further down the table VP will aim to get their first point of the stage against eighth and ninth-placed Team Vitality and Chaos EC.
---
North American League: US Division
You can read a more in-depth analyst of the US Division games this week here.
Day 1
This week's games saw the four favourites each win each matchup, however, many were not as one-sided as expected. Spacestation kicked off the week with two relatively clean maps against eUnited in the only game where neither side had made any recent roster changes. Bosco was the star player across the two 7-4 scorelines as, while he was only the fourth-highest fragger, he achieved a remarkable three successful 1vX situations as eU constantly let the rounds slip through their fingers.
Sloppy's pro-level debut was up next as he helped his team to a valiant result against the fourth-best team in the world. As well as being the underdogs, the Tempo players were clearly still trying out their roles as three players ended up as technical "Jäger-mains", but despite the odds, the second map went all the way down to the wire, 8-7.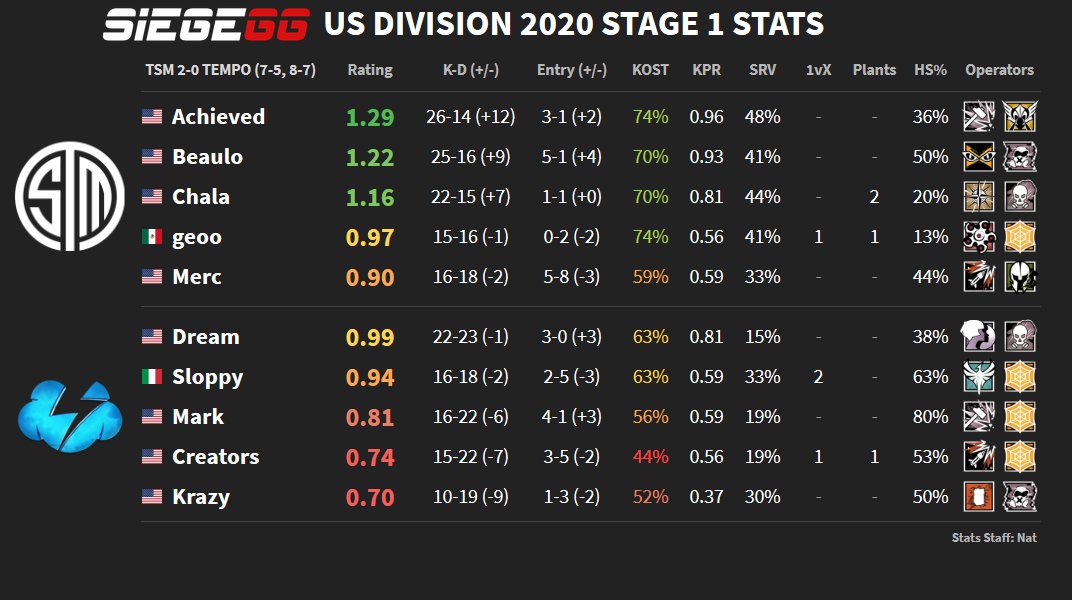 Day 2
As Thursday came, we saw two much closer games, both of which ended 2-1. First up was OxG vs Disrupt, which started out with two impressive clutches by Shuttle in a 1v1 to deny LaXInG an ace. This was followed by a 1v2 by Retro, only for both of these rounds to be written off due to Nyx playing with a banned skin. Rather than awarding Oxygen these rounds, they were simply erased and the score was reverted back to 1-0 which seemed demoralising enough that Disrupt completely fell apart on the map, losing 7-1.
After this, the following map saw Disrupt pull things together and put up quite an impressive performance as a 1v2 by Nyx pushed them to match point at 6-4. Things were looking good, when two rounds were rolled back yet again due to banned skins being used by Nyx. Nevertheless, they managed to repeat these wins with two more convincing rounds to take the map 7-4.
Finally, map three on Villa was effectively lost in the first few rounds as Oxygen took an early offensive lead before drawing the half 3-3. This meant they only needed a fairly standard 4-2 split on their own defences to win 7-5 and take the series 2-1.
Next up we saw the debut of Iconic, Lags, and J9O on the Soniqs as they faced DarkZero in another impressive performance. Map one went the Soniqs' way following a strong offensive half on Consulate that saw them win four out of five rounds on their way to a 7-4 victory. The following maps were less of a contest, though, as DZ went on to win Soniqs' pick of Oregon 7-4 and the decider of Clubhouse with a decisive 7-1 scoreline.
Overall, Iconic was definitely the standout performer of the match on his debut, but the team chemistry and experience of DarkZero couldn't be overcome, especially while playing with two substitutes and a debutant.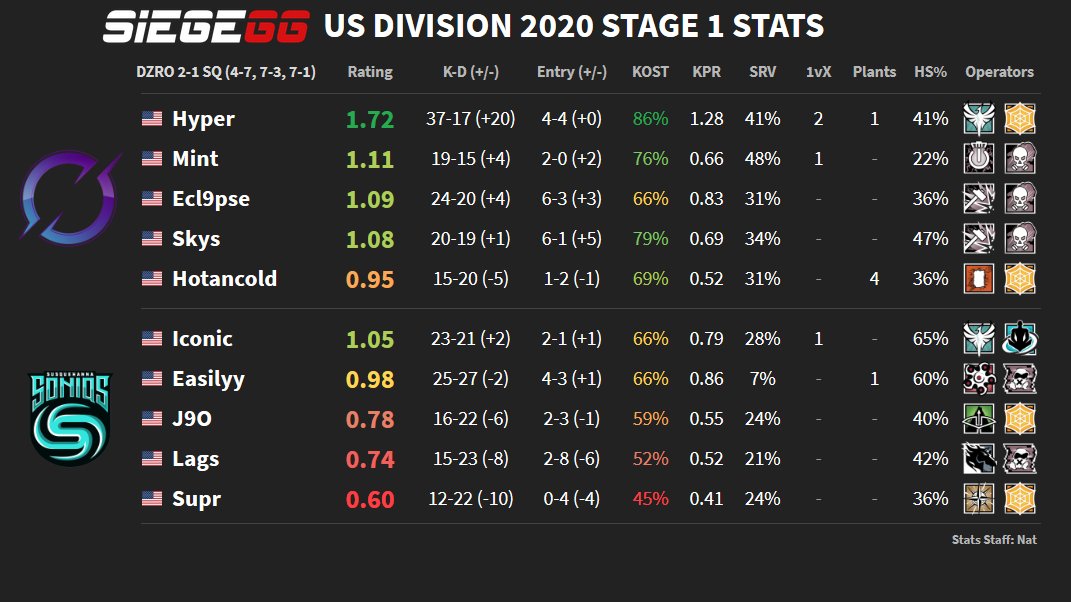 ---
North American League: CA Division
The opening day of the Canadian Division of the North American League saw Flynn, NotLoading, and Zilchy's team of Mirage play the French Canadian roster of Nordik Esports, as the two favourites fought to push into the winner's matchup in two weeks' time.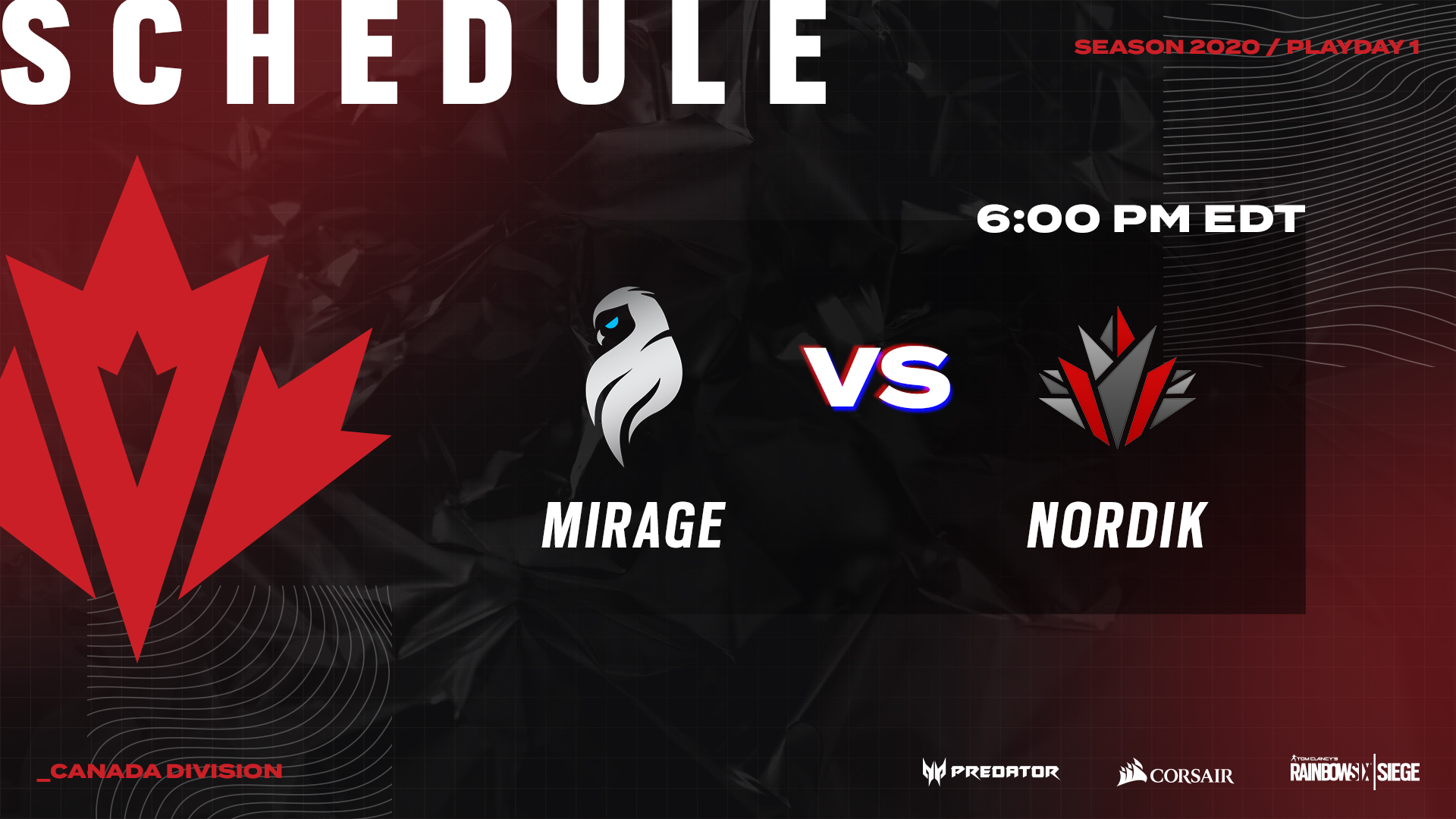 The game started off very close. as NotLoading's fragging ability on Kali made up for Zilchy's slow start as the teams kept even throughout the map into overtime on Oregon. Here, three number of hectic rounds followed, as the momentum swung back and forth, with round 15 ultimately coming down to a 1v1 frag by Bosak over Silent.
After losing the first map, Mirage needed to win the next two in order to keep their shot at the regional playoffs alive. Thankfully for their fans, they did manage to pull this off as Mirage seemed to come together and became much less reliant on NotLoading for kills. Over the next two maps of Villa and Kafe, this allowed them to take the two maps in two 7-3 scorelines. On Villa, this was thanks to their offensive wins in three out of four attempts after also taking their defensive side in a relatively standard 4-2 split, while on Kafe they seemed dominant throughout.
With this 2-1 win, Mirage progresses to the winners' final of the double-elimination group, to be joined by the winner of next Friday's The North vs Squires matchup.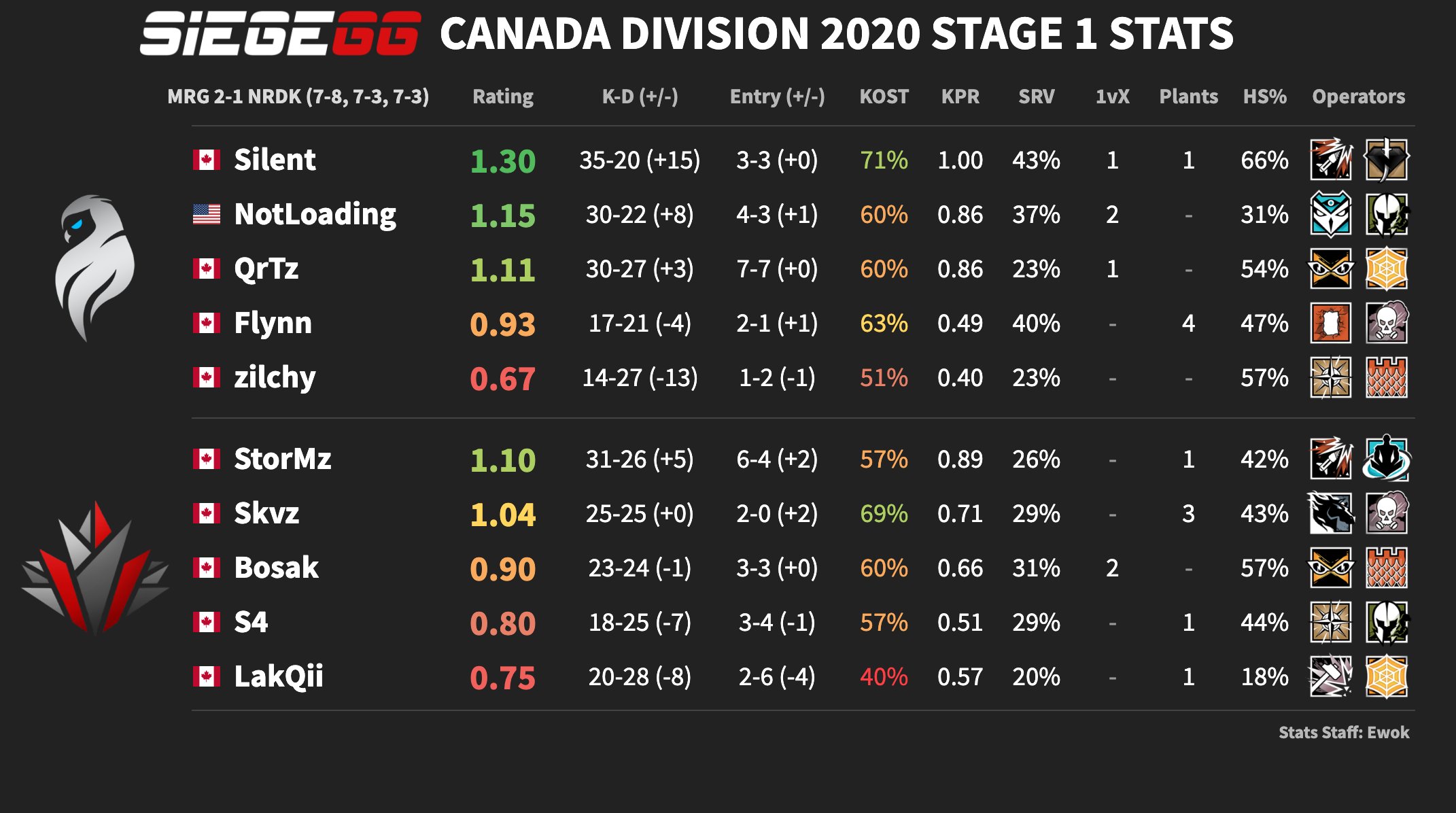 ---
North American League: Challenger League
The North American Challenger League for both divisions is split into two double-elimination groups of four each. These teams play every Friday following the Canadian League games, with the following games having been scheduled for the previous week in the US Division.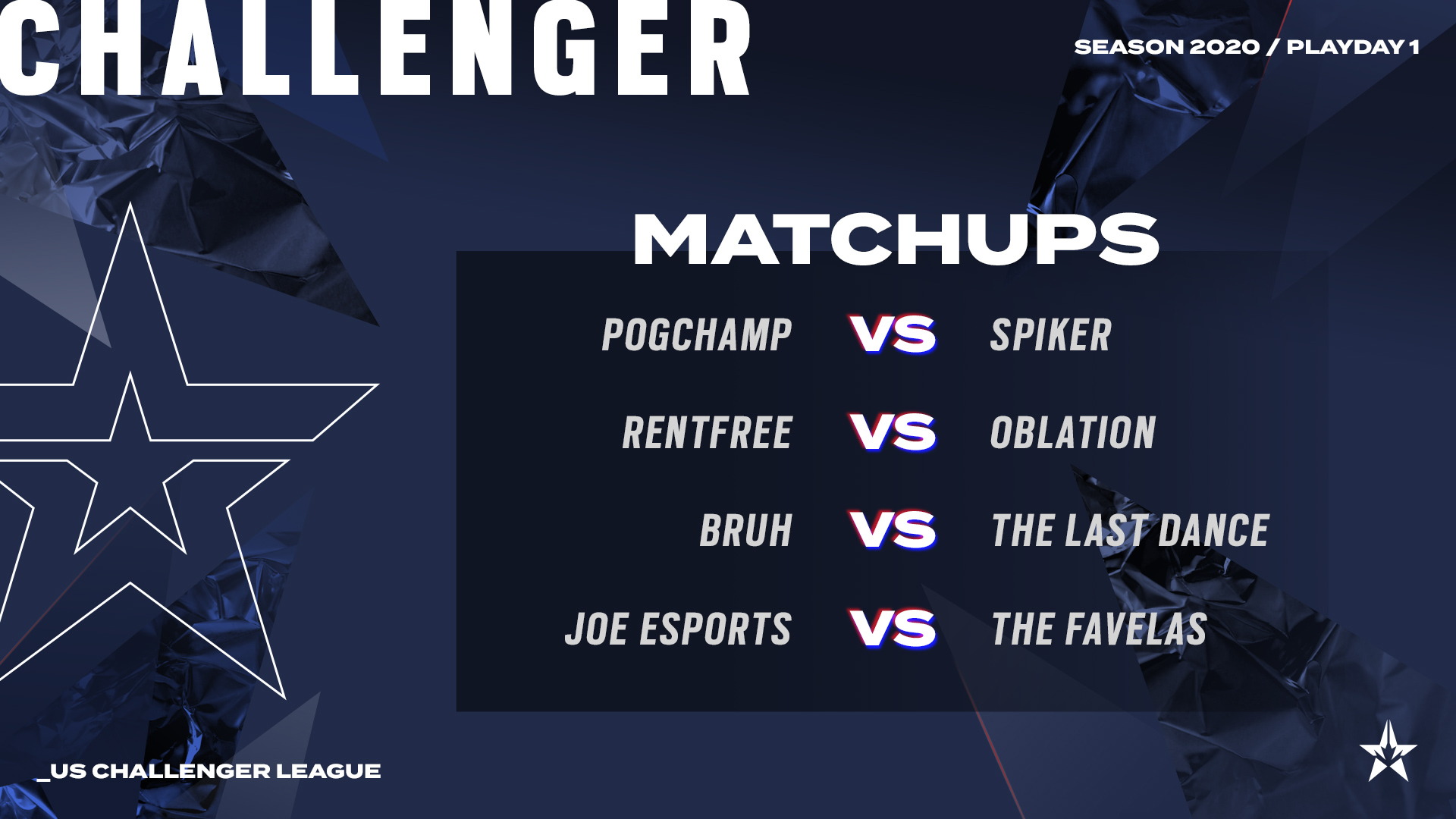 The onstream games saw the matchup of PogChamp vs Spiker GG in which, as one of the most experienced teams, PogChamp came in as the clear favourites. Starting on Oregon, PG seemed like the best team overall, with Sweater securing an ace in the very first round of the tournament, however Spiker got on the board with two defensive wins on Oregon's basement objective.
Sweater ended the first half with another quadruple-kill as it seemed they may run away with a win, however, yungalec made sure that wasn't to happen. As Spiker went to attack, they came all the way back as momentum completely, switched showing the map was extremely attacker-sided. As such, Spiker had a huge advantage when they started overtime on the attack. They took round 13 but, as yungalec was the opening death on round 15, ended up losing the map 7-8.
With that, just like the Canadian League game prior, the following map was fairly one-sided, with yungalec securing just seven kills to eight death leading to a 7-3 defeat. Despite this, this was an impressive performance nevertheless, as they are bound to give their opponents next week a good shot.
Elsewhere, these were the results for the off-stream games:
US Division:
Polar Ace 8-7, 7-3 RentFree
The Last Dance 7-5, 7-4 beastcoast
Joe esports 7-4, 5-7, 7-4 The Favelas
CA Division:
Team Oblivion 7-0, 7-1 AcaRa Gaming
Oceanus Gaming 7-8, 7-5, 7-1 les cornets
Honor Esports 7-4, 7-4 Axios
PDHM Gaming 8-6, 3-7, 7-3 Valors
---
Caster Predictions
So far after the first week of EU League, US Division, and APAC North predictions, the nine caster pairs, the SiegeGG Rankings and SiegeGG Patrons are ranked as follows:
The points listed are calculated as a way to standardise all three regions so those with more games aren't given precedence. The methodology can be seen here.
---
Keep an eye out here at SiegeGG for further updates of each region as they continue for the next four weeks.