With the Pro League nearing its end, here's our pick of the action here at SiegeGG in NA, LATAM, and EU, with the APAC Pro League now done and dusted.
Jump to:
Europe - Day 12
Doki returned on Monday as his suspension from all ESL tournaments for "severe toxicity" was ended early just in time for their matchup against G2 Esports and his ex-teammate of CTZN. The game on Clubhouse saw Doki open the game up by taking out both of G2's best known and oldest players of Kanto and Pengu to take the initial lead before CTZN kicked back with two kills of his own including one on Doki following a plant by Virtue. With the scores tied, Na'Vi took round three before a triple kill by neLo gave Na'Vi their first real lead of the game at 3-1.
The half ended with two remarkable rounds as a triple kill on round five left neLo in a 1v1 against Pengu which he won followed by a round six which Na'Vi also won despite both Doki and Saves disconnecting less than a minute into the game. At this point, Na'Vi was up, 5-1 on their defensive half and moving to their offence which G2 fans hoped would switch the momentum in their favour. This was immediately thrown off as Na'Vi pushed onto map point with a round seven victory before a triple kill by UUNO on round eight was responded to by a triple by Doki on round nine to close out the map in a commanding 7-2 victory.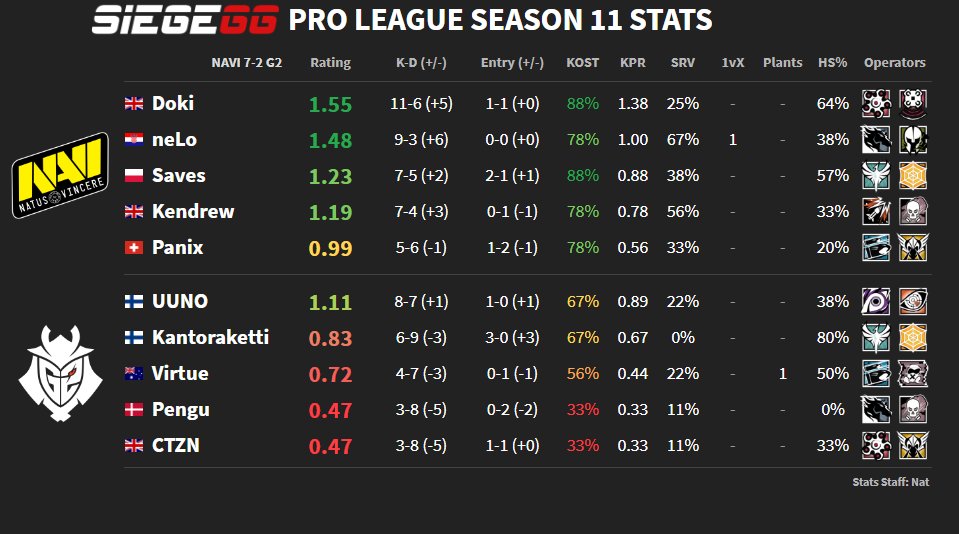 Outside of this one upset, the first, third and fourth placed teams of Rogue, forZe and Empire all found victory in the three other games this playday against lower-seeded opponents, only one of which was a close game between Empire and Chaos.
This game on Coastline began as it seemed like Empire was continuing their losing streak as they had already lost three out of their last four games this half-season. Despite going down 5-1, however, as they moved onto their offensive half, they kicked into gear and won six straight rounds to take the game 7-5 in a remarkable comeback. As well as two 1v1 victories by Chaos (by Secretly and Renuilz) the game saw two quadruple kills by VITO and dan making it one of the most action-packed of the week as it looked like Empire finally got back into their winning ways.
Europe - Day 13
With Rogue six points on the top of the table and two playdays remaining, they were very close to locking in first place after two back-to-back season finishes as the second-seeded European team which they did against Chaos this week.
The game was effectively a walkover for Rogue on Border as they started on the attack and managed to win four out of the first five rounds with the one defeat coming as VITO secured a triple kill followed by a post-plant 1v1 victory by SHA77E over Korey. With the half ending 4-2, Rogue won two more rounds including a 1v2 victory by korey before closing it out with a 1v1 by ripz on round 10 on time against SHA77E. With this 7-3 victory, Rogue became the EU Pro League champions ahead of the three ex-Pro League champions of Na'Vi, Empire and G2 just below them in the standings.
Just prior to this game, Empire continued their very disappointing Year 5 with a 7-2 defeat to the last-placed roster of Team Vitality while Na'Vi continued their seemingly unbeatable run as they took down forZe who had also just won three games running, 7-2. Finally, the matchup between BDS and G2 -- or Shaiiko and Pengu as many see it -- saw G2 take a 4-2 defensive half on Border which included a 1v3 victory by Kanto on time and a 1v2 by Shaiiko post-plant.
With BDS behind at the beginning of the second half, they quickly won two rounds running to tie up the scorings as in both cases G2 got the bomb down before being eliminated allowing Elemzje to defuse. From here on out the two teams traded fairly one-sided rounds to an eventual draw to put the team's head-to-head record at 7-1-3 (maps won-drawn-lost in G2's favour).
North America - Day 12
As the Pro League season begins to wind down across the regions, every week seems to feature a match which has final standing implications. Prior to playday 12, Spacestation Gaming sat 5 points behind Team SoloMid, and only 3 points ahead of both DarkZero Esports and Team Reciprocity. All of this aside, the best match of the day would be DZ versus Tempo Storm, an unlikely candidate to most.
The bout between these teams would be played on Coastline, which, to some, would look to potentially favour Tempo, as DarkZero tend to be slower and methodical, the antithesis of Coastline. While Tempo would start strong, trading efficiently throughout the first round to go-ahead 1-0, DZ quickly responded, stringing together 4(!) defence wins in a row to go up 4-1. Tempo would close out what was a disappointing half with another attack win, finding themselves down 4-2.
As the match progressed, two names became standouts on the stat sheet: Hyper from DZ and Creators from Tempo Storm. After trading the first two rounds, Hyper came alive in round 9 with a 4k. Creators felt the need to respond in a big way in the following round on match point. After Creators found two kills in mid-round, the defuser was planted by DZ in what was a 3v3. As his teammates were being picked apart by the post-plant from DZ, Creators broke through, finding an ace and being the last man standing on his team. Unfortunately, his team could not seize the momentum after this massive play, and fell in the following round, with a final score of 7-4 in favour of DarkZero Esports.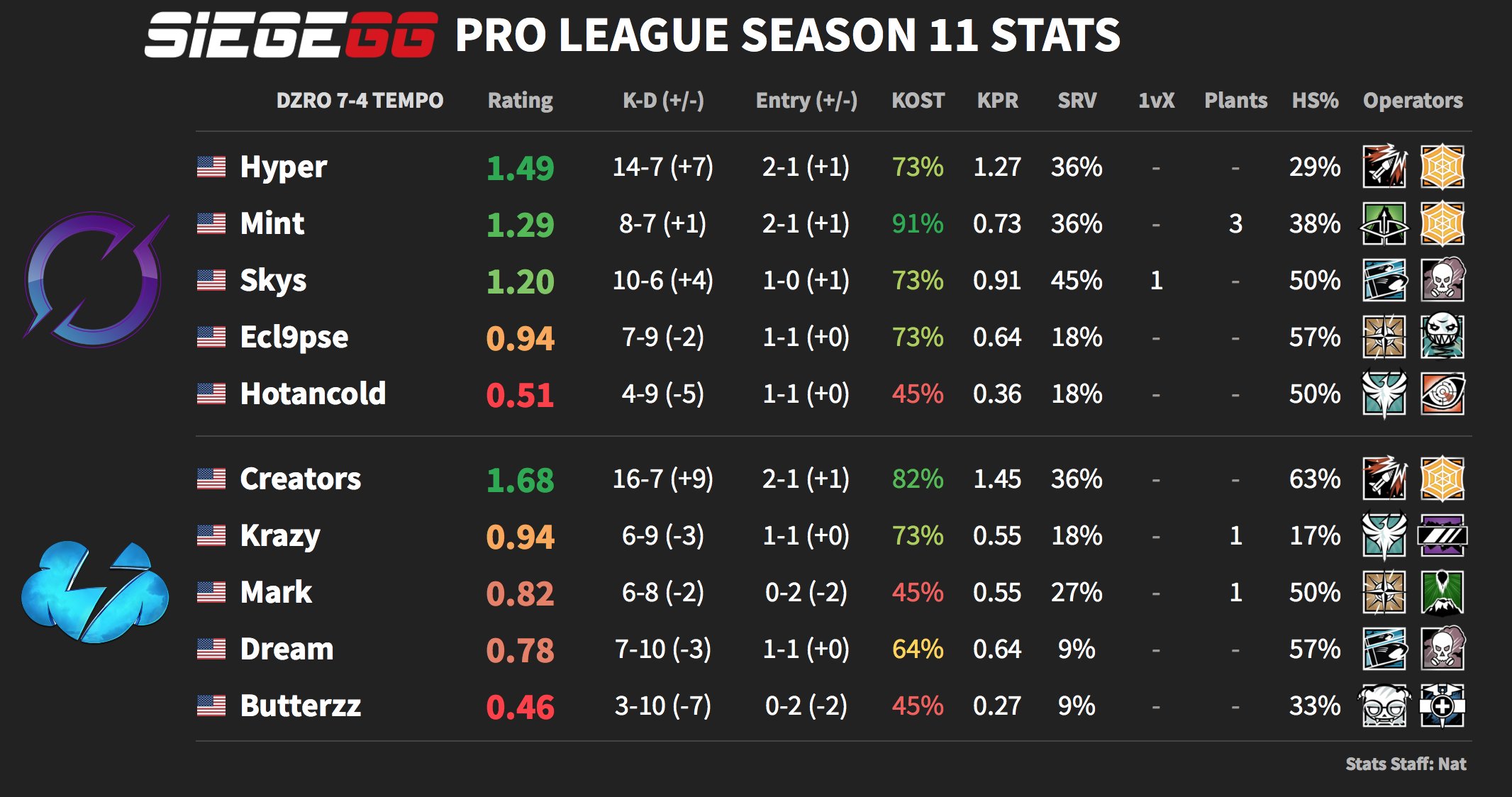 Across the rest of the region, Luminosity defeated eUnited in a bottom-half affair, 7-5. SSG handily dispatched Team Reciprocity, 7-2. Finally, TSM showed EG why they are the first-place team in NA, winning 7-4.
North America - Day 13
Five points out from the top spot, SSG needed a little help to have a chance to challenge first place in the playday 14 against TSM. In what may go down as a huge match when the season finishes, eUnited toppled high-flying TSM. We'll recap how it went down.
Playing on Clubhouse, revenge was in the air for ex-TSM coach Bagel. After being released from his duties by TSM following Six Invitational 2020, he joined eUnited hoping to build an empire from the ground up. At this point in the season, however, eUnited had little else to play for besides pride and experience, sitting at 6th in the standings. Despite this, they managed to make day 14 matter for both TSM and SSG.
A relatively high-paced execute earned TSM first blood on attack, going up 1-0. eUnited responded in force. They would go on to win their next 4 defences straight, and yielded in their final defence, finishing the split up 4-2, a firm position to potentially get a result from the match. Despite this, winning would be no easy task. eUnited would need to keep pace with TSM, something which no team in the region has been able to do all season. It would all come down to the final round after eU and TSM traded rounds all through the second half. eUnited found themselves up 6-5 on match point. A draw would almost guarantee TSM the first place spot unless SSG would manage a flawless 7-0 victory in their day 14 match. A win for eUnited however, would leave it all on the line for the final day, putting both TSM and SSG in a high-pressure matchup. Early in the final round, it looked to be going in TSM's favour as Beaulo would find 2 kills relatively early to put themselves ahead. Alphama came alive when it mattered most, finding three kills to bring the round back, the last of those three being the kill which won the round and match for eUnited, 7-5.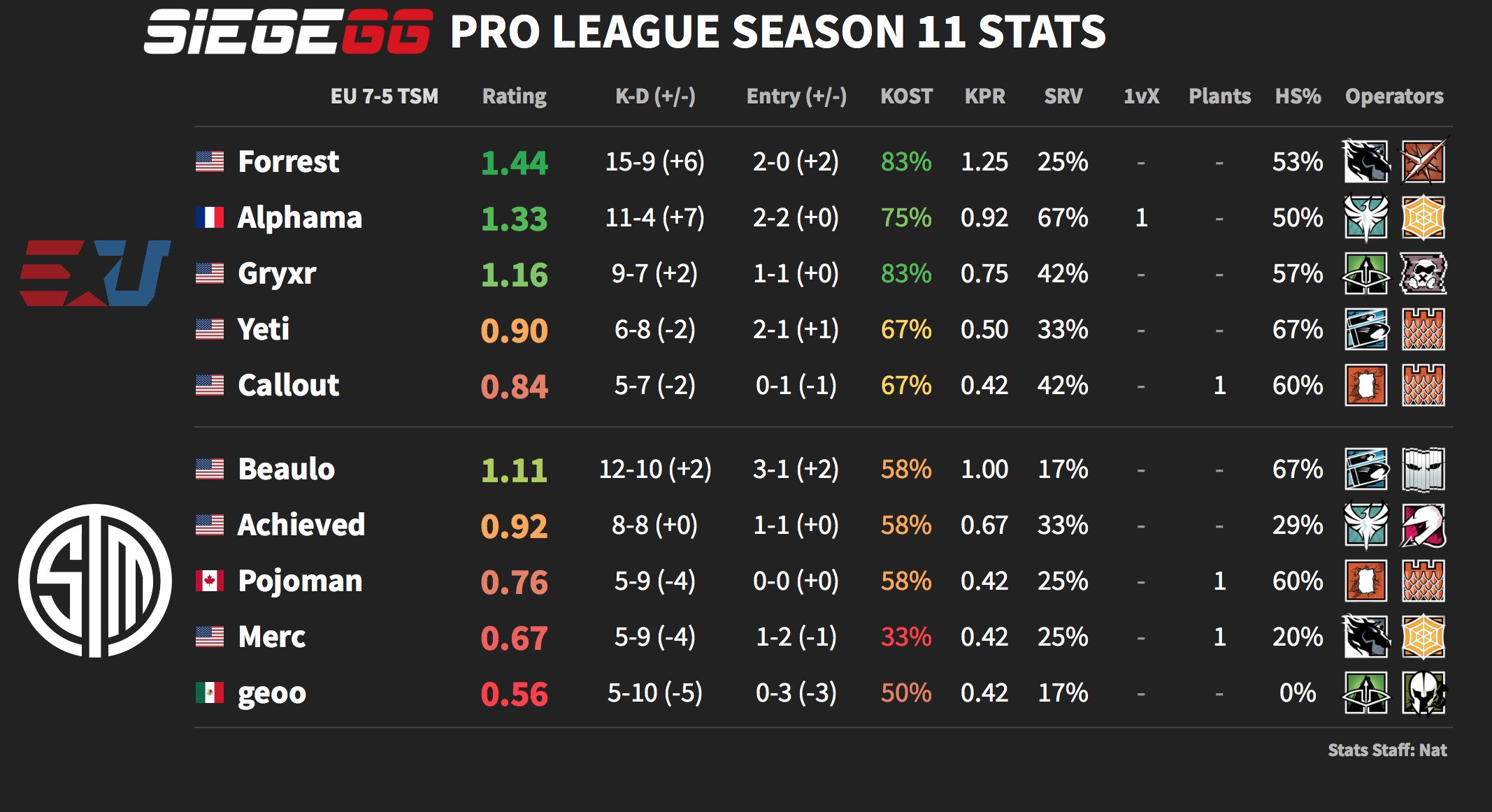 In the other matchups of the day, Tempo Storm dismantled Luminosity, 7-1. DarkZero beat Team Reciprocity in the battle for third place, 7-5. Finally, SSG did their job to ensure that eUnited's gift to them would not go wasted, dispatching EG on Kafe, 7-3.
Latin America - Day 12
After a number of promising games, Singularity had another close result against Team Liquid on Consulate to open up the day. Team Liquid, searching for a way to get clear at the top, may have been forgiven for expecting an easy game but proceedings were far from a cakewalk.
An aggressive push into the basement by Singularity nearly reaped an opening round reward, but despite losing two opening picks and a teamkill, Liquid managed to pull back the ensuing 2v5. The Season 7 champions then doubled that lead thanks to a strong TCSG hold from yellow stairs, but a thirty-second rush onto the first floor saw a successful plant and round win for the attackers. Back onto their comfort sites, Liquid went up 4-1, but once again could not stem a loss of the first-floor bomb site.
Now on defence, Singularity started their rotation much the same -- winning the second-floor and basement bomb sites, but losing the first-floor one. However, unlike Liquid, Singularity could not keep the streak going, and Liquid secured match point at 6-6 after a strong second-floor take. A wildcard split-site defence, paired with poor coverage from Liquid, meant that Singularity would survive another round. The final round was impeccable from Liquid, though, and it meant that they would take home the three points.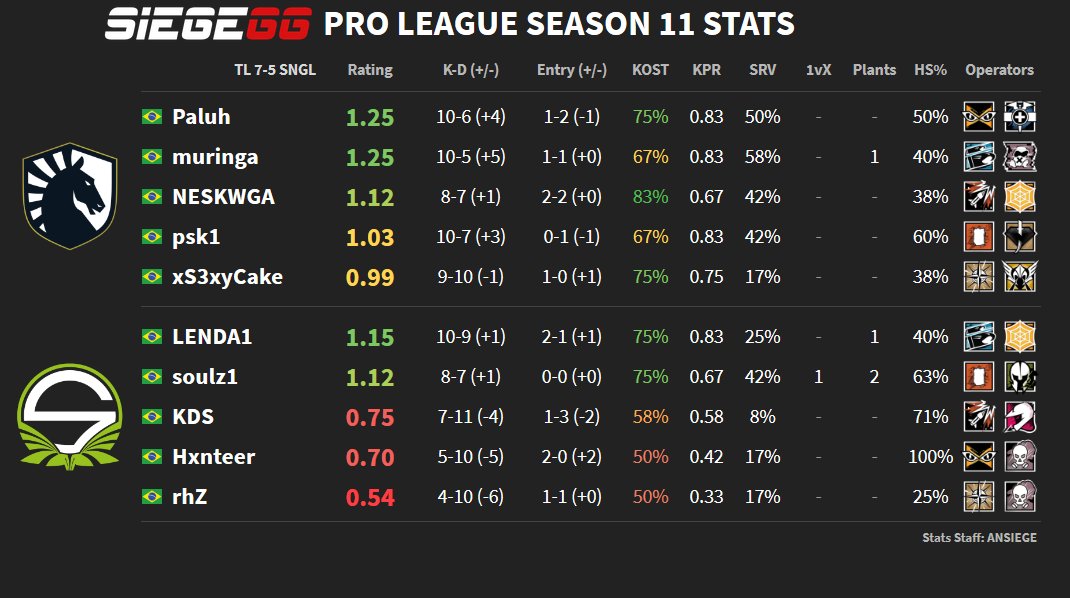 Elsewhere, Black Dragons took down INTZ e-Sports 7-3, MIBR fell to Ninjas in Pyjamas 7-4, and Team oNe held FaZe Clan to a draw.
Latin America - Day 13
The pick of the action on the 13th day was once again involving Singularity, as they took on Ninjas in Pyjamas in a bid to kick them off the trail for first place. Their opponents, on the other hand, came into the game full of confidence after their win against MIBR the previous play day but were in for a surprise.
Once again playing Consulate, Singularity lost the first attacking round on the second floor, but this time won the basement take with little difficulty and a minute to spare. A decision from NiP to go onto the split bombsite proved ill-advised, as Singularity took the lead 2-1 but a lockout round from NiP tied things up on the second floor. The lead once again swung into NiP's favour after Rhyze could not find the final kill on the basement attack, but Singularity did not let them run away with it after tying things up on the split bomb-site again.
A 1v2 post-plant clutch from Julio gave NiP a narrow lead after the role swap and the lead was doubled right after as it seemed NiP would take the three points. A near 2v4 clutch was then denied to give NiP match point, but Singularity chose the very moment to wake up. A successful split bomb-site defense was followed up by a near-flawless victory on the basement and the comeback was then complete after Singularity held on on time to take the draw and split the points.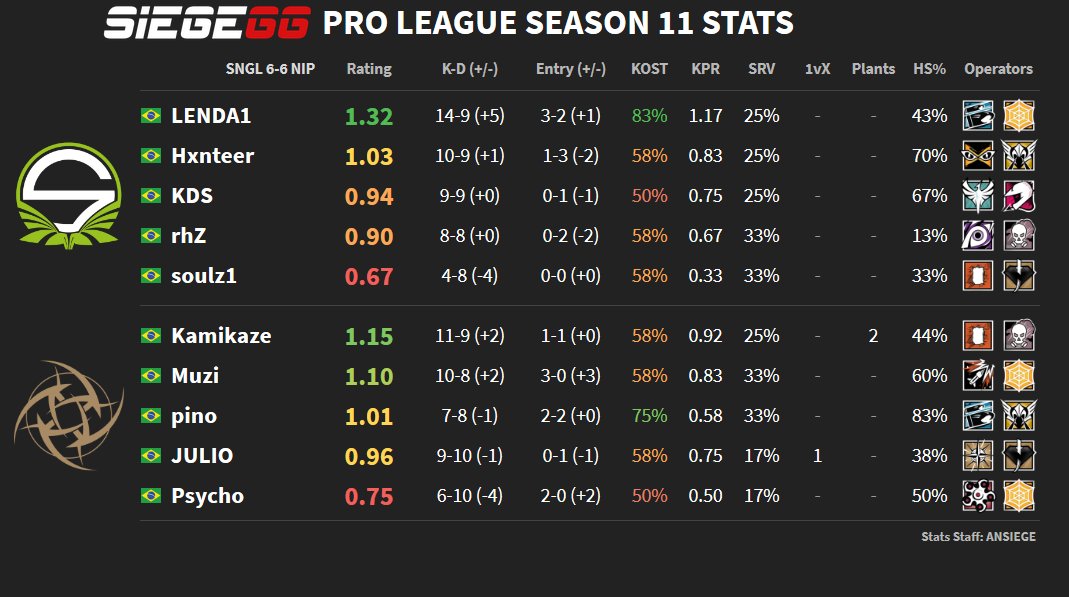 Elsewhere, MIBR crushed Black Dragons 7-0, Team Liquid tore through FaZe Clan in a 7-2 manner, and INTZ e-Sports drew with Team oNe.
Must-Watch Matches This Week
Europe
With these results, Rogue has guaranteed first place while either BDS, Chaos or Vitality will end the season in the last place. The remaining four teams -- Na'Vi, G2 Esports, forZe and Empire -- all could still clinch second place with two different combinations of teams possibly forming a three-way tie on 22 points. This means the following:
Should Na'Vi defeat or draw against Chaos then Na'Vi finishes second place
Should Na'Vi and Empire lose, and G2 defeats forZe then Na'Vi finishes second on the head-to-head round difference (11-9)
Should Na'Vi and Empire lose, and forZe defeats G2 then Na'Vi finishes second on the head-to-head round difference (10-9)
Should Na'Vi lose, Empire wins and forZe and G2 draw to each other then Empire takes second-place on head-to-head points (6-0)
Should Na'Vi lose, and both Empire and G2 wins then G2 takes second-place on head-to-head point difference (8, -2, -6)
Should Na'Vi lose, and both Empire and forZe wins then forZe takes second-place on head-to-head point difference (8, -1, -8)
Because of the above possibilities, the opening game between Na'Vi and Chaos is by far the most important of the day but should Na'Vi lose the game, every result would matter in deciding who takes the final top-two finish in European Pro League history.
North America
At the top of the table, TSM has guaranteed a top-two finish however who's first will be decided in the TSM vs SSG matchup in what's clearly the game of the week. Should TSM win the game they book in first in a remarkable climb from their sixth-place finish last season while the loss would give DZ an incredibly thin chance to take second place for themselves.
The only way DZ could take the spot is if they defeat LG in a 7-1 or better scoreline while TSM defeats SSG in a similar result (so either two 7-0s or one 7-0 and one 7-1). Should this happen the two teams would be tied on points (29), head-to-head points (3-3) and head-to-head round difference (12-12) with DZ taking the spot on the overall round difference (21-19, 20-19 or 21-20 depending on the scorelines). Should an extra round be lost (so 7-0 and 7-2 scorelines for instance) the round difference would also be tied leading us all the way to a rematch to close out the final season of Pro League.
Near the bottom, meanwhile, Evil Geniuses has locked in the last place while LG, eU and Tempo Storm has still got the fifth place to fight for as if LG defeats DZ they lock in that spot, while any less and eUnited would likely clinch it as they face EG in the last game of their season. Assuming neither LG or eU finds victory then Tempo could also take the spot should they defeat Reciprocity in what likely would be the organisations last game in R6 as they announced their intention to sell the lineup just over three weeks ago.
Latin America
In LATAM no one team has locked in a single position, however, the fight for first and second is between just Liquid and NiP with Liquid having the upper hand. Should Liquid gain a single point against INTZ they clinch first in the region while, if they lose, NiP still needs to defeat FaZe Clan to overtake them, a matchup they lost in the first half of the season, 7-5.
Further down the table, BD needs to beat Singularity to guarantee they escape the last place currently occupied by Team oNe while Singularity, INTZ and FaZe Clan could all finish the season in a three-way tie of their own in fourth place.
Caster Predictions Results
After 13 play days, these are the current standings in the SiegeGG Caster Predictions, in which Flynn has taken a very dominant lead. Compared to last week, the SiegeGG picks have risen from fourth to second while the SiegeGG Patrons have jumped three places up to leave Meli and Devmarta in joint last:
---
Check back here at SiegeGG for more coverage throughout the Pro League season, including weekly updates, statistics, and highlights as the race for the Season 11 regional titles comes to its end.