With the first week back of the Pro League done and dusted, here's our pick of the action here at SiegeGG in NA, LATAM, and EU, with the APAC Pro League now done and dusted.
Jump to:
Europe
Day 10
After last week's 7-0 victory against Empire, G2 looked like they were meshing as a team and were ready to show how strong their super team could be. Their first game on Monday saw them face Chaos, who had defeated them 7-5 in the first half of the season on Clubhouse, and who currently sat in a four-way tie for fifth behind G2 in third.
The game began on Kafe and saw Chaos take an early lead on defence thanks to a late double kill by Renuilz to put them up, 3-1. This advantage persisted for much of the rest of the game, as a series of one-sided rounds saw them trade rounds back and forth as no multi-kills or 1v1s came out all the way until round nine.
Here, with the scoreline at 5-3, SHA77E secured the first triple kill of the game to shut down G2's downstairs Kitchen/Service hold and to take match point. G2 began a comeback of their own as SHA77E was left in a 1v4 for two rounds running before, finally, a post-plant double kill by Renuilz ended the map, 7-5. This now means that over the last year, Chaos has a positive record against G2, with three maps won out of five. Additionally, SHA77E remains undefeated against his old team since joining this new roster.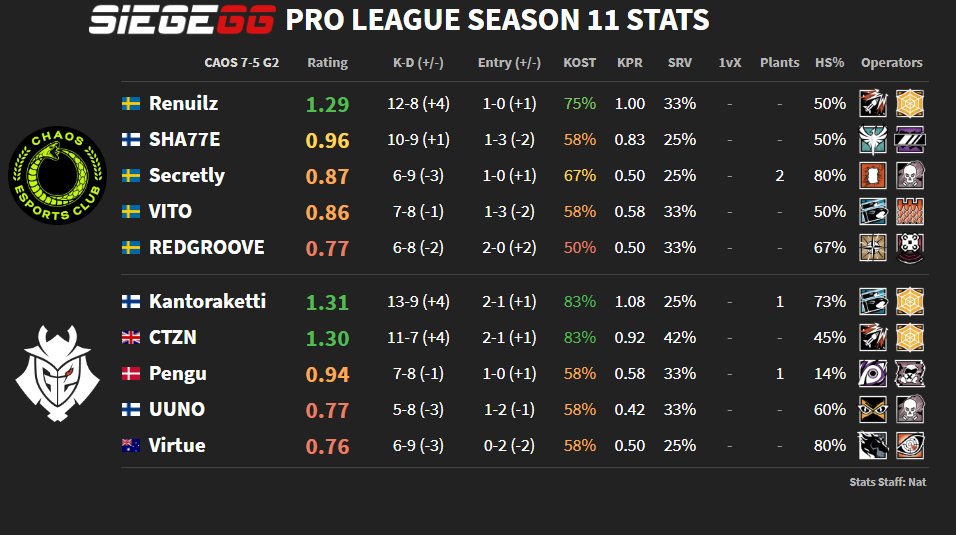 Also interesting was the all-Russian matchup between Empire and forZe which took place on Consulate following forZe's 7-5 victory over them in the Russian Major League the Friday prior. While Empire were the clear favourites, a dramatic drop in form recently coupled with forZe's new player of Amision helping them jump from last to fifth place in the space of a week made forZe a real challenger for Empire's Russian crown. After a round win each, a 1v1 victory by Shockwave against Scyther following the second triple-kill by dan in a row led to forZe taking the lead.
This lead then increased to 3-1 as Amision got the opening kill onto JoyStiCK before securing an early plant leading to an eventual 4-2 half on forZe's offence. As sides switched, Empire secured just a single round victory as they attacked the Garage site with forZe cleaning up three defences of their own to take the victory, 7-3.
Elsewhere, Natus Vincere began their journey back to the top as they, in eighth place, defeated the fourth-place lineup of Team Vitality, 7-3, despite playing with a substitute and a new player. This was largely thanks to Saves securing an almost-3.0 kill-death ratio (14 kills to five deaths). Finally, Rogue continued their undefeated run by taking down BDS Esports who had yet to win a game so far this half, 7-4 as AceeZ out-fragged Shaiiko with 20 kills to the latter's 18.
Day 11
The second play day of the week saw undefeated Rogue in first-place face Natus Vincere, who began the week in dead-last with almost half the points of Rogue (10 compared to 19). Despite this gap and despite Na'Vi still playing with Blurr rather than Doki, the reigning champions surprised everyone on Villa as they began on defence. A triple kill by AceeZ playing Ash on round one was followed up with two round wins by Na'Vi, including a post-plant 1v2 ace clutch by Saves playing Bandit. Despite having one of the best plays of the week, Na'Vi couldn't keep the advantage and drew the first half, 3-3, a pretty bad result considering their advantage on defence.
Despite this, Na'Vi's attacks saw more success as an almost perfect round seven was followed up by a flawless round eight to go up 5-3. Round nine was much closer, however, thanks to a double-kill by AceeZ onto Blurr and Panix playing Ash and Buck, but a 1v1 victory by neLo salvaged the round to put them onto match point. Finally, a flawless round 10 ended the map, 7-3, and ended Rogue's undefeated streak against one of the unlikeliest of opponents. With this win, Na'Vi propelled themselves all the way up to joint-third with Empire and forZe.
Team Empire also continued its downward path as they lost in a dominant 7-1 scoreline against BDS in the French squad's first win in the Pro League since playday six in January. The game saw what was likely dan's worst performance since he joined the squad, while Shaiiko finished with 12 kills to just four deaths. Empire's lone round victory came thanks to a successful 2v1 by Scyther on Consulate's CEO site, while BDS achieved two 1vXs; a 1v1 by Shaiiko against karzheka and a 1v2 by RaFaLe against JoyStiCK and ShepparD.
Next up, G2 continued their on-off performance with a 7-5 victory over Vitality to push G2 from third to second, while Vitality fell right down into last place. ForZe, meanwhile, continued their unstoppable run with a 7-2 victory over Chaos, meaning they have now earnt 10 out of their last 12 points and lost just five combined rounds across their three victories leaving the standings as follow:
North America
Day 10
Play day 10 in North America would see the top half and bottom half teams of the region square off within their respective halves, leading to somewhat unexpected results in some of the matches. The closest match of the week was from the upper half of the table, as Spacestation Gaming would square off against DarkZero in a tight affair.
Despite having two of the more "structured" play styles within the region, SSG and DZ would play on Coastline, a map well-known for its fast pace, loose, and adaptive playstyle. This was a good test to see which team had stronger mechanics and we were not disappointed, as Bosco and Skys put up fantastic performances for their respective teams.
Things started extremely hectic, as a spawn peek from Rampy would take down Hyper, with Rampy being immediately traded back by Skys. Simultaneously, Fultz eliminated Hotancold, leaving the round in favour of SSG. Despite this early advantage, DZ would take round 1 by successfully isolating members of the defence before eventually planting the defuser. Through the chaos of coastline, DarkZero would emerge the leaders at the end of their attacks, up 4-2.
Unfortunately for DZ, you must also be able to defend when playing on Coastline. SSG did very well to secure 2 defence wins on a map which can be one of the hardest to win defences on. The team kept their head up knowing that they would be able to perform on the attack-half of the match. DarkZero's only defence win came in the 8th round to put them up 5-3 after a misfire from SSG. Beyond this, it was all SSG for the rest of the map, as they would win 5 of 6 attacks to win the match 7-5.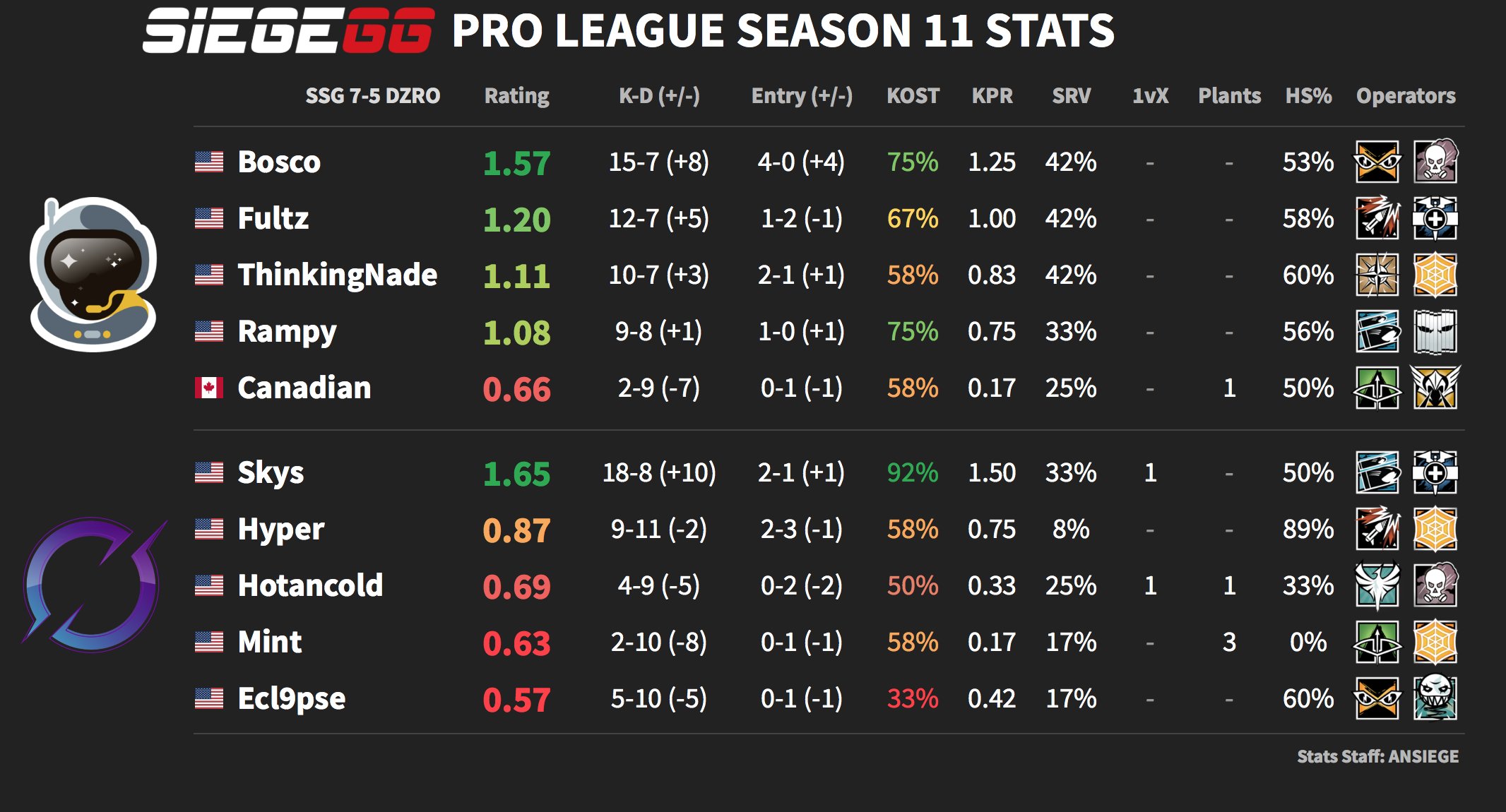 Throughout the rest of the region, a few surprise results would keep things interesting. A gradually improving Tempo Storm defeated eUnited handily, 7-3. Luminosity ensured they would avoid an upset of their own by dispatching Evil Geniuses, 7-3. Finally, in probably the biggest surprise result, Team Reciprocity took down the high-flying Team SoloMid, 7-3.
Day 11
A clear divide had set in in the league between the top and bottom four with a huge eight-point gap opening up between them, meaning that as each of the top four played one of the bottom four, the favourites were clear throughout. While the favourites did ultimately win each game, both DarkZero and Spacestation Gaming found themselves in close calls against two of the bottom-placed teams -- Evil Geniuses and eUnited.
SSG vs eU on Coastline began with eU firmly in control, with SSG only securing rounds in the first half thanks to a 1v1 victory by ThinkingNade over Callout on round two and a triple kill by ThinkingNade to close out the half. A 2-4 deficit, however, could be overcome as a eU victory on round seven was responded to with five back-to-back wins by Spacestation, including a 1v1 by Canadian in a post-plant situation. These two 1v1s, therefore, made the difference between a victory and defeat as SSG remains undefeated since the 23rd of January.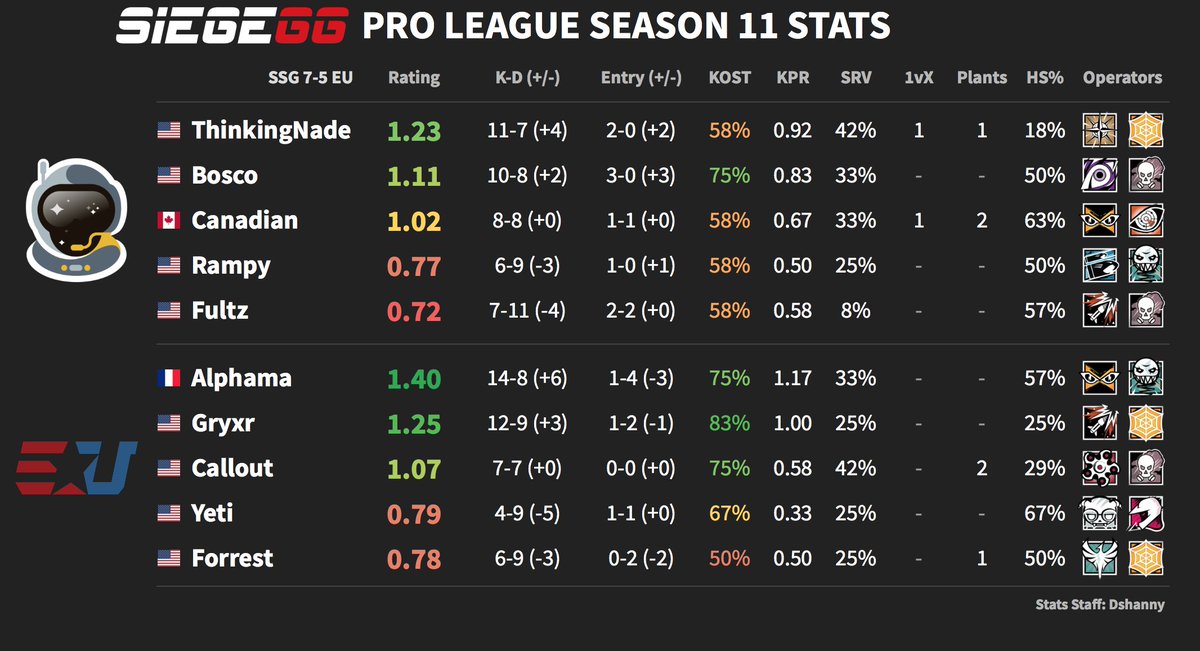 DarkZero's game against Evil Geniuses was just as close and saw just as many clutches. The game on Consulate began with Yung following up a double-kill with a 1v1 victory over Ecl9pse to start what was a surprisingly competent half by EG considering they had found just a single victory in the 10 games prior.
After drawing the first half, EG moved onto their attacks, where they initially took the lead before DZ won three rounds in a row to put them onto match point. Another round win in round 11 for EG put the scoreline at 6-5 to DZ, with a win on the final round needed for EG to salvage anything from what started out as a promising game for them. The round saw Necrox on Gridlock clear most of DZ's resistance before Mint cut down Yung just after he got the plant down to win a 1v2 and salvage two additional points for DarkZero and to keep them in touch with Reciprocity in the standings.
Elsewhere the first and third-seeded teams of TSM and Reciprocity took down TS and LG in seventh and fifth place to further increase the gap between the top and bottom four teams in the league. With TSM now five points ahead of SSG in second place, a win on Monday against EG could guarantee them first place if SSG can't secure all three points against Reciprocity.
Latin America
Day 10
All eyes were on MIBR's matchup against FaZe Clan this week as cameram4n played his first match against his old team of three years. As we went to Theme Park, FaZe started off very strong with camerm4n's replacement of Live particularly shining with five kills in the opening two rounds before MIBR finally got on the board thanks to a 1v2 by Novys.
Three one-sided rounds followed up next, as the half ended tied and MIBR moved onto the attack. Cameram4n showed FaZe Clan and the viewers what was possible on the newly available operator of Kali with eight kills (only one of which being a headshot) over the next five rounds, as MIBR stormed into the lead as Live completely fell off. The game eventually ended at 7-4, with cameram4n as the top fragging player on the team -- a Pro League first for a Kali player.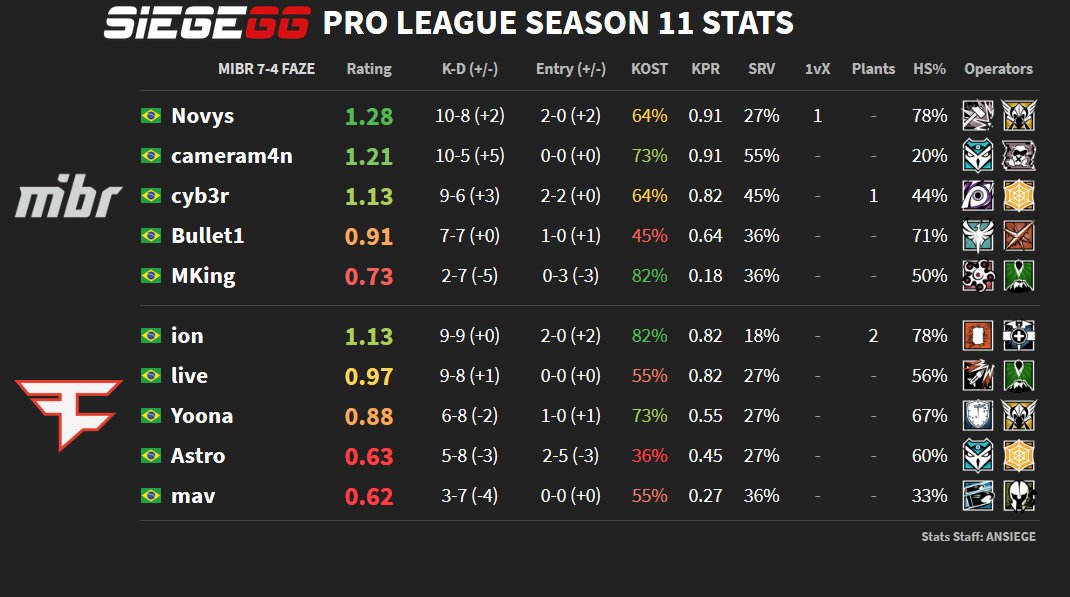 Similarly, this was followed up by Team oNe vs Singularity, where rhZ faced his old teammates of two years on Coastline. The game started out really well for SNG, with both Hxnteer and rhZ achieving triple kills to aid the team to a 3-0 lead before oNe came back with three of their own -- including two 3ks by LuKiD and one by Reduct. This momentum continued through the second half as the team quickly hit match point at 6-4, before a 1v3 clutch by rhZ on Smoke was followed by a sloppy Blue/Sunrise Bar push, which left LuKiD in a doomed 1v3 position, ending the map in a 6-6 draw.
Finally, both Liquid and NiP took strong victories over BD and INTZ, as expected, to keep the two teams in a close fight for first place. These results also continue a fairly dire string of defeats for INTZ and BD, with their last victories coming over two and a half months ago, with them now sitting in sixth and seventh place in the league ahead of just Team oNe.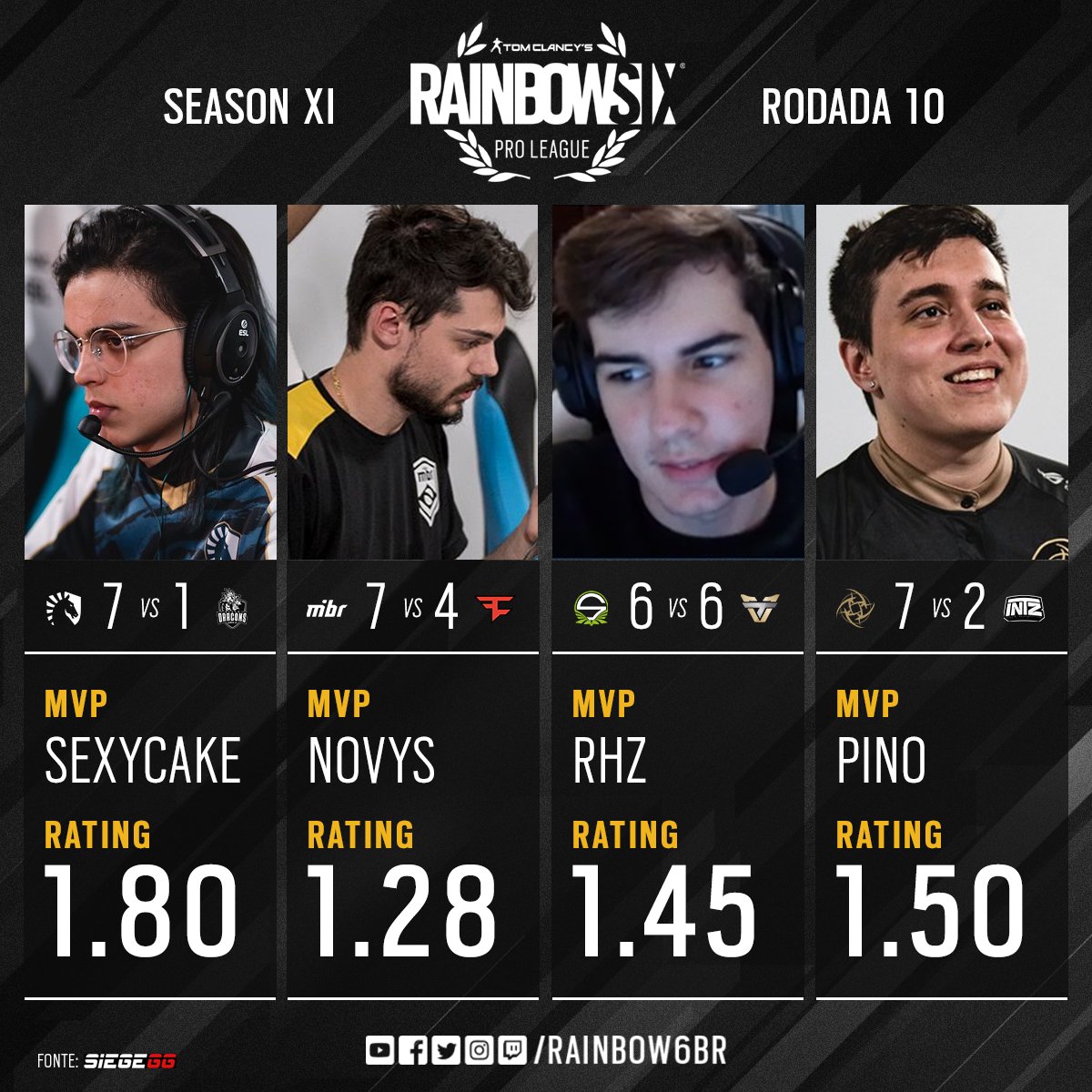 Day 11
The last Pro League play day of the week saw a surprising result as BD's draught of victories almost came to a close against FaZe Clan due to a strong showing on Consulate. The game started off promising as Hugzord achieved a quadruple kill to end round one to kick off a set off a set of round trades. BD almost took the lead in round four as pzd lost a 1v1 against Astro before FaZe began their offensive half with a flawless attack onto the Garage/Cafeteria objective which included a triple kill by Live.
This 4-3 lead was lost almost immediately as BD won three back-to-back rounds to push onto match point, which they squandered as a 4k by Astro ended the map in a draw. While this result didn't shift any positions in the standings, it did mean FaZe fell behind the race for first and BD trails in their fight to escape the bottom two places.
The week also saw a matchup between first-placed Ninjas in Pyjamas and last-placed Team oNe which seemed like a very obvious victory for NiP, especially considering that oNe's sole victory this season was way back in playday four. However, the game ended up being a complete run over by oNe on Consulate. Across the map, NiP's lone round win came on round two, as Julio secured a 1v2 post-plant 4k victory over LuKid and Felipox, but this performance was clearly outdone by SKaDinha who achieved a 1v1 victory over Psycho and three separate 3ks to drag oNe to their second victory of the entire season.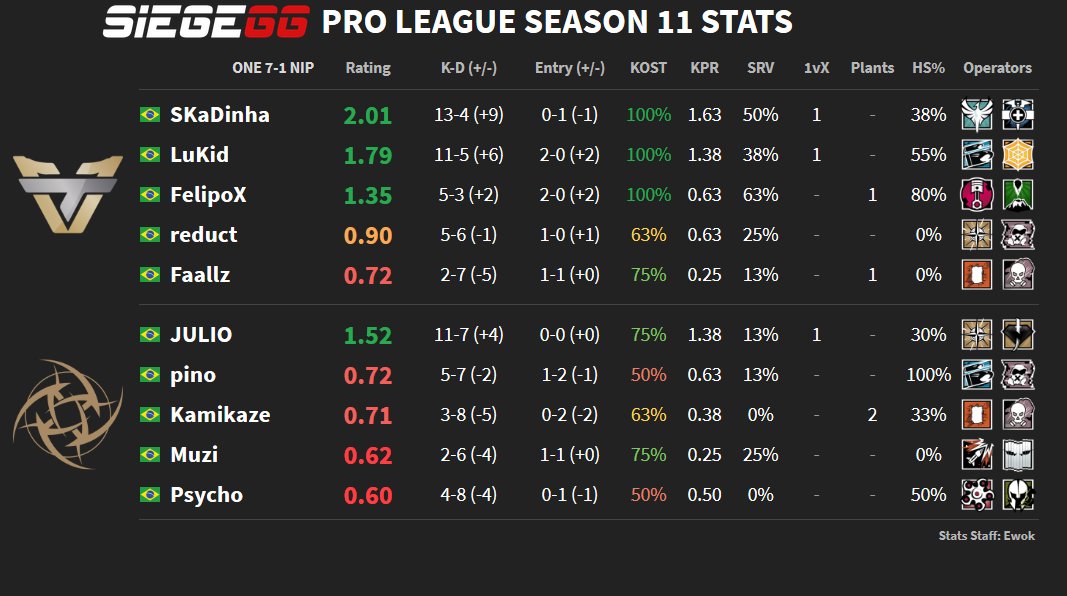 This defeat allowed Liquid to catch up to NiP in first place thanks to a 7-3 victory over MIBR on Clubhouse, while INTZ did a round better than BD and successfully ended their losing streak as they defeated Singularity 7-5.
Must-Watch Matches This Week
Europe
Monday will see the return of Doki back into Natus Vincere after his six month ban from the game with his debut game coming against G2 Esports and his old teammate of CTZN. After facing the second placed lineup of G2, Na'Vi will then face joint-third placed forZe on Wednesday as they aim to continue their remarkable rise from last place this time last week to a top-two position.
North America
This week is Reciprocity's time to shine as they sit in third place and face the second and fourth placed lineups of SSG and DZ in games which will largely determine the end of season standings.
Luminosity meanwhile will face two lineups just below them -- eU and TS -- in games that will shape the bottom half of the table. Evil Geniuses, meanwhile, will face two of their ex-teammates in Geo from TSM on Monday and Canadian from SSG on Wednesday.
Latin America
After drawing against FaZe and oNe and defeating MIBR, Singularity has the chance to rise from sixth to third this week as they play Team Liquid and Ninjas in Pyjamas, while the most anticipated game of the LATAM season will take place on Thursday between Liquid and FaZe.
Caster Predictions Results
After 11 play days, these are the current standings in the SiegeGG Caster Predictions, in which Flynn has taken a very dominant lead. Compared to last week, both mzo and Retalha have fallen from third and fourth, while Devmarta escapes last place by a single point
---
Check back here at SiegeGG for more coverage throughout the Pro League season, including weekly updates, statistics, and highlights as the race for the Season 11 regional titles continues on.