With the first week back of the Pro League done and dusted, here's our pick of the action here at SiegeGG in NA, LATAM, and EU, with the weekly APAC Preview and Roundup being released separately.
Jump to:
Europe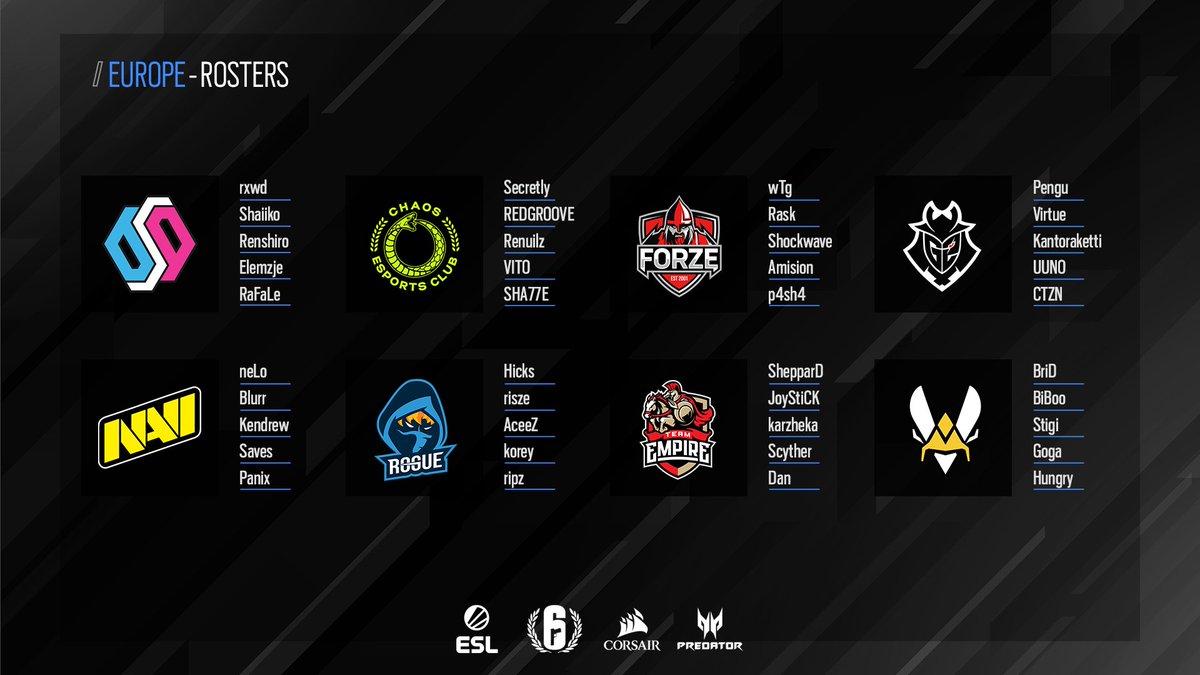 Day 8
Pro League kicked off for this half wiith the key matchup of G2 vs Rogue on Clubhouse which saw no team take a real lead until for the entirety of the first half with the Rogue player of ripz making the biggest play as he secured a 1v2 victory on Vigil during round three against UUNO and CTZN.
The second half saw Rogue get two quick rounds on their offence to go up 5-3. Then, following a G2 round win due to a last-second double-kill by Kantoreketti, a Hicks triple kill pushed Rogue onto six round wins, guaranteeing themselves at least one point. G2 took round 11 due to a UUNO triple kill but ripz then secured a triple kill of his own to win the match, 7-5.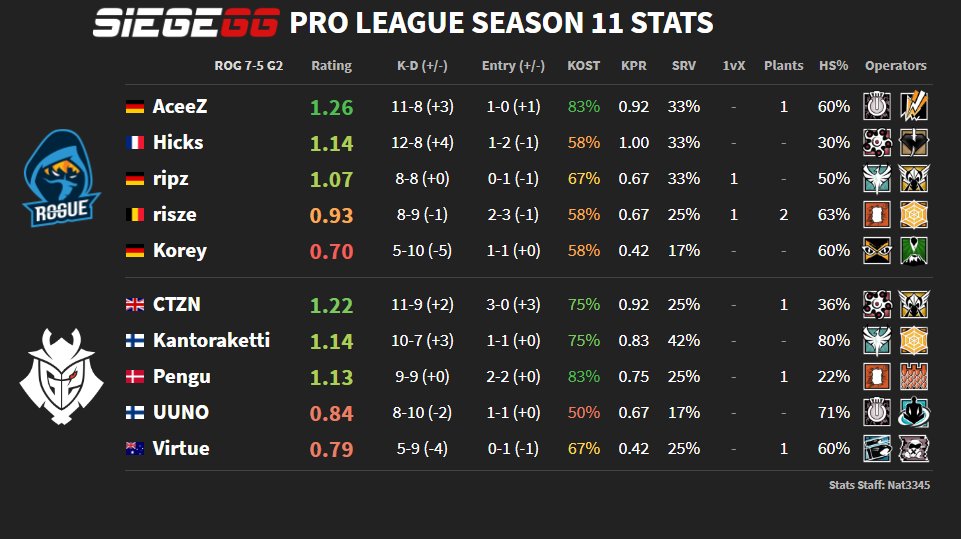 Next up, Amision played in his Pro League debut against Team Vitality which went remarkably well. While forZe lost against Vitality in the first half of the season, 7-3, forZe came back with a flawless rematch winning 7-0 on Consulate. This result included an ace from p4sh4 and a 4k by Amision as Vitality was outgunned throughout.
Elsewhere, after a 6-0 sweep of their defensive half on Coastline, Empire narrowly managed to fend off a comeback against Na'Vi to win 7-5 despite Na'Vi playing with both a new player (Panix) and a stand-in (Blurr) while, finally, Chaos managed to outplay BDS to a 7-2 victory despite Shaiiko's remarkable showing of 13 kills to seven deaths across just nine rounds.
Day 9
Next up, play day nine saw one of the most highly anticipated games of the season as the 2019's Major and Invitational victors faced off once again in what was a very surprising stomp by G2. The team of fraggers showed why they have been branded as a "super-team" with every member of the roster going positive while Kantoraketti achieved a massive eight kill-death ratio.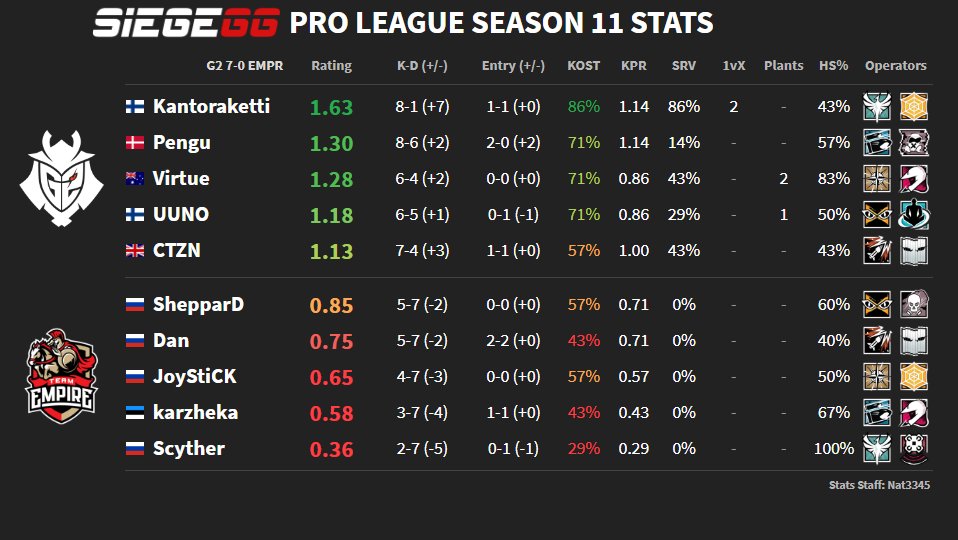 Elsewhere, forZe and Rogue responded to their very impressive showings on play day eight with a draw against each other. Rogue very narrowly managed to keep their unbeaten record intact, while game three saw Chaos come back from a 4-1 deficit on Border to tie it up against Vitality and push to the day's second draw with many of the rounds ending in decisive fashion for either teams.
Finally, we ended the week for Europe with a game between Na'Vi and BDS which acted as Panix's very first game against his old lineup since they had benched him just prior to the last Invitational. While Saves was the true star of the game as he achieved a massive two kill-death ratio (16 kills to eight deaths), Panix came in a close second on his team with a 1.16 rating and 11 kills as the team took Villa, 7-4.
The map almost went very differently, however, as a total of three rounds came down to 1vX situations, all to be won by Na'Vi (neLo, Saves, and kendrew getting one each), which made all the difference between a 7-4 win and a 4-7 loss.
North America
Day 8
The top regional matchup of the day would see the two of the top teams square off in a battle of ideologies. The flexible and adaptive Team SoloMid played against the tactical and structured DarkZero in a top of the table match.
DarkZero would begin the match on attack on Villa, while TSM would have to defend. The engine of DarkZero began firing early with a flawless round to put them up 1-0, with an early 3k from Hyper doing most of the work in the round. TSM woke up the following round, and tied the scoreline 1-1. TSM would then win 3 of the next 4 defences to remain in firm control of the match, up 4-2 at the split.
TSM kicked off their attacks in style, isolating and winning numerous gunfights to put themselves up 5-2. DarkZero responded with a solid Kitchen and Dining defence, which at this point was 3/3 for the defence of both TSM and DZ. Despite having the defuser planted in round 10 on match point, TSM were unable to hold on and DarkZero would disable it, bringing DarkZero closer to stealing a draw, down 6-4. TSM would have none of it, however, and the match would finish with a TSM attack win, 7-4.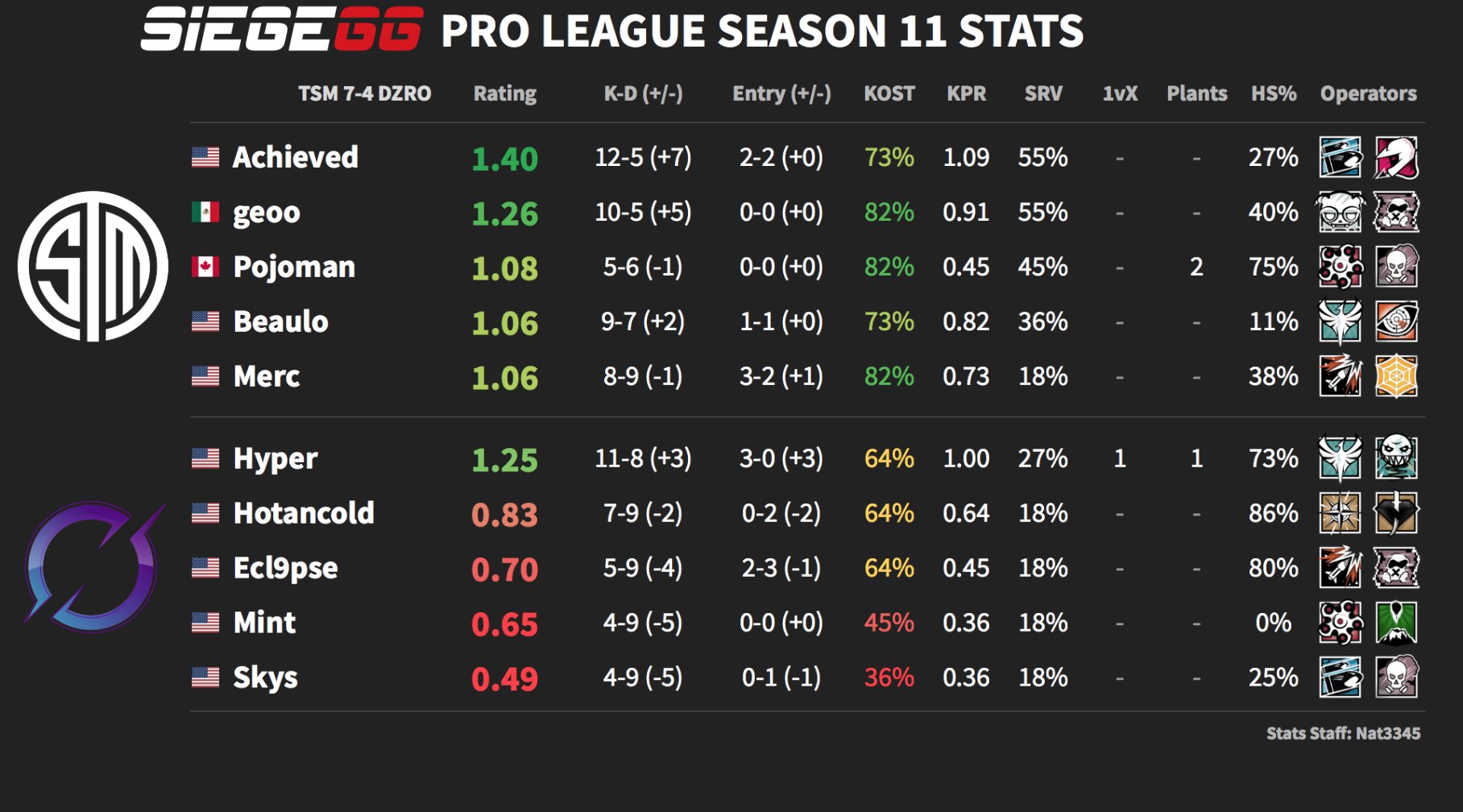 Elsewhere, EG drew against Tempo Storm in a matchup of two teams that have been spinning their wheels in the mud most of the season. Team Reciprocity handily dispatched eUnited, widening the margin between the top 4 teams and the bottom 4 teams of the region. Finally, SSG defeated Luminosity in a match which was a little too close for SSG's liking, 7-5.
Day 9
To some people, the matchup between SSG and Tempo Storm was expected to be a one-sided affair, where SSG would clean up a struggling Tempo. This thought was only furthered when the map ban phase revealed that Clubhouse, a map which was traditionally SSG's strongest, was the outcome of the map ban phase. However, Tempo put up a strong performance and laid out a case for their improvement over the course of the season.
Starting on defense, Tempo struck first with an Arsenal Room retake after the defuser was planted to win the round. Unfortunately for Tempo, this early lead would not last long, as SSG rallied back with two attack wins in a row on the CCTV/Cash Room site. The Clubhouse basement proved yet again to be SSG's weakness in the fourth round, as time ran out in a 1v1 situation between Krazy and Fultz, granting Tempo the equalizing round. In round 5, Gym/Bedroom proved to be too difficult to hold for Tempo as well. Round 6 followed with another SSG attack win on CCTV/Cash, making Tempo 0 for 4 on the top floor defence sites, and down 2-4 on the split.
Falling behind 2-4 in the defence half on Clubhouse usually spells trouble for a team, however, Tempo would not go down without a fight. It started off looking very desperate from Tempo, who lost their first attack on Gym/Bedroom. The following attack, Butterz won a 1v1 against Canadian to secure the first round of many that Tempo would need for a comeback. In round 9, SSG put themselves onto match point with a solid basement defence, up 6-3. Tempo was determined though and battled back to win 2 attacks round straight and pull within a round of denying SSG the win and stealing a draw in the final round.
Unfortunately for Tempo, they lost the defuser inside of dirt tunnel on a basement attack, and despite controlling site were unable to plant or get the remaining kills they needed to win the round. SSG won the match 7-5, and Fultz finished with a massive 1.72 rating on the day. While moral victories do not earn you any points, Tempo managed to make the match much closer than almost anyone expected and was a round away from becoming the first team to get a point from SSG on Clubhouse since playday 5 of Season 10, where DarkZero drew SSG.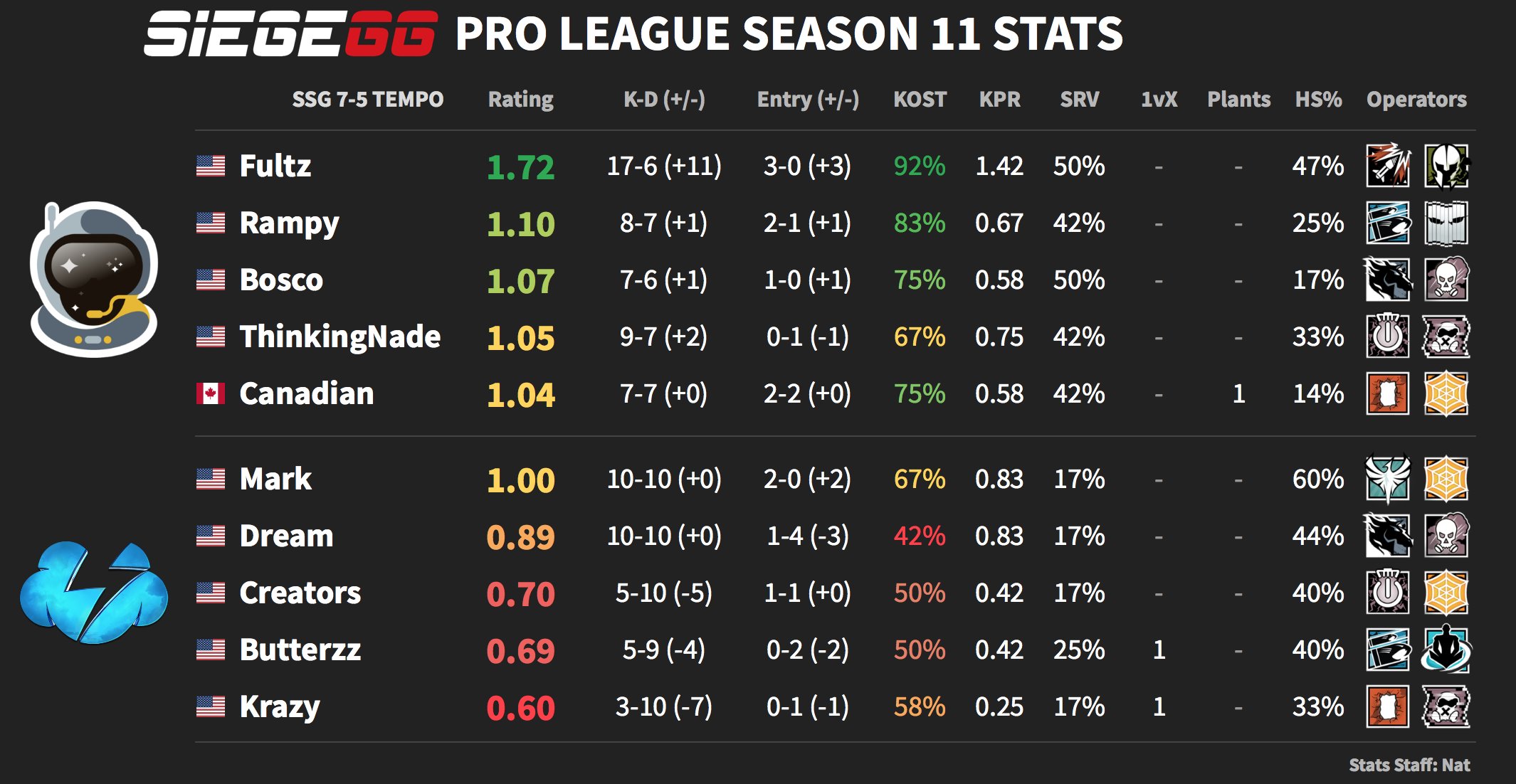 Across the rest of North America, DarkZero played out a draw against eUnited on Kafe, TSM defeated Luminosity on a notably dimmer Consulate, 7-5. In Team Reciprocity versus EG, we witnessed the first match on Theme Park. The match finished in a 6-6 draw.
Latin America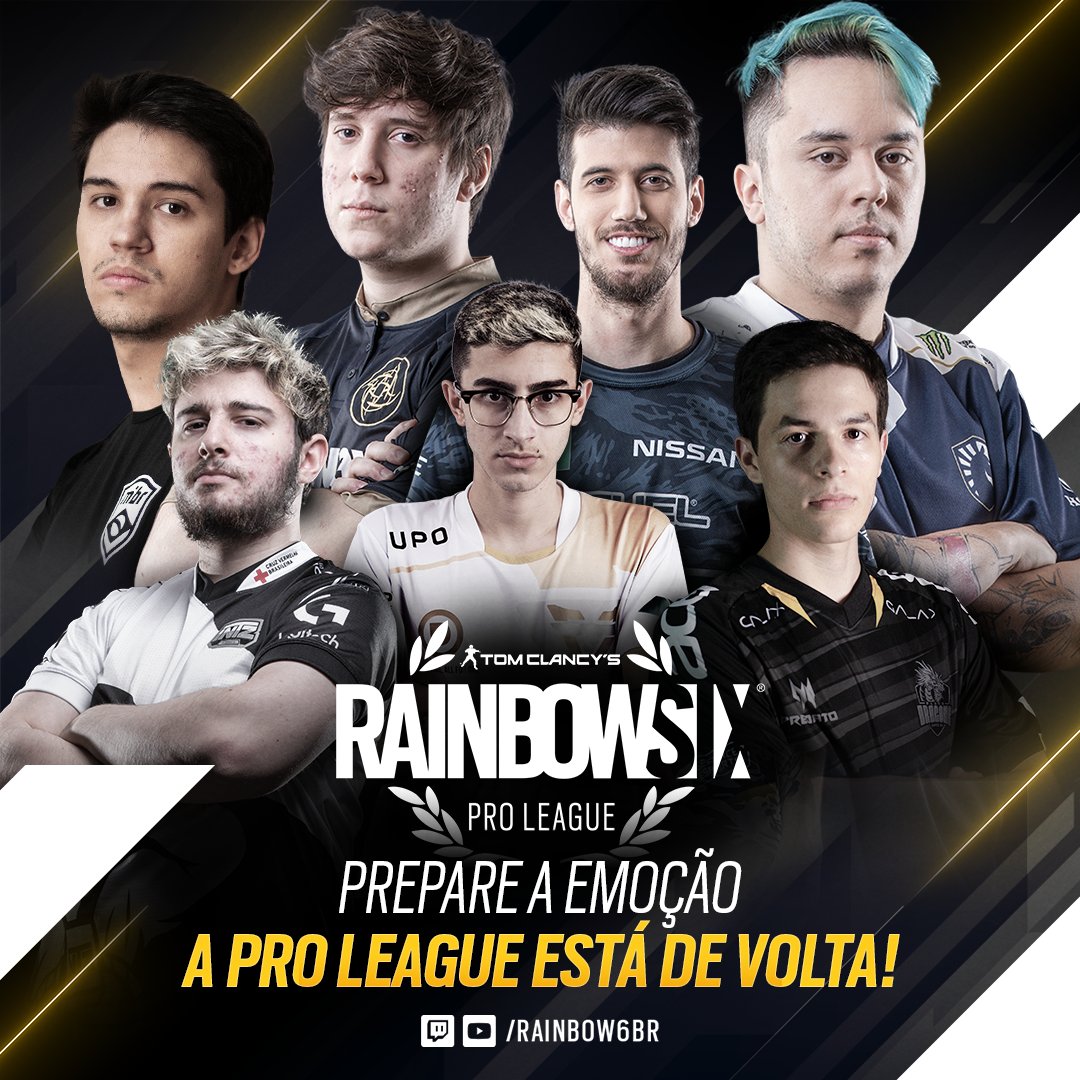 Day 8
FaZe began the playday with a first look at their new player of Live as he made his debut on the team against the team just below them in the standings, INTZ. Despite a huge number of pros complaining about new lighting issues on Consulate, they chose to go to this map in a rematch of their Consulate matchup in the first half of the season which ended 7-4 to FaZe.
INTZ began the map strong as they took the first round almost flawlessly and kept it tied up thanks to a 1v2 by DRUNKKZZ on round four. After this close start, FaZe ran away with it to a 7-2 eventual win with the closest round coming down to a 1v1 post-plant between Drunkz and mav which mav won on time.
Consulate was the battleground in the matchup between NiP and Liquid as the two teams in joint first place faced off. Throughout the map, the two teams remained neck and neck with three 1v1 situations and the teams sitting with joint scorelines throughout the first half of the map.
As the sides switched and NiP went onto the defence, things shifted as three of the next four rounds saw a combined total of one death come out from the winning side with the exception being the round below where Muzi secured a 1v3 victory thanks to a late flank. Following this, NiP then won their final round thanks to a 1v2 victory by Psycho giving them a 7-4 victory and pushing them well in the lead in the Pro League standings.
This playday also saw Team oNe -- with the returning player of SKaDinha -- versus Black Dragons -- with the ex-MIBR player of hugzord -- as team's seven and eight fought to escape last place. The game on Villa which was plagued by technical issues, saw Team oNe end their defensive half up 5-1 only for pzd to kick off a comeback for the Dragons as they pushed all the way back to a draw keeping oNe down in the last place. Ratings wise, the map saw Hugzord as the best performer at 1.11 while SKaDinha was last at 0.82 showing two very different debuts for the players.
Elsewhere, INTZ fell hard against FaZe Clan as Drunkkzz won a 1v2 to gain one of only two of their team's round victories before Drunkkzz was put in a similar situation on match point against mav which he lost to lose the matchup, 7-2. Finally, the playday saw the matchup between Singularity and MIBR in which Singularity surprised everyone as they took Kafe 7-4, as MIBR's newest player of cameram4n secured a 0.85 rating on Kali and Mute.
Day 9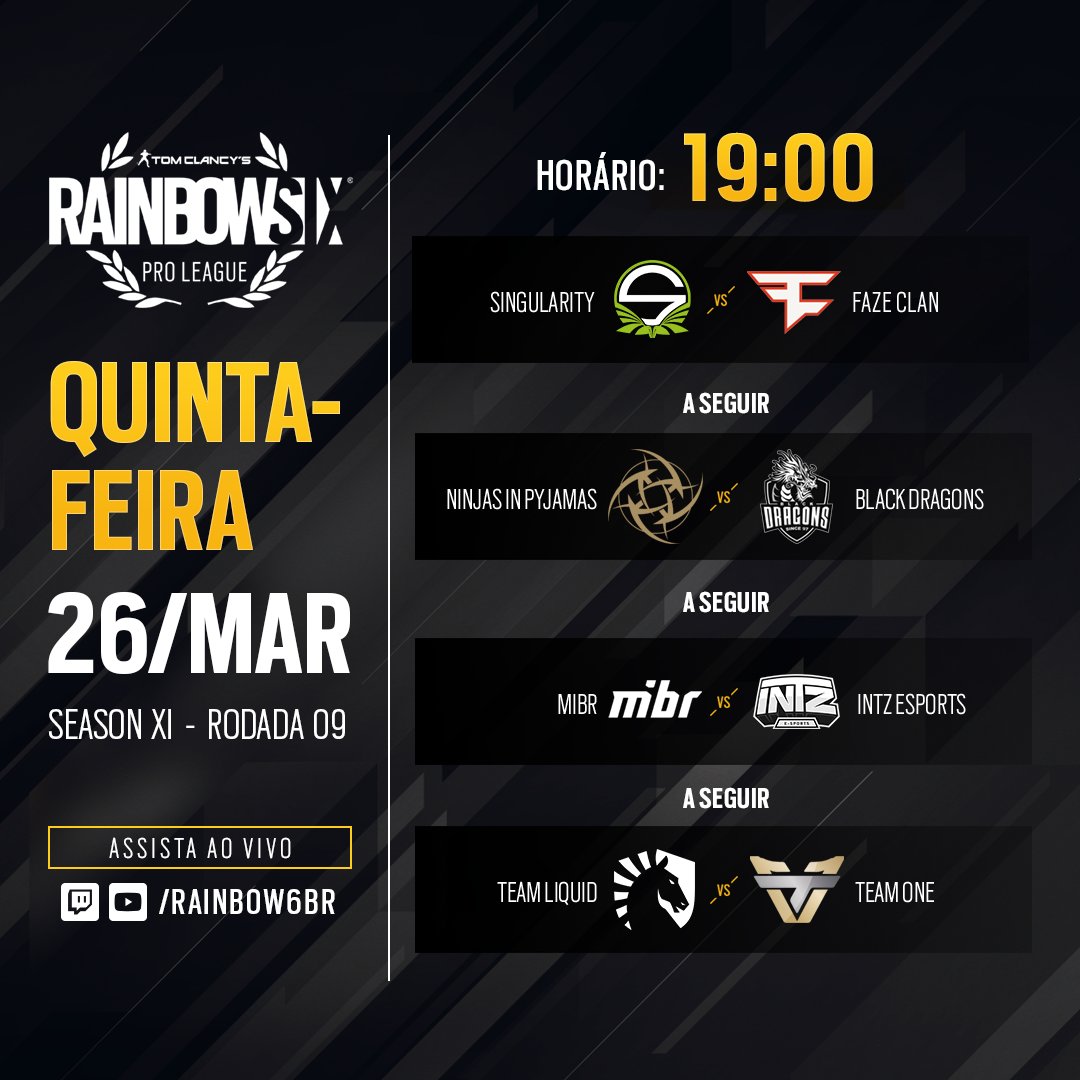 After Singularity defeated MIBR earlier in the week, this matchup looked promising for them in their second matchup under the organisation against FaZe Clan. The matchup on Kafe saw Singularity take three quick attack wins which included a flawless round and two triple kills from rhZ and Hxnteer before FaZe managed to recoup a few rounds to end the half, 4-2.
With FaZe now on defence they began to frag out themselves as Yoona achieved a triple kill of his own on round seven and ion got the map's first 4k on round eight. FaZe eventually tied it up at 5-5 before a late double-kill by mav guaranteed them a single point as the map ended 6-6, a remarkable scoreline by the ex-Elevate roster.
Elsewhere, eyes were fixed on the last game of the week of games between Liquid and oNe which is always a close matchup. With SKaDinha back on the lineup oNe was hoping to get back to their winning ways, however, that wasn't to be the case in this matchup as Nesk achieved 16 kills to five deaths and psk1 secured 13 kills to six deaths effectively shutting out oNe across the map to a 7-3 victory.
Lastly, the two remaining matchups of MIBR vs INTZ and NiP vs BD both went to the higher seed in somewhat clear scorelines (7-2 and 7-4) to form the following standings after playday nine:
Must-Watch Matches This Week
In Europe, we'll see the Russian's faceoff on Monday as Empire will hope to avenge their 7-2 loss from the first half of the season against forZe while the third and fourth-placed teams of G2 and Vitality will meet on the Wednesday in Goga's second match against his old roster after he narrowly beat them in the first half of the season, 7-5.
Next Monday will also see North America's top two games of the week as second and third-placed DZ and SSG face-off followed by first and fourth-placed TSM and Reciprocity which acts as the first match b1ologic will get to play against his old roster of TSM.
Finally, on Wednesday we'll see cameram4n's new team of MIBR face the team he was on for over three years, FaZe Clan, in one of the highest anticipated games of the week. Later that day we'll see the top-seeded Ninjas in Pyjamas roster face off against INTZ down in fourth place where we'll see if INTZ can go one round better than in the first half of the season and convert their draw into a victory.
Caster Predictions Results
The first half of the season ended with Flynn taking a very clear lead with 40 correct picks followed by FuriouSG and Meligeni on 37 while the Season 9 and 10 victor of Hap was down in 10th out of 13 participants with 31 picks. The 2020 Six Invitational Caster Predictions, meanwhile, saw FuriouSG take one of the strongest victories to date with 14 points compared second-placed Creators and LuKid on 10 points.
With these extra two playdays added on the standings now look like this:
| | | | | |
| --- | --- | --- | --- | --- |
| Castor | EU Total | NA Total | LATAM Total | |
| Flynn | 18 | 23 | 18 | 59 |
| Mzo | 14 | 22 | 17 | 53 |
| Retalha | 16 | 19 | 17 | 52 |
| Alex Polo | 13 | 21 | 18 | 52 |
| Meli | 16 | 19 | 16 | 51 |
| Hap | 11 | 20 | 20 | 51 |
| KiXSTAr | 13 | 20 | 17 | 50 |
| SiegeGG | 13 | 20 | 16 | 49 |
| FuriouSG | 11 | 21 | 17 | 49 |
| Verdi | 15 | 15 | 18 | 48 |
| Patreons | 12 | 18 | 17 | 47 |
| Devmarta | 11 | 18 | 17 | 46 |
| Interro | 10 | 17 | 11 | 38 |
---
Check back here at SiegeGG for more coverage throughout the Pro League season, including weekly updates, statistics, and highlights as the race for the Season 11 regional titles continues on.