As the prize pool rises by a factor of three and an extra day is added to the schedule, seven Pro League teams and one Challenger League team will travel to the Penn & Teller Theater in Las Vegas from the 13-15th of December as the second year of the American national tournament comes to its end.
Jump to:
Teams
Three stages and one wildcard qualifier each split up into an Eastern and Western conference meant eight teams were invited to these Finals from across the last eight months' worth of action.
With the reigning champions of Rogue since disbanded, this means there are titleholding players playing on Evil Geniuses, DarkZero Esports, Team Reciprocity, and Luminosity Gaming as they all aim to become back-to-back champions.
Susquehanna Soniqs
Neptunez, supr, Goddess, Gomfi, SlebbeN and jobro (coach)
The Soniqs qualified for these Finals while in Challenger League and now, after six months in the Pro League, will travel to Las Vegas once again in the Challenger League. As well as this, the team comes into the US Nationals in the rather unique position of having two European players from Finland and Belgium likely making them both the biggest underdogs and a rather unpopular team to take the title.
To make it this far, they initially defeated Vicious Gaming (later to be known as Luminosity Gaming) and Organised Chaos -- which included the players of Merc, now in TSM, and Fultz, now in SSG -- with their two previous players of Avian and GhxsT. Since then, their new European injection has certainly led to improvement as they managed to defeat FaZe Clan and take a map from Liquid in their debut event together before beating both SSG and Rogue in the Pro League, and could signal a surprise run from the most unlikely of teams.
Team Reciprocity
FoxA, Retro, LaXInG, Nyx, VertcL, HOP3Z (coach), and Daeda (analyst)
Despite finishing Season 10 in the top four worldwide, Reciprocity immediately made two roster changes following the event, picking up Nyx and VertcL for Skys and MarkTheShark. With a number of North American teams all making power moves ahead of the 2020 Six Invitational, and this being their first and only LAN event before the world championship, their performance here will be very telling for the Invitational and fuel Season 11 speculation about these teams going international.
For now, they come into this event after defeating Rogue in the qualifiers 7-5 in April, which sets up a meeting against Luminosity Gaming (followed by a semi-final against Team SoloMid or Evil Geniuses) where we will see VertcL and Nyx debut on this roster.
Spacestation Gaming
ThinkingNade, Rampy, Bosco, Fultz, Canadian, Lycan (coach), sovsov3 (assistant coach), and EkuL (analyst)
One of only two teams in North American Pro League not to make a player or organisation change (though the team does come in with a new analyst), will be hoping to do one round better than last year when they fell to the eventual USN 2018 champions in a 6-3, 6-7, 4-6 scoreline. Since then, they have picked up Fultz and Canadian and finished in the top eight at four LANs, including both the Six Invitational and Raleigh Major.
To make it to these Finals, they defeated their upcoming quarter-final opponents of DarkZero 7-3 and took three maps off of Rise Nation, 7-2, 7-3, 7-2. Most recently, however, they have really impressed at the OGA Pit Minor where they made it all the way to the grand final, beating NORA-Rengo, Luminosity Gaming, and MIBR in the process before falling against Liquid for the third time this year. This really shows how well the team has gelled with Canadian's addition, something they'll aim to prove once again this weekend.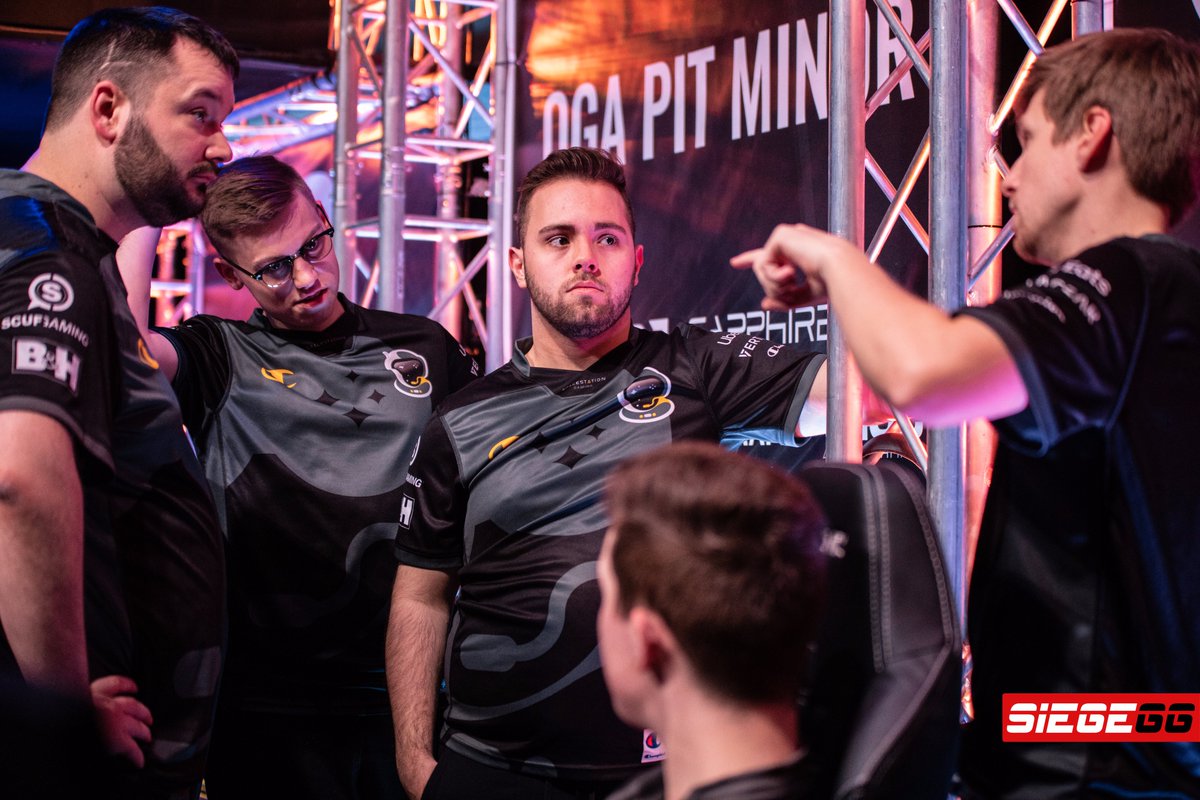 Team SoloMid
Achieved, Merc, Beaulo, Timzy, and Geoometrics
TSM comes into this event with a key change in the ex-Evil Geniuses fragger of Geoometrics replacing Gotcha on the lineup. With the composition debuting at this event against SSG, it's hard to know what type of TSM we'll see after a series of disappointing results in both the Pro League and USN qualifiers, but many fans will be expecting quite a lot after TSM's win at the last Minor, DreamHack Montreal.
As well as this, the team is also unique in two ways; firstly, it is the only one present without a coach, as its previous three (Gotcha, Pojoman, and Tomas) all joined as a player shortly after joining the team, and secondly, it is the only one who didn't actually qualify for these Finals, instead being given the spot after Rogue disbanded.
DarkZero Esports
Mint, Hotancold, Hyper, Skys, Ecl9pse, BKN (coach), and BC (coach)
The second-best team in Season 10 of the Pro League also comes in with a number of changes as they pick up Team Reciprocity's Skys and Rogue's Ecl9pse to create what's on paper one of the best all-round rosters in North American history. The team will now aim to prove this by claiming their first-ever title here and show themselves to be a true competitor for the 2020 Six Invitational.
While the team did almost take the last Pro League title, they have struggled elsewhere, as it took them a total of six attempts to qualify for this Finals, losing to Rise, HAT, Parallax, Attempt #, and SSG before finally defeating Shrug and bruh in the Stage 3 Eastern Finals to book their tickets to Vegas.
Evil Geniuses
Yung, nvK, Gotcha, Necrox, Modigga, and Ranger (coach)
Since qualifying for these Finals after defeating Luminosity and Disrupt in the Stage 3 Western qualifier finals, the most successful North American roster ever has made a number of major roster changes which saw their ex-coach of Gotcha return to the team as a player to replace Geoometrics, while the reigning US Nationals champion of Ranger joined as a coach after three months of the team lacking in that position.
The team ended last year's US Nationals as the runners-up behind Rogue (4-6, 7-5, 2-6) despite Gotcha having to substitute into the team in Geoometrics' place. Since then, the team has had two relatively disappointing Majors, threw a substantial lead while on match point to win a Pro League Finals and lost the face of the team in Canadian. Winning this tournament and ending the year on a high would therefore be huge for the team after five grand-final losses in a row.
Luminosity Gaming
Hyena, Rexen, Slashug, Doodle, Factor, and ViiRuS (coach)
After qualifying for the Pro League last season, LG surprised many by storming to the top of the table and becoming a credible challenger for a spot at the Japan Finals. While they eventually finished in fourth place, this showed they had real potential as a team and now, with the addition of the R6 veteran of Slashug, they aim to push right to the top of North American Siege.
Slashug debuted on this roster just last weekend at the OGA Pit Minor, where they surprised many by defeating Team BDS before eventually finishing in fourth after losing by a 2-1 scoreline to Spacestation Gaming. Now, the team will hope to repeat a performance such as that if they hope to escape from the incredibly difficult lower half of the bracket after it took LG five separate attempts to even qualify for these Finals.
Tempo Storm
Butterzz, Dream, Creators, Filthy, Krazy, and KenZ (coach)
Tempo Storm (previously known as 2Faced) began November by beating katsu to qualify for the US Nationals on November 1st, and then defeated Rogue to qualify for Season 11 of the Pro League on November 2nd. Now, after their only change being their signing with Tempo Storm during the transfer period, the team takes on the first of these new challenges as they face the only Challenger League team present, the Soniqs, before a semi-final against DZ or SSG.
Tempo Storm will definitely be a team to watch as we see exactly how they hold up against the veterans of R6 in their first LAN matchup as a team. As one of just two teams to make no player changes in North America, they at least had the advantage of team synergy, and now with the organisation behind them, they'll be eager to make some new fans under the TS banner.
Prize-Pool
Finals:
1st Place - $65,000
2nd Place - $35,000
Joint-3rd Place - $10,000 each
5th-8th - $5,000 each
As well as this, the attending teams have already won the following amounts from the online qualifiers:
DZ and LG - $1,250
EG, SSG, Soniqs, Tempo Storm, and Reciprocity - $1,000
Team SoloMid - $500
Rogue also secured $1,500 from the qualifiers prior to disbanding, leaving $7,500 of the $156,000 to other non-qualified teams.
Broadcast
The games will start at 9 AM PST from Friday to Sunday on the Rainbow6 Twitch account with the quarter-finals being played on the Friday, the semi-finals on the Saturday, and the grand final on the Sunday at approximately 1 PM PST (10 PM CEST).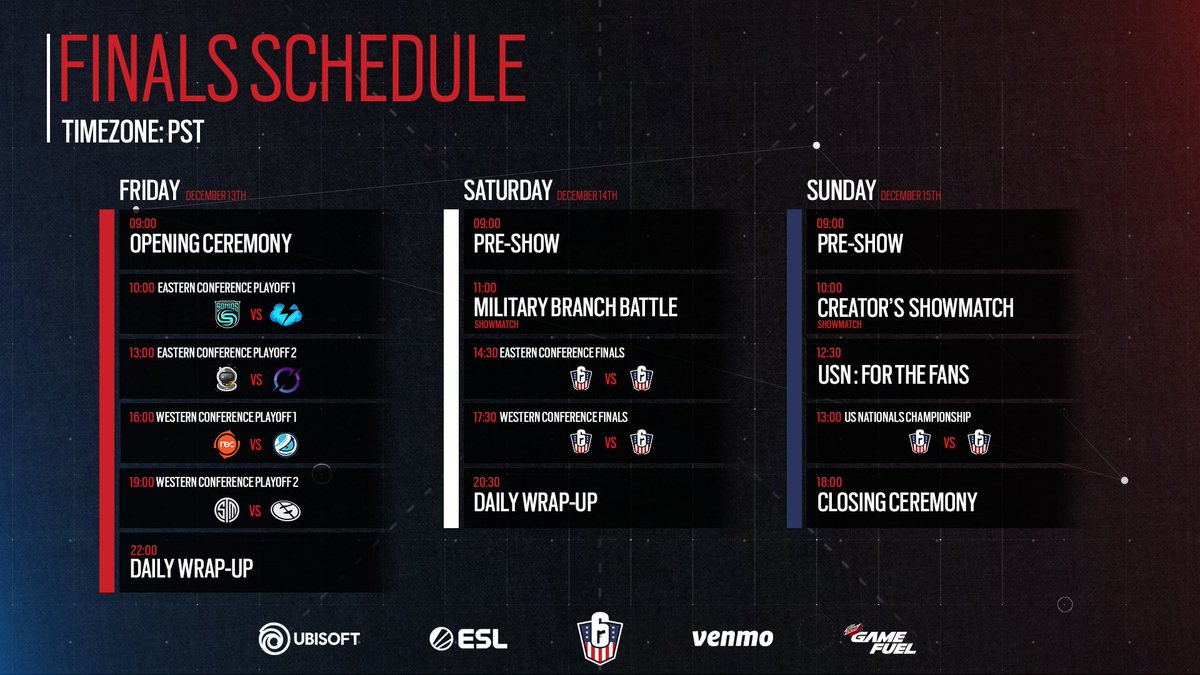 As well as this, we will see two show matches; one on Saturday between teams from the four US military branches of the Army, Navy, Air Force, and Marines, and then a Creators Showmatch between Macie's Jays and Lynsanity on Sunday.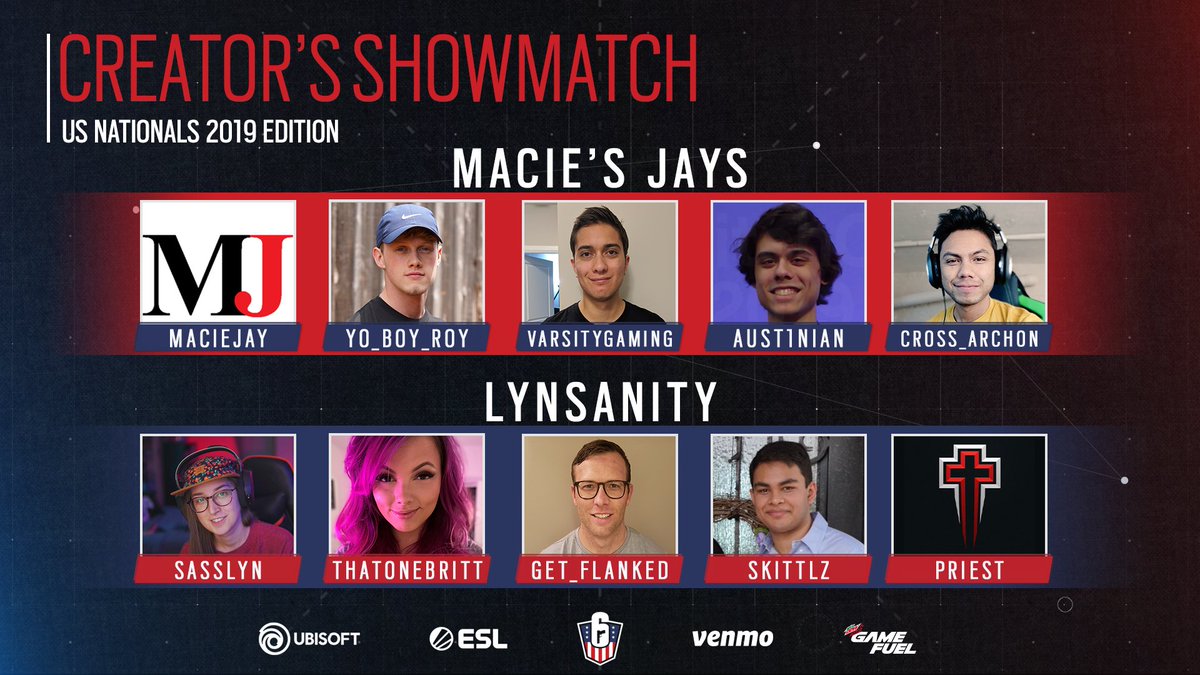 While we don't know the Battle of the Branches 2019 participants, last year's showmatch saw the Air Force take the title over the Army roster, which included the current coach of Obey, Jacob "XecratioN" Campbell. With two more branches added this year, and it being scheduled for three and a half hours (compared with one and a half last year), we can expect it to well exceed last year's show.
As for broadcast talent, it invites the same talent as last year, with the changes of Devin "mzo" Becker replacing Rob "Flynn" Flynn, the host of Bil "Jump" Carter moving to a pure a desk host position, and Jackie Jing replacing him on stage. The analyst desk initially saw Loviel "Velly" Cardwell and Alex "z1ronic" Dalgaard-Hansen both return, but, following z1ronic being temporarily suspended on Twitch, he has been replaced by Robert "RaMz" Rockhill, who previously worked on both the 2018 US Nationals and the 2019 Raleigh Major.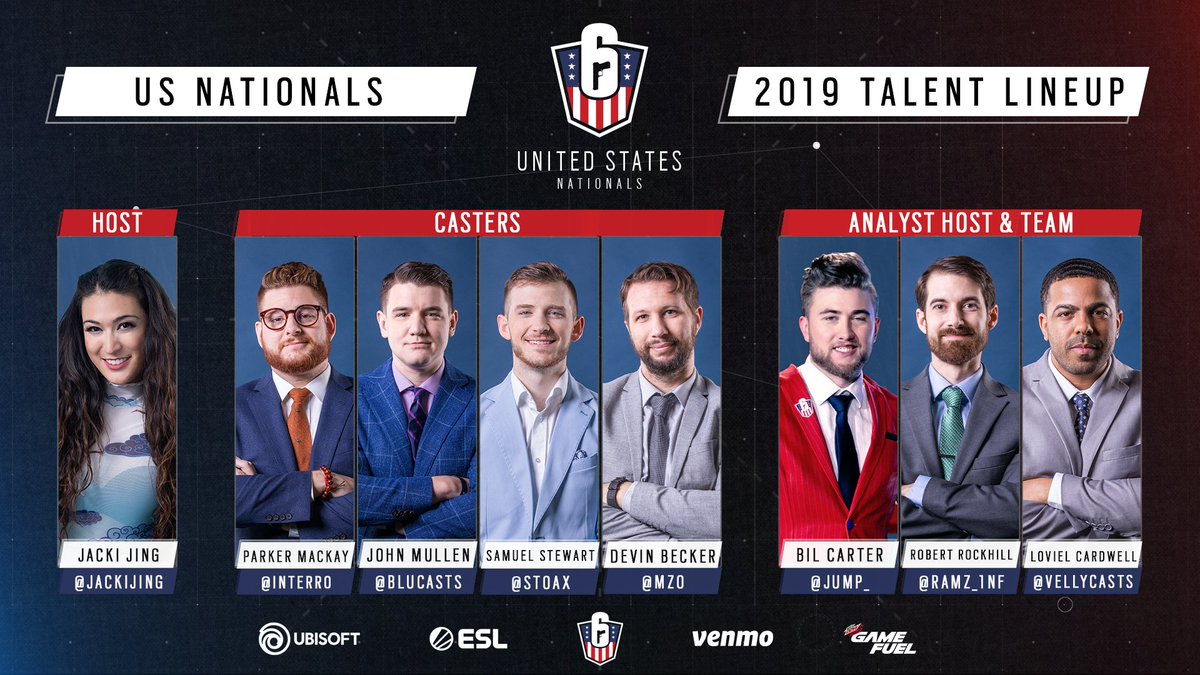 Event
Taking place in the same venue as last year, the Penn & Teller Theatre in Las Vegas, there will be a number of activities at the event.
Firstly, there will be a number of meet-and-greet sessions happening, where you can get pictures and autographs with the teams and talent present, however their schedule has not yet been released. As well as this, the White Elephant Gift Exchange returns in which you can leave a gift at the event valued at around $15 to pick up a new present on your way out in somewhat of a Secret Santa event: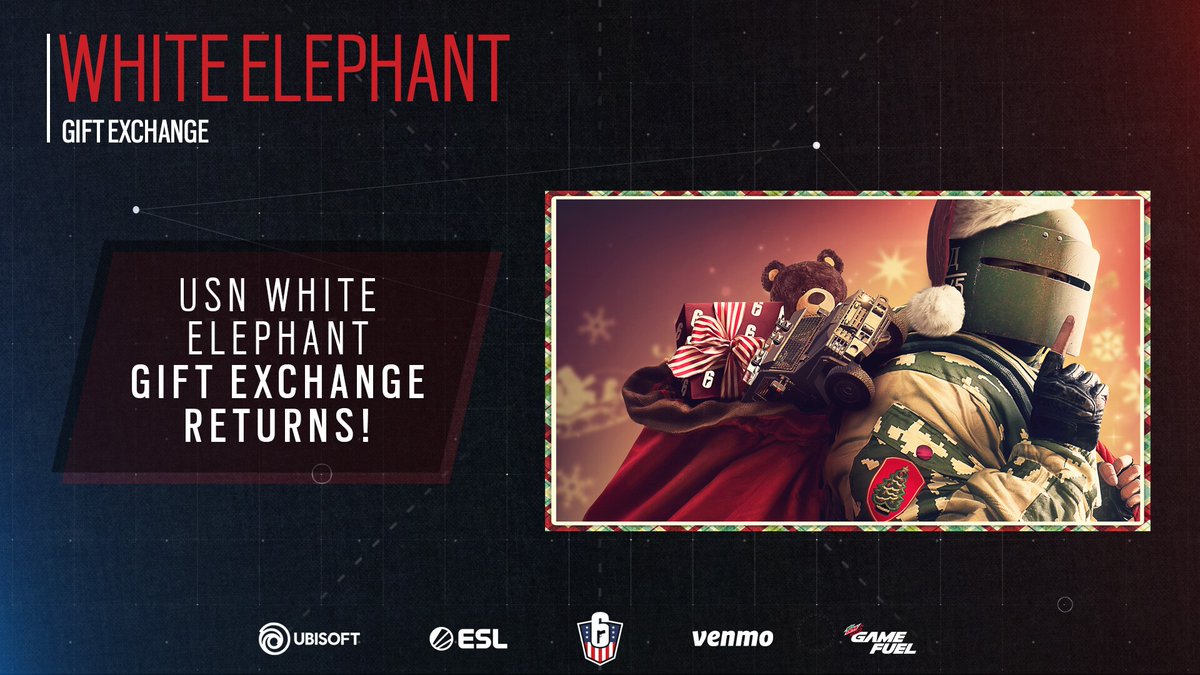 Last year, the event also saw many giveaways, including the exclusive USN branded chairs used at the event on stage. Opportunities such as this will likely be revealed closer to the tournament, but for now you can still attend the event for free or buy wider-access tickets here.
---
Keep an eye out here at SiegeGG for full coverage of the 2019 US Nationals this weekend and check back on Twitter and YouTube for more.