Lots has been happening in the Rainbow Six scene over the last seven days, so we here at SiegeGG have selected some of the most notable tournaments to highlight. Also, keep an eye out later this week for our dedicated Challenger League, OGA, and US Nationals roundups.
---
Jump to:
---
6 French League - Izidream's Going to LAN
This week saw the final play day in the 6 French League before the LAN Finals at the start of November. The three Pro League teams of the Vodafone Giants, Team Vitality, and PENTA had already secured their spot in the playoffs, leaving the fight for fourth place to Izidream -- the successor of the DeathroW roster that played in Season 8 of the Challenger League -- and GameWard Team, a lineup currently sitting in fifth place in this season's Challenger League. For Izidream to qualify for the Finals, they needed to get just a single point against MCES while GameWard needed to defeat DolphinStars (previously known as Supremacy) and had to have Izidream lose.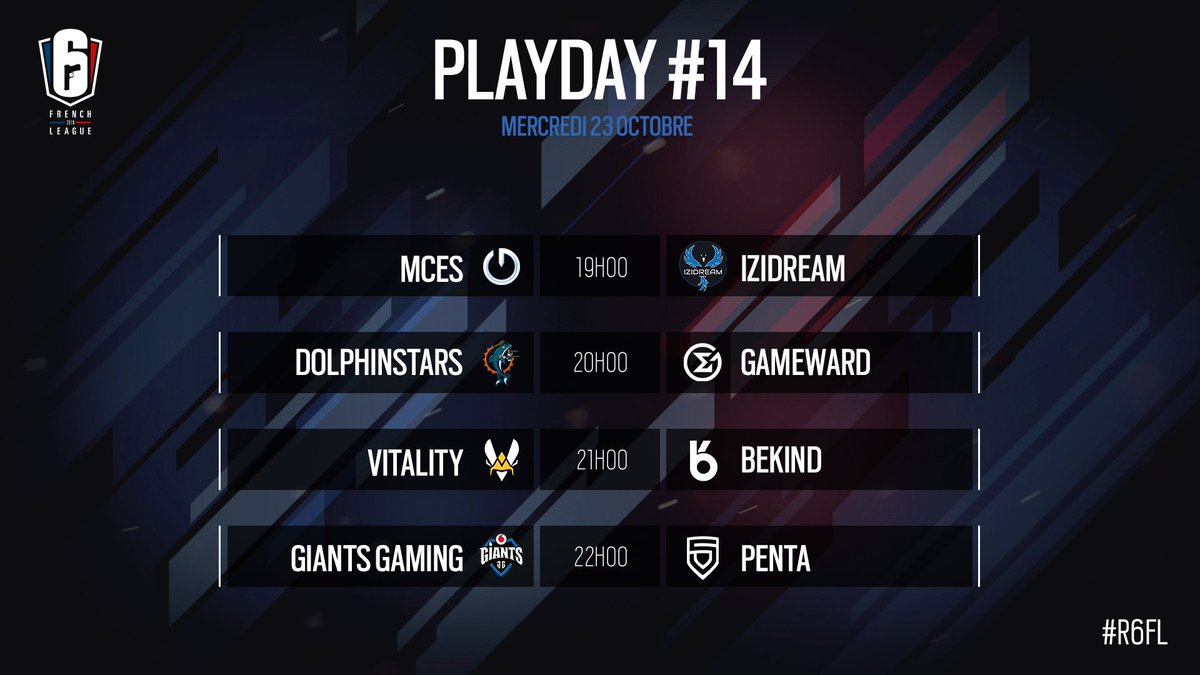 This meant there were a number of interesting games to watch, starting off with Izidream vs MCES. This game on Border started out in Izidream's favour as they took round one in a clear and efficient take of the Armoury site, losing just one man and finishing the round with 49 seconds remaining before round two saw a triple kill by Chaoxys increase their lead further. ZephiR responded to this with a 3k of his own on round three on Lesion, but was left in a 1v4 and lost the round anyway before he repeated this performance on both rounds five and six to win the rounds for his team and finally get his team on the board as the half ended 4-2.
Izidream responded to this strongly with a flawless round seven to start the half followed by an ace from P4 to push the team to match point which guaranteed themselves at least one point, and thus the spot at the LAN Finals at the Paris Games Week this upcoming weekend. Following this, Izidream took their foot off the gas as MCES won two more rounds -- which included a quadruple kill from their substitute of M0stafa -- putting their total to four before Izidream finally closed out the game on round 10.
This result meant GameWard's following game didn't matter as they and their opponents were locked in fifth and sixth place, meaning the attention was focused on the final game of the online season -- Giants vs PENTA. While the game was effectively meaningless, PENTA was the only team to beat the Giants (then known as LeStream Esport) back in week one of the league on Border, meaning we could see an upset against one of the favourites for both the 6FL and Pro League Finals rosters. This, however, never looked the case as AceeZ, Alphama, and Korey all hit kill counts in the double figures across the 11 rounds while risze achieved a 4k to close out Kafe 7-3 to end the very first French national league online season.
This, therefore, means we'll see the semi-finals of the Vodafone Giants vs Izidream and Team Vitality vs PENTA on November 1st at the Paris Games Week Finals, with the grand-finals the following day to crown the 2019 French champions.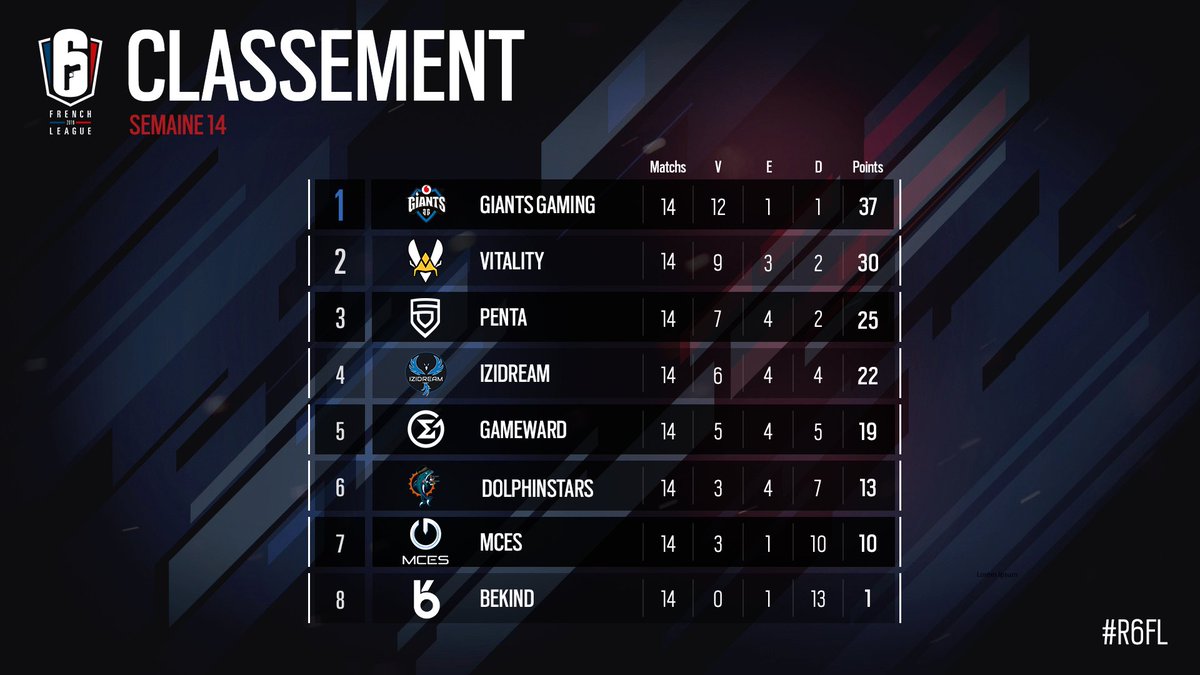 PG Nationals - Mkers Finally Defeated
Prior to this week, the Mkers team -- previously known as EnD Gaming -- had remained undefeated for the last four consecutive seasons of the Italian Nationals with a 51-4-3 map win-draw-loss record, and their last map loss coming ten months ago. This changed dramatically this week as they lost two consecutive games against GoSkilla Academy on Tuesday, and Notorious Legion on Wednesday, pushing them down to joint-second place.
The first of these games saw GoSkilla Academy vs Mkers on Bank, which started off quite well for the defending champions. Mkers took the first two rounds despite Katayama achieving a triple kill on the first round for GoSkilla, as none of his teammates achieved any other kills, and Aqui planted on round two as Torok pulled off a defuse right in front of him. From this point onwards, Mkers had used up all their luck as GoSkilla not only got on the board but cleaned out the rest of the half with just four deaths across the team in these four rounds.
Round seven came down to another 1v1, this time between Alation and Katayama as Alation effectively wasted 25 seconds on site, during half of which he had the bomb in his hands before the time ran out and GoSkilla won the round on their way to a 5-2 lead. Mkers did manage one more round win as BakaBryan got two early kills onto Maestro and Smoke on entry into the Open Area objective, allowing Torok to get the defuser down and the rest of his team to clean up, but this was way too little, too late as GoSkilla ended the map in the following rounds in a commanding 7-3 scoreline to overtake Mkers at the top of the leaderboard.
The following day, Mkers faced Notorious Legion, who sat all the way down in fifth with two wins and four losses so far this season. This game once again started off well for Mkers as an Alation triple kill on round two and a rush on round three gave them a 2-1 lead on Coastline, which then turned into the two teams trading rounds back and forth. Nate and Super killing Auer and Alation in the space of two seconds gave NL round four, and Auer's plant and subsequent 1v1 victory gave Mkers round five before NL rounded out the half with a round six victory thanks to a triple kill by N3M3SIS and tied things up.
Mkers took round seven to push themselves into the lead once again, however they were clearly much weaker on their defences. Notorious Legion went on to win four consecutive rounds -- two on each of the Kitchen and Hookah sites -- with Osho achieving a 1v1 to cap off a 3k and end the game with a 7-4 victory.
Elsewhere in the league, we saw two victories by the Samsung Morning Stars over Italian Gaming Project (IGP) and QLASH which pushes themselves up to second while both Notorious Legion and GoSkilla failed to win their second games despite their victories over Mkers, with the former losing to Cyberground Gaming and the latter drawing to IGP. Finally, we have Outplayed who fell from fifth to last place following defeats to QLASH and Cyberground to form the following standings after three weeks:
Next week all eyes will be on Mkers to see if they can regain their strength as they face the eighth and fourth-placed teams of Outplayed and Cyberground Gaming.
ESL Benelux League - Trust Gaming Locks in LAN
Firstly, this week the location and dates for the Benelux Season 4 Finals were confirmed as it leaves the Haarlem area for the first time in the Benelux League's history:
As for this week's games, both Trust Gaming and FACT Gaming, the current first and second-placed teams in the league, found victories over Horus and Stage5 while the fifth-placed team of ECV esports defeated last-placed Aethra Esports -- all three games being dominant 7-2 scorelines. The only close game of the week saw LAGr Gaming in seventh place face Aura Esports in third which saw quite an upset.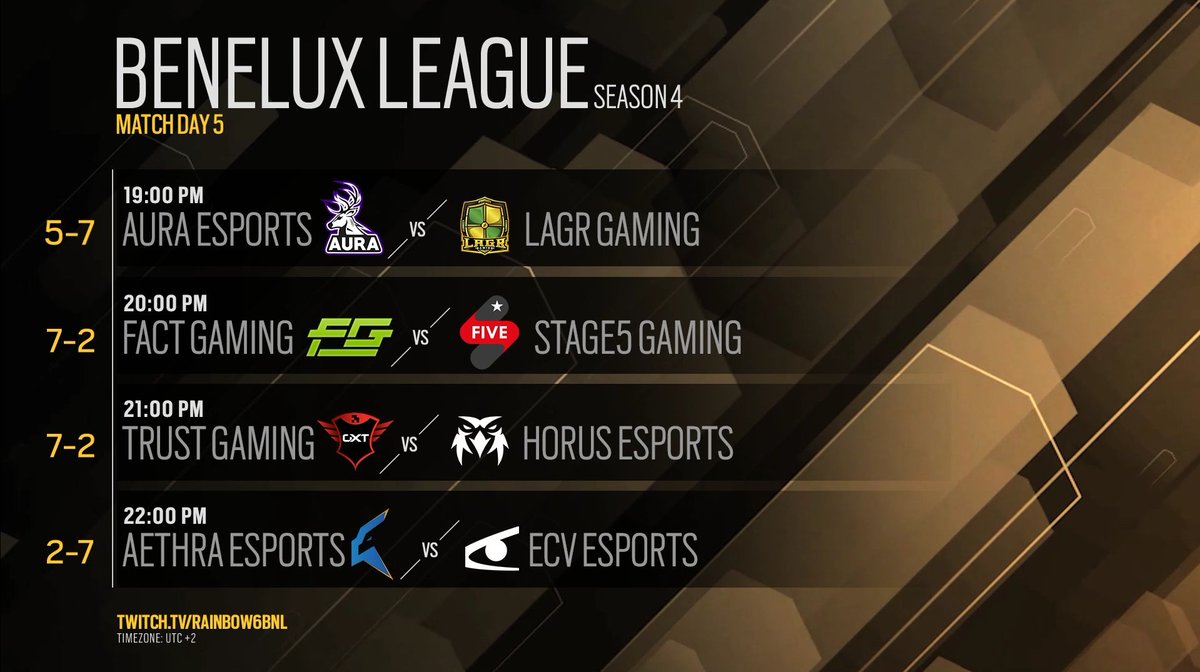 LAGr started off on their Clubhouse attack by going up two rounds as Scorpio achieved a triple kill on Capitao in the first round, while round two saw Prism die in the first 35 seconds, allowing the attack to easily open the CCTV/Cash objective's wall. Aethra bounced back from this as they gave up on the CCTV site for a round and successfully defended the Church before a flawless round four evened up the scoreline as NotRhodur was left in a 1v5 situation the second round in a row. Aura pushed on and took the remaining two rounds to end the half in a 4-2 scoreline.
As we went onto the second half, LAGr quickly came back with just SeekA and Einsenhower dying in the following two rounds which started off quite a run for the underdogs as they pushed forward from 2-4 down onto 6-4. Aura managed to win one final round as Staed got two initial kills onto Smoke and Jager while playing on Hibana but, ultimately, LAGr closed it out in a 7-5 scoreline.
These scores, therefore, mean that Trust Gaming have confirmed their spot at the December Finals where they will hope to defend their title for the first time ever. As well as this, Aethra are now mathematically unable to qualify as they sit with five defeats in five games while ECV has overtaken Horus to break into the top four.
Elsewhere in R6 - ESL Premiership, the Russian Major League and the Masters League
Firstly, this week saw a huge gap in the Premiership open up as just two points separate first from fourth, with then an eight-point drop down to fifth. With the mid-season mark already passed, it is very clear which teams will be making it to the eventual Finals despite none being officially qualified for it yet. The lone surprise this week saw one of these top four teams -- I'm With the Boys (IWTB) -- held to a draw against Sonny Carries, but this is unlikely to make much of a difference as IWTB already has five times the points of Sonny Carries.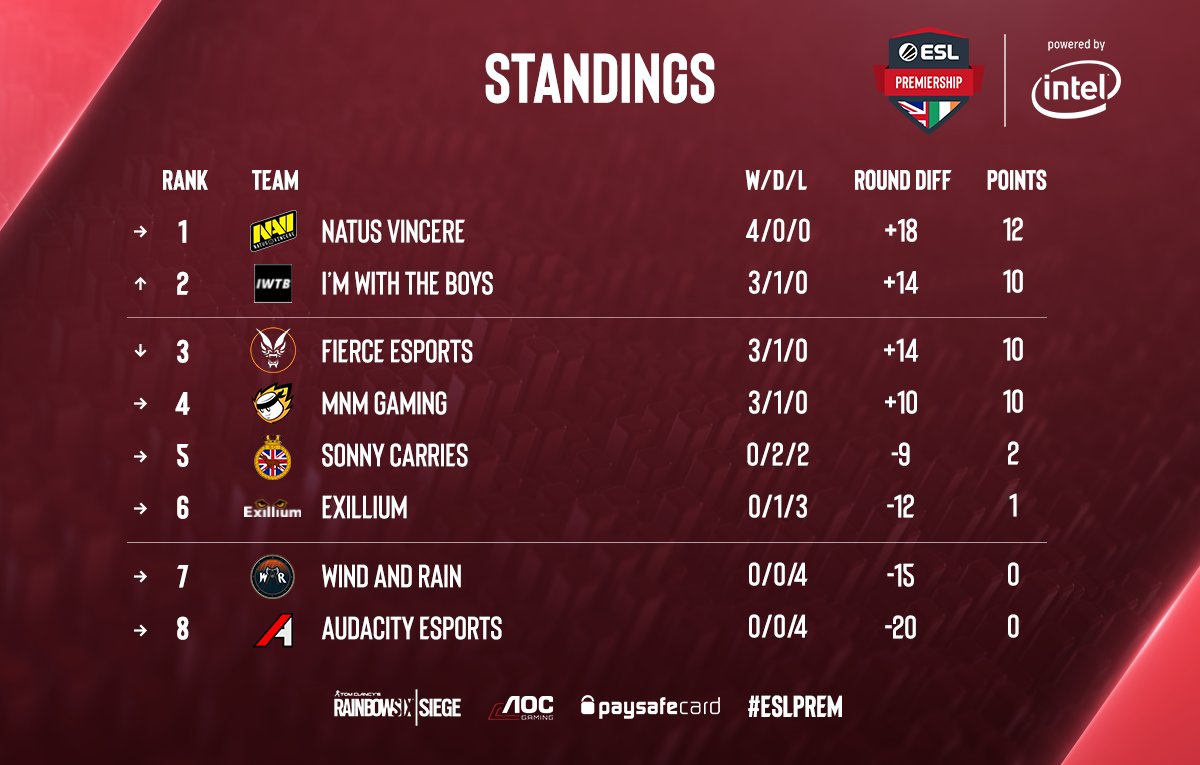 Next up, we saw the Russian Major League in action where forZe took on 6Blood -- previously known as AVANGAR, who recently acquired the ex-forZe player of SmashByAsh -- which ended with a close 7-5 scoreline. This result, along with their draw against Team Empire, puts 6Blood as one of the best up and coming teams in Europe at the moment, and definitely a team to watch for Season 11 of the Challenger League and the 2020 Six Invitational qualifiers.
Finally, we have the Polish Nationals which saw its first team, SLAVGENT, qualify for the November Finals following their wins over Numero Uno and Patokalipsa. Next week, we will find out which team will join them as joint-first seed as the Samsung Morning Stars (which has four players from the Italian roster) face the Invicta Gaming roster, which includes the Na'Vi player of Saves.
We did it! On November 16th we will welcome you to the @PolsatGames studio where we fight for the Masters League Season 3 title.
Next Week's Action
The five must-watch confirmed games outside of the Pro League over the next seven days are:
2Faced vs Obey Alliance

in NA's Challenger League on Monday at 20:00ET

CHICOS Team vs Looking For Org

in LATAM's Challenger League on Wednesday at 19:00ET

MiBR vs Team oNe

in LATAM's OGA Qualifiers on Thursday at 17:00CEST

The

6 French League Grand-Finals

on Saturday at 15:00CEST

Team Secret vs ChaosEC

in EU's OGA Qualifiers on Sunday at 16:00CEST
---
Check back here at SiegeGG for continued coverage of the global Rainbow Six leagues and further updates as we draw closer to the Season 10 Pro League Finals.