As happens every season, the top eight teams in APAC will be coming together, this time in Sydney, Australia, once again to decide which teams will be representing APAC at the Season 10 Finals in Tokoname, Japan. Held on the 19th and 20th of October, the event is sure to be a thrilling one, with a new team guaranteed to make an appearance at the Pro League Finals.
Who are the teams?
Australia-New Zealand (ANZ)
Fnatic: Magnet, RizRaz, Virtue, Lusty, Speca, Acez (sixth player), Dizzle (coach)
Wildcard Gaming: Ethan, EmoRin, Derpeh, Diesel, NeophyteR, syliX (coach), Fluxx (coach)
From Australia and New Zealand (ANZ) hail the usual suspects, Fnatic and Wildcard Gaming (formerly 0RGL3SS), but they did not have the easiest of roads to qualification. With Oddity Esports also in the mix, both teams -- but especially Wildcard -- were not guaranteed qualification until the final day, but with Oddity faltering against FURY, Wildcard made it through to set up a rematch against Xavier Esports.
Fnatic, too, have not been playing so well -- especially so with their Raleigh Major performance -- and will be looking to Ryan "Speca" Ausden to be the change they need, playing in place of Matthew "Acez" McHenry, and face a stern international test immediately as they go up against Aerowolf.
Japan
NORA-Rengo: Maavie, Merieux, YoshiNNGO, Papilia, ReyCyil, kizoku (Coach)
Cyclops Athlete Gaming: Shokei, gatorada, SuzuC, Anitun, BlackRay, XQQ (coach)
From Japan, we have the regular titans of NORA-Rengo (NR), and accompanying them to their third APAC LAN running are Cyclops Athlete Gaming (CAG), but the order of teams is not what most would have expected. NR, this season, have struggled a lot more than is expected for a team of their calibre, and it is CAG who come into these Finals as the top seed. In comparison, NR very nearly did not make it through.
With both teams having a disastrous Six Major Raleigh, and NORA-Rengo having swapped prolific fragger Ryuki "Ramu" Matsuoka for relative newcomer Maavie, both have a lot to prove. NR, in particular, will have a tough time, put on the side of the bracket with Cloud9, Fnatic, and Aerowolf, while CAG face a somewhat easier road.
Southeast Asia (SEA)
Xavier: Hajime, HealthcareOG, Lycolis, Producerboom, Scatman
Aerowolf: MentalistC, Lunarmetal, Ysaera, HysteRiX, SpeakEasy, jrdn (sixth player)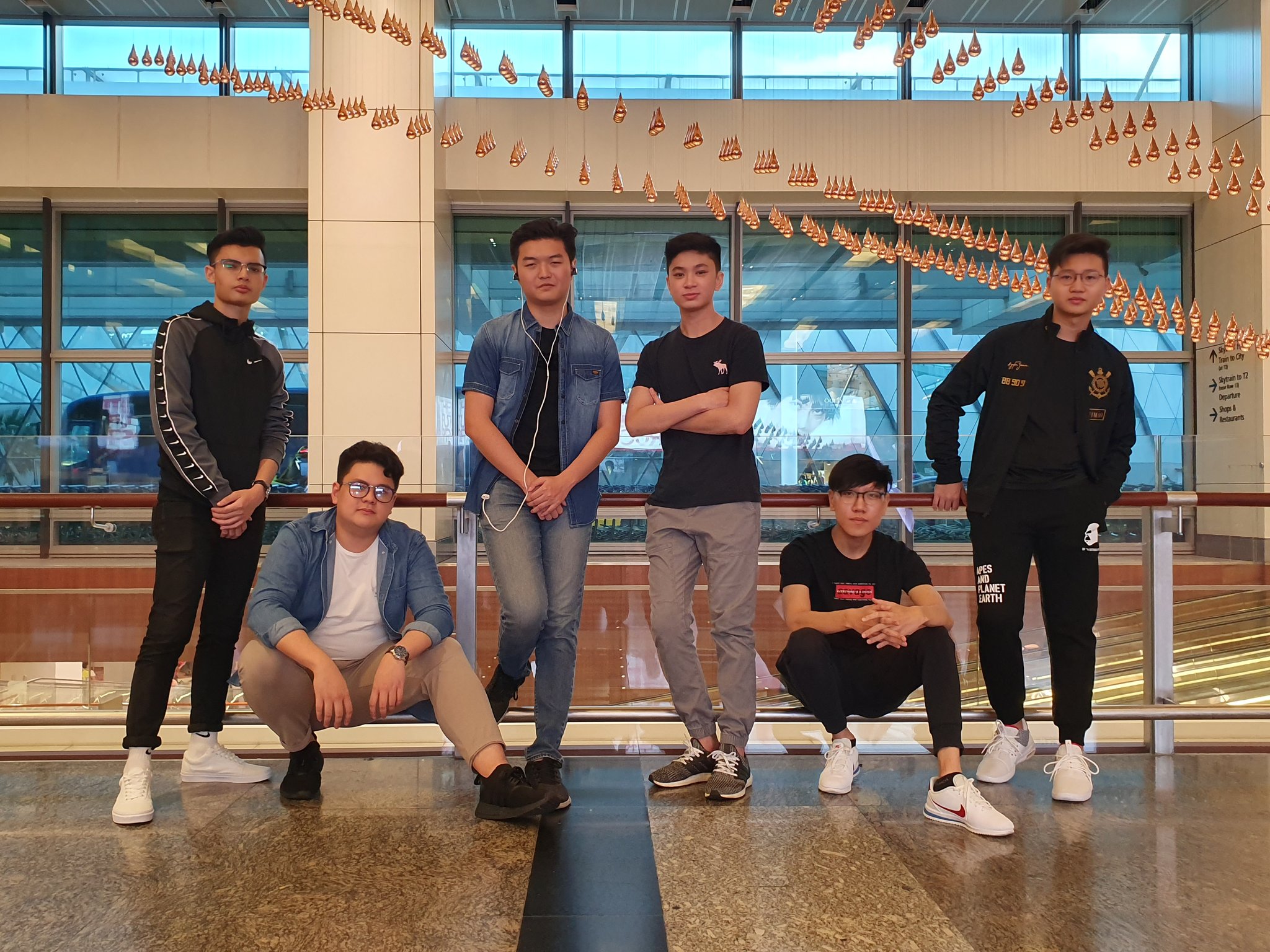 Coming in from Southeast Asia are the Thai and Singaporean squads of Xavier Esports and Aerowolf. The only region to never have had a team represent them at a Pro League Finals, Xavier Esports will likely be excited by the prospect of getting a relatively easier bracket this time around, avoiding four of the APAC titans after finishing first with a 11-0-1 record.
Aerowolf, on the other hand, face the toughest draw they ever have had, going up against Fnatic first, then either NORA-Rengo or Cloud9 -- all teams that have defeated them in the past, with Fnatic having won four out of four times, Cloud9 having won two out of two times, and NORA-Rengo having won the only time they played. With Patrick "MentalistC" Fan set to retire after this season, it is do-or-die in a trial by fire for them this time.
Korea
Cloud9: Nova, EnvyTaylor, CATSang, SweetBlack, h3dy, SummerRain (coach)
TRIPPY: JD, Templat, SyaiL, WATB, JamSuHwan, DongUk (coach)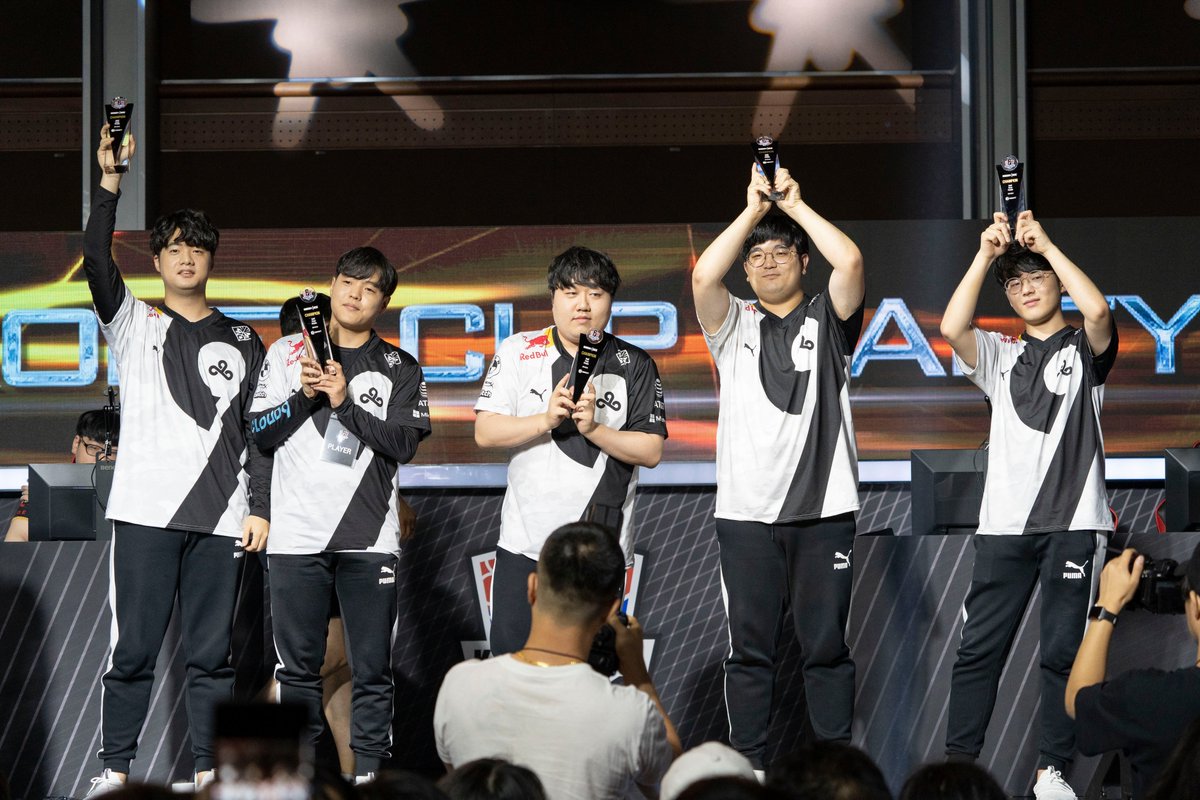 Last but not least, we have the Koreans of Cloud9 and TRIPPY. Cloud9, of course, are well-known in the esports world, as well as the Rainbow Six scene, having taken the fight to teams such as G2 Esports while they were still mantisFPS. However, since they have been signed by Cloud9, results have not gone their way. Having swapped Inyeop "Neilyo" Lee for Sewoong "CATSang" Heo, they will be hoping he is the change that they need in a tough bracket. Inyeong "SummerRain" Kim, too, will be retiring after this event, with former player and current assistant Hyeon "OniChan" Park set to take over his position as head coach.
TRIPPY, on the other hand, come into this tournament with experience-collection as their primary goal, fully expecting to be defeated by their fearsome opponents of Cyclops Athlete Gaming. As the only team here without an organisation, they will look towards WATB for his previous LAN experience to guide them, and perhaps spring a surprise along the way.
What's the format?
As always, the eight teams will be split into two halves in a single-elimination bracket. Four quarter-finals will be followed up by two semi-finals, and the winners of these semi-finals will have qualified for the global Pro League Finals. A Grand Final will then be played to decide the seeding for the two APAC representatives.
This time, the bracket generation for the global Pro League Finals in Tokoname, Japan, will also be held right after the Grand Final of the APAC Finals, given that every other region's online season is also over.
What's the schedule?
The games will be broadcast on the main Rainbow6 Twitch and YouTube channels from 11AM AEDT (GMT+11) each day on the 19th and 20th of October. The quarter-finals will all be played on Saturday, while the semi-finals and Grand Final will be held on Sunday, with the bracket draw for the global Pro League Finals scheduled right after.
The broadcast team bringing the event to your screens include Australian stage host Danny "DK" Kim and desk host Jordan "Elfishguy" Mays. Casting the games themselves will be ANZ Pro League casters James "Devmarta" Stewart, Robert "Manic" Munday, SEA Pro League caster Shikhar "InfianEwok" Gupta, and ANZ Pro League team Oddity Esports' coach, Brandon "Raven" Langiano.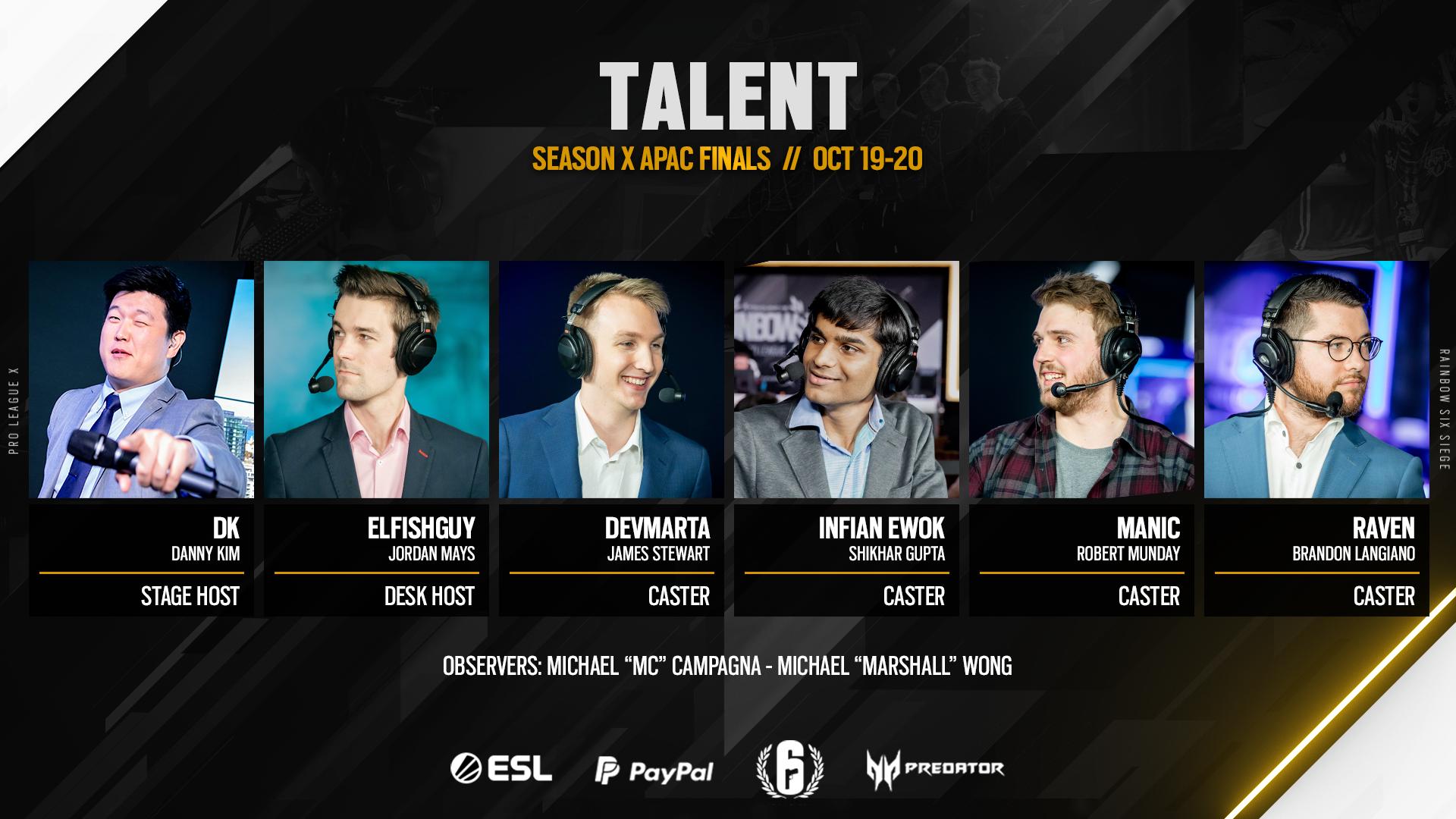 The team will also be supported by observers Michael "Marshall" Wong and Michael "MC" Campagna.
Where can I learn more about the teams?
Read up on SiegeGG's interviews with all the eight teams in the links below to know more about how each team is approaching this event:
---
Catch all of SiegeGG's coverage of the event on our Twitter and YouTube pages, as well as right here for daily roundups of the event as it gets underway tomorrow, the 19th of October, at 11AM AEDT (UTC+11).