Jump to:
---
Schedule
The games will kick off tomorrow, with four best-of-ones each Wednesday for the following seven weeks. The games start at 19:00CEST each day on the rainbow6bnl Twitch channel, with 75 minutes scheduled for each game.
The online season, therefore, finishes on November 6th, with the Finals' location currently unconfirmed.
Teams
The eight teams playing this season include two teams that played last season and six new qualified rosters:
Trust Gaming
Leonski, Avaiche, Deapek, Meadzzz, JinxedOwl and DocYen (their coach)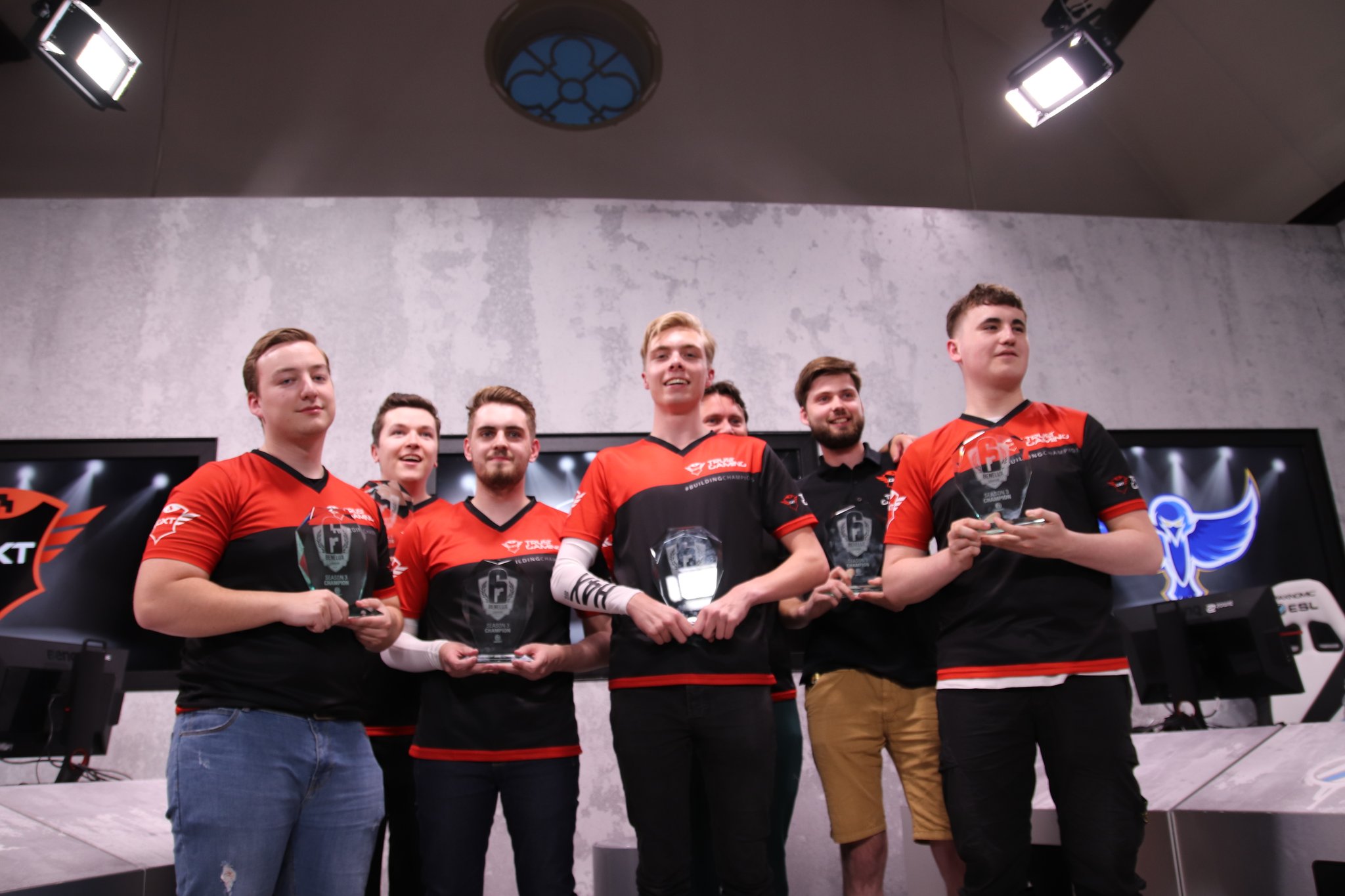 The Trust Gaming organisation are veterans of the scene, having not only won the last season of the league, but having also won the title back in Season 1. Last season, Trust also made history by becoming the first Benelux region team to qualify for the Challenger League.
As well as local success, the team has also made a name for themselves in the LATAM region at DreamHacks, having beaten Team Liquid in Jönköping last December, and Team oNe in Valencia last July. This, combined with their third-place finish at the Challenger League last season, makes them not only the favourites in this league, but one of the top Tier 2 rosters across Europe.
Now, with the newcomer of the Danish player of JinxedOwl having joined two Dutchmen, a Belgian, and a Brit a month ago, Trust will be eagre to repeat last season's performance once again.
Aethra Esports
Craxan, HzDef, Fippsi, Kabouter, Jul1nho and eaglemees (their analyst)
Known last season as Solwing Esports, this team ended Season 3 as runners-up, falling 7-0, 7-3 to Trust in the Grand-Final. Since then, the roster has welcomed Jul1nho to the team, best known for playing on Team Prismatic at the Euro Cup last year, to replace Dark, and has swapped organisations.
Now, alongside the ex-Trust Gaming player of Craxan, and the ex-Season 1 finalist of Kabouter, the team will be hoping to finally dethrone Trust and take the title for themselves and will be one of the clear favourites to qualify for the LAN Finals.
Gunners
Dark, Zend, Lancelottt, Badger and Hixcap
Since leaving the previously mentioned team of Aethra Esports, Dark has found a new home within this roster alongside Badger, who played during Season 3 of the league and Hixcap, a well-known YouTuber with over 120,000 subscribers.
Free Gains
Kwekko, MissMarie, Malus, SoClosed and MortaR
Kwekko and Malus previously played together during Season 2 of the Benelux League on Auxilium, achieving just a single victory in seven games across the league before going their separate ways. Season 3 saw Kwekko join the promising ex-Flash Point roster of Conquer Gaming who never really got going and failed to win a single game themselves also.
MortaR, meanwhile, also played in both Seasons 2 and 3 on Cryptick Gaming, who themselves only managed to win three games across both seasons. Finally, MissMarie played last week during the CCS Women's League on North Sea Gaming, where she found victory over HellSide Esport.
This roster will now be hoping to finally find some success after a number of misfires by members of the team in previous seasons, with experience in the league likely being their biggest asset.
Aura Esports
Steed, Doggon, Prism, JPM and Judge
The star of this team is clearly Steed (formerly spelt Staed), having both won Season 2 of the league and finished runner-up in Season 1, making him one of the most successful players in the region. To follow up this performance, he has teamed up with a number of players with rather limited competitive experience, as Prism, JPM, and Judge have never played in an ongoing league before, while Doggon's most senior performance is briefly playing in CCS Season 4 on dizLown Esport, the eventual runners-up.
This means that most of this roster will be hoping to make a name for themselves on this team which is certainly possible with a teammate like Steed.
FACT Gaming
Xoogle, Zeus, Spordos, Prophet and JTc
Just as with the last team, most of this roster has no previous competitive experience as JTc, Prophet, and Spordos have all yet to play in any ongoing leagues. Zeus, meanwhile, has some experience -- although limited -- having played in both the secondary division of the Saturday League and Season 1 of the Benelux League in which his team was disqualified due to too many no-shows. Finally, we have Xoogle, who does have a fair amount of experience having played on Auxilium during Season 2, and Flash Point during Season 3 where his team finished in joint-third position after falling to Trust Gaming at the LAN Finals.
LAGr Gaming and Stage5 Gaming
DevinV, Scorpio, Eisenhower, Keysi, FaloRRR
Robinshu, Bread, malbo, dave and Luke
These final two teams are pretty much unknown, with none of the members having any prior experience in this or any other R6 leagues. To qualify for this league, LAGr defeated Phenom's new team )Phenom being a player from Season 2 of the league) before their opponents in the qualifier playoffs forfeited their game, giving them a somewhat easy run into the league.
Both these teams have fairly low expectations placed on them going into the league, and they will hope to surprise many over the next few months of games.
Prizes and Previous Winners
The net prize pool for the league is €11,500, with the following breakdown:
Online Season:
1st - €750

2nd - €500

3rd - €250

4th - €225

5th - €175

6th - €100
LAN Finals:
1st - €4,500

2nd - €2,500

3-4th - €1,250
Previous season winners include:
Craxan, Avaiche, Snuf, Leonski, Sant0ss and Anthony (their coach)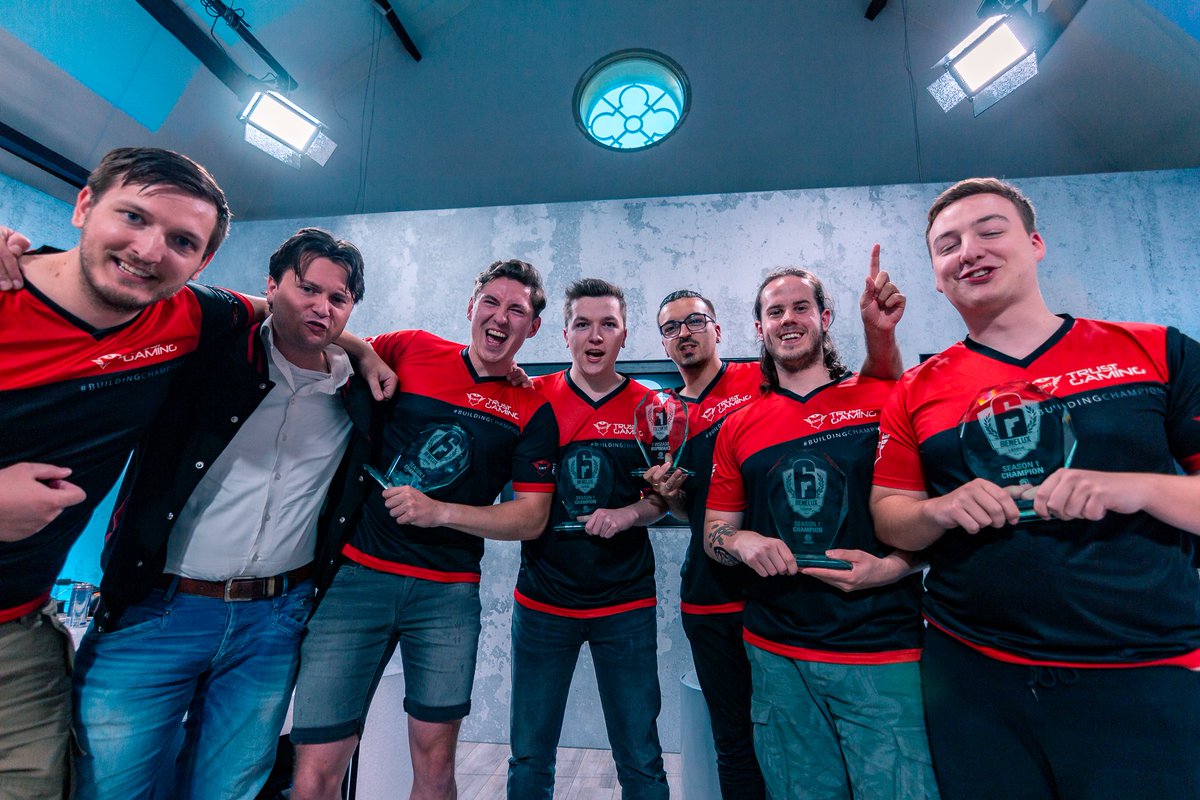 Farooq, Steed, rxwd, sNKy and NoerA
Leonski, Avaiche, Deapek, Quadzy, Meadzzz and Anthony (their coach)
This means that while the Trust Gaming organisation are looking for their third title, just Avaiche and Leonski remains from the Season 1 winning roster.
While this season's lineups contain no Pro League players, previous seasons have included the players of SlebbeN, Kantoraketti, sNKy, f0nkers, Gomfi, Korey, and KS, while KiXSTAr, z1ronic, Milosh, Pengu, and Jess have all been invited to the caster and analyst desks, helping to elevate the league's international reach.
The Talent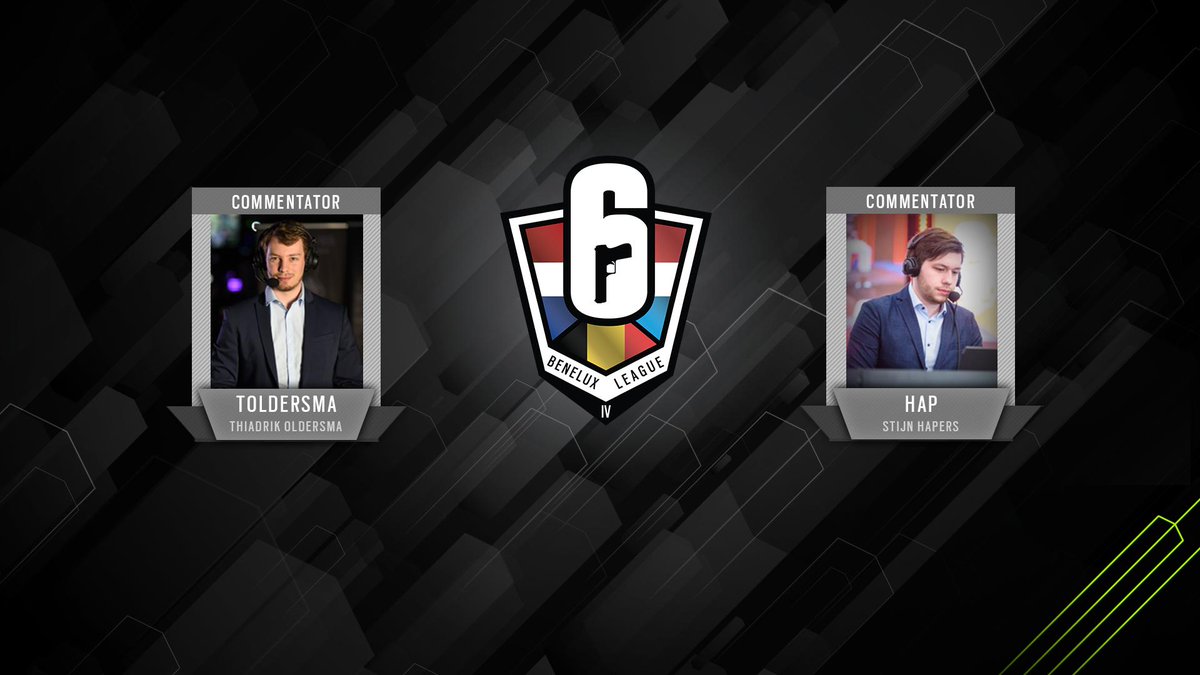 This season will see the return of the long-time and well known Benelux casters of Stijn "Hap" Hapers -- caster since Season 1 and the reigning SiegeGG Caster Predictions winner -- and Thiadrik "Toldersma" Oldersma -- also a CS:GO caster -- who has cast almost every R6 Benelux event to date.
Finally, Stephan "Easy" Kemink, Trust Gaming's analyst, will likely also be returning as the league's observer for this season as he has done for the previous two.
This is Benelux
For a rundown of what happened last season, check out our short mini-documentary on the action below:
Alternatively, check out our interview with Decibel, the ex-Regional Staff Head for the Benelux Region here
---
Be sure to check out the games when they start later tonight or keep track of all the action here at SiegeGG!