The open event will take place from Friday the 5th of July till Sunday the 7th, and the 12 invited Pro League teams to the event who will be joined by four more teams from the "Bring Your Own Computer" (BYOC) open qualifiers. The event has an identical format to last year's DreamHack Valencia Minor which was won by i don't know, now known as Team Secret, and offers attendees one of only six remaining spots at the upcoming Major, so let's take a look at everything you need to know for this event: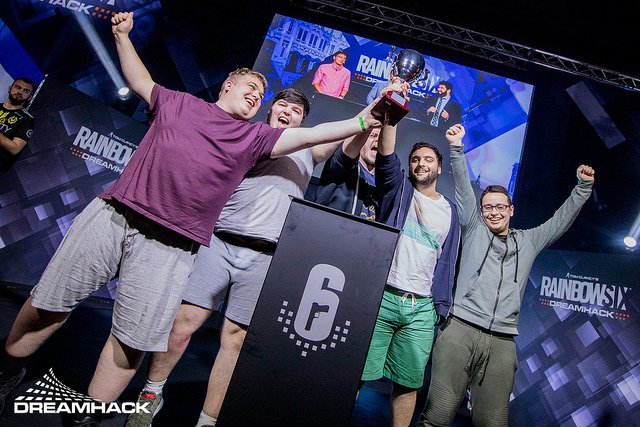 Jump to:
Who's Playing?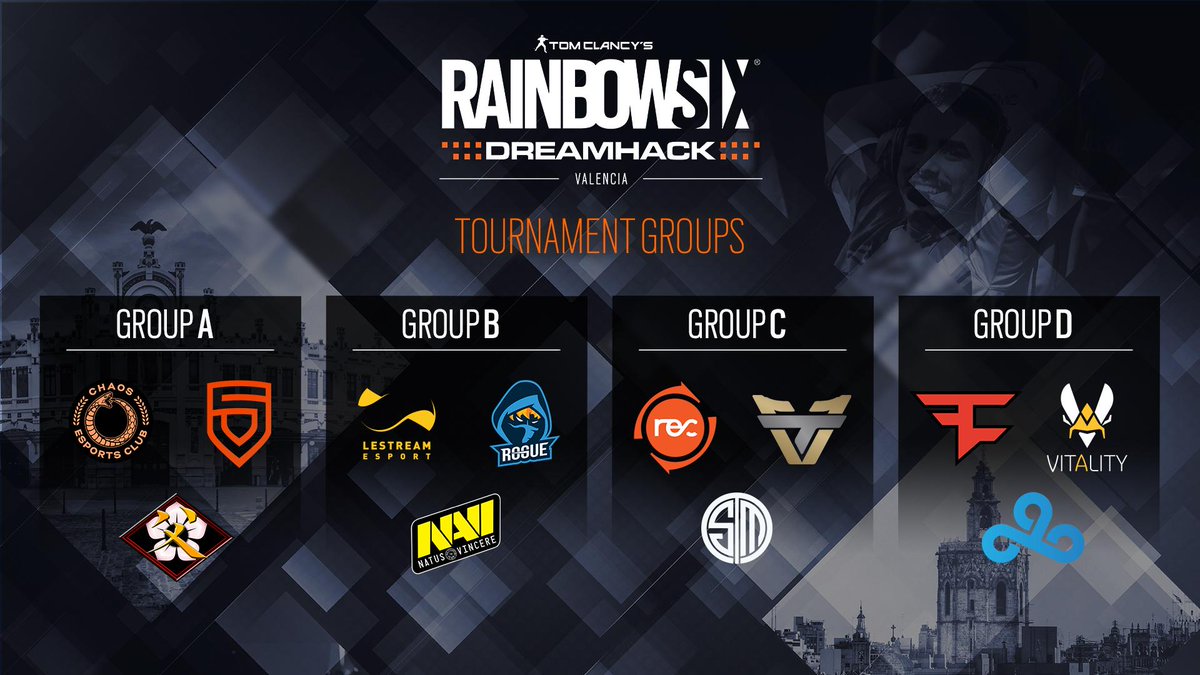 Group A
Chaos Esports Club: Secretly, REDGROOVE, Renuilz, Kripps, Vitoline and Syred (their coach)
PENTA: ENEMY, RevaN, Hungry, SirBoss, blas and Jess (their analyst)
Father's Back: Apple, Kakitare, Kenki, KI_N_CHI and DustelBox
BYOC Team
Both Chaos and PENTA have spent the last few seasons in the mid-season within Europe, and thus a good performance at this event would go a long way. Chaos has made the quarter-finals of four out of the last five Minors, with their best performance coming last month as they finished fourth at the Allied Esports Vegas Minor. On the other hand, PENTA has attended the last three Majors running and so, as only two spots remain for European teams to qualify for this event, they will be hoping to repeat their DreamHack Winter performance and win the Major spot here.
Most attention in this group, however, will go to Father's Back, a fairly unknown Japanese roster who is a real wildcard at this event. The lineup has sat around the third to fourth position in the sub-region for quite some time and, while no one really expects them to progress very far, it'll be good to see the APAC's underbelly in action internationally -- something which will only improve the region going forward.
Group B
Looking For Org: Hicks, risze, Alphama, AceeZ, korey and Crapelle (their coach)
Rogue: Ecl9pse, Slashug, Easilyy, Shuttle, VertcL and Ranger (their coach)
Natus Vincere: neLo, CTZN, Doki, Kendrew, Saves and GiG (their coach)
BYOC Team
In what is pretty easily the most stacked group at the event, this lineup of teams includes the European favourites of Looking For Org (ex-LeStream Esport), the current American national champions in Rogue, and the new British lineup in Natus Vincere that sits in third place in the Pro League following victories against mousesports (now GiFU eSports), G2 Esports, and PENTA.
This group is somewhat interesting as both Looking For Org and Rogue are here for a fairly different reason than others. LFO already have a spot at the Major booked and are using this as a self-advertising opportunity to other organisations, while Rogue will likely be awarded the "host invite" spot to the major, making this a much-needed practice LAN for a roster that currently sits in sixth place in North America after four Pro League games.
Na'Vi, meanwhile, are here simply to get a qualifying spot to the Major. While they likely aren't one of the favourites to do so, their recent results mean they could surprise many people as both they and LFO hope to repeat the success of last year's British, orgless winners of i don't know.
Group C
Team oNe eSports: reduct, Faallz, SKaDinha, LuKid, rhZ and Budega (their coach)
Team SoloMid: Achieved, b1ologic, Krusher, Merc, Beaulo and Pojoman (their coach)
Team Reciprocity: FoxA, Retro, LaXInG, MarkTheShark, Skys and HOP3Z (their coach)
BYOC Team
Next, we have Group C, in which we see one of the firm favourites for this event in Reciprocity, the Latin American wonder-kids of Team oNe, and Team SoloMid in their very first LAN event as a team less than a month after they were signed by the massive organisation.
Reciprocity is one of only two previous Minor winners attending this event -- the other of which already has a Major spot -- and was the top performing North American roster at the Invitational in February, making them one of the most likely teams to at least clinch the invitation to the Raleigh Major, if not win the whole event. Team oNe, meanwhile, are in a similar position to Na'Vi as mentioned earlier. While they definitely aren't event favourites, recent victories over teams such as Immortals, INTZ eSports, DarkZero Esports, FaZe Clan, and Black Dragons makes them a wildcard that will likely at least make it out of the group stages.
Finally, we have TSM, who have a tough fight ahead of them. This is the very first LAN event for the roster which is struggling in the Pro League already, having earnt just a single point from four games. This will be an excellent opportunity for the roster to gain experience, but if they wish to progress any further they'll have to perform better than we have seen from them recently.
Group D
Team Vitality: Spark, BriD, BiBoo, sNKy, Quaal and Lyloun (their coach)
Cloud9: EnvyTaylor, Neilyo, SweetBlack, h3dy, Nova and SummerRain (their coach)
FaZe Clan: Astro, cameram4n, mav, yoona and ion
BYOC Team
Finally, we have Group D, which is a mixed bag to be sure. FaZe Clan are the obvious favourites here, but considering they already have a major spot booked and won't be travelling with their coach, Twister, they certainly do look weak. Latin American teams have been known to struggle against international teams, so this is likely more of an opportunity to practice, which gives their opponents a huge upper hand.
Hoping to take advantage of this will be Team Vitality, who gained a Six Major Paris spot during last year's DreamHack Valencia Minor, but has made a number of changes in the 12 months since, and Cloud9, the second APAC team at this event in their very first cross-regional appearance under the organisation. It's hard to judge how either of these teams will do, which should make the inevitable matchup between these two teams an excellent one to watch.
BYOC
Filling out the BYOC spot in each group will be the top four teams from BYOC qualifier happening on the Thursday off-stream. This by itself offers crucial LAN experience to the rosters, but every team here is fighting for a spot in the group stage which should be tight.
The confirmed BYOC teams are:
Trust Gaming: Leonski, Avaiche, Deapek, Quadzy, Meadzzz and Easy (their analyst)
x6tence: weskeRR, Kuriboh, JuK4, Wispy, Billordo and Tellorista (their coach)
Giants Gaming: DriD, LioN, baroz, vASS1LYY, p0Lo and ByTommy (their coach)
Team MCES: ZephiR, RaFaLe, NoerA, Shiinka and Lion
Team Queso: xP4TTO, nakinak, Therox, Scythe, Reina and muyfran (their coach)
Mkers: Alation, Torok, Sloppy, BakaBryan, Blurr and Bagel (their coach)
T3H Esports: Oraghon, Lacky, KeenanPD, TankNinjaz and Dumpling
Herbania eSports: DeViL, Lokoneitor, Ronin, Hydra and VaaKyLLa
Of note here we have the current and ex-Challenger League rosters of Trust Gaming and Mkers, the other half of the Team Vitality roster we saw at this event last year in Team MCES, and T3H Esports -- a roster that includes the ex-i don't know player of Lacky.
Other than those four, we have another four Spanish rosters, three of whom are some of the top from the Spain Nationals league. Giants Gaming is the best known of these as it includes much of the ex-gBots Pro League roster, while x6tence currently sit at the top of the league and are one of the favourites to make it to the main event. Finally, we have Team Queso who are only playing their second game since they made a roster change just over a week ago, despite bootcamping recently and currently sitting in third place in Spain, and could see a dip in form.
"We already have our fifth quesito ready to go in the #R6SpainNationals. Welcome @Reina_Hipster"
Prizes
The teams above will be playing for the prize distribution of:
1st place - $30,000 and a spot at the Six Major
2nd place - $15,000
3rd place - $8,000
4th place - $6,000
5-8th place - $4,000
If FaZe Clan or LFO wins the event, then the Six Major spot will be given to the top-seeded team who hasn't already qualified. It isn't known yet what will happen to their APAC Qualifier LAN spot in the unlikely circumstance that Cloud9 wins DreamHack Valencia 2019, making their participation at the APAC event meaningless.
Broadcast
Put simply this is the weekend's schedule:
Thursday: The BYOC games
Friday: The first of the group stage matches
Saturday: The groups end and the quarter-finals are played
Sunday: The semi-finals, grand-finals and third-place playoff games are played
However, while that totals over 30 Best-of-Three map games, only the following will be streamed: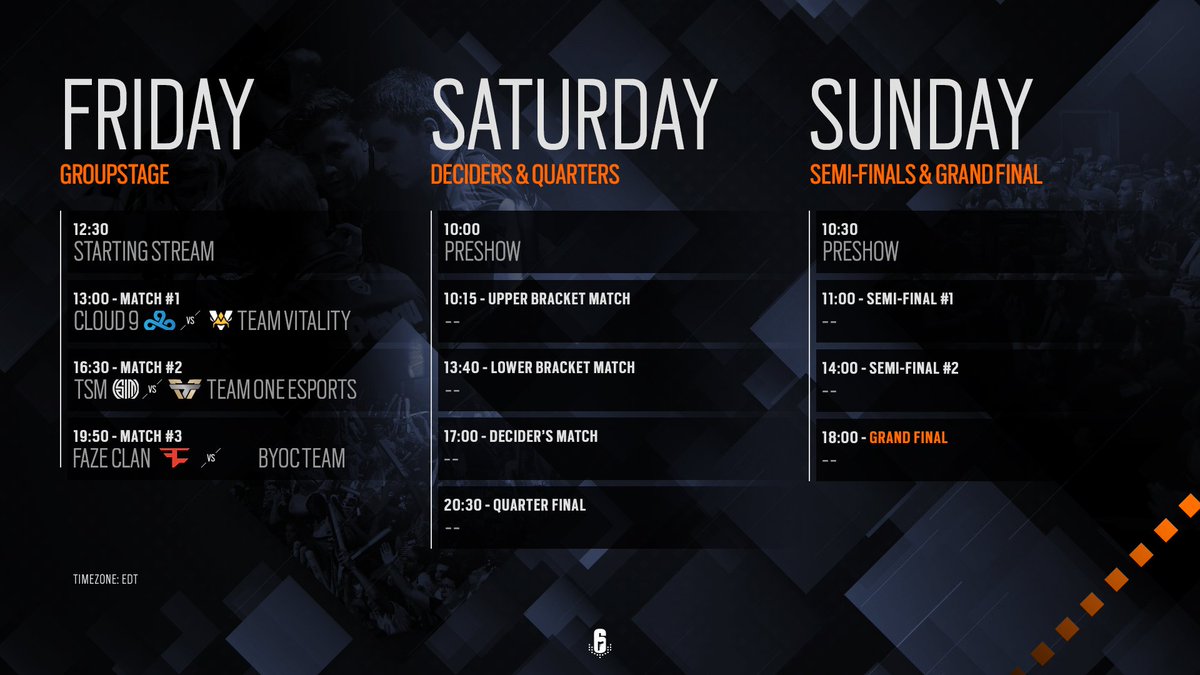 The games will be cast in the usual range of languages including English, Spanish, French, German, Russian and Polish, but interestingly have no Portuguese language stream as of yet, meaning fans back home of FaZe Clan and Team oNe will be out of luck.
The English language stream will be hosted by the Pro League caster of Ghassan "Milosh" Finge, and cast the ex-Pro League Finals casters of Rob "Flynn" Flynn and Samuel "Stoax" Stewart, and the ESL Premiership caster of Derry "Dezachu" Holt, with it all being spectated by the OGA and CCS talent of Ante "med1cz" Medić.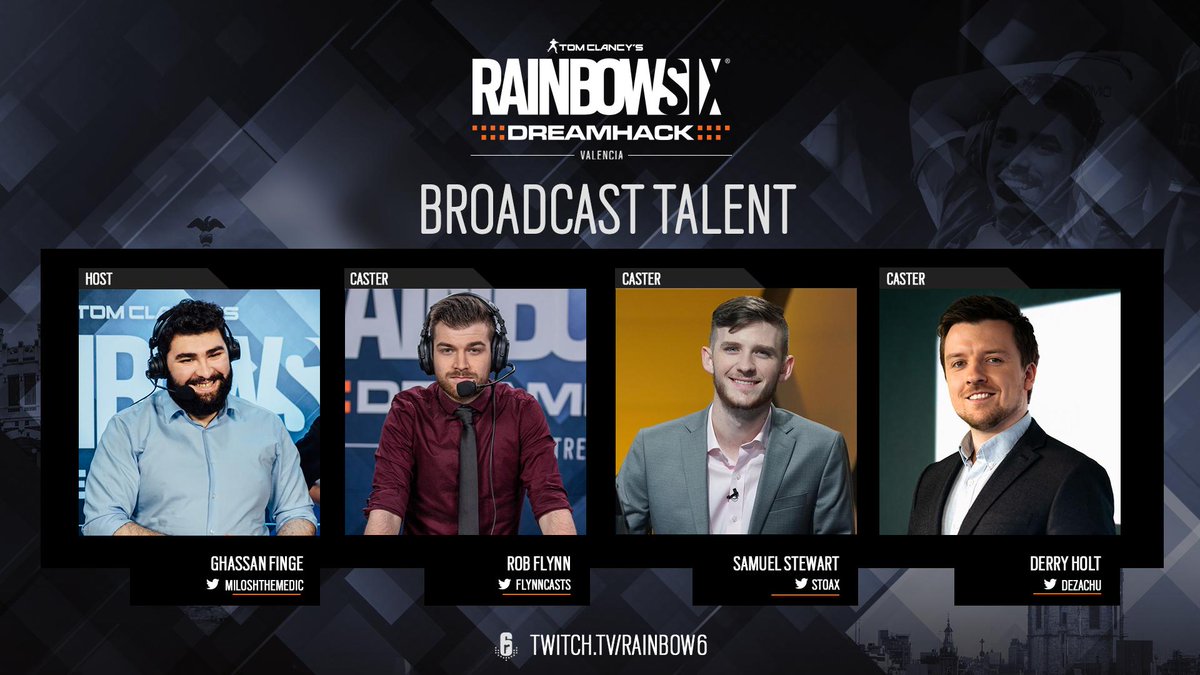 We spoke to Dezachu to learn more about him in advance of his first international LAN event in R6:
Firstly, can you introduce yourself?
I'm Dez, a caster from just outside Birmingham, UK -- nice to meet ya! By day I'm the founder of a startup software and by night (and sometimes day) an esports commentator, analyst, and desk host. I got into League of Legends commentating while at university, covering IEM Katowice, EU Challenger Series, and much more before making a transition to Overwatch at the start of 2018. This is also when I got my first taste of Siege, casting an Xbox League here in the UK (those were the days).

I was fortunate enough with Overwatch to cast the Paris World Cup stop alongside 3 seasons of Contenders, but at the start of 2019, I wanted another change. Because of my startup, I could never look towards the Overwatch League as it would require relocating to LA, so I wanted something a little different -- Siege was that "different"!
How did you get into Rainbow Six Siege and Siege esports?
I played Siege for about 70 hours back in the beta. It did not stick, as I was going through a bit of a League of Legends addiction back then -- also did not help that I was (and still am) pretty trash at FPS games.

As for Siege Esports, ESL UK run the ESL Premiership for a number of titles here in the UK, and Siege was a new addition at the start of 2018. I submitted a VOD, got accepted, and covered all of that first season. A few more casts in 2018 kept me interested, and at the start of 2019, I took the dive, picking up the Nordic Championship and a local LAN event. Something must have gone right because here I am at Valencia!
What is your career highlight in esports so far?
Oh, tough question. Casting the first ever Western Arena of Value event at Gamescom 2017 was pretty sweet, but I'd wager the Paris stop of the Overwatch World Cup takes the cherry. French crowds are wild, man -- I'll never forget it.
How have you been preparing for DreamHack Valencia?
Ha, in every way I can! Speaking to coaches/players, producing countless spreadsheets with stats/trivia/ accolades for every team, working with an analyst to have "stats dashboards" for each team, and watching a ton of Pro League VODs. I'm not naive enough to think I can waltz into my first international Siege event and wing it -- it's a lot to take in but I'm enjoying the challenge.
Anything to say to fans of yourself and the event?
Huge shoutout to the UK players, fans, and other casters who wished me well and were happy for me. It's an amazing community, and I've really enjoyed getting more involved in it for the last 6 months. For fans of the event who do not know me, I know the trepidation you can feel when an unknown caster appears -- I'm aiming to make this one of the best events of 2019 so I hope you enjoy it!

It's going to be an amazing event in sunny Valencia, even if Brits can not hack temperatures above 22 degrees Celsius. 30+ is going to kill me. Oh, and do not be afraid to say hello if you see me. I do not bite!
Venue
The event will take place in the exact same venue as last year -- the Feria Valencia convention centre, which boasts one of the top ten largest exhibition areas in the world at over 230,000 square metres, with a total capacity of over 20,000 people. The venue is open from 10am to 10pm local time, with the full schedule seen below. As well as the R6 tournament, probably most of note is the scheduled fan meetup with the only current Spanish Pro League player of Daniel "Goga" Mazorra at 4pm on Friday.
This weekend's DreamHack event will not only host a major R6 tournament but also major events in Rocket League and CS:GO. Firstly, we have the DreamHack Pro Circuit: Valencia 2019 event which is a $100,000 tournament, inviting the top teams from previous DreamHack events as well as from regional qualifiers. This process means the event involves six out of seven of the last 4 RLCS Season Grand-Finalists (the equivalent of the Pro League finals), making it one of the very best Rocket League tournaments this year.
CS:GO meanwhile, offers viewers the DreamHack Showdown Valencia 2019 event, which is an all-women's $100,000 tournament including the organisations of Dignitas and Counter Logic Gaming, and with players coming from across Europe, North America, and Asia to participate.
Tickets are still on sale from here from €7 to €50 for spectators.
---
And so, that is everything you need to know about this weekend's DreamHack Valencia event, from the teams to the talent and everything else you can expect there. Keep an eye out for full coverage of the event this weekend and of all other major events this year.