As we look forward to the Season 9 Finals in Milan, the games are heating up with the results being as close as ever in almost every matchup. Despite it being just the second week back after the mid-season break, the end of the season is looming as large as ever, especially for the teams in APAC. If you missed any of the action, read on to find out what happened this week in the Pro League.
North America - DarkZero Goes Top Again
The key matchup to look out for this week, Rogue vs DarkZero Esports, did not disappoint. Rogue was fighting to prove to the world that they still had the necessary chops to be one of the top North American (NA) teams, while DarkZero needed a win to get closer to avoiding the heartbreak of missing out on LAN once again.

Despite a monstrously high rating of 1.84 from VertcL, Bank would go to DarkZero Esports instead. With Bank perceived to be primarily defender-sided, losing their defensive half 4-2 had the potential of playing heavily on the minds of Rogue. VertcL, though, refused to give up. Rogue's three rounds to DarkZero's one tied the scores, but his efforts were not enough. Led by BC with a 1.35 rating, DarkZero took the final two rounds and propelled themselves to the top of the table.
DarkZero's provisional position at the top of the table would then be preserved thanks to their Milan rivals dropping crucial points. Considered by many to be definite relegation candidates at the start of the season, Excelerate Gaming (ExG) came out swinging against Six Invitational semifinalists Team Reciprocity.
Now being coached by former DarkZero player Owen "Pojoman" Mitura, ExG had a strong attacking half on Clubhouse and took a definitive 4-2 lead. Team Reciprocity, for their part, blew hot and cold on another map that most would expect the defenders to have the upper hand on. Their attacks went even worse for them, and ExG took their win of the season with three solid rounds of their own.
Rounding off the night were Spacestation Gaming (SSG) and Evil Geniuses (EG). In what must have been a huge relief to their players and fans alike, the arguably hardest game of the season saw them come away with an emphatic 7-5 win. While ThinkingNade and Rampy shined for SSG, only Geoo came close from EG's side as the league leaders slipped behind DarkZero once again -- albeit only to second place, thanks to Reciprocity's loss earlier.

Latin America - Top Four Take Three Apiece
The race for qualification to the Season 9 Finals showed no signs of letting up in Latin America. Neither of the four league leaders budged from their positions in an expected series of results during the night.

Ninjas in Pyjamas kicked things off with a 7-2 battering of INTZ eSports, led by Psycho with a 1.80 rating. Kamikaze, Pino, and Julio had significant contributions as well, all finishing with ratings above 1.0.
Team Liquid was given a slight scare, however, as the maverick Black Dragons team looked to continue on from the previous week and build up some much-needed form.
Playing on Oregon, Black Dragons would go up 4-2 after starting on defense, putting immense pressure on Team Liquid to bring things back on their own defensive half. A more confident Liquid would then emerge, and three of the next four rounds would be won by them to peg Black Dragons back. Then at 5-5, and almost certain to concede the round and thus at least a point, NESK and psk1 would pull off a masterful 2v5 clutch and follow it up with another round win to shut Black Dragons out from the points.
The night would then end with identical 7-1 drubbings from FaZe Clan and Immortals against paiN Gaming and ReD DevilS e-Sports. FaZe's Astro, in particular, blew everyone away as he finished with a massive 2.03 rating, and a 12.0 K/D -- the highest so far in Season 9, if not every season of the Pro League.

As a result, while the league positions did not change for any of the eight teams, the gulf between the top-four and bottom-four widened pretty significantly. Now, it is all but certain that Black Dragons will not be able to get to the Season 9 Finals, and that paiN Gaming and INTZ e-Sports are very likely to finish in the relegation spots at the end of the season.
Europe - Relegation Quagmire Gets Deeper
Over in Europe, the relegation fight only got harder for Natus Vincere (Na'Vi) and Team Secret, especially with fellow relegation candidate Chaos pulling off a stunning victory against PENTA.

Despite some scintillating performances from Elemzje and LeonGids, rated an almost identical 1.41 and 1.39 at the end of the match, Team Secret was unable to make a definitive statement to avoid auto-relegation just yet. While risze had a tough outing, more consistent play all around from LeStream Esport (LSE) saw them edge out their opponents. Down 4-2 at the half, Secret did well to bring things back to 5-5, but were unable to prevent LSE from closing things out in tightly contested rounds.
The game was followed up by relegation rivals Na'Vi going up against league leaders Team Empire. While the victory for Empire was hardly unexpected, Na'Vi gave them more of a run for their money than was expected. Poor mistakes such as the inability to hold onto a 5v5 post-plant scenario on the basement of Consulate saw Na'Vi eventually come away with zero points, despite keeping pace with Empire up until 4-4.
Elsewhere, G2 Esports flexed their muscles against mousesports, taking them down in an almost effortless 7-2 victory on Clubhouse, but it was the final match of the night that got everyone talking.
After the third play day in Europe, the Swedish lineup of Chaos has not had the best of times. Their stock had been greatly improved after their victories against Secret, Mock-it Esports (now Na'Vi), and then ENCE eSports (now mousesports), but soon came crashing down as they became one of the three Season 9 relegation candidates. This week, though, they had had enough.
PENTA swept to an incredibly rapid 5-0 lead in the last game on the night, looking as comfortable on Coastline as anyone could. While they were not quite able to pull off a flawless defensive half, they were undoubtedly confident of the win as they swapped roles. Perhaps it was this confidence that turned into overconfidence as the Swedes refused to let up, and took a total of seven rounds in a row to turn the game on its head and take home three very sweet points.
As a result, Secret remains dead-last in the EU Pro League, and continues to look for an opportunity to avoid the much-dreaded auto-relegation. LeStream, on the other hand, held firm onto second place ahead of G2 Esports who are hot on their heels after the two drew last week. Chaos and mousesports meanwhile swapped positions, but the biggest cause of concern will be for Na'Vi and Secret, both of whom are falling deeper into the relegation zone.
Asia-Pacific - NORA-Rengo Still Risks Missing APAC LAN
Over in APAC, normalcy seemed to make a return as we got closer to confirming all the teams in every subregion.
In ANZ, while Fnatic drew one map against Mindfreak (formerly Dark Sided), their qualification to the APAC LAN in Sydney was confirmed when the outside chance for Oddity Esports to qualify was crushed after they drew both maps against Avant Gaming the following day.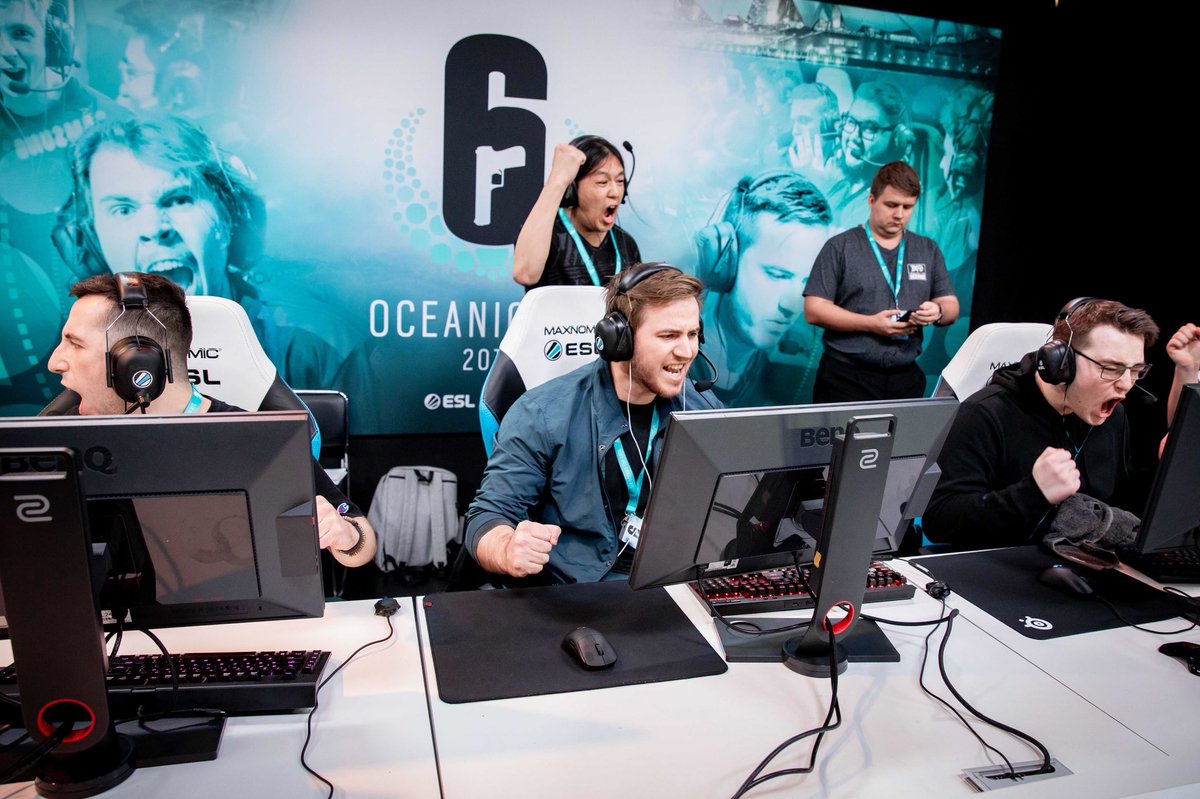 While they currently trail 0RGL3SS, they will be going up against them this week in the final play day for APAC in what could essentially be a seeding match. Taking the first seed will not be easy, however, especially after 0RGL3SS beat Fnatic 2-0 in the Grand Final of the A$25,000 Six Oceanic Cup on the 23rd of March.
Over in Korea, mantisFPS recorded another easy victory against Team uR, and both MBT Impetus and Ferox E-Sports took a map apiece in Southeast Asia, but it was Japan where things have stayed interesting right up until the last week of the online APAC Pro League.
NORA-Rengo took both maps against FAV Gaming, one of their rivals for an APAC LAN spot, after a surprising two-map loss against another one of their close rivals, Cyclops Athlete Gaming (CAG). However, they will be breathing a lot easier after Sengoku Gaming Extasy lost one map to Father's Back and CAG drew one of their games against Afflict ReV.
Still in first place, they are only three points clear of CAG in second, and five clear of Sengoku Gaming in third place and -- if Season 9 continues to go as wild it has been going so far -- could yet miss out on making it to the Season 9 APAC LAN on the 13th and 14th of April.
---
And so that's the roundup of the second week after the mid-season break in Season 9 of the Pro League as we saw competition heat up and tighten in all four regions. Keep an eye out on SiegeGG for more Pro League updates and results as we get closer to the Season 9 Finals in Milan.