Yesterday, the North American League started back up again for Stage 3 with eight new rookie players, seven teams total making changes, and five games to get us back into the action.
Firstly, here are the final scores by the end of the day:
Parabellum Esports 7 - 4 Oxygen Esports
DarkZero Esports 8 - 6 Astralis
TSM FTX 7 - 3 Mirage
XSET 7 - 2 beastcoast
Soniqs 7 - 5 Spacestation Gaming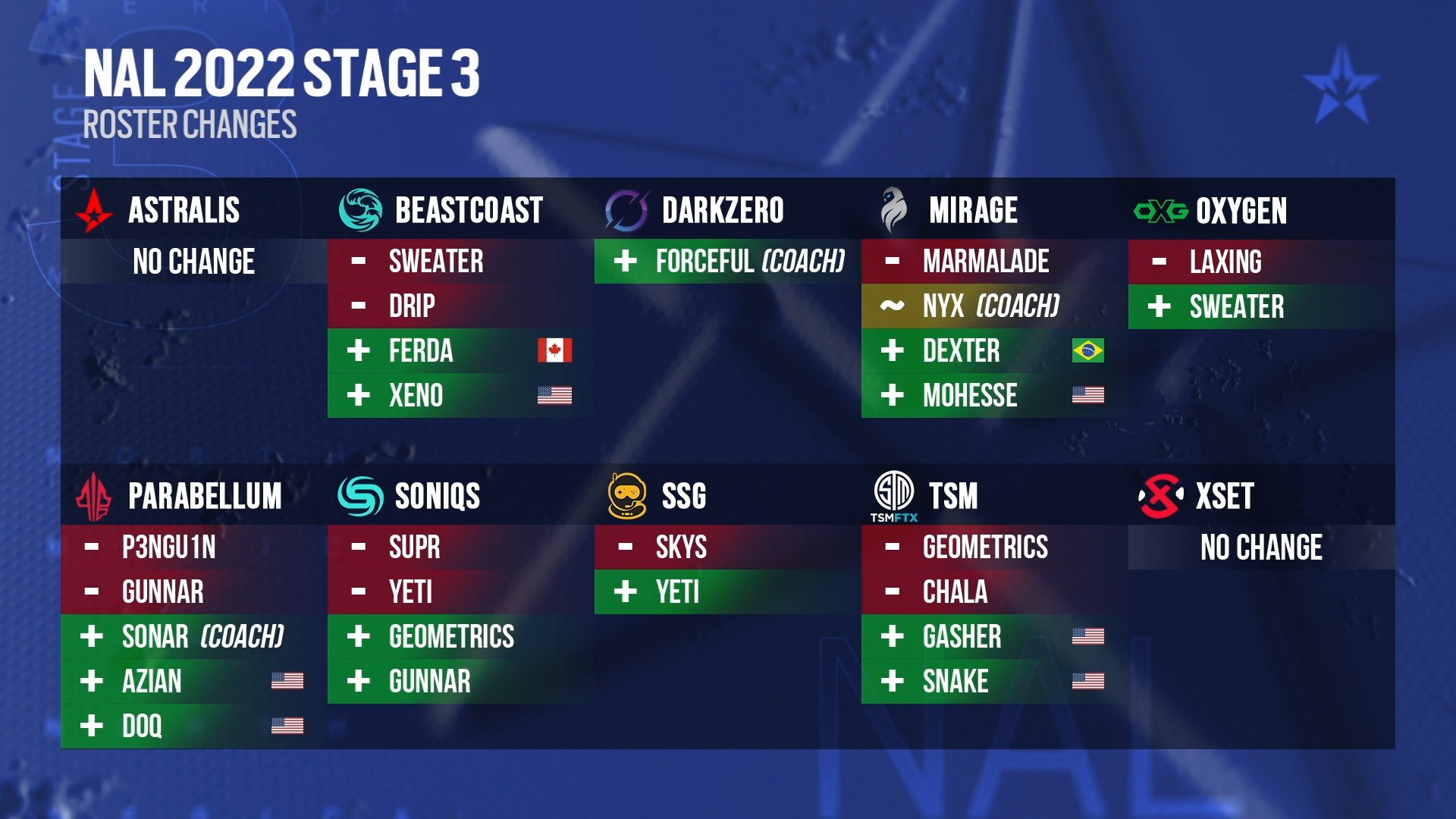 Play of the Day: BlaZ 1v4
The biggest multi-kill and best clutch of day one came from Parabellum's Frenchman, Alexandre "BlaZ" Thomas:
Player of the Day: BlaZ
This clutch was just a part of BlaZ's remarkable performance that earnt him a 1.75 SiegeGG Rating against Oxygen Esports.
BlaZ had the highest SiegeGG Rating, the joint-third highest kill differential and kill-per-round rate behind njr, the joint-best opening kill differential alongside GMZ, and (alongside Forrest) was one of only two players to get both a clutch and a plant.
Surprise of the Day: Parabellum Esports
Parabellum, once again, win by this metric as in their debut game with Connor "Azian" Felux and "Doq", they somewhat comfortably beat Oxygen.
While OXG also made a roster change, they had picked up a proven NAL player, have years' worth of experience on the team and have attended seven of the last eight global tournaments. They were undeniably the favourites.
Today, Parabellum play XSET, while next week they face SSG and DZ.
Top Moments of the Day
Here's a quick rundown of some of the other highlights from day one:
Yeti details his exit from Soniqs, SSG talks about dropping Skys
In a pre-game segment on Spacestation Gaming's changes, team members stated the following:
Fultz: Dropping [Skys] was just a thing the majority of the team thought was the right move and towards the end when we started to struggle we started having some internal issues with some of the players. When you're living together, playing together and in a very competitive environment you start to realise that your relationship with your teammates even outside the game is a huge part of how you play.

Hotancold: I think we had a practice where there was an argument. Lycan was just telling [Skys] something and [Skys] didn't really listen to the coach. So if a p[layer's not gonna listen to me then I don't know if he should be on the team.

Rampy: We needed a fresh look and the best way to get the fresh look was getting rid of [Skys].
Skys then responded to this with a lengthy Twitlonger post detailing his point of view:
Alexander "Yeti" Lawson also explained how and why he was dropped from Soniqs, and how it took 48 hours from the drop to get a successful SSG tryout:
Astralis doubles down on suppressors
With the suppressor attachment no longer giving a damage penalty, it has been widely selected by Astralis. This allows players to pre-fire more walls without the tracers giving themselves away and helps flankers stay undetected. The only downside is the inability to select any other attachment. Astralis think it is worth it.
Gasher and Snake lead TSM on debuts
Gasher achieved a 1.31 SiegeGG Rating against Mirage while playing on Thermite and Smoke. Snake finished just behind him with a 1.19 Rating.
Dexter, Mirage's Brazilian rookie, had a rough start with a 0.72 Rating.
Yeti's revenge map ends with a loss
During this 7-5 win by Soniqs, Geometrics went 3-7 in K-D and both Yeti and Gunnar went 6-8.
This is a major victory for Soniqs, but with upcoming games against DZ, XSET, and TSM, we'll get a better look at their performance by the end of next week.
Osa's first pick
Osa's release was met universally in NA and EU with a disinterest -- they were hardly picked in Stage 2. Now they've picked up Impact EMPs as a secondary gadget, which saw David "iconic" Ifidon pick them during round three against DarkZero… which ended how most Osa lives ended; being shot after an impact hit their shield.
Massive tech delays
Shorter technical pauses during the first two games followed by a 30-minute break after the first round of the TSM vs Mirage game meant that four hours into the play day, we had only see two games finish. After the tech pause, a 7-3 scoreline helped catch the stream up.
Mark second-best on beastcoast while standing in for Ferda
Due to visa issues stopping "Ferda" from competing in Las Vegas, Mark "Mark" Arismendez, beastcoast's coach, stood in for him against XSET.
Beastcoast got stomped in the most one-sided game of the stage so far, but Mark held his own better than many of his teammates despite not having played competitively since Stage 1 in 2021. "Xeno" also ended with the lowest rating so far this stage in his debut game.
Hyper with the worst play of the day?
In what is clearly an issue with the recoil changes, Hyper suffered an unfortunate whiff onto Dpfire, which was caught on camera.