The European super-week, two Copa Elite Six play days, and two APAC League days all took place this week.
With all that action, here's a summary of the biggest stories of the week.
France wins EUL super-week as G2 lose 0-7
Two play days of the European League took place this week, leaving the tournament with just two days remaining.
BDS and Wolves won six points, MNM won four, Rogue, Heroic, Outsiders, and NAVI won three, while both Secret and TT9 managed zero points.
This was definitely a successful day for the two French teams, which pushed them to first and second in the table.
The results also included a Wolves victory over the reigning Six Major champions, Rogue, 7-4, which won them a spot at the Six Invitational 2023 by SI Points.
The match of the week, though, marked a new low for G2 Esports, whose defeat to NAVI effectively ended their hopes of qualifying for the third Six Major of the year. While they recovered on Thursday, this was the worst result in the organization's four-year history in Rainbow Six.
This is currently the only Stage 3 result worse than 2-7 for any EUL team, as even TT9 have not been completely flattened in any of their games despite their zero-point haul.
Clean sweep for Brazil yet again
The four quarter-finals of Stage 3's Copa Elite Six took place over the weekend, as Brazil cut through their regional counterparts like butter.
Black Dragons, w7m esports, Team Liquid, and FaZe Clan each won their games by 2-0 score lines. Liquid only dropped three rounds in doing so, while BD came the closest to dropping a map as they beat Six Karma 8-7 on Bank.
Tuesday will now see w7m vs BD and Liquid vs FaZe in the fight for two Six Major spots. The losers will then face the winners of tonight's lower bracket games on Wednesday for the final two Six Major spots.
The Liquid vs FaZe game should be one to watch, as it is yet another repeat of Siege's greatest rivalry with incredibly high-stakes.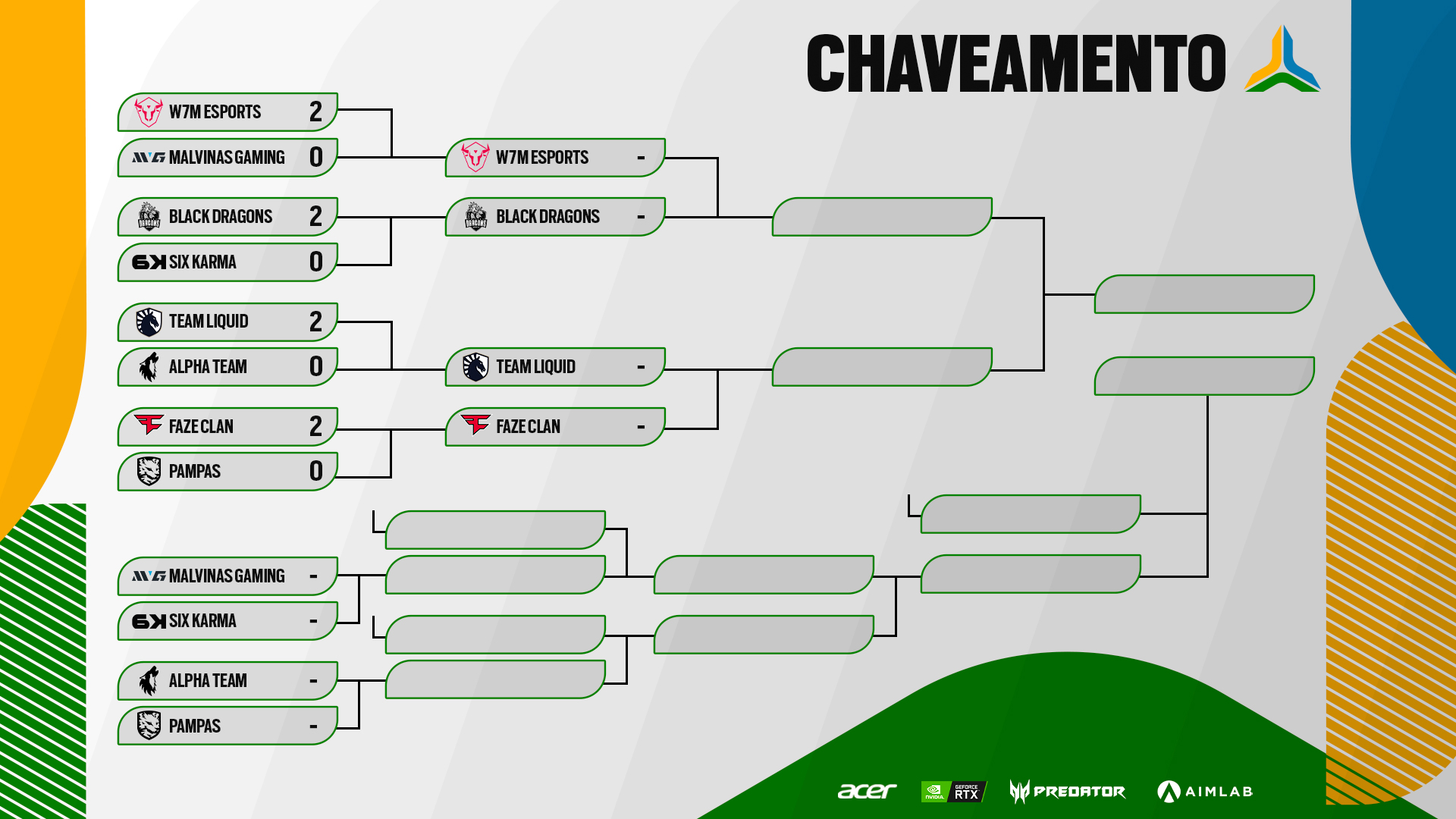 CYCLOPS and SANDBOX make it to the Major
After beating DWG KIA 8-7 in week five, FAV last week beat REJECT by the same score line this week.
These results effectively ended both team's Major hopes, allowing CYCLOPS and SANDBOX to lock in top two positions with a game each in hand. CAG currently lead SBXG by one point.
These two teams have had long histories at global events… but successes have been extremely rare.
Between them, across 11 global appearances, they have only made it out of the group stage once -- SANDBOX at the Sweden Major -- and finished 16th or worse seven times.
CYCLOPS have also finished last at every global event they have attended, except for the Mexico Major. There, they beat Soniqs, who themselves only secured three wins in three Six Majors.
APAC North will be hoping that 12th time is the charm.
Elevate officially miss out on Major as Dire Wolves qualify
Over in APAC South, Dire Wolves locked in a top two finish as an 8-7 win over Elevate kept their win streak going.
This result means that they will be travelling to their second Major this year after previously having played in Charlotte.
Meanwhile, Elevate's loss means that they won't be playing at the the upcoming Six Major at all despite being APAC's best team at SI 2022 and the Berlin Major.
Even worse, if they fail to win any points against Gaimin Gladiators next week, they may miss out on Global Points direct qualification to SI 2023 and may need to fight through the open qualifiers.
GG themselves will be taking on Elevate to try become APAC's final representatives at the Six Major. Currently, they have 11 points and face Elevate, while FURY have 10 and play Tyde.
Tyde currently have a 0-0-0-5 record, so FURY will almost certainly win three points against them. As GG have the head-to-head advantage, this means any form of a win over Elevate in APAC South's opening game of the day will send them to the Major.
Reality TV win NA Challenger League 2022
Finally, the NACL Finals took place over the weekend, drawing the 2022 season to a close.
The tournament was won by the standout favourites, Reality TV. This roster won Stage 3 of the NACL tournament and only lost a single map in the past three months.
This map loss came in the grand-final as Arial Arise won 7-2 on Bank. The three other maps played were clean sailing for Reality TV, though, as they closed out the most dominant few months in NACL history.
Assuming the team stays intact following the upcoming transfer window, they will be looking ahead at the Six Invitational qualifiers where they will likely face the likes of TSM FTX and SSG for a single SI 2023 spot.