Image via Ubisoft/@Kirill_Vision
Seven national leagues continued this week as the NA Challenger League took a short break. Here's a rundown on some of the biggest stories across these tournaments:
Korean Open -- DWG crowned Korean champions
NA Challenger League -- Arial Arise shoots to 1st
GSA League and 6 French League teams and schedule revealed
Japan League

--

CYCLOPS wins the group stage on round difference

Copa do Brazil

-- Black Dragons upset by SuperNova

Northern Premier League

-- Heroic beats NAVI in opening playday

Games to Watch
Korean Open -- DWG crowned Korean champions
The Korean Open Spring 2022 season came to an end this weekend following a very dominant display from DAMWON KIA in the grand final.
Starting in the semi-finals, a revitalised T1 beat SANDBOX, 2-0, while Team GP who knocked out Talon in the semi-finals, initially went ahead against DWG before losing, 7-3, 4-7, 3-7.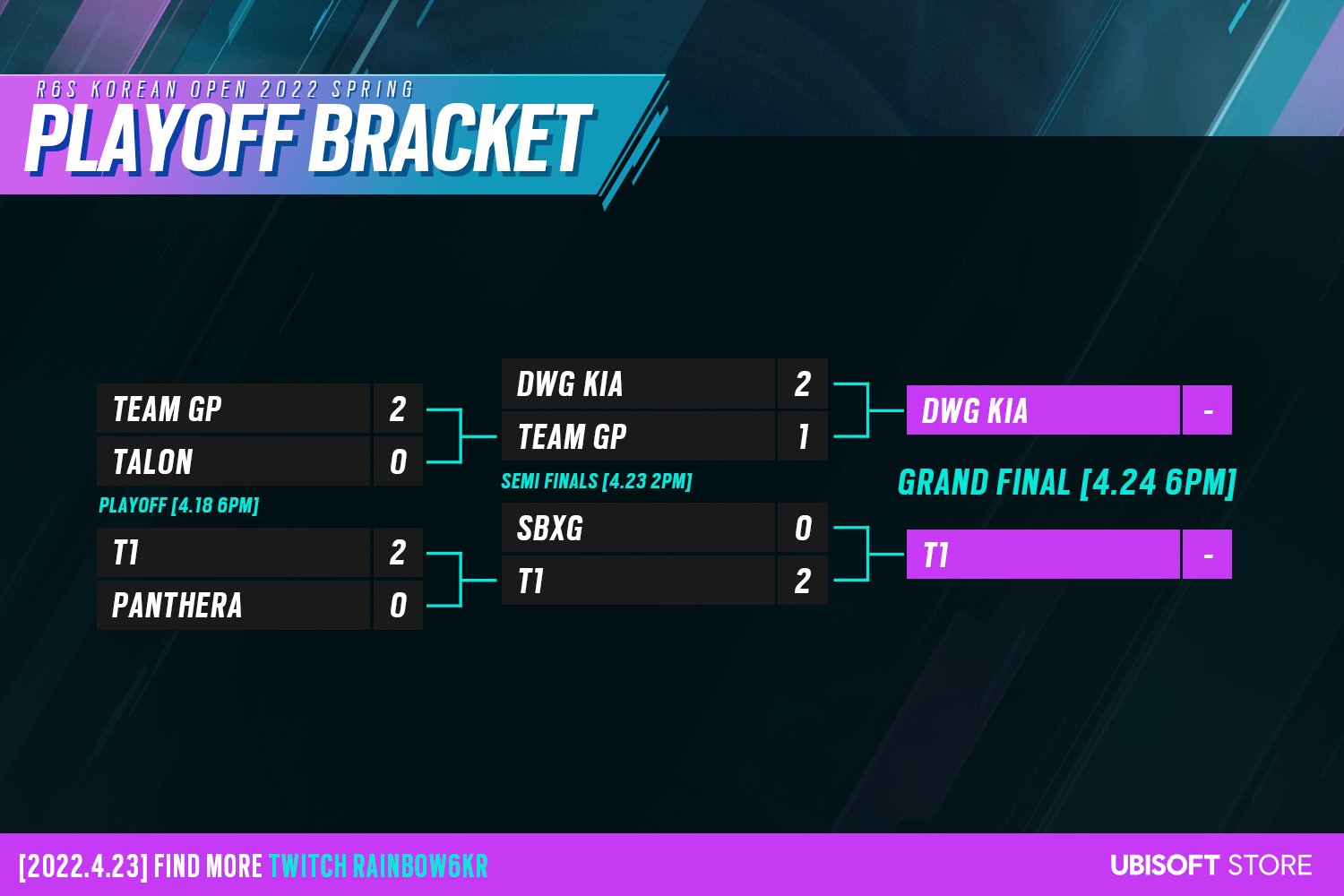 T1 previously reached this position during the last Korean Open tournament where they lost 0-3 against Talon to just miss out on the title. Now in their second grand final in a row, they once again fell in just three maps.
While they did manage to take their own map pick, Border, to overtime, a particularly strong performance from Jinwook "Woogiman" Park made the difference to give DWG just their second-ever Korean national title.
Arial Arise shoots to 1st in NA Challenger League
There is now only a single playday of NACL left during this stage, meaning the standings are starting to come together.
At the moment, Arial Arise is in an excellent position to take home the Stage 1 title as they sit a single point ahead of 1shot and Wichita Wolves, but play 10th placed Aqualix in their final matchup.
1shot and Wichita are the only rosters which can catch up, and they're set to face each other in their 11th and final game of the stage.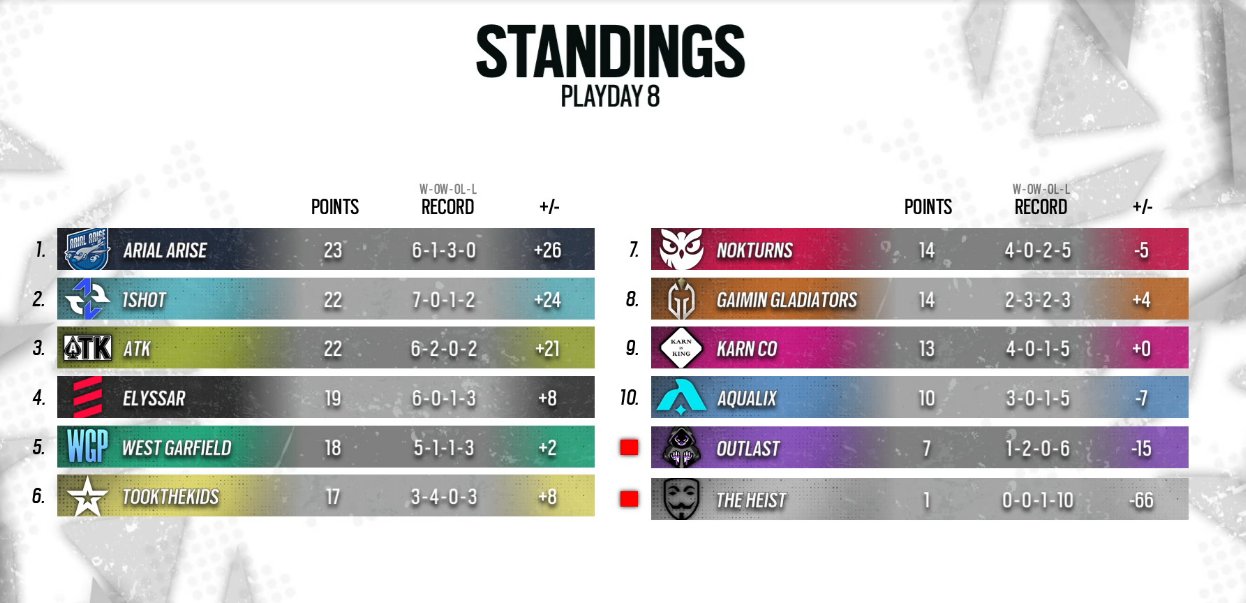 As for the bottom-placed teams, the disbanding of the TheHeistLFO roster means that only a single other team will be relegated during this stage.
While Outlast in 11th is three points behind Aqualix in 10th, Aqualix is unlikely to win any points from Arial Arise on Saturday. This means if Outlast can beat sixth place TookTheKids with a dominant scoreline they still have a chance to avoid playing in relegations.
GSA League and 6 French League teams and schedule revealed
Firstly, this week saw details surrounding the upcoming 6 French League and GSA League 2022 Season tournaments be revealed.
Starting with the 6FL, this year, Team BDS won't be competing. Meanwhile,he ex-Heroic lineup was both relegated from the EUL and has since disbanded, leaving Looking For Org as the only professional team remaining. Here's a full list of competitors:
Looking For Org -- BiBoo, risze, Shiinka, P4, and Mowwwgli
Acend -- ENEMY, EiZ, NoerA, RevaN, and Shd
DeathroW -- Gorank, Prime, Frenchy, Shoukri, and Krizz
Helios Gaming -- Robin, JaKs, Adriano, Draw, and Ra1kos
OkaCorp -- Ayzenn, Neyox, DjuZ, Meloo, and Linkoo
321 Sked Esport -- AzoXx, DEADSHT, LikEfac, Thamsen, and Zeosh
Noetic Esports -- Beuster, Nayqo, Nago, SkyZs, and Neox

BeKind -- Frozxn, Zydenn, Wallkero, Legendz, and Zaniara
The tournament kicks off on Wednesday (April 27th) and will run until September.
The top team other than LFO by the end of the league portion on August 3rd will win a Challenger League qualification spot. While Acend will once again be the favourites for the spot, a third-place finish during the 2022 Gamers' Assembly tournament shows Noetic Esports also has potential.
Moving over to Germany, Switzerland, and Austria for the GSA League, this tournament will also kick off on Wednesday and also has seen all three of the 2021 EUL participants – G2, Rogue, and Secret – leave the league for this season. Here are this season's competitors:
WYLDE -- korey, AceeZ, Jay, BZ, and Gisela
Team enyx -- Drvn, June, Exp0, Mekses, and M4DMAN
Team Alpha -- Koji, Paiin0, Kiliator, Scarex, and Pangoro
Ovation eSports -- Slshr, Acelele, Scream, Vulumix, and Zenoxo
WhiteTigerZ -- Sadrzm, Couraxe, CCcaaNaVaR, Minimi, and Blacky
Valravn Esports -- anon, Player45, Volto, Cloudy, and Deluxe
BLUEJAYS Sports -- Texas, C4pri, Slushy, FashY, and Varu
Esport BERG -- Fr0xXy, Yazzen, D7, Tooobi, and Feniix
The first two rosters will be the standout favourites with WYLDE including two recent Rogue players while enyx is the core of last year's GoSkilla roster which includes two ex-Secret members.
The league will run until July 29th before the top four teams attend a LAN final in front of an audience in Hamburg to crown the champions and award the Challenger League qualification spot.
CYCLOPS wins the Japan League group stage on round difference over SCARZ
The group stage portion of the Japan League came to an end on Saturday as CYCLOPS' 7-2 win over Fnatic was just enough to clinch the top seed into the playoffs.
Just behind CAG in second was SCARZ, a roster that only qualified due to the league expanding to 10 teams, as they matched CAG's 20 point total, though with a round difference of +14 compared to +21.
Throughout the season SCARZ notably beat CYCLOPS, Fnatic, and FAV only to then lose to Crest and Sengoku. This means a potential playoff rematch against CAG is highly anticipated.
Below these two sat Donuts, Crest, FAV, and Fnatic in that order.
Black Dragons upset by SuperNova in Brazil Cup quarter-finals
Stage 1's Brazil Cup competition in this week saw almost all of the professional teams win with the lone exception of Black Dragons.
Despite ending the BR6 stage just two rounds short of an Elite Six and likely Six Major appearances, the BD lineup fell flat against the promising tier-two lineup, SuperNova Team, in a 5-7, 7-5, 5-7 scoreline.
The SuperNova organization competed during last year's BR6 relegations in which they lost in a nail-biting 3-2 against Santos. Since then three members have joined the tier-one INTZ and oNe rosters leaving just Eduardo "Dudds" Torassi and Enio "DreeuZ" Rodrigues remaining.
Joining them since has been Victor "Bersa" Hugo who previously competed on FURIA and Atheris, Eduardo "dustii" Viani who was a runner-up in the Brazil Cup this time last year, and Vinicius "Stemp" Stempnhak who's been an upcoming tier-three player for quite some time.
SuperNova's next challenge is "VIUVAS DO TIER 2" on May 3rd as the Brazil Cup takes a week off during the Elite Six Cup.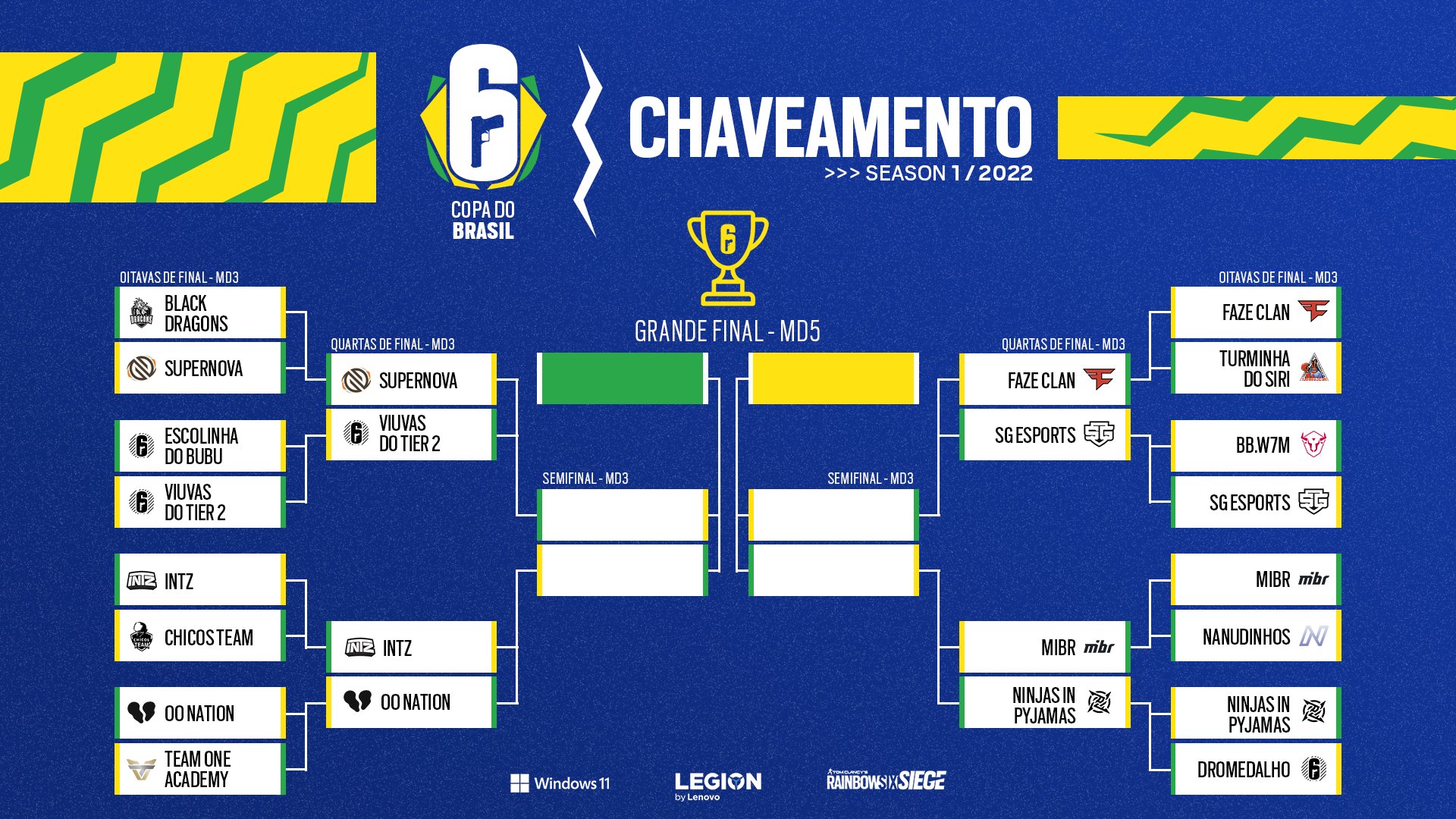 Debut Northern Premier League playday sees Heroic defeat NAVI
Heroic continued their dominant EU League streak last week by beating their fellow professional lineup, NAVI, 7-3 on the opening day of the Northern Premier League. Both rosters then went on to win on day two in very strong results against Finnish opposition.
Despite Heroic getting two victories, they do not lead the league at the end of week one as Victus and Viperio 86 also managed to secure two regulation time victories. These two rosters are now set to play each other on playday three, tonight.
MNM Academy's debut under the European League organization saw a fairly promising week as they earned three points in two games. They now play TENSTAR, another team on three points, tonight which will be an important early game for the squad.
The team to have beaten MNMa was Ambush Esport, the 2021 Nordic Championship runners-up, who then went on to lose against Heroic on Wednesday.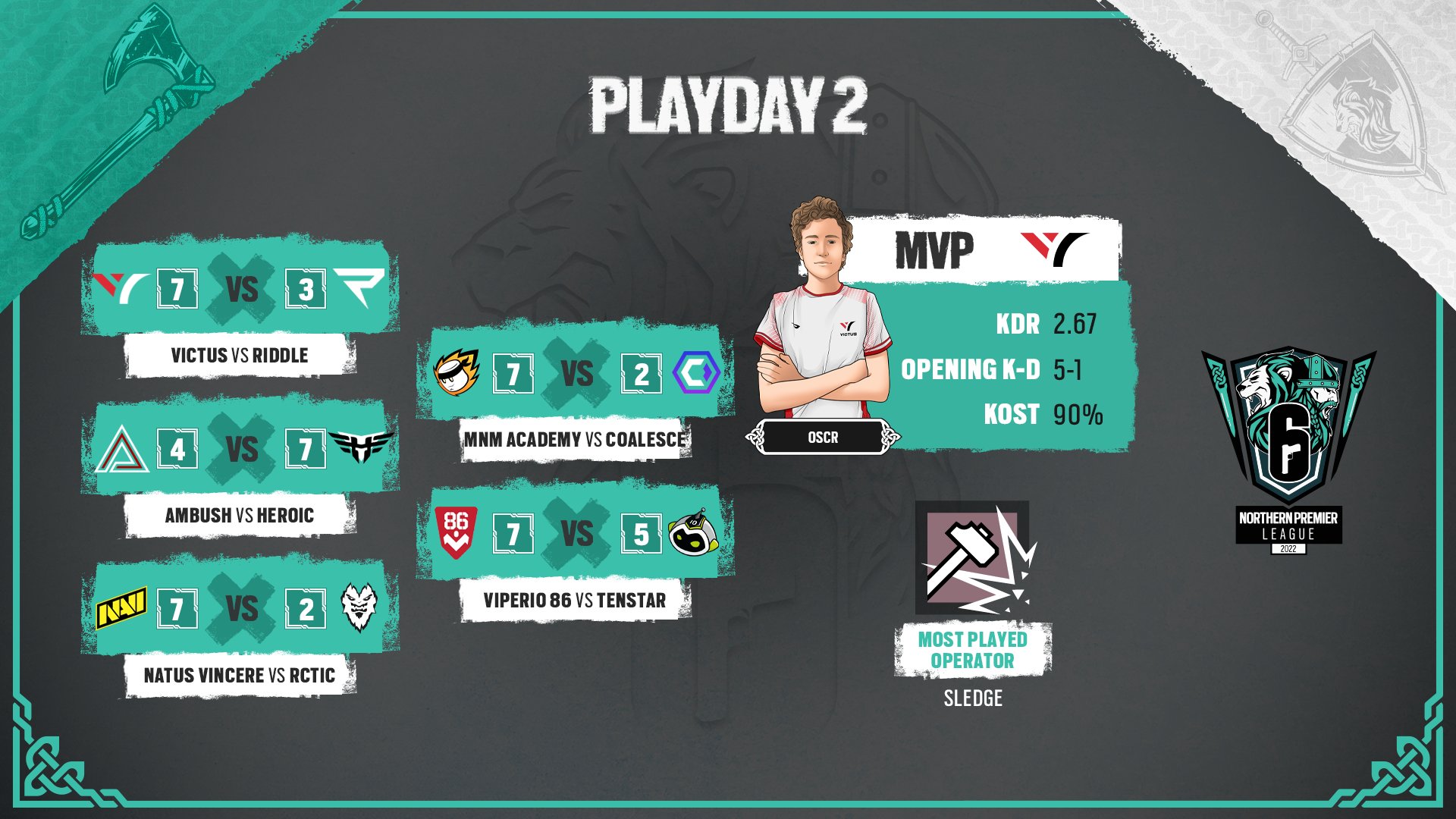 Games to Watch
With the 2022 Season now in full gear in all four regions, this next week will see a lot of action.
These are some of the must-watch tier-two matches over the next week (all times in CET):
Tuesday 10:45pm: MNM Academy vs TENSTAR -- Northern Premier League
Tuesday 24:00pm: Viperio vs Victus -- Northern Premier League
Wednesday 6pm: Opening 6FL Season 4 match
Wednesday 6pm: Opening GSA 2022 match
Wednesday 9:45pm: Queso vs Rebels -- Spain Nationals
Wednesday 8:30pm: Hmble vs MACKO -- PG Nationals
Friday 2pm: Wildcard vs Bliss -- Oceanic Nationals
Saturday 6pm: Operation League Taiwan grand-finals
Saturday 24:00pm: Wichita Wolves vs 1shot -- NA Challenger League