The Six Jönköping Major kicked off this week, with the quarter-finals taking place today, with Team Liquid taking on FaZe Clan in the second match.
The matchup which went to Villa, Clubhouse, and Oregon was expected to be one of the best matches of the year. Did it live up to the hype?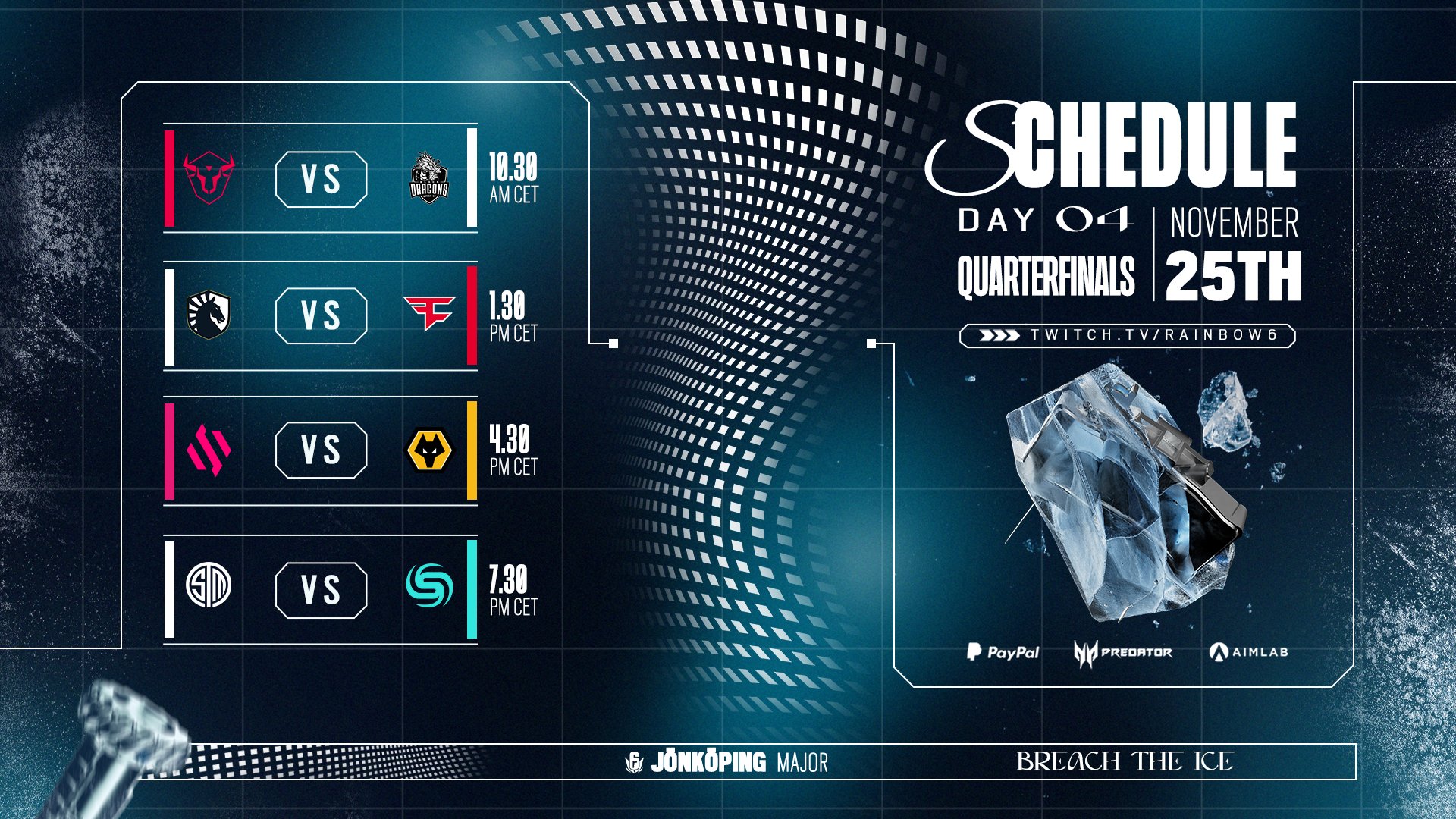 Here's how the second game of the day played out.
Villa
An Amaru and Blitz push from FaZe in their first attack of the playoff was completely read and neutralised, leading to a flawless win for Liquid.
André "Nesk" Oliveira then seemed to be on point once more, improving from his group stage form, as he earnt a triple kill while holding his ground above the Kitchen objective to add a second decisive win.
Round three was the first close round, as Lucas "soulz1" Schinke and Lorenzo "Lagonis" Volpi won a 2v2, before Liquid returned to their usual programming with Paluh earning a triple kill off of a C4 double kill.
By the end of the half, Liquid were up 4-2 and moving onto the attack. W7m had been in the same position during the prior quarter-final and had dominated Black Dragons leading to a very quick finish to the map, but FaZe were no pushovers.
Soulz1 and Leonardo "Astro'' Luis each earned triple kills to tie up the scoreline, before José "Bullet1" Victor pulled off one of the plays of the tournament, In just a 10-second window, facing a 1v5. First, got Lagonis killed and took Luccas "Paluh" Molina down, who were pushing him, downed Gabriel "AsK" Santos, who was running to the defuser, and killed nesk as he was planting with zero seconds remaining, all the while Pablo "resetz" Oliveira ran into a Kapkan trap and died.
At 6-5, Gabriel "cameram4n" Hespanhol almost pulled off a clutch of his own in a post-plant 1v3 after he killed Lagonis and nesk, before running out of time to find AsK. Then, in overtime, a very strong Liquid attack required FaZe to win one of their own to reach the fourth 15-round map between these two teams in the space of three months.
After a consistent back and forth, a 3v3 became a 2v2. Nesk downed Soulz1 before dying, leaving Lagonis in a 1v2. Despite 19 seconds remaining, cameram4n opted to take the fight rather than revive his teammate and lost the fight to Lagonis to hand Liquid the 8-6 win.
Clubhouse
For the opening two rounds, Liquid successfully swarmed and killed the remaining lone attacker in a post-plant retake as they began the defensive half on their own map pick.
It took all the way until round five for FaZe to get on the board in what was technically a 1v1 clutch by cameram4n, as he stayed alive while Lagonis and soulz1 killed each other.
This was still less confident than any of Liquid's win and the half ended 5-1 to Lagonis' side as nesk won another technical 1v2 -- this time as he jumped out to kill Astro who was trying to revive Soulz1 and bait the kill.
Liquid's first attack was not looking good, though, as they hadn't engaged the site with just 17 seconds remaining. But a mere 10 seconds later, they were up in a 4v2 as they rushed the site and caught a number of defenders off guard
Finally, a perfect grenade from Paluh killed the ex-Liquid member, Bullet1, to knock him out of the tournament in a 7-1 domination over the last Major's runners-up.
Statistics
Out of Lagonis' last four global events, he's now finished first, in the quarter-finals twice, and now at least the semi-finals.
This will also be Liquid's fourth semi-final appearance at a global tournament after winning the Season 7 ESL Pro League Finals, finishing SI 2021 in second place, and exiting in the semi-finals at the Mexico and Charlotte Majors.
Liquid will now face w7m esports in the semi-finals tomorrow in a repeat of the Copa Elite Six grand-final.
This game's results were well represented in the individual numbers, as every member of Liquid put up great figures while Paluh led once again.