Image: Ubisoft/Kirill Bashkirov
The Six Jönköping Major kicked off this week, with the quarter-finals taking place today. Europe's two remaining teams met in game three as Wolves Esports faced Team BDS.
The matchup, which saw Oregon, Kafe, and Bank selected, included old teammates, long rivalries, and a number of highlight plays.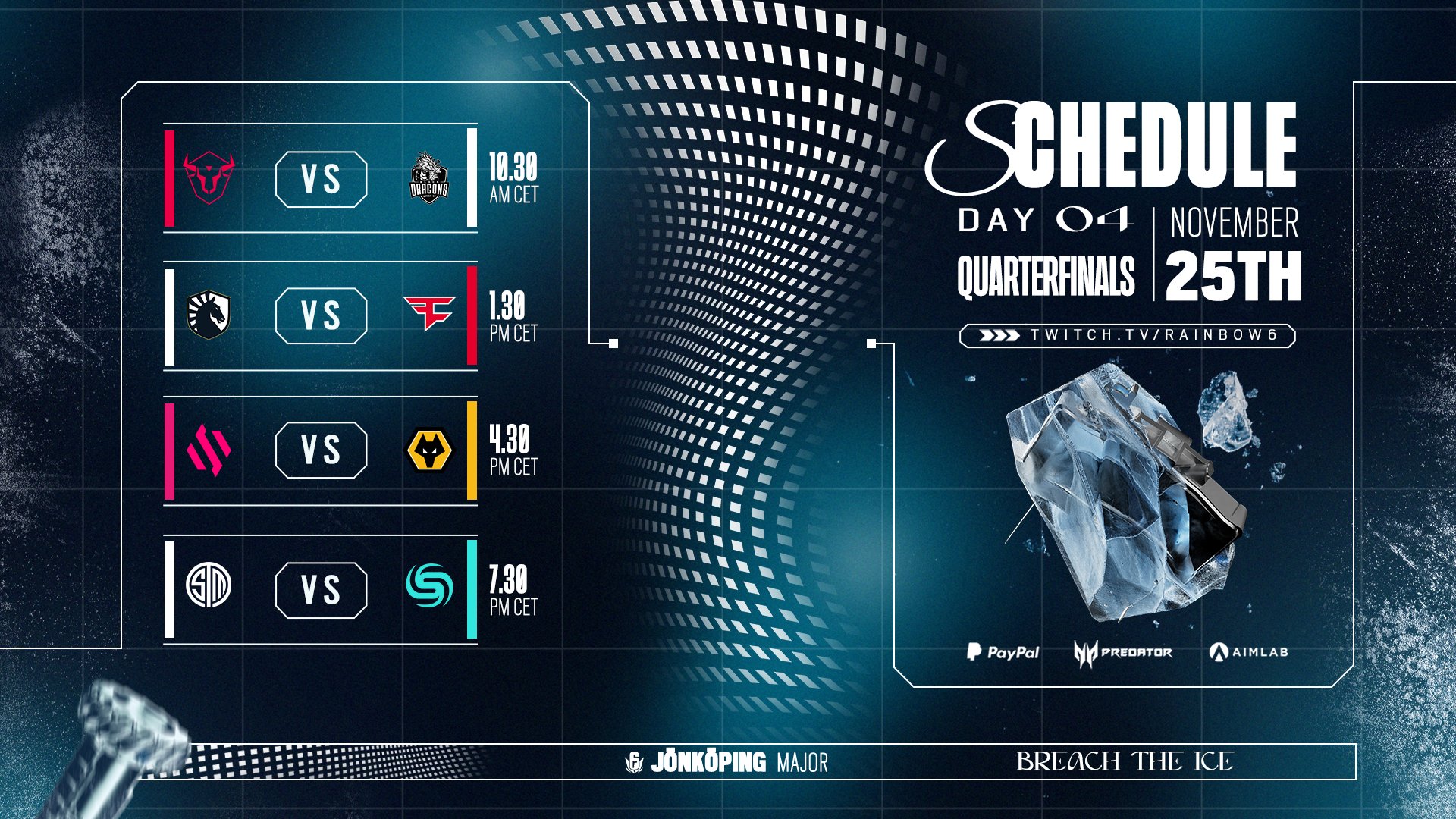 Here's how the French derby played out.
Oregon
Round one was won by the top seeded roster, Wolves, as Valentin "risze" Liradelfo and Yanis "Mowwwgli" Dahmani pinched Stéphane "Shaiiko" Lebleu on the back stairs.
Round two was going the same way, but their rush failed to take account of the returning off-site players, as Théo "LikEfac" Mariano and Olivier "Renshiro" Vandroux killed the remaining attackers when they continued their push inwards.
From these late rushes, Wolves then picked Zero and Blitz to attempt a rush. This ended quickly, as LikEfac killed Bastien "BiBooAF" Dulac and Axel "Shiinka" Freisberg with Smoke's SMG-11 before switching to his shotgun and shutting down risze's Blitz.
The following three rounds all ended fairly decisively in the favour of BDS, as they switched sides on their opponent's map pick while up 5-1.
But BDS seemed to be hit by the same malaise after the side swap, as a slow attack, combined with a team-kill from Renshiro onto Loïc "BriD" Chongthep, started a possible Wolves comeback.
With so many rounds coming down to a hatch drop with 20 seconds remaining, BDS saw this failing and tried the opposite -- a mid round Amaru swing into site while rushing from all entry points -- but, to no avail. Wolves won within 10 seconds.
As Wolves neared a tied scoreline, BDS seemed to pull a flawless round of their hats, which included four kills from the 1:01 to 1:00 mark, to surge onto map point.
While Nicolas "P4" Rimbaud did secure one kill from a jump out and BiBooAF killed Bryan "Elemzje" Tebessi -- who was once again on Amaru -- Wolves were stuck outside of the site as BDS were planting. There was little they could do on the way back to site and were cut down, losing their own map pick in the process.
Kafe Dostoyevsky
Kafe began with an immediate clutch, as BiBooAF killed Elemzje while he was planting before Renshiro traded it back.
P4 responded with a quadruple kill, before BDS regained their lead with two more wins, including a flawless round four.
Two rounds later Wolves, had tied up the scoreline and moved onto the attack.
Once again, P4 secured another quadruple kill on Finka after he led a charge alongside risze up the white stairs and into the site. While LikEfac stopped him from getting the ace, Shiinka ended the round to take the lead.
As BDS neared match point, a clutch from BiBooAF over former long-time teammate BriD kept them level once again.
Finally, two rounds later, BDS closed it out to end the map 7-5, making Wolves the first group winners to exit the Six Major.
Statistics
This will be BDS's third top-four appearance to date, but they have never made it further than this. Previously, they were eliminated at this stage by Ninjas in Pyjamas at SI 2020 and by Team Empire at the Mexico Major.
Their opponents will either be TSM -- who also knocked them out of SI 2021 previously -- or Soniqs, as EU plays NA in the tournament's first cross-regional BO3 to decide who plays Brazil in the grand-final on Sunday.
This will also be the fifth semi-final for Renshiro, who previously won the ESL Pro League Season 2 Finals and lost to Liquid in semi-finals of the Season 7 Pro League Finals. Finally, it'll be a sixth semi-final for Elemzje, who was eliminated at the Paris and Raleigh Majors at that stage and was runners-up during the Pro League Season 3 Finals, each alongside Rogue's coach Matthew "meepeY" Sharples.
To reach this semi-final, Shaiiko found his form again and was the best performer with a remarkable 1.17 kills-per-round figure, beating Wolves' best of 0.78.
This extends BDS's winning streak in professional games over Wolves to seven, dating back to Stage 2 in 2021.