Both w7m esports and Team BDS came into the second day of the Major having won all six points on the first day. As such, both teams were fighting for the top spot in Group C as they met on Skyscraper.
w7m had tied with Liquid for the best overall record during day one, while Team BDS had the best overall team statistics through Monday. This made this arguably the most anticipated game of the day between Europe and Latin America's favourites.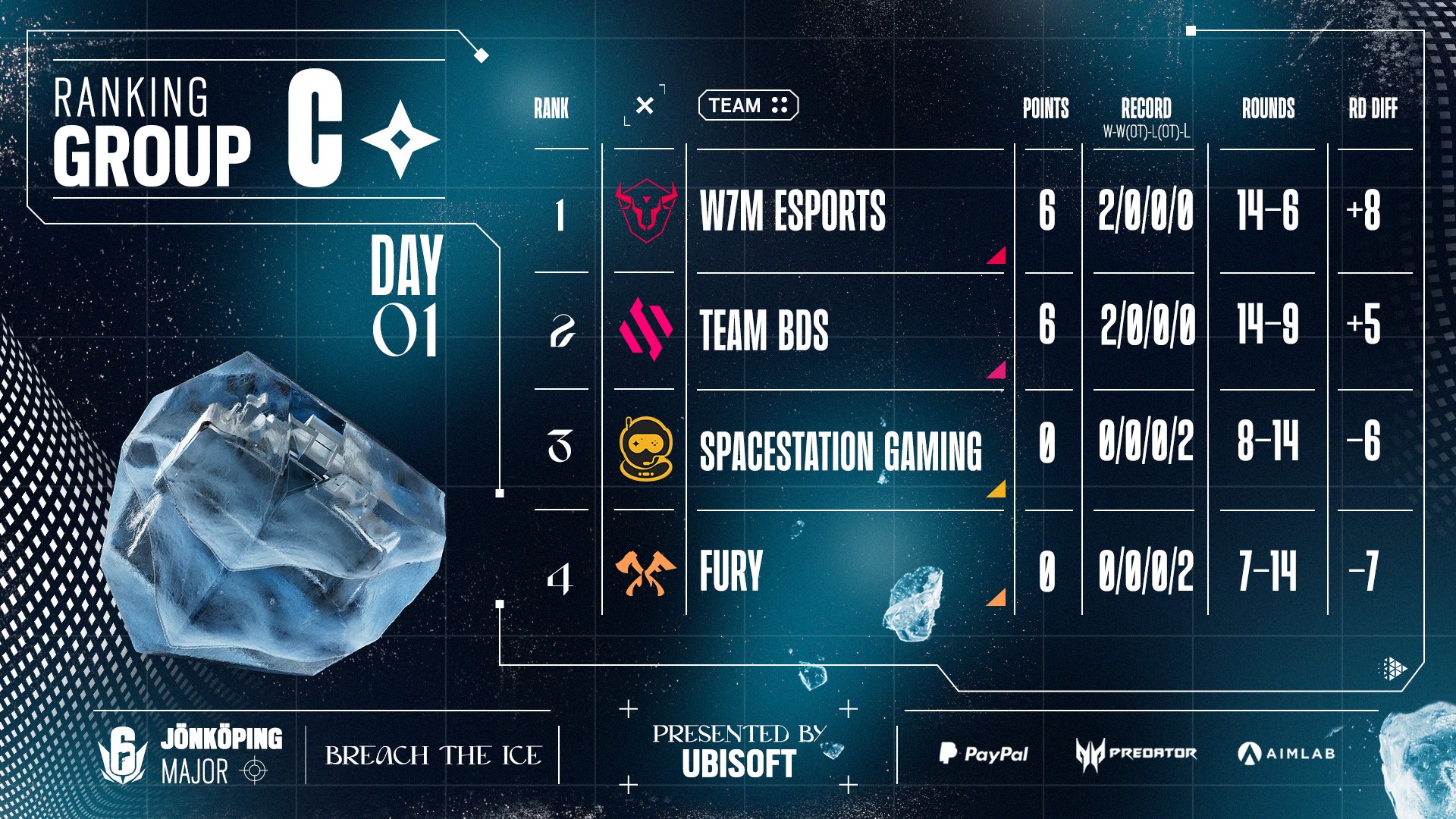 Team BDS's attacks
W7m drew first blood in this matchup as a jump-out from Volpz put w7m in a 5v3 situation just 20 seconds into the map. A Kheyze double of his own ended the round cleanly for the Brazilians.
After this quick w7m start, BDS decided to rush on round two, as Shaiiko and BriD effectively took control of the objective 70 seconds into the game. BriD got the defuser down before another double from Kheyze forced Elemzje to trade off his teammates as part of a cross fire, earning a relatively easy 1v1 clutch win.
BDS took one of the scrappiest rounds of the tournament in round three, while a pinch between Elemzje and LikEfac that baited out multiple injured players allowed BDS to take a 3-1 lead. W7m unsurprisingly called a timeout at this point.
This helped the Brazilians win the next round, but the half ended 4-2 to BDS as Volpz managed a triple kill in a 1v5 in round six before running into Shaiiko's sightlines.
W7m esports' attacks
W7m's first attack saw them win almost every gunfight they approached. As they closed in on the bomb sites, the French defenders had nowhere to go and several of them were caught off guard.
Round eight was also initially dominant from w7m. While BriD earned a double kill and almost got the third in a 1v4 situation, it was still a comfortable position for w7m to tie the map.
LikEfac then won BDS's second clutch of the game, as Julio chased after him with two seconds left despite holding the defuser
As the game hit 5-5, both teams needed the next round to have a chance at winning all three points. Subsequently, while defending the Tea Room site, BDS suffered an unfortunate team kill as w7m were pressing, ultimately allowing w7m to win the ensuing 2v1 situation.
Finally, the map ended with three points to w7m due to a 1v1 from Julio over Renshiro, as he traded out Jv92.
Statistics
The result sends w7m to the top of their group alongside Team Liquid as the only team with perfect records after three matches.
With six points between them and third-placed Spacestation Gaming, w7m could qualify for the playoffs later tonight.
Looking at this match in particular, Kheyze was once again the leading player after ending day one with the tournament's highest SiegeGG Rating.
Notably, LikEfac was largely neutralised for most of the game, while BDS only won three opening kills across the 12 rounds.