After ending day one at the head of Group D, Wolves Esports today were challenged by the Dire Wolves, their APAC counterparts. The Taiwanese had notably won all three points against Mirage on Monday, a team that Wolves Esports only narrowly took down.
With FaZe Clan favoured to get all three points against Mirage themselves, the French side saw this as a must-win to stay top. Meanwhile, Dire Wolves needed a win to counteract their 1-7 defeat to FaZe Clan yesterday.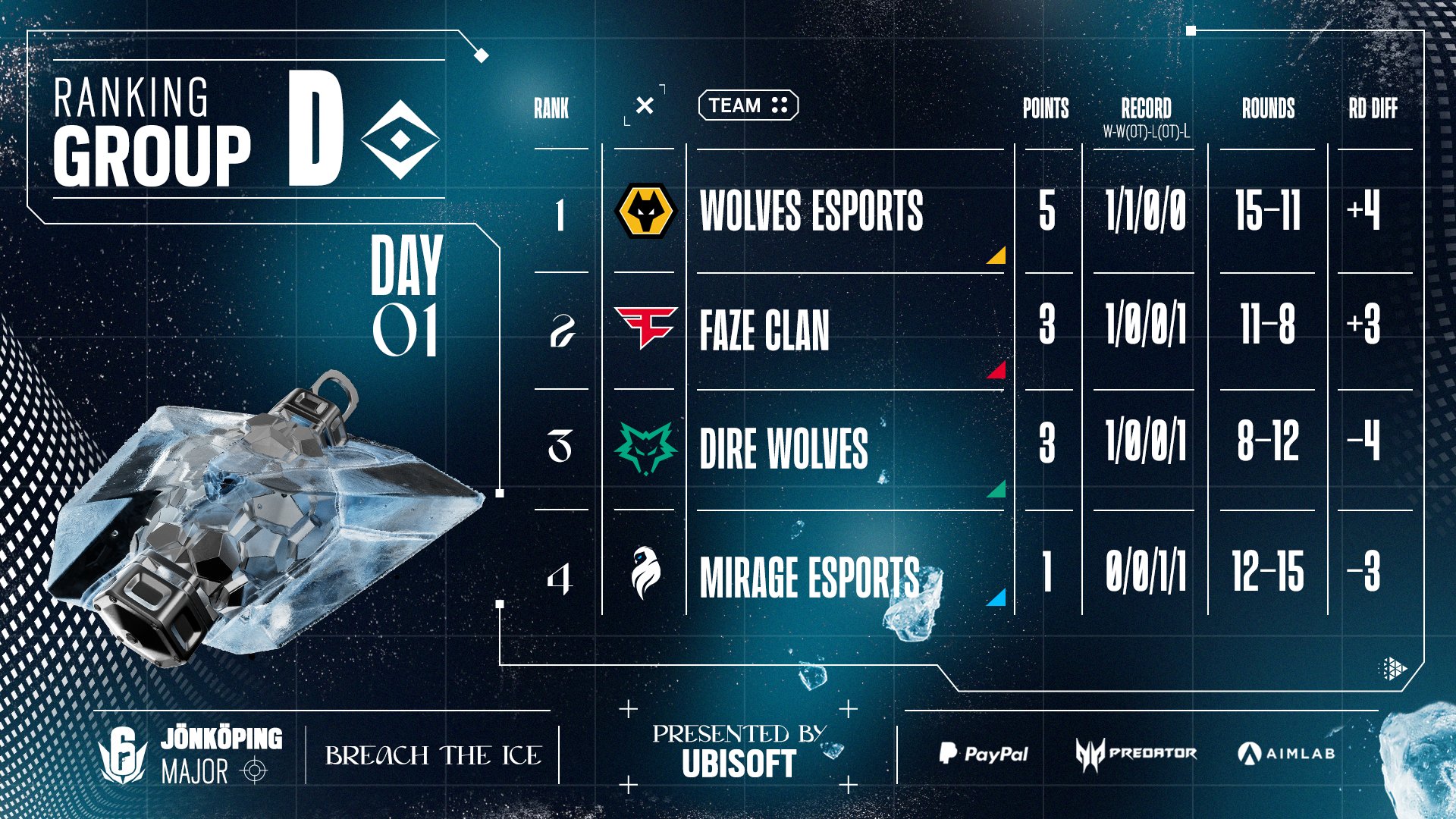 Dire Wolves' attack
With Wolves defending on Villa, they had a clear early advantage and were expected to come out strong.
They did exactly this. On round one, every player got a single kill, while on round two BiBooAF put himself at the top of the leaderboard with a quadruple kill that included a 1v1 clutch over JackyWu.
This close round for Dire Wolves had come thanks to a quick double from JackyWu, an individually impressive play that Reeps96 repeated in round three as the Iana on entry. This time, though, Wolves responded and were up in a 3v1 just two seconds later.
Similarly, in round four, Reeps96 and JackyWu got early kills and Pikan got the plant down, only for Dire Wolves to lose two players in three seconds during Wolves Esports' retake. They could take out those initial players, but never get a foothold where it counts.
After all these somewhat close rounds, Mowwwgli then stomped over Dire Wolves with a rather flashy ace. This was the third of the tournament, just moment's after FaZe's Astro earnt an ace on Stream B.
Finally, a blitz rush from Dire Wolves worked on their final attack, as Reeps96 got two and Pikan got one to put DW up 5v3 at the 1:49 mark on course to a flawless round.
Wolves Esports Attack
A 1-5 deficit isn't impossible to come back from, especially when securing very early opening kills.
P4 dropped 30 seconds into round seven before Mowwwgli fell at the 2:00 mark. While BiBooAF, the highest fragger from day one, was still alive, the attack lacked teeth and Dire Wolves won a second round in a row flawlessly.
But this run wasn't to last. Souffle and Pikan got one each, but no more on round eight, while Pikan was then left in a 1v4 situation in the final round in a post-plant situation.
Statistics
This result, combined with FaZe's win over Mirage, means the standings remain the same as the beginning of the day. Wolves' are in first followed by FaZe, DW, and Mirage.
There is now a three-point gulf between second and third place which, barring a Dire Wolves upset over FaZe later today, could signal the final results of the group.
Mowwwgli was undeniably the MVP of the game, as he almost hit a 3.0 kill-death ratio. BiBooAF is also of note, as he went 3-0 on entry. Finally, Dire Wolves' new rookie star prospect did lead his team, but only managed a plus-one differential against a much more impressive side.