Stage 2 of the European League is now done. While the top four teams -- Wolves, Rogue, MNM, and G2 -- will now travel to Berlin for August's Six Major, the remaining six have over two months to prepare for Stage 3, which is bound to include numerous transfer changes.
Here's a speculation-heavy look into where these changes could come.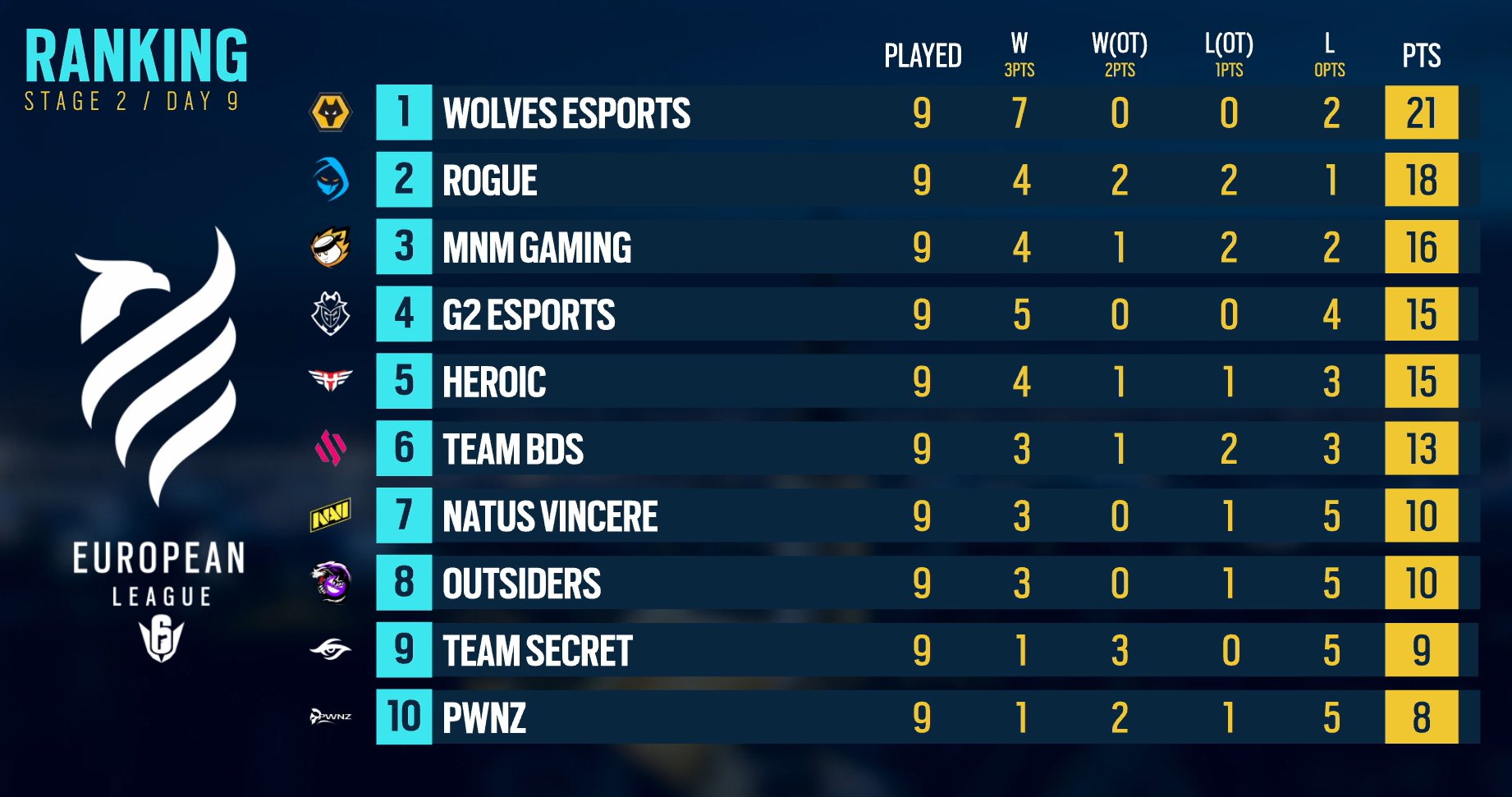 PWNZ (Team Empire)
Without looking at the player's in-game performances, PWNZ are clearly the most likely team to make changes as. As reported by SiegeGG last week, the players are not being paid by their organization and are becoming increasingly desperate.
If Ubisoft doesn't take action before Stage 3, players could leave the team, or a new organization could step in. The team's current position is very unstable and almost certainly can't remain unchanged until the following transfer window in November.
G2 Esports
The only confirmed change we've seen so far in Europe is that G2's coach, Thomas "Shas" Lee, will be leaving the team following the Berlin Major after over five years on the team.
Any additional player changes will depend heavily on the team's performance in Berlin, but this raises two very big questions; who will replace Shas and where will Shas go next?
Considering the level of success and experience on G2, Shas' replacement will likely have to be experienced. It's unlikely that an up-and-coming name with little time in the big leagues will demand much authority over the rest of the roster and may be out of their depth considering the expected success.
This is somewhat of an issue in Europe, as it's extremely rare for coaches ever to coach more than one professional team. Usually, once they leave their team, they never make it back into the EUL. Matthew "meepeY" Sharples is the lone exception -- Rogue's head coach is alone in the entire league with any real professional experience as a player.
This means that unless G2 entice someone from Rogue or Heroic, for example, the most likely options are an ex-professional player (such as Fabian "Fabian" Hällsten) or a non-European import.
Bringing in an ex-pro is the riskier option but would probably be a fan favourite choice. A non-European option would likely mean the coach would take several months before they can join G2 in Germany, as long-term visas are sorted.
As for where Shas could go, there are only five English-speaking teams in the European region; Rogue, MNM, Heroic, NAVI, and MNM Gaming. Rogue and MNM are currently preparing for the Berlin Major and probably won't want to make a change after a very successful season so far, while Shas will likely get better offers from bigger teams than Secret.
Meanwhile, NAVI are doing much worse than the organization wants and only have one support staff member, Alonso "al0kaka" Díez. This move would mean reuniting Shas with his ex-teammate from 2021, Jordan "Kayak" Morley.
Of course, Shas may also get offers from abroad. While most big teams have ingrained support staff teams that have been together for years, his prior successes put him in a perfect spot to help push up a mid-table team such as Parabellum into the top-four.
Team BDS
While BDS have consistently qualified for events, they've only gone further than the quarter-finals just once in five attempts with this full roster. This is still a great achievement but not where they want to be, considering the skill on the roster. It is remarkable that Stéphane "Shaiiko" Lebleu has never played in a top-tier grand final before.
The team has now missed the Berlin Major, which means that they still have not competed at an event in front of a home crowd. If BDS wish to make a change, now is the time to give any new player(s) a chance to gel before the 2023 Six Invitational. Nevertheless, the players are clearly close friends and probably won't rush into anything without an S-tier replacement in mind.
When looking at which player is most at risk, the answer must be Bryan "Elemzje" Tebessi, as he is definitely the least consistent player on the team. A good Stage 1 was followed by a 0.96 Rating in Charlotte, and a 0.80 Rating this stage. Both were around the figures secured by Loïc "BriD" Chongthep, but Elemzje is on secondary entry rather than hard support. During this stage, Elemzje went 8-18 on entry, including 2-11 on the defence.
Heroic & Outsiders (Virtus.pro)
Going from first in Stage 1, Heroic had a bad Stage 2 and finished fifth. Despite that drop, it's doubtful that the team gets rid of a player after such a positive start to the year.
Furthermore, the worst stage-to-stage performance drop during this stage came from Jake "Sloth" Brown, as he went from being the league's second-best in Rating down to a figure of 0.97. Heroic would probably be crazy to willingly get rid of Sloth after just one bad stage, though, as he's proven to have world-class skill as a pure fragger.
Meanwhile, Outsiders also had a worse stage, as most players saw a fall in performance, and the team dropped one place. While Alan "Rask" Ali is arguably most at risk of being replaced, any changes will likely be reliant on moves on PWNZ.
With no ongoing tier-two tournaments and the Russian Major League being cancelled indefinitely, the only other Russian team competing regularly at any level is PWNZ. With these players likely eager to receive a paycheck, Outsiders will likely have an easy time picking players up from here should they want a change.
Natus Vincere
NAVI are certainly not doing as well as they want but would likely struggle to prize players away from other EUL teams due to an arguably lower stature. Considering how successful UKIN rosters have been in the first EUCL open qualifier, there are likely a lot of English-speaking tier-two players for them to keep an eye on.
As for who they may wish to change, the team's longest-lasting member, Byron "Blurr" Murray, disappointed during Stage 2 as he got a 0.84 SiegeGG Rating on Iana, while Pedro "Thuunder" Muniz hit 0.85 on Zofia. This latter performance came after Thuunder was replaced in the entry role by Jamie "Skiddy" Diamond after being the worst performing player on the team last stage at 0.83.
Two stages in a row with ratings no better than 0.85 is not a great sign. Previously on the French Heroic lineup, he played as a hard support player, so NAVI may opt for a role change instead. Either way, Thuunder looks like the team's statistical weak point.
Tier two Prospects
"Croqson" from the Spain Nationals' roster of Principality has been one of the most explosive talents across all of the European national tournaments. Not only was he crowned MVP of the play day five times, he remarkably got 40 opening kills to eight opening deaths and the best kill differential at plus 70. If he can come close to replicating this against tier-one teams, that makes him an impressive pickup.
Over in the German scene, it has been Marc "jume" Steinmann that excelled with the best fragging statistics before he left Team Enyx at the midseason. He has since finished the first EUCL qualifier in third place and has prior experience in the Benelux League, as well as alongside Kanto and Fabian in Delta Project.
In the Northern Premier League there have been a few players of note. The Polish player, "Gruby", from Viperio 86, has been the league's second top fragger, ahead of even Heroic's Benjamaster. Gruby also secured 38 opening kills to 19 opening deaths. Jeggz from Finland has also stood out as TENSTAR's top fragger, allowing them to finish behind just Heroic in the NPL league standings.
Finally, Oscar "Oscr" Deacon from Victus has been the overall top fragger with a kill-death ratio of 1.50 and the most opening kills in the league, all while playing the odd operator of Frost more often than any other. Oscr has a history in the Nordic Championship, the UK Ireland Nationals, the PG Nationals, and recently beat Rogue in the Gamers Without Borders tournament.