Just three play days will remain in NAL Stage 3 after this week as we pass the mid-stage point. Here's a rundown on what to expect this week:
Tuesday:
2PM EDT -- Astralis vs Parabellum Esports
3:30PM EDT -- Oxygen Esports vs TSM FTX
5PM EDT -- DarkZero Esports vs Spacestation Gaming
6:30PM EDT -- Soniqs vs beastcoast
8PM EDT -- XSET vs Mirage
Wednesday:
2PM EDT -- Astralis vs Spacestation Gaming
3:30PM EDT -- XSET vs TSM FTX
5PM EDT -- Oxygen Esports vs beastcoast
6:30PM EDT -- Soniqs vs Parabellum Esports
8PM EDT -- DarkZero Esports vs Mirage
After facing each other last week, neither of the two league leaders will face other top-positioned rosters this week, as the closest game will be between first-placed TSM and sixth-placed XSET. They and Soniqs will be confident in their ability to earn a full six points out of these games.
Parabellum and Mirage both surprised with their performance over the last two weeks and will be looking to continue this run across some tough games. Mirage play XSET and DZ while PBLM play Astralis and Soniqs. Mirage haves a better record so far with seven points in four games and, on paper, have easier fixtures.
Theoretically, the closest game of the week will be between Oxygen and beastcoast, as both of these teams have yet to win a game yet and sit with just one point in ninth and 10th place. This will also see Jacob "Sweater" Bravico play against his ex-teammates.
Considering Sweater's head-to-head, the fact that Oxygen has attended seven of the last eight global events, and that it is a fight not to be in last place, a loss here would likely be a career low for the players of Oxygen.
Finally, there's another head-to-head happening this week; Alexander "Skys" Magor vs. Spacestation Gaming.
After 10 months on Spacestation Gaming, Skys was dropped in July. Two games into NAL Stage 3, he's back returning to DarkZero Esports, where he spent 18 months from the end of 2019 to 2021, to replace Paul "Hyper" Kontopanagiotis.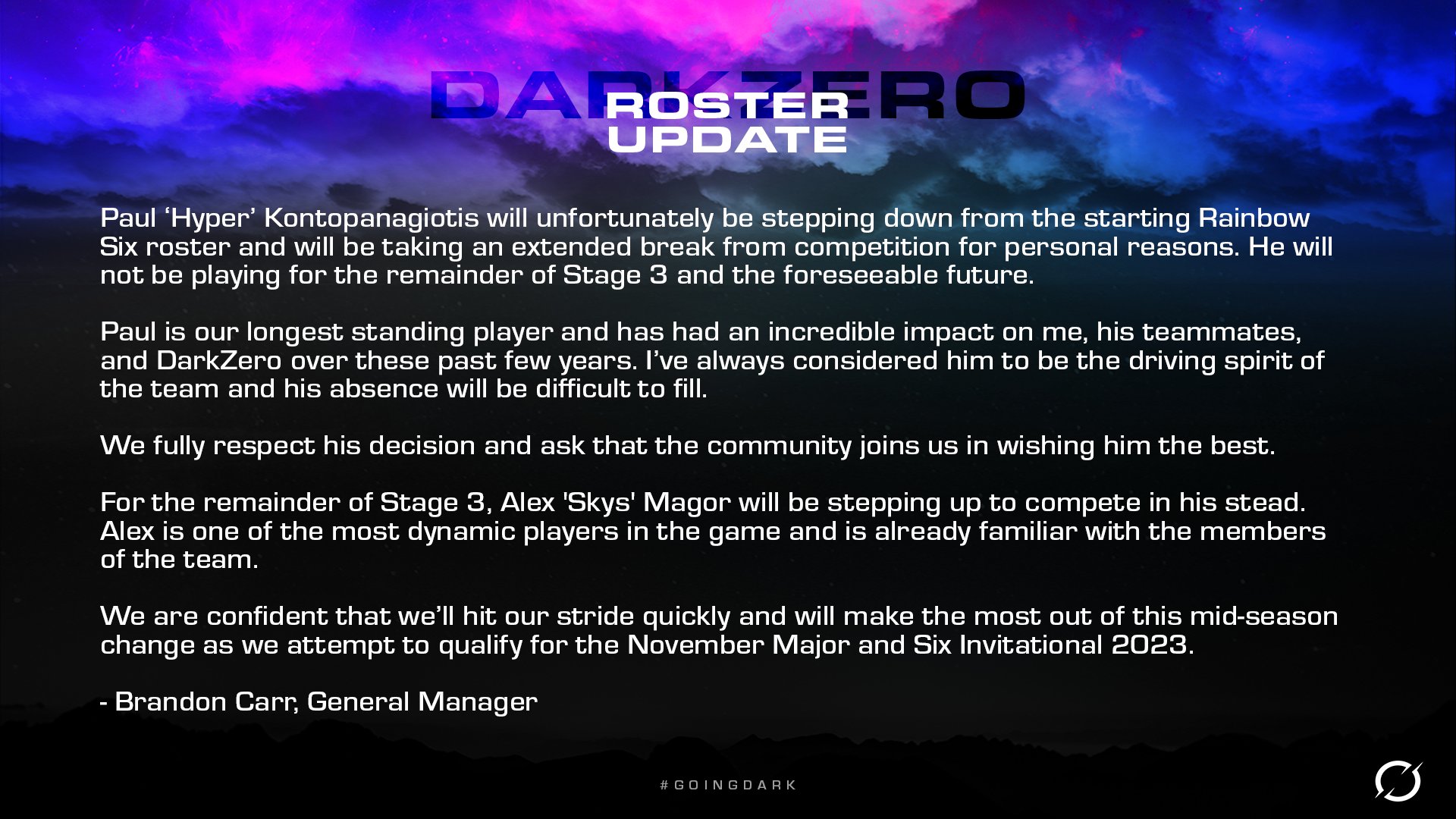 This very-recent split was then brought to the forefront just two weeks ago, when an SSG interview saw a Skys Twitlonger in response as both sides aired their view on the breakup. Now, Skys has the perfect opportunity to say his piece in the server.
This game has all the markings of a great matchup. Here's what to expect from the game.
Skys' exit
Ahead of the opening match of Stage 3, Ubisoft released interviews with each team. Amongst other things, the SSG interview said the following about the decision to replace Skys with Alexander "Yeti" Lawson:
Fultz: Dropping [Skys] was just a thing the majority of the team thought was the right move, and towards the end when we started to struggle, we started having some internal issues with some of the players. When you're living together, playing together and in a very competitive environment, you start to realise that your relationship with your teammates, even outside the game, is a huge part of how you play.

Hotancold: I think we had a practice where there was an argument. Lycan was just telling [Skys] something, and [Skys] didn't really listen to the coach. So if a p[layer's not gonna listen to me, then I don't know if he should be on the team.

Rampy: We needed a fresh look, and the best way to get the fresh look was getting rid of [Skys].
In response, Skys released a 2,600-word Twitlonger detailing his point of view. Here are some select extracts of the post:
Skys: When I had joined the team, at some point every player on the roster told me there was one specific teammate you just cannot argue with. The saying was "he sees things the way he sees things and his mind is impossible to change."

…After practice, I walk outside to the same teammate bad mouthing me to two other teammates. So of course, I confronted him saying something along the lines of "if you have a problem say it to me don't say it behind my back."... He began to literally scream at me saying "hes about to lose it"... This argument was escalated to staff & basically nothing was done with it. I do feel, if it were me screaming at one of my teammates, the entire situation would have been handled differently.

An hour after practice lycan comes to my room and says I'm being moved back to IGL and that Bosco agrees that's its probably for the best. This came to a surprise for me because its not something that I wanted, asked for, or even thought about. I said I would like to think about it and ultimately came to the decision that I don't think it was smart. I was in a bad headspace, bosco and I would have to change roles 2 days before the league & its just not something I wanted to do anymore

I enjoyed my time with SSG in the beginning. I felt that we were solid, and we're going to take home a trophy and that didn't happen. And sometimes it doesn't. We weren't a good fit, and that sometimes happens too.
While it has been two whole months since the split, this was not an amicable exit and has recently become very public.
While both parties would probably rather this be left in the past, it will inevitably be the backdrop of this meeting as Skys returns to a team he clearly feels much more at home in alongside another ex-SSG member, Troy "Canadian" Jaroslawski.
On the other side of the coin is Matthew "Hotancold" Stevens, who was dropped from DZ before eventually settling down on SSG.
SSG vs DZ
Even putting aside the Skys connection, these two teams still have an extensive history.
Hotancold and Canadian used to play for the opposing side, and in Stage 1 this year, it was a head-to-head between these two that determined which would qualify for the Charlotte Major. DZ won 7-5 and then went on to win the entire Six Major event.
During Stage 2, DZ suffered their worst defeat of the stage against SSG and then missed out on the Berlin Major by round difference.
DZ also knocked SSG out of both the NAL 2021 and 2020 Finals at the semi-final stage, while SSG beat DZ in the SI 2020 semi-finals on their way to the eventual title.
Stage 1 2021 -- 7-4 to DZ on Kafe Dostoyevsky
Stage 2 2021 -- 8-6 to DZ on Villa
Stage 3 2021 -- 7-2 to SSG on Oregon
NAL Finals 2021 - 7-8, 7-4, 7-4 to DZ on Villa, Coastline, and Clubhouse
Stage 1 2022 -- 7-5 to DZ on Oregon
Stage 2 2022 -- 7-2 to SSG on Border
History, then, is on DZ's side. While SSG won during Stage 2, this was a particularly weak period for DZ that they have seemingly recovered from.
So far during this stage, both teams have lost against Soniqs and beaten Parabellum. DZ have also beaten Astralis and bc, while SSG beat OXG and Mirage. SSG's opponents were, on average, slightly harder… but they also only beat OXG and Mirage in overtime, leading to DZ's one point advantage.
The teams are effectively even when looking at recent records.
Hyper's exit
It'll come down to how well Skys has adapted to Hyper's role on DarkZero as the big difference maker.
DZ have played beastcoast and Parabellum so far since Skys's return. While winning both games is good, bc have lost seven of their last eight games, and PBLM were also flattened by SSG. This is Skys' first real test since he has come back.
He's also not returning to the same lineup he left. Both Roberto "Panbazou" Feliciano and Canadian have joined since he last played for DZ at SI 2021. He's also in a completely new role, as he used to be DZ's Thermite planter hard support player and is now a flex player, playing Nokk, Iana, Zero, and Thatcher against bc and Buck and Lion against PBLM.
In Skys seven years of professional R6 experience, he has played every role and operator in the game -- this isn't new to him, but it may take more than a week's notice to be up at full tilt against his old teammates. With two teams as close as SSG and DZ, that may make the difference.
Yeti's impact
Obviously, there is another new player in these teams, as Soniqs' Yeti joined Spacestation Gaming to replace Skys.
He's also been playing on a more flexible role and was crucial in SSG's overtime win against Mirage. He got a double kill on the final round, a triple kill to take the map to overtime, and totalled a 5-0 opening kill record.
In other games, he's been less impactful, but has been consistently in second or third place in his team by SiegeGG Rating. It's still very early to judge the change, but Yeti has proved on Soniqs that he's a world-class player. Now he has reunited with Rampy, with whom he won the Challenger League back in Year 3, and he definitely could make all the difference.