Stage 2 of the APAC North League is now done. While the top two teams -- DWG and SANDBOX -- will now travel to Berlin for August's Six Major, the remaining six have over two months to prepare for Stage 3, which is bound to include numerous transfer changes.
Here's a speculation-heavy look into where these changes could come.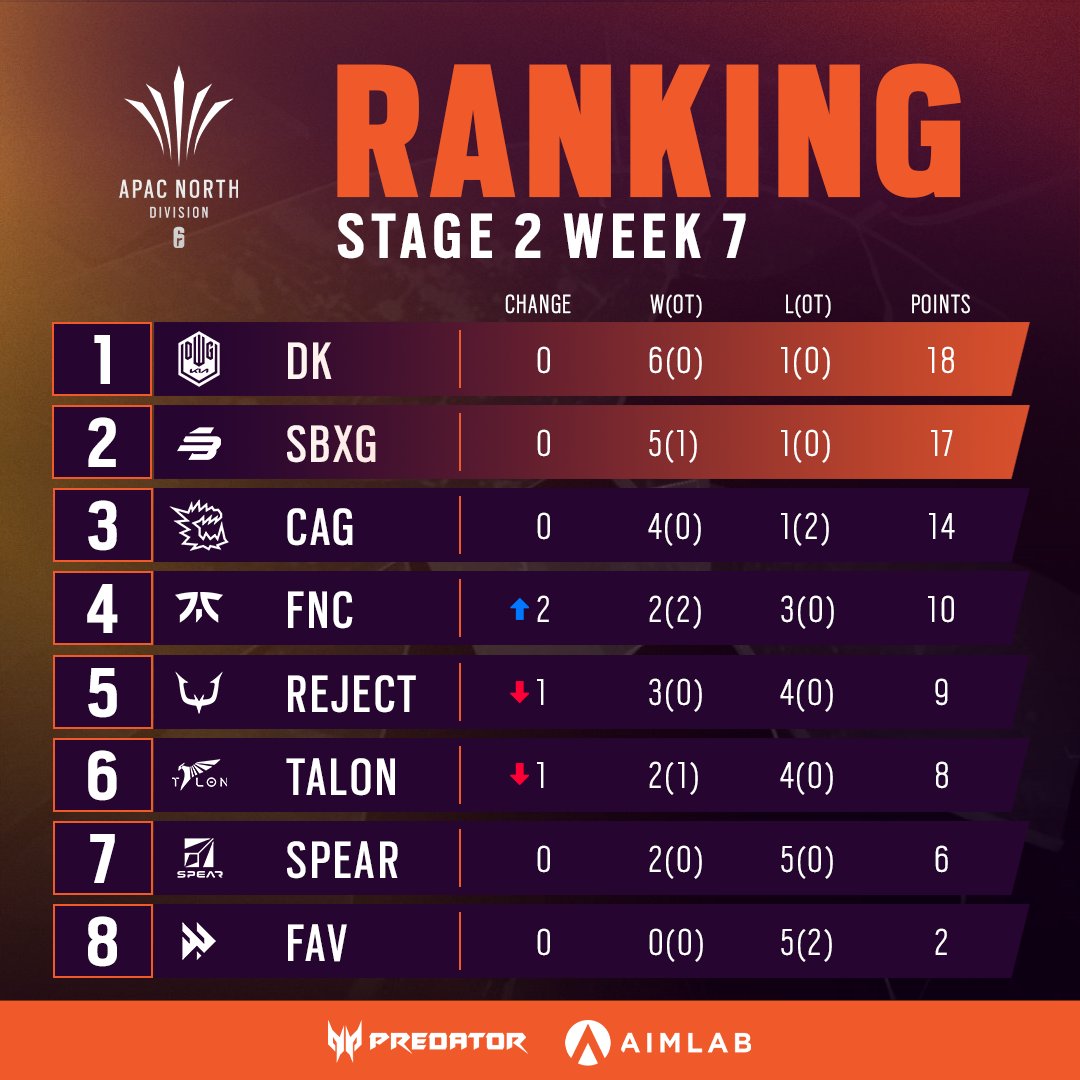 Spear Gaming
Starting from the most obvious changes, Spear Gaming have been competing with their coach standing in for the entirety of Stage 2. While Cha "iLeven" Won-il was announced as part of Spear's lineup, he has not played a single game for the team since they left T1 due to a back injury.
Considering he has no mention of Spear on his social media accounts and, according to R6Tab, has not played Siege at all since the newest season started in June, it is likely he will be leaving the team when the next transfer window opens.
Only two players from Spear's Stage 1 lineup played in Stage 2, as they effectively completely changed their lineup. The team is undeniably the most hectic in the world right now, so it's hard to guess what's going on within the roster.
With this in mind, what may be an issue is Minseong "RoyBoy" Koo, as he is currently loaned out from DWG to Spear. While we don't know any details surrounding the loan, including how long it is for or if it has since been made permanent, it is possible this was more of a stop-gap option from Spear to find a fifth player before the May transfer window closed. If so, the team will probably also be looking for a replacement here.
During Stage 2, RoyBoy was the team's second best-rated player, meaning the team will likely want to keep him.
TALON Esports
Talon made two changes during the last transfer window, both of which worked out fairly well statistically but not when looking at their results.
Considering Talon are one of the most roster change-happy teams in the league, a change this August wouldn't be too unlikely, which may be an issue for the ex-Cloud9 player, Kwon "h3dy" Yu-geun.
While in Stage 1 he was the team's primary planter, with the second-best entry record, he's now been replaced in this role by the newcomer, Sangyeong "Misa" Hong. This change led him to end Stage 2 with the third lowest SiegeGG Rating in the whole APAC North League, with the same number of plants as Seokhyun "Marb1e" Yun, the team's second new addition, on Finka.
Also, it's worth mentioning Lee "Kanos" Seong-beom who, after being the team's worst player in Stage 1, was kept on the team but didn't play a game during Stage 2. While Talon keeping him on further as a substitute is the most likely continuance, it wouldn't be too surprising to see him leave now with h3dy moving into the substitute role.
Japanese teams
Before going through the four Japanese lineups, it's worth noting how incredibly rare changes are, particularly in the three Japanese organizations. All five of CAG's players have been together since 2019, FAV gaming has a core going back to 2018, and REJECT has added one player in the last year. This all means that even if the numbers suggest a change is likely, it still probably won't happen.
CYCLOPS athlete gaming
While the team has now missed two Majors in a row, CAG do not have a single player that is struggling in APAC North, statistically. As a result, they were a top contender once again and were the top Japanese team in APAC North. However, the team's main concern is likely in the big-money Japan League.
Despite being the team to beat in Japan for multiple years, they ended the Season 2 groups in an uncharacteristically low sixth place. This is a massive domestic drop-off, as they were 11 points shy of Fnatic in first and were nearly knocked out of a playoff qualification position. If it weren't for a 1.30 SiegeGG Rating from Sho "BlackRay" Hasegawa, the team would likely have been closer to last place than even sixth.
As stated, CYCLOPS aren't the ones to make rash decisions. Even though they were eliminated in the semi-finals of the playoffs, their weak performance will probably need to persist for another stage before changes are considered.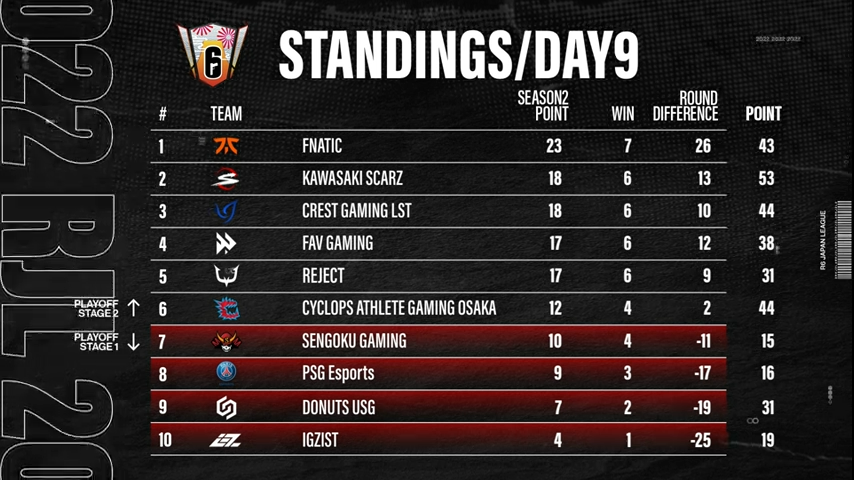 Fnatic
FnatoiEtienne "Mag" Rousseauand Dizzle are finally in Japan and will join the full roster in the APAC North League next stage. It is unlikely Fnatic will want to make too many extra changes beyond this, especially considering they brought in Siru just last month and how much they improved in both the APAC North and Japan League tournaments.
Furthermore, considering the Fnatic organization's affinity for substitutes ever since Dizzle was forced to stand-in at the Season 8 Finals, it is likely that whoever Mag displaces will remain on the roster as a sixth member. In total, this means no new changes.
REJECT & FAV
Considering that REJECT won promotion to the APAC North League two stages ago and already are a mid-table team on the up, they will probably be happy with their current lineup.
FAV, meanwhile, had a much worse stage but are still unlikely to make changes as their two worst statistical players, ShiN and Taipon, have been on the roster since 2018 and are glued to their positions. If anyone's at risk, it's probably Ryuki "Ramu" Matsuoka, as he's been weaker than No2 in similar roles, especially in the Japan League.
Tier 2 Prospects
Firstly, it is worth noting that PSG Esports' Jyunki "Deelo" Sasahara has left the organization even though he was their statistical best player in a soft breach role. The change was seemingly due to internal conflicts within the team and now means that a high-quality player is looking for a new home.
I left PSG.
Thank you for your support so far.
The decision was made for various reasons, one of which was that there were many disagreements in terms of strategy and tactics.
Since nothing has been decided yet, DEELO will enter summer vacation
Elsewhere in the Japan League, attention must be given to much of the SCARZ roster. Not only did they beat CAG to the Season 1 Japan League Playoff title, they finished the Season 2 group stage in second place, showing they are consistent contenders.
A standout on SCARZ has been Rec, who has the second highest kills-per-round figure in the league. Also in this role of note is Donuts USG's DD, who earned the second-best entry record on Finka after previously beating CYCLOPS to the title of 2021 Japanese champions. Both of these would fit the roles required on FAV if they wish to make a change.
Looking at more support-oriented roles, you must look at SCARZ again, as "Pyon" was the Japan League's standout hard-breach player.
Moving over to Korean prospects, two players stand out from the recent Korean Open league, both from Team GP. Retaddress was impressive across the board as he got the second highest entry record and the highest kill differential of all non-APAC League players while competing on a soft breach role. Kira-Miki, meanwhile, got the highest kills-per-round figure of all non-APAC League players while being the third best Finka player.
Kira-Miki also has considerable prior experience, as he's been on several other promising rosters, including SGA eSPORTS, with whom he won the Korean Open Spring 2021 tournament.
Considering Spear are the only Korean team likely to make changes, realistically, any Team GP or PANTHERA member could fit into this roster and would be an improvement on their stand-in coach. It just depends on who impresses the most during tryouts.