Mantis FPS (formerly known as Element Mystic) has previously attended two LAN Finals; the Season 6 Finals in Sao Paulo where they fell in the quarter-finals against PENTA Sports (now known as G2 Esports) and the Paris Major where they defeated Immortals but fell to Millenium and Evil Geniuses. Now, following their defeat of FAV and 0RGL3SS at the APAC LAN in Sydney ten days ago, they will meet G2 followed by either Mock-it or Liquid in the group stage of the Six Invitationals 2019 as they represent South Korea on the biggest stage in R6 history.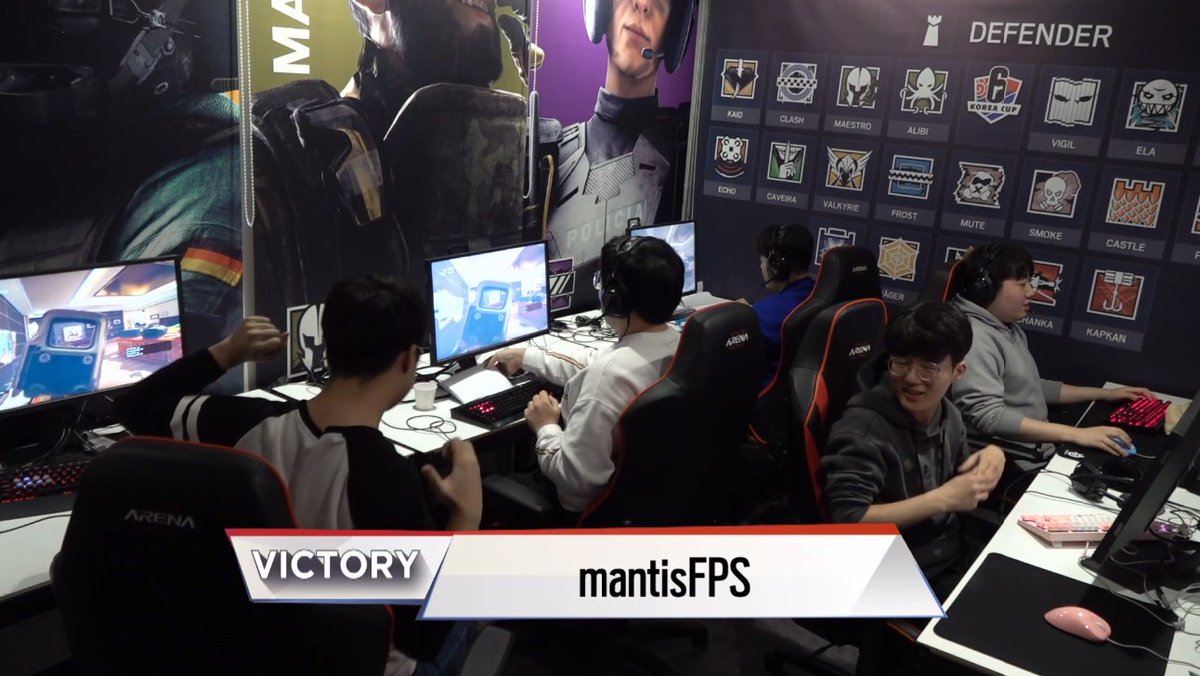 We spoke with EnvyTaylor about their preparations for this tournament and their most recent roster changes:
Firstly can you introduce yourself and your team?
Hello, I'm Kim Seong-Su (a.k.a EnvyTaylor), team leader & IGL of mantisFPS. We are a Korean Rainbow Six Siege team and we've played together since 2016. Our team is number one in Korea (in the Korean cup and Korean Pro League) and we have been to the Season 6 Pro League Finals and the Paris Major, and now are going to Six Invitational 2019
How has having Nova on the roster instead of OniChan impacted your team?
Since Park Hyun (a.k.a OniChan) had a military service problem, we recruited Nova because his playstyle is very similar to OniChan's. Nova also a very smart player, good caller, and his aim is much better than OniChan's - OniChan can now fully concentrate on analysing and strat making as a head coach. We now have better performance, better gunplay and better strategies than ever before.

At the APAC Qualifier LAN your team played a 36 round semi-final followed by a 24 round grand-final shortly afterwards - how do you cope with such long playdays?
Yes, it was a really exhausting match but we came to Sydney before match day and we rested enough. It was better than before the Paris Major qualifier because on that day we had to play our match soon as we landed, this time the weather was better than ever and we keep cheering each other when someone went insane while playing.
Does being the only major team from South Korea add any extra pressure onto your roster?
None, we don't feel any other extra pressure about it, we just do our job, that's all
What are your realistic goals for the upcoming Six Invitationals?
Our realistic goal is to make the main event and get through the group stage. Before at the Paris Major, we didn't make it but we won against the LATAM team 'Immortals' so this time we are gonna through the groups, that's our goal
What one gameplay change would you like to be implemented into R6?
I really want aim training mode like CS:GO-style in R6 so you don't have to 'restart' the game mode when finished
How have you been preparing for this event?
Like other teams, we really wanted to go to the invitationals so we practised and prepared for a very long time and made anti strats for the APAC qualifier. That's it, nothing special.
Do you have any messages for your fans?
To all the fans in Korea and other countries, as we always do, we will do our best and make you guys proud as always. Thank you, guys.
Mantis FPS's opening game at the Invitationals is on February 11th against G2 Esports in a rematch of their first ever international matchup. You can watch this game on the rainbow6 Twitch account with more details on the schedule to be announced in the coming weeks. Keep an eye here at SIegeGG for updates!