Next week from January 13-19th we will see two playdays of Pro League from NA, LATAM and EU -- the first time ever we'll have six playdays in a single week -- as well as both the playoff stage of the Invitational's Open Qualifiers and the Challenger League Open Qualifiers on Monday followed by the kick-off of APAC's Pro League on Wednesday -- an unprecedented Week of Siege impacting teams from right across the Competitive spectrum.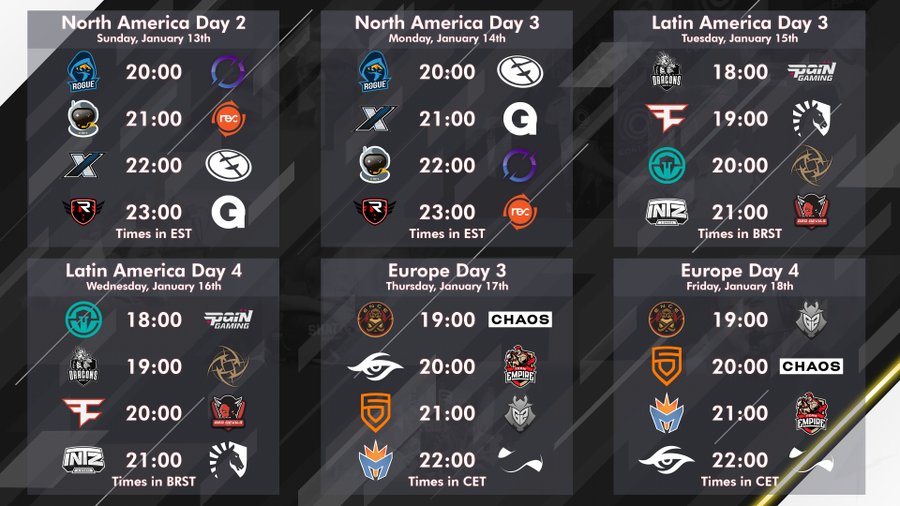 Concerning just the Pro League schedule we have a number of big games which could very easily make a big impact on the which teams make it to the Season 9 Finals in four months time.
Rogue
Vs
DarkZero Esports
Vs
Evil Geniuses
Rogue has perhaps the two hardest games of the week as they play the first and third-seeded teams in North America from last season. Winning here would be vital to keep themselves at the top of NA by the mid-season. Whatever the results, this will be a huge signal to us viewers as to where each team stands within North America -- have DarkZero improved enough to break the top two, and can Evil Geniuses hold on to their #1 spot after weak recent LAN showings?
DarkZero has been practising for this game in their brand new team house with the help of their new coach, Brandon "BC" Carr. This would be surely one of their most prepared-for games, however, with the Six Invitational 2019 Open Qualifiers taking place the same week it is possible they'll have less time to prepare compared to the already qualified Rogue lineup.

Rogue vs Evil Geniuses meanwhile is the classic North American matchup which has shown up at every Major in R6 history, as well as the US Nationals and DreamHack Montreal. This history, which doesn't even include their online season matchups, is always the most looked forward to series of the North American Season as it was traditionally seen as a decider game for who will get the #1 spot. Now, despite there being more contenders this season, this could very well still be the case and so both teams will be putting everything on the line to secure this victory.
Evil Geniuses themselves also go in with an advantage as while Rogue faces DarkZero tonight, EG faces Excellerate Gaming, a team which already sits at the bottom of the North American standings and less than an hour ago announced that their coach, Tomas "Tomas" Kaka, will be replacing Nicholas "Nicks" Olson as a player in the roster which would likely be a big hit to the team. This should, therefore, be a fairly simple game for EG giving them more time to practice and prepare for their Rogue matchup tomorrow.
FaZe Clan vs Team Liquid
While traditionally seen as the top two teams in the Latin American region, both these teams suffered losses on the first playdays against their recently revitalised rivals -- NiP and Immortals -- and so will be eager to close the gap created this week in the league table.
These teams have played a surprisingly few matches between each other recently with them not meeting in OGA or the BR6 making this only their third meeting since the beginning of Season 8 six months ago. The last time these two teams played was just over two months ago during the Pro League on Border, where NiP got only their second victory of the season as they won 6-2 against a Liquid side with their coach, Adenauer "Silence" Alvarenga, subbing in for psk1.

This should all make this a huge match to look out for which, for many people, would be the R6 highlight of the week.
Team Empire
Vs
Team Secret
Vs
Mock-it Esports
As with Chaos last week, Team Empire will face the second and third-placed teams from last season in back-to-back play days which should be a real test for all teams involved and will help shape the top half of the Season 9 league table. Team Empire currently sits in second with two victories in two games so far -- quite a showing this early on, considering they were just promoted from Challenger League -- but to keep this spot they will first need to defend against Team Secret on Thursday.
Secret is currently in a rather peculiar position as they defeated the giants of G2 but also lost against Chaos in two very different upsets, and so their performance this week against Empire and LeStream Esports (who sit in a similar position) would be a good indicator to where they stand within the league. One advantage Secret has over last week is the fact they are now bootcamping together in Denmark in preparation for both these games and the Invitational Qualifiers; this should help with communication and aid their coach, Louis "Helbee" Bureau, in managing the team.
Mock-it, meanwhile, while having ended last season on a real high has been really struggling at the beginning of this one and currently sit in last place with just two round wins in as many games. This could be partly due to them not fully integrating their new player of Pascal "Cry1NNN" Alouane into the roster, or just bad luck as they played G2, the best team in the world, and Chaos, who currently tops the EU leaderboard, in their opening two matches. While Mock-it showed time and time again that they are capable of adapting and improving last season, PENTA's analyst, Jessica "Jess" Bolden, seemed to think it is a deeper problem this time around. Either way, Team Empire will be eager to take their points off of Mock-it on Friday and take advantage of their disappointing start to the Season.
Fnatic vs Mindfreak
Finally, the APAC region kicks off with three play days per sub-region on Wednesdays to Fridays (for the first two weeks, dropping to just Wednesdays and Thursdays after), each consisting of two Best-of-Two games (the full format explanation and schedule can be found here). While this means next week will see a massive 24 Bo2 games (so exactly twice the number of maps of the other three regions combined), the one game I'll be eager to catch is Mindfreak's return to R6 as they play the ex-Mindfreak roster of Fnatic on Thursday.
As well as this, leading Mindfreak into action is Connor "Kngz" Wickham, a player best known for his time on the current Fnatic roster back when they were known as MindFreak. This matchup is a complete mess of a match with a large number of players from across teams being ex-teammates at some point in the last few seasons. This game will likely be fairly one-sided as Fnatic outmatches them on experience and skill, however, Mindfreak does have the ability to surprise as they are effectively the IDK/Elephant Gang-type squad of ANZ made up of a number of ex-pros who fought their way up from Challenger League. Mindfreak has what it takes to compete at the top of ANZ, and putting up a fight against Fnatic would be an excellent way to prove that.
---
And so there are the must-watch games of the upcoming week as giants face each other in NA and LATAM, a number of EU teams face season-defining matchups and APAC sees the return of a number of familiar faces. Catch the main region's games on the rainbow6 Twitch account with the ANZ matchup being played on r6_anz. Keep an eye out on SiegeGG for more updates, results and schedules over the next week!