Taking place at the Paris Games Week from October 27th-28th, the 6Cup saw four invited Pro League teams join the four victors of two qualifier tournaments to compete for a €20,000 prize pool.
Quarter-Finals
Millenium vs 3DMAX - 6-4, 6-4
Supremacy vs Reflex Esport Club - 7-5, 6-2
PENTA Sports vs Deus Esport - 6-3, 6-1
Team Vitality vs Mock-it Academy - 6-2, 6-1
All four quarter-finals saw a Pro League team go up against a challenger from the qualifier and, as we saw a number of surprise victories in the Coupe de France earlier this year by teams such as DeathroW and Mock-it Academy, many people liked the underdog's chances going into these games.
Millenium vs 3DMAX began the day with the returning titleholders playing a promising Challenger League team; while the scoreline did end in a deceiving 2-0 scoreline both maps were much closer than many would have predicted. 3DMAX took the lead by the end of the first half in both maps but then quickly lost it in the second half falling in both maps 6-4.
Many expected the second game to be by far the closest as the struggling Pro League team of Supremacy played a number of ex-pros, and ex-teammates, on the newly formed team of Reflex Esport Club. The ex-Supremacy players of Alphama and Aherys joined the ex-BeGenius players of rxwd and sNKy specifically for this tournament, however, fell at the first hurdle. While map one, Border, went to overtime, Reflex eventually lost 7-5 before Supremacy swept map two, Villa, 6-2 meaning they advance on to the semi-finals
The next two games saw two very similar stories as the Pro League teams of PENTA Sports and Team Vitality took on the semi-professional challengers of Deus Esport and Mock-it Academy, both with minimal success. While both teams secured a few rounds on map one, the challengers fell easily on map two meaning the two Pro League teams advanced to the semis.
Semi-Finals
Millenium vs Supremacy - 6-2, 6-2
PENTA Sports vs Team Vitality - 6-3, 3-6, 6-3
Coming off their somewhat close game against the fifth-placed Challenger League team of 3DMAX, a game against a current Pro League such as Supremacy could've been a much closer game than many were predicting, however, Millenium knew exactly what they were doing and looked completely in control throughout. Supremacy salvaged just a single round in each half across both Coastline and Border ending one of the quickest games of the day in a decisive 2-0 scoreline.
The second semi-final saw a repeat of the Coupe de France 2018 grand final between Team Vitality and PENTA Sports (then known as Mock-it Esports). During this grand final, PENTA managed to defeat Vitality 6-4, 6-4 on Bank and Oregon, two maps which were played once again in this semi-final with fairly different results. After winning five rounds in a row on Border before taking it 6-3, PENTA then lost the rematch on Bank 3-6 before, finally, a strong attack on Oregon allowed them to take the map in another 6-3 scoreline and the series in the only 2-1 of the competition.
Grand-Finals
Millenium: Renshiro, Liven, Hicks, risze, AceeZ and Crapelle (their coach)
PENTA Sports: Panix, ENEMY, RevaN, Hungry, SirBoss and Jess (their analyst)
And so the final came down to the reigning Coupe de France champions, PENTA Sports, versus the reigning 6Cup champions, Millenium, for the most recent title of champions of France. Millenium went in as the favourites partly due to their better recent performance finishing in fourth in Pro League and partly due to them being an actual French roster whereas PENTA flies the European flag.
With neither team needing to hide anything for the upcoming Pro League finals we saw a number of standout plays and interesting strategies coming out from both sides, especially Millenium. Multiple 3 and 4ks from risze in particular allowed Millenium to take hold of map 1, Consulate, before eventually winning it 6-3.
Oregon was a very similar story to Consulate as it seemed that Millenium was simply the better team, they won more gunfights and put themselves in much better positions throughout the map leading to another 6-3 scoreline and a 2-0 victory for Millenium!
This not only makes Millenium the champions of France but also makes risze, a Belgian, the two-times French champion, a record he holds with Panix, a Swiss. Furthermore, this victory also makes AceeZ simultaneously the champion of France and of Germany following his victory at the Six Lounge Series earlier in the year while on Orgless (now known as Mock-it Esports).
This is not only a huge victory for Millenium but also a historic one as Crapelle then went on Twitter to state that this would be the team's last game under the org, Millenium Team, which has been a staple of the French community, and Siege in general, for over a year and a half.
As well as the 6Cup the R6 stage at the Paris Games Week was also home to another tournament over the weekend - the Rising Stars University Trophy. This saw the top four University teams in France battle it out on the main stage for a part of the €1,050 prize pool. While obviously a much lower skilled competition this shows a real rise in grassroots competitions in France as even tournaments as small as this gives players a chance to play in a LAN environment alongside some of the biggest teams in Siege.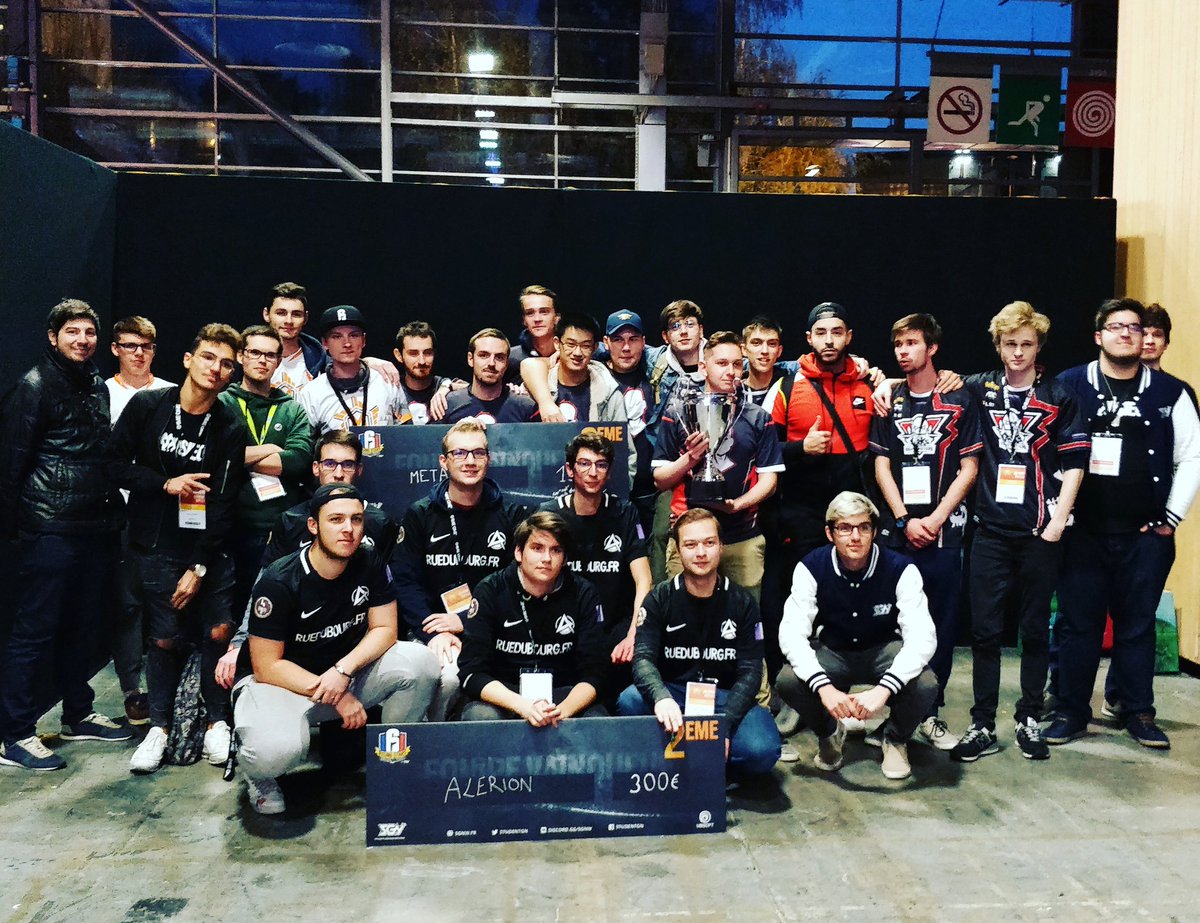 The next French national tournament can be expected at around June with the return of the annual Coupe de France tournament with the 6Cup once again returning during the 2019 Paris Games Week.