Day 2 saw the remaining group stage games, as well as the quarter-finals, take place with the Semis and Grand Finals being played today. You can watch our highlights for these games right here.
Group A
Teams: Evil Geniuses, Cloud9, Mock-it Esports and Grizzlys

The first game of the day saw Evil Geniuses, a team many thought to be NA's best chance at winning the DreamHack title, take on Cloud9 in the winner's bracket matchup. The game was played offstream, which is unfortunate as it ended in a huge upset; Cloud9, the team which suffered two 6-0 losses and a forfeit (a technical 6-0 loss) in Pro League this season defeated the Paris Major runners-up 2-1 (2-6, 6-1, 6-2) booking their place in the playoffs.
Meanwhile, in the loser's bracket matchup the now mixed European team of Mock-it Esports played the 3rd placed team from the Canadian Nationals, Grizzlys. Grizzlys struggled on Friday winning just 2 rounds against EG, a performance they'd repeat as they fell 6-1, 6-1 once again eliminating them from the tournament.
This set up an interesting matchup between EG and Mock-it in the decider match, with the loser going home. Recent roster changes within the last week was taking their toll on both sides, however, despite an impressive ace from RevaN, the standout Glaz play from Geo on Consulate coupled with the fragging power of NVK was to much for Mock-it as they fell 7-6, 6-2.

Group B
Teams: Millenium, Spacestation Gaming, SK Gaming and N4N1

Following somewhat of an upset yesterday in which SSG defeated SK, the winner's bracket matchup saw Spacestation Gaming now play Millenium for a spot in the knockouts. Despite 2 short, one-sided matchups, the final map of Coastline went the distance all the way to the 13th round; on overtime match point Millenium eked out a victory closing the game 2-6, 6-1, 7-6 which booked them a place in the quarterfinals for the 5th tournament in a row
The loser's bracket once again saw a complete walkover of the BYOC team, as expected, as SK defeated N4N1 in straight rounds in DreamHack's first ever 12-0 victory, setting up the decider match of SK v SSG, a rematch of Friday's first streamed game.
This rematch was, unlike their first game which was very back-and-forth, went the complete opposite way. Spacestation Gaming took map 1, Clubhouse, in a fairly convincing 6-2 fashion however on Bank and Border SK was clearly the better team as they won almost every round taking the game 2-1 (2-6, 6-2, 6-0).
Group C
Teams: Team Secret, Bootkamp, Noble esports and Honor Esports
In a very close match up not many would have predicted, Team Secret really struggled in their matchup against Bootkamp Gaming. The reigning DreamHack champions went all the way to the final match point before eventually winning the first map 7-6 on Coastline, however, the next two maps weren't as close (6-3, 6-1). Nevertheless, this performance by the current 5th placed team in Latin America would certainly be a confidence boost going forward for them meanwhile this guaranteed Team Secret a place in the knockouts once again.
The next matchup saw the BYOC team of Honor play the 5th placed team in North America, Noble esports. Many would have expected this to be a very one-sided game, however, while it largely was, the eventual scoreline of 6-2, 6-3 shows the underdog team could definitely compete with professionals even in a knockout game. This result meant Honor were knocked out of DreamHack, however, this result showed them to be the most capable of all the BYOC teams present.

The Group C decider match was, therefore, another rematch, this time between Noble esports and LATAM's first and only hope of Bootkamp Gaming, with the loser being eliminated. This game went remarkably similar to BKG's game against Secret as they, once again, lost the opening map of Coastline on the final round (6-7) and then won on Bank comfortably (6-2) before losing the decider match of Border 6-2. This meant that, despite being so close on 2 occasions, BKG were eliminated and Noble joined Team Secret in the QFs.
Team D
Teams: Rogue, Chaos, mousesports and KoRe
To make up for having none of their games on Friday streamed, Group D today had both the winners and losers bracket games streamed. The first one saw the recently changed roster of Rogue take on Chaos, a side which, despite struggling in Pro League this season, had made the knockouts in both Valencia and Austin. Rogue simply made short work of the Swedish side with standout plays seen particularly from one of their new additions of Shuttle and the veteran member of the team in Slashug.

The second streamed game saw mouseports take on KoRe, a team made up of some of the most creative names ever seen at a Siege LAN, such as JiggyJamBandito and Leggless-Legolas. Despite the team making the game very entertaining for the casters, with Interro, in particular, having fun with the names, they couldn't put up a fight against the Pro team of mousesports falling in a straight 6-0, 6-0 result.

This meant that, for the final place in the quarter-finals, there was yet another rematch, this time between mousesports and Chaos. While Chaos took the first game in a surprising 2-0 victory, mouz had obviously done their homework overnight. The game ended in a 6-4, 6-4 victory to the NA side of mouz, knocking out the Swedish side and breaking their DreamHack streak.
Quarter-Finals
Games: Cloud9 vs mouseports, Millenium vs Noble esports, Team Secret vs SK Gaming and Rogue vs Evil Geniuses.
Cloud9, following their defeat of Evil Geniuses, continued their dominant streak in their game against mouz; they took the game 6-3, 6-2 to book themselves a place in the semi-final. Making it this far was certainly not expected from Cloud9 as they have been struggling recently in Pro League and at DH Valencia, however, this shows the new addition of MarktheShark to replace Schlongii has had a huge impact to make them a very competitive team going forward.
The second game saw Noble play the now mixed French, Belgian and German team of Millenium who would be eager to retake the DreamHack trophy they earnt in Austin. This game started much closer than many people would have predicted with the first two maps ending 7-5, 5-7, however, Millenium managed to close it out on map 3, winning 6 straight rounds and ensuring a European team would make it to day 3.
Hoping to join them there was Team Secret, another DreamHack champion, however, firstly, they had to play the currently on-form team of SK Gaming to get there. SK is currently the #1 team in the North American Pro League and showed exactly why that is the case as they took one of the very best teams in the World down 2-0 (6-4, 7-5). This is especially impressive as this is many of the player's first LAN experience in 15 months and they have still managed to make it to the semi-finals.
The final game was a real grudge match between the traditional top 2 teams in NA, Rogue and Evil Geniuses. Despite locking horns numerous times over the last 18 months, Rogue hadn't defeated the roster of EG outside of seeding games once in any tournament, ever. However now, with both teams making major changes to their lineup and staff, this matchup had a whole new dynamic to it from their usual games with a scoreline to reflect that. Rogue finally defeated EG in a fairly dominant 6-2, 6-2 scoreline partly thanks to, once again, their new player of Shuttle, who achieved a huge 2.86KD and 1.55 rating to make it to the semifinals.

Semi-Finals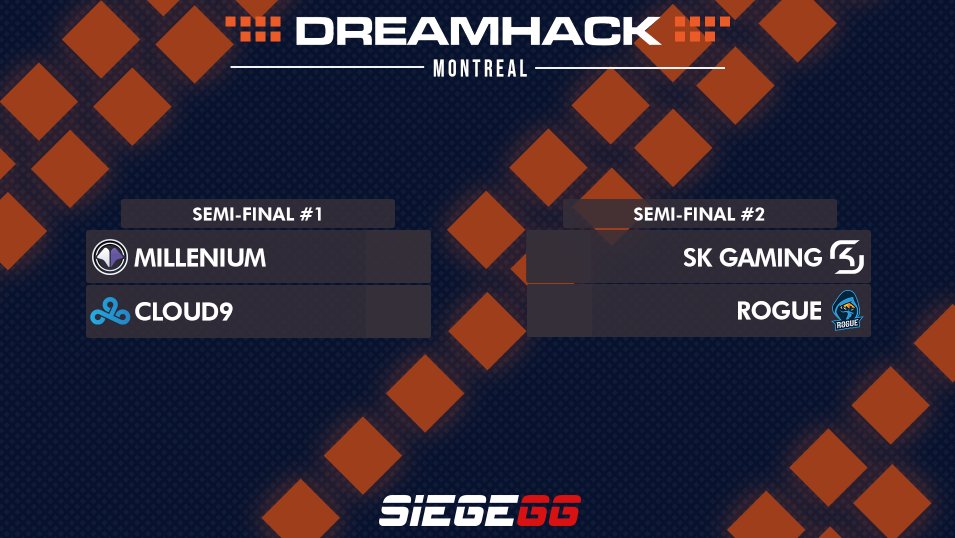 So this leaves the 4 teams of Millenium, Cloud9, SK Gaming and Rogue to play today for the title of DreamHack Champions, the $50,000 prize pool and an invite to the Six Invitational 2019. You can watch these matches when they kick off at 10am EDT on the usual rainbow6 Twitch account with the final scheduled for 3:45pm EDT.