Maps: Villa 6-0 and Clubhouse 6-4
G2 Esports: Fabian, Pengu, Kantoraketti, Goga, and Joonas
Team Millenium: Liven, Renshiro, Risze, Falko, and Hicks
The new G2 roster went up against their regional rivals Millenium, a team widely considered as the best in France, in the opening match of the day. The French were unable to exert any pressure on G2 in Villa, and while Clubhouse came down to the last round before overtime, the 2018 Six Invitational winners were able to take it home with a 1v2 clutch from Kantoraketti.
Maps: Coastline 7-6 and Clubhouse 7-6
Rogue: Slashug, Easilyy, Geoo, Ecl9pse, and Bryan
Obey Alliance: Bosco, Skys, MahMan, Adam and Benji
In the NA fight between the #2 and #8 placed teams in the Season 8 Pro League standings, things couldn't have gone any closer. Both maps went to the maximum rounds they could in OT, after Obey found themselves up 5-4 in Coastline and 5-3 in Clubhouse. However, Rogue would battle their way back and win both maps 7-6.
Maps: Coastline 6-2 and Consulate 6-1
Team Secret: meepeY, Lacky, LeonGids, Elemzje, and sTiZze
Team Vitality: BiBoo, RaFaLe, ZephiR, Spark, and BriD
In a rematch from the Dreamhack Valencia final, Team Secret dominated Team Vitality from the start, taking two quick maps from the locals. The British-French combo barged their way into the 'top 4 teams' classification in the tournament -- this after having lost their Pro League spot for Season 7 -- and will be spoiling for a rematch against G2 Esports.
Maps: Bank 6-4, Consulate 1-6 and Oregon 6-1
Evil Geniuses: Canadian, Yung, nvK, BC and Necrox
Ninjas in Pyjamas: Psycho, Kamikaze, Julio, Pzd, and Wag
The most decorated North American team faced off against the only Brazilian team in the playoffs. While it had been anticipated to be the least close game of the playoffs, NiP wouldn't let the predictions become a reality, and proved they were still one of the top teams in the world despite their loss after forcing this last game to go on the longest.
This is the bracket for tomorrow's games: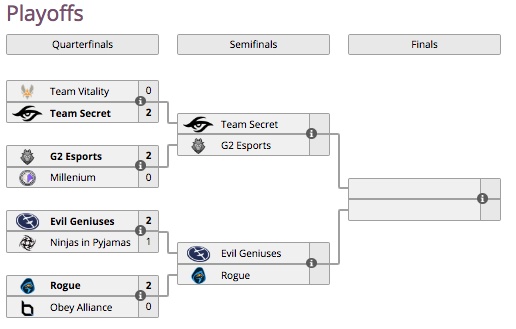 Catch all of the playoffs action on the official Twitch channel of Rainbow6 on Saturday the 18th, starting at 13:30 PM CEST, and join in with predictions by tweeting who you think will win the tournament using #SiegeGGParisPredict!