Map: Bank
Team Vitality: RAFALE, BIBOO, ZEPHIR, SPARK, BRID
Mock-it Esports : ALIVE, PANIX, ENEMY, REVAN, VOY

The first match up was a chance for Team Vitality to get revenge on their fellow French team after losing 2 maps to 1 against Mock-it in the Coupe de France finals only 4 days previous.
Mock-it looked confident going into the first round as Alive took the entry frag. However, with Thermite being killed before using either breaching charge Mock-it just could not recover. Mock-it managed to recover the following round. Thanks to Panix timing grenades perfectly and getting two opening kills. In the last 20 seconds of the round Vitality's members where picked off one by one.
Unfortunately, this is all Mock-it seemed to have in them as Vitality stormed the next 5 rounds.
Vitality looked like they played a lot more relaxed and fluid compared to their final game of Coupe de France. The players chemistry was back and it appeared like no one would have stood in their way tonight.
Map: Oregon
i don't know: MEEPEY, ELEMZJE, LACKY, LEONGIDS, STIZZE
Chaos: RENUILZ, SECRETLY, KRIPPS, REDGROOVE, SNOOKEN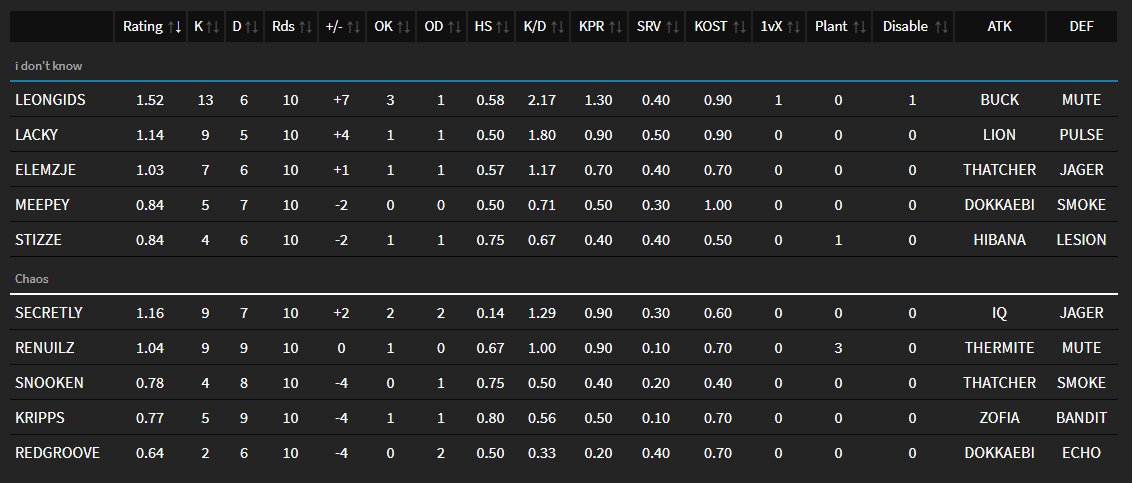 These two teams have a lot of history between them. Snooken, Renuilz and Secretly previously played with Lacky. leon and Meepey during season 6. When Chaos was formed they were able to claim the pro league spot from the others due to a three fifths rule.
Every round was closely contested and this match looked like it could have gone either way. I don't know started off looking strong taking the first round. The next two rounds where then taken by chaos. IDK then goes on to take 3 rounds in a row in a very decisive manor. Chaos answered back with 2 more rounds making the score like 4 rounds to 4.
Leongids steps up big in the final two rounds. Firstly with a very successful roam as Vigil, this wasted a lot of time for Chaos. As Chaos tries to plant smoke kills off the planter with the toxic babes allowing the rest of i don't know to pick off the remaining chaos players.
The final round had a lot of trades back and forth with the plant going down during a 2 v 1. Renuilz managed to pick off one and sitting in a prime spot to cover the defuser. Leongids challenged and won the fire fight leaving him plenty of time to destroy the defuser.
Map: Border
PENTA Sports: GOGA, FABIAN, JOONAS, PENGU, KANTORAKETTI
Supremacy: KRIISKO, ALPHAMA, DJUZ, ANTHRAX, KSIIX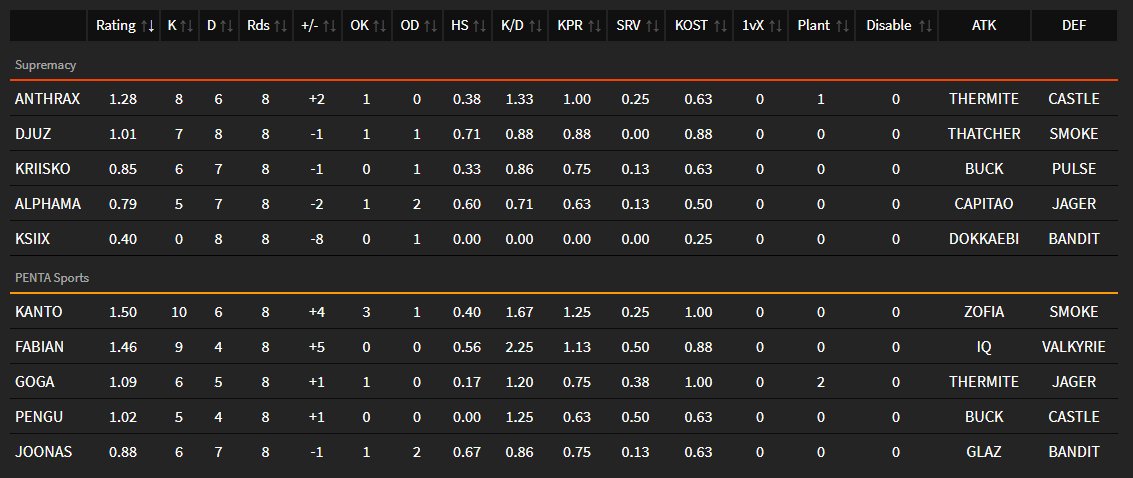 On PENTA's first official game with their newest player Kanto, they looked like they got off to a shaky start ending up in a 2v3 in favour of Supremacy. However, Pengu and Fabian managed to bring it back to win the round. The second round was not as close with Pengu and Joonas both getting 2k's.
Supremacy manage to take round 3 after Kanto fails to clutch a 1v3. Penta then take the next round with another 3k from Fabian to close it out. Supremacy then manage to secure one more round before half time after Kanto again fails to secure a 1v2 clutch. However, in the next round kanto manages to secure a 4k by literally running around the map. On round 7 Djuz from Supremacy almost clutches a 1v5 situation managing to take out Fabian, Kanto and Pengu. Djuz then falls short to Joonas.
The final round was a very decisive win for Penta and Fabian receiving a 2k to close out the game.
Map: Oregon
Millenium: LIVEN, RENSHIRO, HICKS, JOGHURTZZ, RISZE
OrgLess: KS, PARAA, RIPZ, HUNGRY, ACEEZ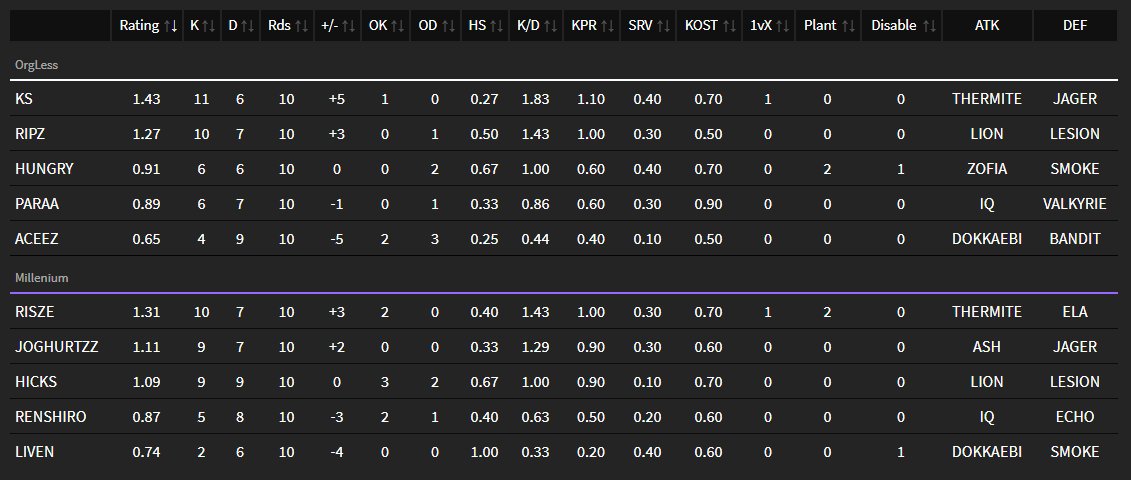 OrgLess decided to rush the first round to try and take Millenium by surprise. However, in what may have been the quickest round in history coming in at 50 seconds and 93 milliseconds. Hicks opening the kills on Blitz with Risze and Joghurtzz both getting a 2k.
Millenium took that momentum into the second round with Risze getting a 2k for opening kills. On round 3 Aceez took the opening kill and OrgLess pushed the site with 40 seconds remaining and secured the round. On the next round Millenium put a heavy focus on roaming while OrgLess took advantage of this a secured the round without ever entering the site. On the final round of the first half OrgLess plant with 31 seconds remaining and 3 defenders still alive. Millenium manage to secure the round with a 1 man deficit.
On OrgLess's first defence, there were no kills within 30 seconds remaining. Millenium secure the plant with 0 seconds remaining and successfully hold off the retake to take the round. Orgless then go on to secure the next 2 rounds to bring the score to 4-4.
On round 9, Millennium push the site with 20 seconds remaining and put the plant down at 0 seconds in a 2 v 1 and successfully take the round. With only 1 round left KS was left in a 1 v 2 with 8 seconds to go and secures the round to draw out the game.
---
Catch the next round of European games next week on the 29th of June on the main Rainbow Six Twitch and YouTube channels from 7PM CEST. To see all the upcoming games' schedules, go to our Matches page, and check out completed games' stats by clicking on the individual games.
---
Written by Dashie