Map: Oregon
NiP: Julio, PZD, wag, Kamikaze, Psycho
T1: Panico, Hugz, ion, gdNN1, iBlackZ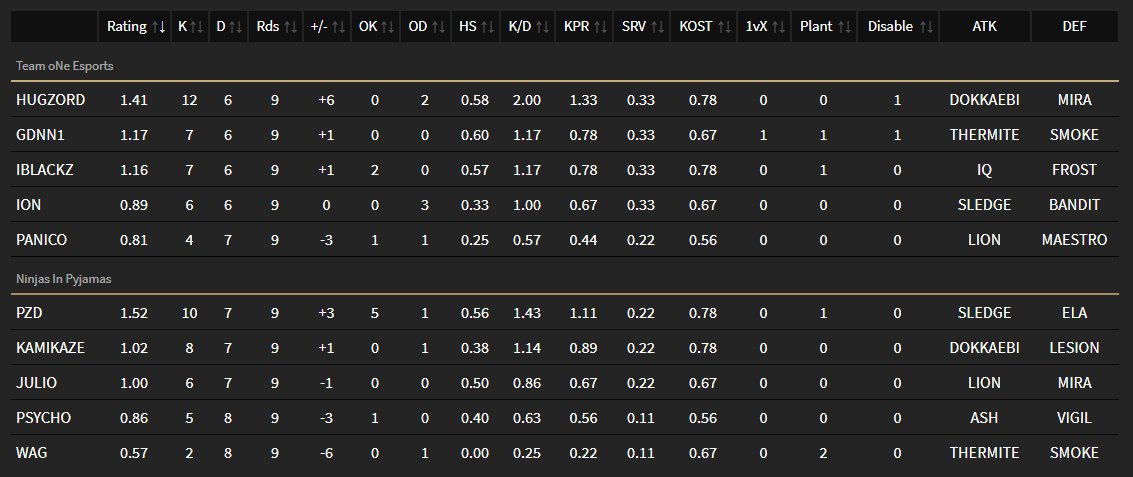 The evening began with a stunning upset as Team oNe pulled out some top-drawer play to defeat the 2018 Invitational Semi-Finalists without much difficulty. On a map that is regarded as one of their best, NiP banned Jaeger and Ying, while T1 banned Valkyrie and Hibana.
Right off the bat it was obvious that NiP was suffering as they lost the first three rounds in a row thanks to half-hearted roam clears, messy gunfights, and some crisp refrags from T1. Their sudden and dominant lead was even more surprising after their 2-6 drubbing by paiN Gaming the previous day.
NiP finally got a round on the board on their penultimate attack round after starting the round with a kill, and PZD getting a three-piece and a teamkill as he pushed onto the bomb site. Despite a valiant clutch attempt by the roaming Echo of Hugz, NiP held on. T1, though, extended their lead to 4-1 in the very next round as NiP were put in a tough spot of only being able to lose at most one of the next five rounds to prevent a loss.
They started off their defense encouragingly thanks to some excellent time-wasting from Psycho and good site-play from Kamikaze, but any potential comeback momentum was disrupted due to three rehosts and a 7-minute break. T1 then secured match point on the very next round, and while NiP held on for a round longer after a failed rush from T1, they were unable to deny the rush a second time and crashed to an unexpected loss.
Map: Clubhouse
Liquid: Nesk, ziG, S3xyCake, Bullet1, psk1
IMT: Novys, pX, Cyb3r, oNe, D1OGO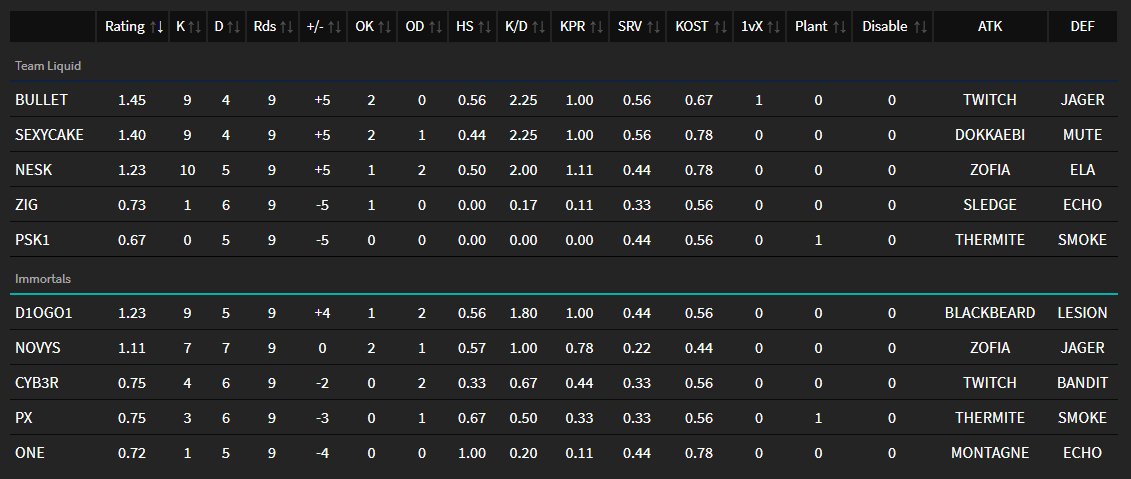 Team Liquid was able to continue its winning ways after defeating BootKamp Gaming the previous day in what was the debut of the reworked Clubhouse in the Pro League. With viewers only guessing what strategies would be employed, Liquid chose to exclude Mira and Thatcher, while Immortals banned Maestro and Hibana.
Immediately it was clear that the Thatcher ban was a strategic one from Liquid, as a Mute and deployable shield pick saw them completely deny a dirt tunnel push, with the Mute of S3xyCake securing the kill onto the lone hard breacher of Thermite, and eventually win the round without losing any operator on his team. IMT, though, won the next two rounds as Liquid struggled with a defence outside of the basement and took the lead.
The Season 7 champions, though, were far from down and out, and rocked IMT back with three rounds of their own in a row to go up 4-2 with one of the rounds featuring a P90 equipped Rook from S3xyCake. IMT attempted to level things out, but were only able to get to 3-4 after a spirited defence of the cash room thanks to an excellent Jaeger 3k from Novys.
Liquid would then pull away to secure the win with relative ease after two failed basement defenses from IMT -- an ease highlighted by the fact that psk1 and ziG had zero and one kills respectively throughout the game.
Map: Bank
BD: DocKy, Drunkz, RDz, slasH, LeVy
paiN: SpawNsss, fk1, Yoona, Revo1Tz, gCR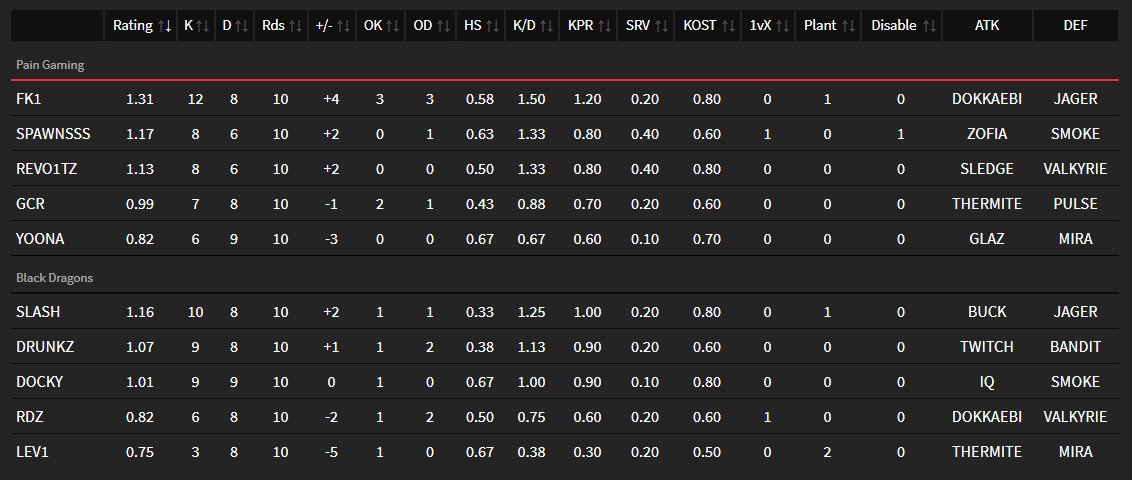 The third game of the day saw the third draw of the week, as paiN Gaming were unable to repeat their dominant performance against Team oNe this time around. Banning Echo and Lion, they came into the game with confidence, while BD excluded Maestro and Hibana.
BD got the game off to a shaky start, securing a 5 vs 2 man advantage, but almost wilting against a rampaging fk1 who managed to secure four out of five kills before being left vulnerable on the plant. Winning the next round in a frenetic defense, they were looking strong, but paiN then returned fire with 3 straight rounds of their own to take the lead going into half-time.
The first attack from BD saw an extremely slow take, culminating in absolute chaos with all ten operators still alive in the final 20s, where BD were unable to hold their own against the smoky havoc BKG had brought. The next round was almost the same, with the first kill (happening in the final 30s) heralding a flurry of more.
Some normalcy was then returned in the eighth round, as a confident roam clear from slasH saw paiN lose two members with approximately two minutes still left. A strong rally from BD saw the man count level to 2 vs 2, and then 1 vs 1, but smart post-plant play from RDz saw his side go onto match point. Pushed into a 2 vs 4, it seemed all over for paiN, but a 25hp SpawNsss pulled off a phenomenal 1 vs 3 to keep his side in the hunt for a point.
Feeling much more confident, paiN were then able to pull of a strong defence of the second floor, wasting incredible amounts of BD's time, and mopping up the kills as the clock ticked down. The two teams, thus, would split the points one apiece.
Map: Oregon
BKG: Dudds, Paluh, IntacT, Lipe, MasterKing
FaZe: mav, Astro, gohaN, cameram4n, muringa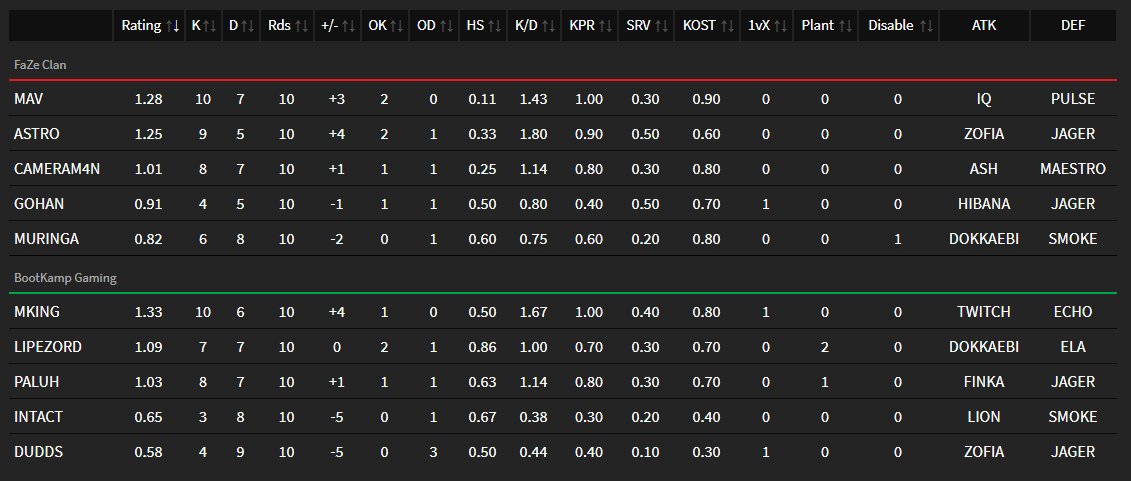 As was seen in the evening's opening game, the final game also featured a stunning upset on Oregon. This time, Dudds and MKing were the heroes as their side continued to deny FaZe Clan their first win of the season. Banning Blitz and Valkyrie, BKG had not been expected to win at all against their opponents, who had banned Glaz and Mira.
BKG raced out of the blocks with a combination of smart plays and impactful kills, with MKing winning the first round with his Yokai drone despite being in a 1 vs 4 situation, and then participating in a 3 vs 4 after Lipe had taken out the sole hard breacher in Thermite. FaZe then struck back to tie things up 2-2 with smooth, rapid-fire gunfights, but once again ran out of time on their last attack round thanks to Ela mines and the Yokai drone.
Up 3-2, BKG seized the element of surprise on the first defense round for FaZe by rushing into the basement with a Finka LMG and Lion combination, planting the defuser with just over 30 seconds elapsed. Feeling confident after successfully pulling it off, BKG tried it once more, but were shut down by the Maestro from cameram4n. FaZe would then follow that up with a 2 vs 4 post-plant clutch defense featuring mav and muringa to put scores level at 4-4.
Trading rounds in pairs, it seemed that BKG would go on to win the round as they went onto match point after attacking Rear Stage/Tower, despite having a 3 vs 5 man-count disadvantage in that round. However, their choice to rush the final round seemed to have been a poor one, after they picked no hard-breacher and were down to two members to FaZe's five with under a minute left. MKing, though, pulled off a performance on Twitch that Astro would be proud of, securing 3 of the necessary kills, with Dudds capping things off on both ends of his 3k.
---
Catch the next round of Latin American games next week on the 4th of July on the main Rainbow Six Twitch and YouTube channels from 7PM BRT. To see all the upcoming games' schedules, go to our Matches page, and check out completed games' stats by clicking on the individual games.