Image via Ubisoft
The first day of the APAC Relegations kicked off in style and a bit of controversy.
Due to the concurrent nature of the APAC North and South games, precedence was given to the APAC North opener of Sengoku Gaming vs Team Viper. That game was streamed across the Rainbow6, Rainbow6JP, and Rainbow6KR channels, while the APAC South match between The Last Dance and Monkey Hunters saw no stream at all.
Team Bliss players were publicly unhappy with the turn of events, with Todd Francis sarcastically stating that his team "didn't need VODs anyway". Team Bliss plays the winner of that matchup, The Last Dance, tomorrow.
The games themselves had unsurprising results, however, though favorites Sengoku Gaming were given a particularly difficult time by Team Viper.
Sengoku started off well on the first map of Oregon, racing to a 4-2 attacking lead thanks to a Blackbeard-led push on every round. They eventually converted that to a 7-4 win and then swept to a 4-2 defensive lead on the next map of Clubhouse.
However, Viper brought things back well, with four in a row to secure match point first. While unable to stave off overtime, an 8-7 win kept them alive -- but not for much longer. The final map of Chalet was a quick 7-3 in Sengoku's favor, with the Japanese team now set to play FAV gaming tomorrow for a place in APAC North for 2022.
Joining them to face a fearsome T1 were their compatriots on REJECT, who cleaved through RECON 7-0 on the first map of Oregon. A 5-1 lead on Coastline was then nearly thrown away, but they held on to stop RECON at 7-5 and win 2-0.
Down South, Monkey Hunters crumbled 0-2 to The Last Dance, despite having led 6-3 on Chalet. The Indonesian team put five rounds past the Indians, and then made it a total of 12 with a devastating 7-0 on the second map of Oregon.
Meanwhile, KIRA Esports tried to keep South Asian hopes alive in their match against Oceanic Nationals team ROFLCOPTER GG. The South Asians had been poor for much of the game and found themselves 3-6 down at a point. But they clawed things back to overtime and, despite conceding match point there once more, forced an 8-7 win.
ROFLCOPTER hit back with a devastating 7-2 win on Bank and kept the pressure on for the third map of Clubhouse. A 4-2 attacking half there signaled the beginning of the end for South Asia, and ROFLCOPTER kept flying high with a 7-3 win.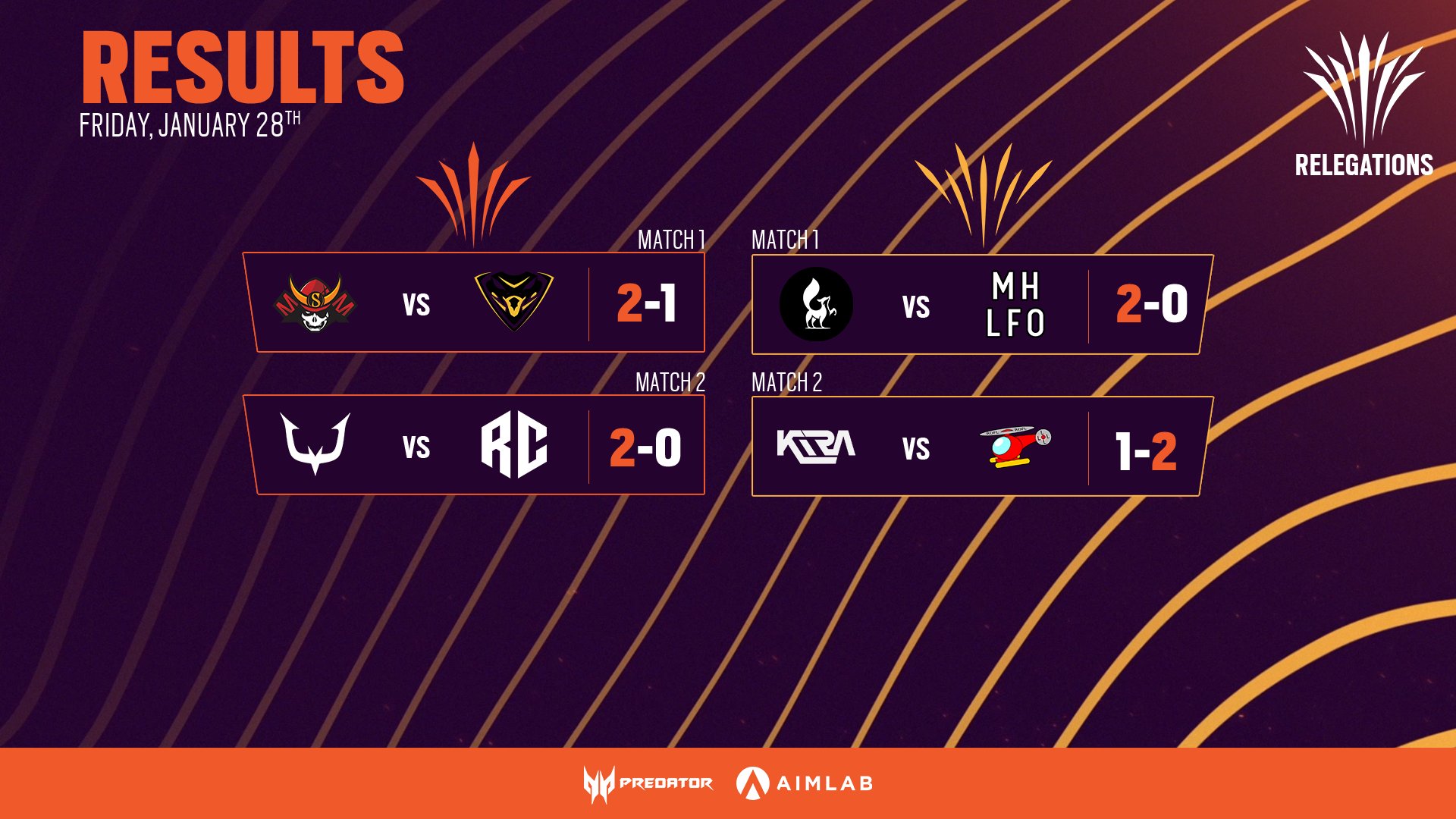 Tune in tomorrow for the penultimate days of both the APAC North and South Relegations.