According to multiple sources and internal communication documents reviewed by SiegeGG, the APAC League 2021 Relegations will be held from Jan. 28 to 30.
UPDATE 25/1/2022: In addition to the official announcement of the APAC Relegations, Ubisoft has also announced the APAC North Relegations will have three teams qualify for APAC North in 2022. This had previously been announced to be two teams, as is the case in APAC South.
As a result, the APAC North Relegations will also run until Jan. 30 instead of Jan. 29, as previously decided by Ubisoft.
SiegeGG sources stated that this decision had only been communicated shortly before the official announcement.
Jump to:
What is the format and schedule for APAC Relegations?
Both the APAC North and APAC South Relegations will run concurrently, and will be nearly-identical in timing and format.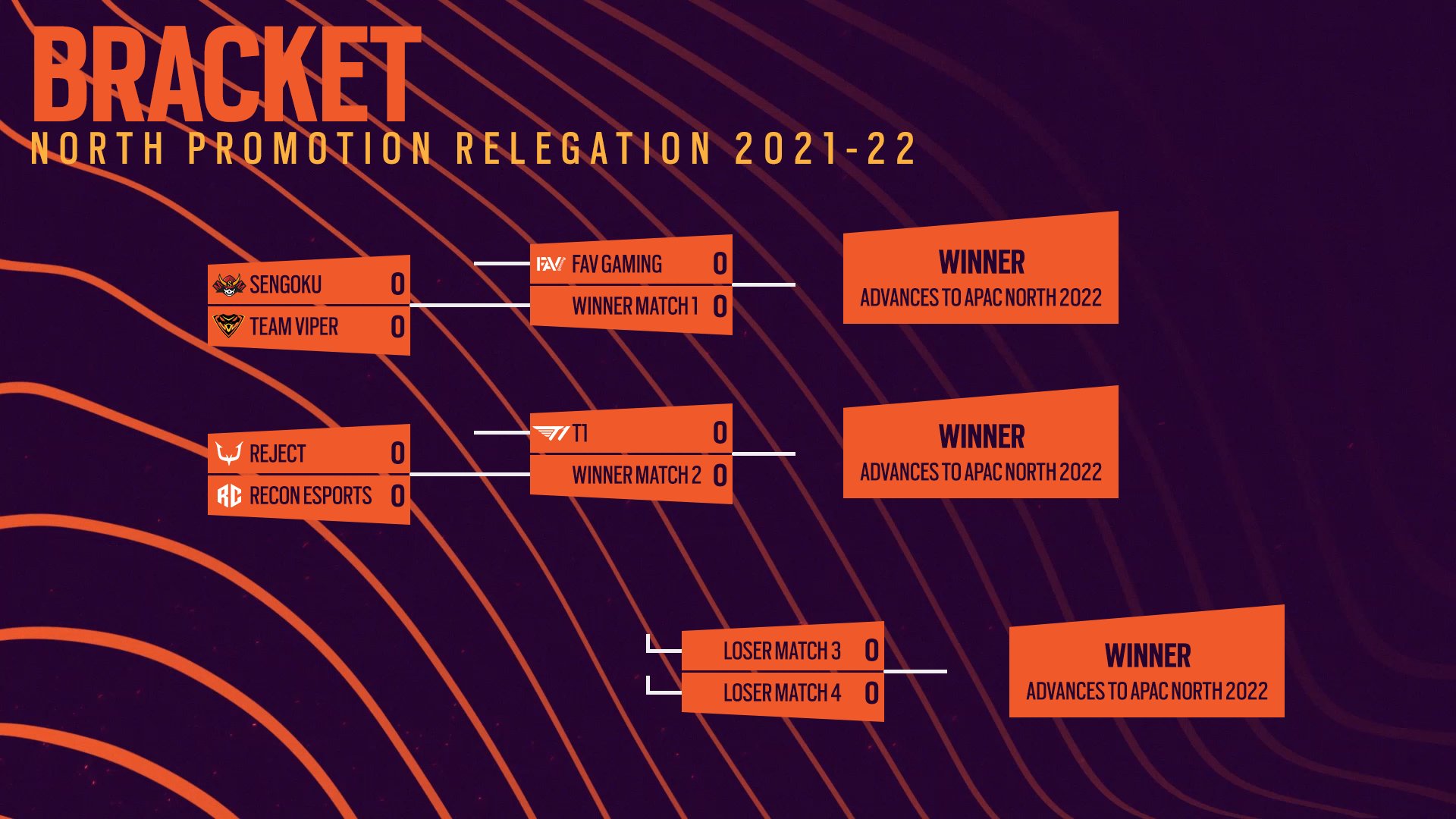 APAC North will feature five BO3 games in a staggered, single-elimination format, and will run from Jan. 28 to 30. According to multiple sources and documents examined by SiegeGG, the lack of a Losers' Match had meant that the event would end on Jan. 29 for APAC North.
Each day will begin at 3 PM JST (UTC+9), with Sengoku Gaming taking on Team Viper and then REJECT taking on RECON Esports on the first day.
The winners will then face FAV gaming and T1, respectively, on the second day to secure a place in the APAC North League for 2022. The losing teams of those two matchups will then play each other for the final APAC North spot on offer.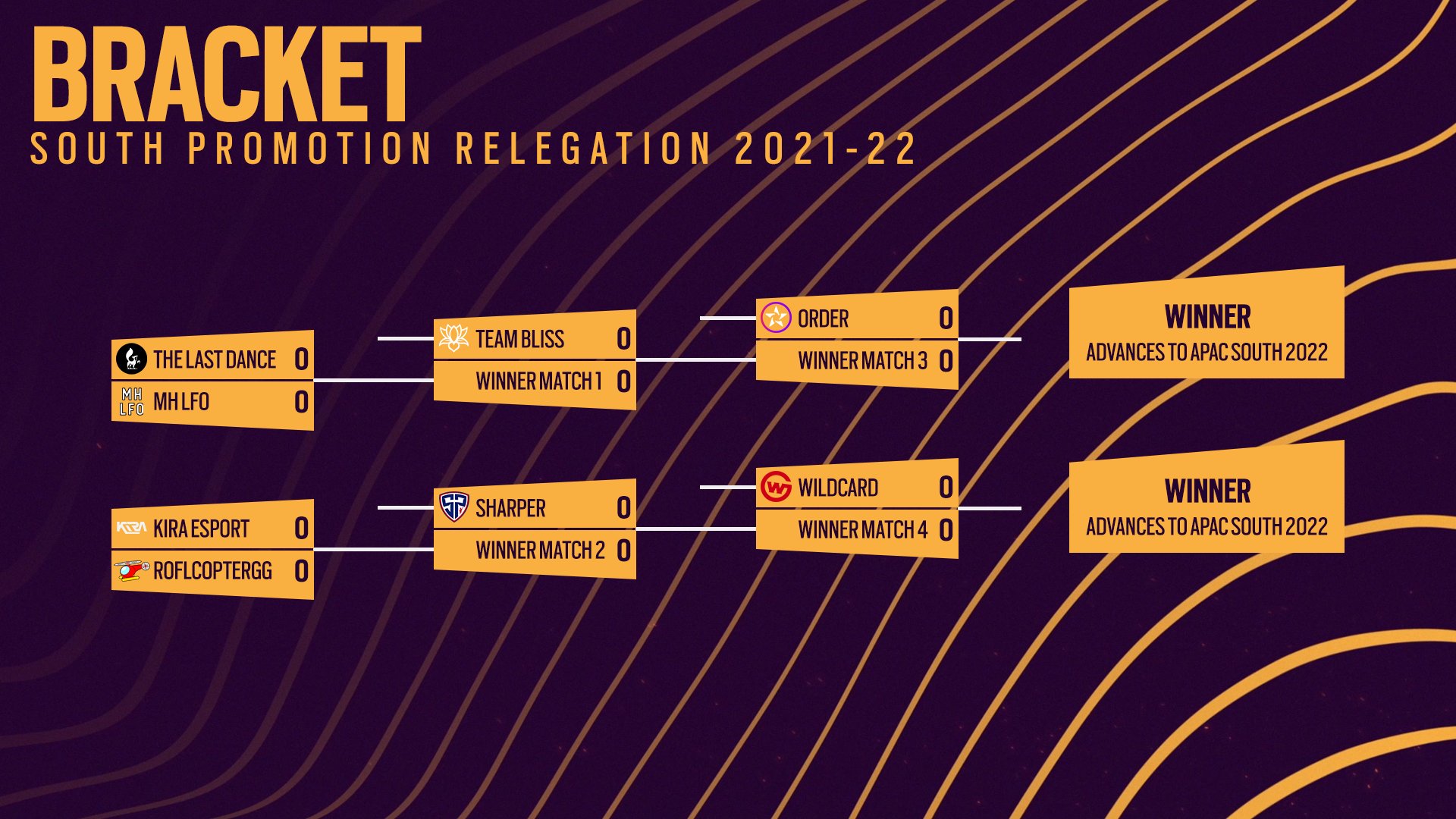 APAC South, meanwhile, will feature a total of six BO3 games instead, owing to the two additional South Asian teams involved. These games will run from Jan. 28 to 30, with two games per day, according to multiple sources with knowledge of the tournament.
Each day will also begin at 3 PM JST, with the first day featuring clashes between The Last Dance (formerly Renatus) and Monkey Hunters, and KIRA E-Sports and ROFLCOPTER GG.
Team Bliss and Sharper Esport will take on each respective winner on the second day, before the relegations will conclude on the third day with matches against ORDER and Wildcard Gaming, respectively.
Who is playing in APAC Relegations?
Fans will be familiar with the four top-flight teams involved, with FAV gaming and T1 having played in the APAC North Division and ORDER and Wildcard having played in the APAC South Division.
APAC North
T1
All four teams had poor performances throughout the 2021 season, though T1's problem seemed to be resolved by the end of the season. The Koreans managed to begin performing despite a seemingly hodgepodge Stage 3 roster featuring a player-coach-turned-caster-turned player, and a coach as a stand-in.
FAV gaming
Conversely, FAV gaming looked the weakest they ever have in Stage 3, and are viewed to be at legitimate risk of relegation being on the side of the bracket with Sengoku Gaming.
Sengoku Gaming
The challengers in APAC North come from the Japan League and Korean Open, with Sengoku having been second behind runaway leaders CYCLOPS athlete gaming in the former. Their strong performances and bracket position have led some to tip them for APAC North qualification.
REJECT
REJECT, while coming from the strong Japan League field, are viewed as slightly weaker. They only managed a fifth-place finish in that tournament, and were left in the top ten in the Japan Championship after losing to CAG.
RECON Esports
The Korean teams are seemingly weaker, despite a display of incredible form by both DWG KIA and SANDBOX Gaming at the Mexico and Sweden Majors. However, RECON were top six in all of the three Korean Open 2021 splits, only losing out to a non-APAC North team once.
Team Viper
Team Viper, on the other hand, only participated in two Korean Open 2021 splits, and were joint-last in both.
APAC South
ORDER
The recently-rebranded ORDER were also lowly-ranked in Stage 3, but were in fact just three points away from first in a tightly packed APAC South field.
Wildcard Gaming
Wildcard Gaming were similarly only four points behind first in APAC South, but had to fight off challenges from Big Dogz and Overt in the Oceanic Nationals 2021 Relegations as well.
Team Bliss
Featuring the Oceanic Nationals rookie of the year, Jack "Jigsaw" Gillies, and former Athletico Esports player Todd Francis, Team Bliss have been in hot form and are tipped by some to make their mark on APAC South in 2022.
ROFLCOPTER GG
Joining Team Bliss from Oceania are ROFLCOPTER GG, who were just a step behind Bliss in the Oceanic Nationals with third, fifth, and sixth place finishes in each stage.
The Last Dance
Formerly known as Renatus, The Last Dance feature two ex-SEA Pro League players in their roster. However, qualification through a weak Operation League and SEA Championship field has muddied their true skill level.
Sharper Esport
Featuring former Qconfirm players Prin "Roldinii" Boonnart and Pakkapon "Pxkie" Pongyeetho, Sharper Esport are dark horses in this tournament, hailing from the unpredictable Operation League Thailand.
KIRA E-Sports
KIRA E-Sports join the fray by virtue of their 115 SI Points, obtained after an 8-7 win over CAG in the Stage 1 APAC Playoffs. The roster has, however, seen two players swapped out since.
Monkey Hunters
The former Union Gaming roster became the final South Asian team to join the APAC South Relegations after winning a 2-1 tiebreaker over MercenarieZ. Both teams had 0 SI Points in 2021, and thus had to play the tiebreaker match.
How do I watch APAC Relegations?
Due to the overlapping schedules, it is likely that both the Rainbow6 and Rainbow6Bravo Twitch channels are utilised for the APAC League 2021 Relegations. The matches will also likely be broadcast on YouTube. Internal communications reviewed by SiegeGG did not specify broadcast channels for the event.
In addition, the regional APAC Twitch and YouTube channels are almost certainly going to be broadcasting as well.
Catch both sub-regional tournaments in action next week, from Jan. 28 to 30, starting at 3 PM JST (UTC+9) daily.