The $40,000 Ubisoft-partnered Middle East and North Africa (MENA) league last month came to an end with a thrilling finale as following victories in almost everything of note over the last year, the Osh-Tekk lineup was felled at the last moment by 01 Esports.
Here's a rundown of the tournament leading to this grand-final:
Jump to:
The Teams
Coming into this tournament was four Saudi, three Kuwaiti, and one Iraqi majority team with more than 10 nations represented in total:
Osh-Tekk Warriors -- x.Ke, oMadLegend, hashom, oF4LCoN, Tr1ixd, and Zoldyck (coach)
TheUltimates -- Eaglex99, Okillz, A_Joker_619, ameR, LoneSoldier and Unseen (coach)
Sudor Esports -- Valantino, IFKtoRx, mL77A, SkyGuardian, LiQuiD.Steel, SAxTurki, GoldenPickl3 and Negan (coach)
01 Esports -- alz3eem, MSSS, p9, q6z, jladd, and Munrix (coach)
TheTorVA -- Mshklny, Guardz, Mantcal, BoHawad, Dov2hkiin, and fancypixel (coach)
ANKAA Esports -- TOOMI, ii3z, Joseph_alr, MZN, and Ibr4hiM
Bo team -- Faares, Demlord, Mhrg, Frag1, and MbySaleh
Kamikaze -- SexyDvL, Ramotov, W1nGs, Ken-Pasha, and Dr4ma-x
Coming into the tournament, Osh-Tekk and Sudor were the standout favourites to take the title with the latter team being the ex-NASR lineup while Osh-Tekk won the 2020 title among many others.
Last year's runners up of TheUltimates meanwhile enters with two new players from Sudor but has kept the same core roster.
Finally 01, Kamikaze, Bo, and ANKAA were all fresh core lineups which include 16 new players to the league between them.
Groups Stage
From the start, this was Osh-Tekk's tournament with them taking down Sudor 7-3 in the opening week followed by 01 7-1 and TheUltimates 7-5 in the following weekend.
By the end of the groups Osh-Tekk had earned all 21 points with seven regulation time victories. As well as TheUltimates, TheTorVA also managed to get a close 5-7 scoreline out of them while Bo was the lone team to fall in a straight 7-0.
Below Osh-Tekk it was a much tighter competition. Sudor Esports vs TheUltimates was also a close game as two of the favourites ended 7-5 on Oregon to Sudor thanks purely to a 1v1 3k, a 1v3 4k, and a 1v5 ace all from LiqQuiD.Steel.
This result from Sudor was the difference to put them ahead of The TheUltimates by two points while ahead of both of them in second place was 01 Esports.
01's 3-2-1-1 record saw them lose just two games against Osh-Tekk and TheTorVA, the latter of which was a 6-8 in one of TheTorVA's lone two wins all season. Against their main competitors, 01 beat both Sudor and TheUltimates in 8-6, 7-4 scorelines while the only other team to take points from them was another 8-6 against fifth-placed ANKAA Esports.
Playoffs
These group stage results meant all four Saudi Arabian teams made it to the playoffs setting up the semi-finals of Osh-Tekk vs TheUltimates and 01 vs Sudor.
Starting with the Osh-Tekk game, TheUltimates did take them very far on their opponent's map pick of Chalet as three clutches including two 1v2s from A_joker_619 helped push the game to overtime. Here Ultimate's Jon got the opening kill in both rounds which they couldn't capitalise on as Osh-Tekk ended it 8-6.
This result did likely give the team hope for a win on their own map pick of Kafe, however, which didn't go to plan as a straight 0-7 defeat sent them to the third-place playoff while Osh-Tekk reached another grand-final.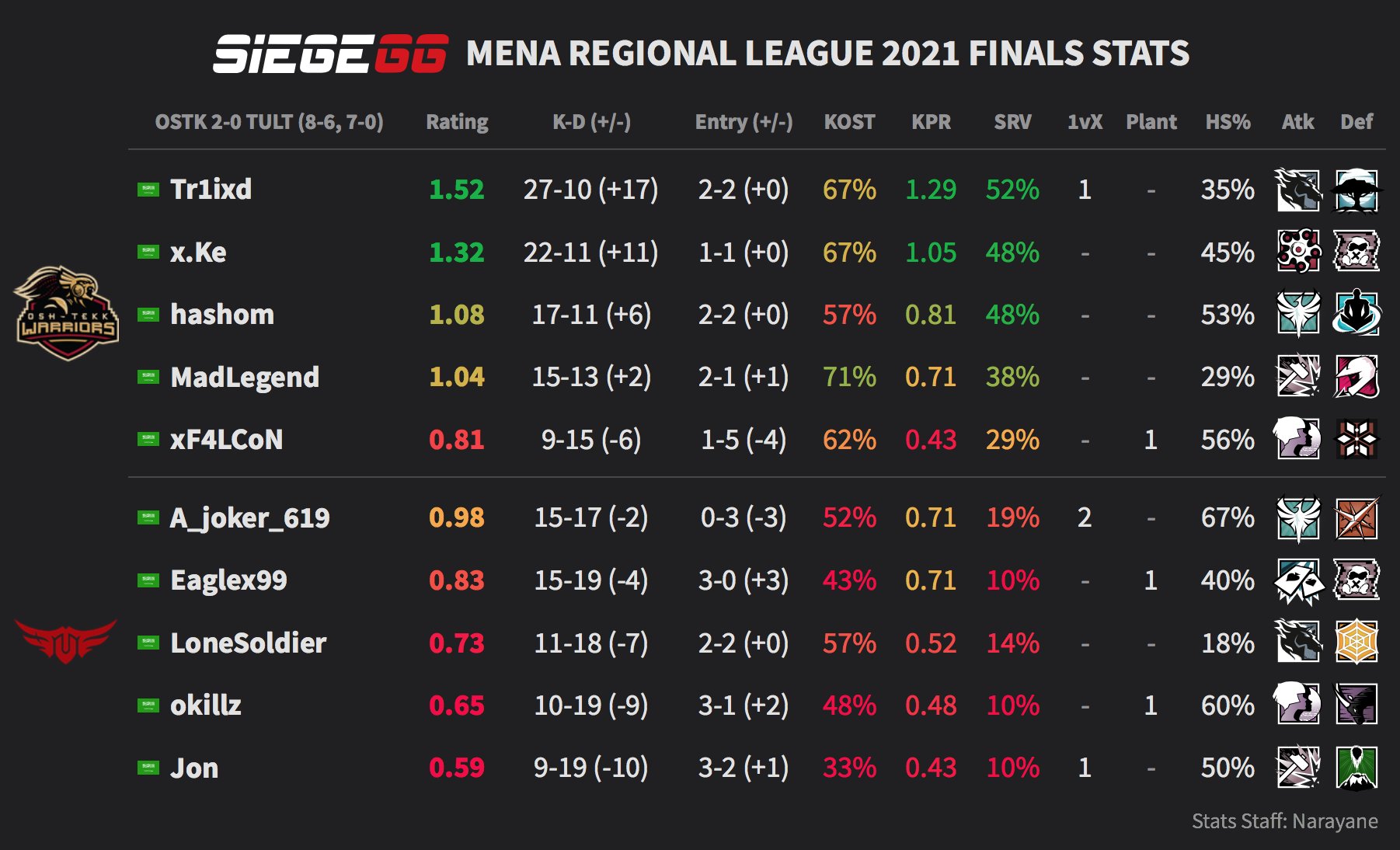 The second semi-final was much less of a competition as across both Oregon and Villa 01 had Sudor's number. The 7-2 scoreline on Oregon saw Nekool secure a 1v1 and LiQuiD.Steel secure a 1v4 as Sudor's lone two round wins while the 7-3 on Villa saw yet another clutch round win from Sudor.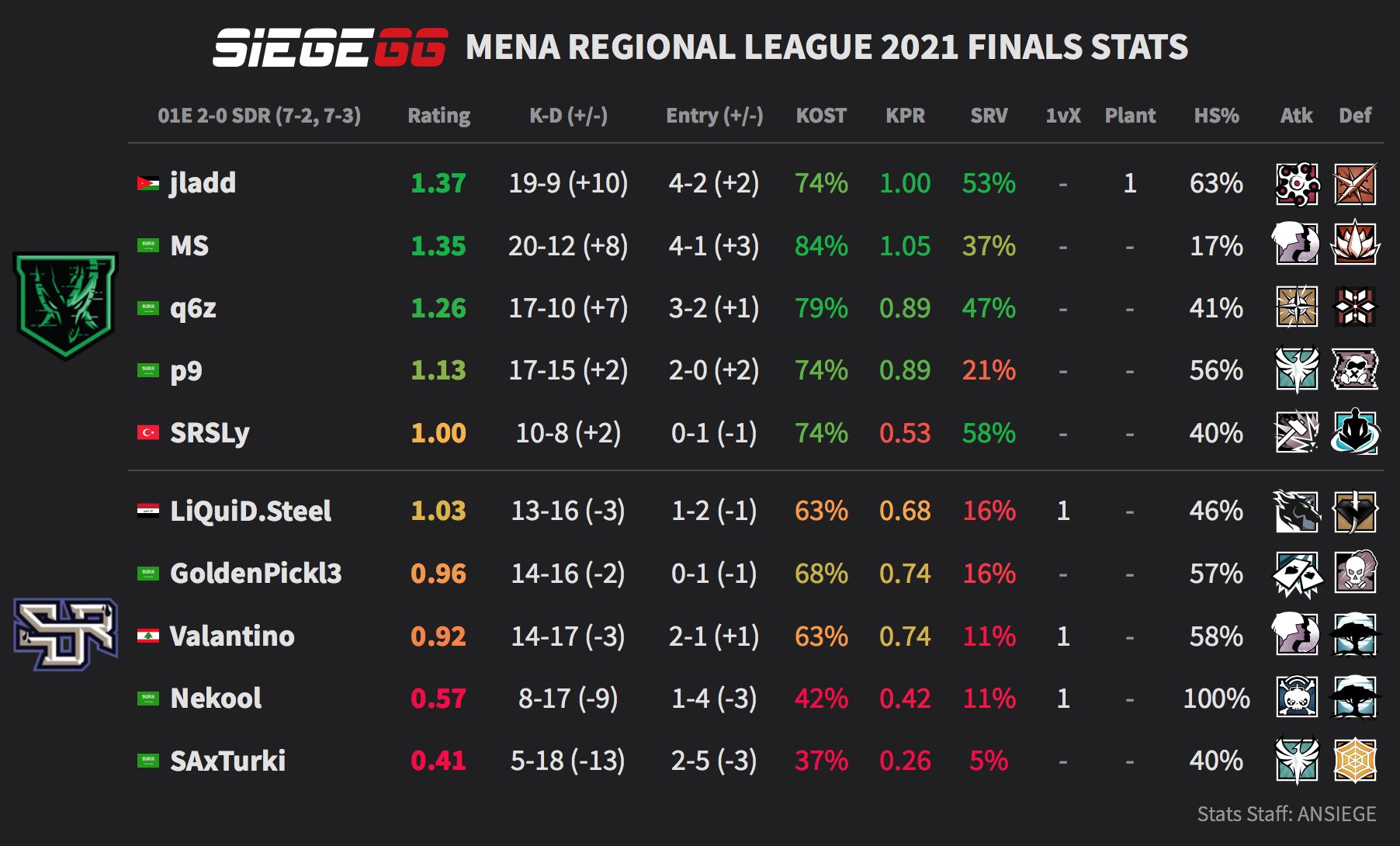 In the third-place playoff meanwhile, TheUltimates and Sudor who had both just lost 0-2 in their semi-finals, put up a hell of a game as the scoreline ended 2-7, 8-7, 8-7 to TheUltimates as Sudor lost third place by a hair despite arguably having better stats.
Grand-Final
And so this left the grand-final between 01 Esports and Osh-Tekk Warriors which previously ended 7-1 to Osh-Tekk on Kafe in the league stage. Kafe was obviously 01's map ban while Bank was banned from Osh-Tekk leaving the best-of-five to start on Club House.
While this game started close, 01 definitely had trouble attacking as after a 3-3 defensive half a 1v2 4k clutch from MS on Iana was the only round they could get on the board leading to a 7-4 win by Osh-Tekk on their primary map pick.
01's first pick next had them attacking on Villa to start. Despite this usually being against their favour, 01 managed to eke out a 3-3 half before it was Osh-Tekk's turn to fall flat on the attack leading to another 7-4 result to tie up the series.
Chalet was less clear cut as multiple clutches sent the game all the way to overtime and to round 15. After Osh-Tekk got an untraded opening kill. 01's p9 on Zofia managed to equal out Osh-Tekk's two first kills to a 3-3 situation. Osh-Tekk got one more kill before jladd secured a double kill and p9 ended the map by finishing off his triple kill.
With that key map win, 01 Esports were both on series point and went onto their own map pick, Oregon. After such a close game, this was somewhat of a letdown as, while it did take two round clutches, 01 took the game in a straight 7-2 scoreline to take the series 7-2.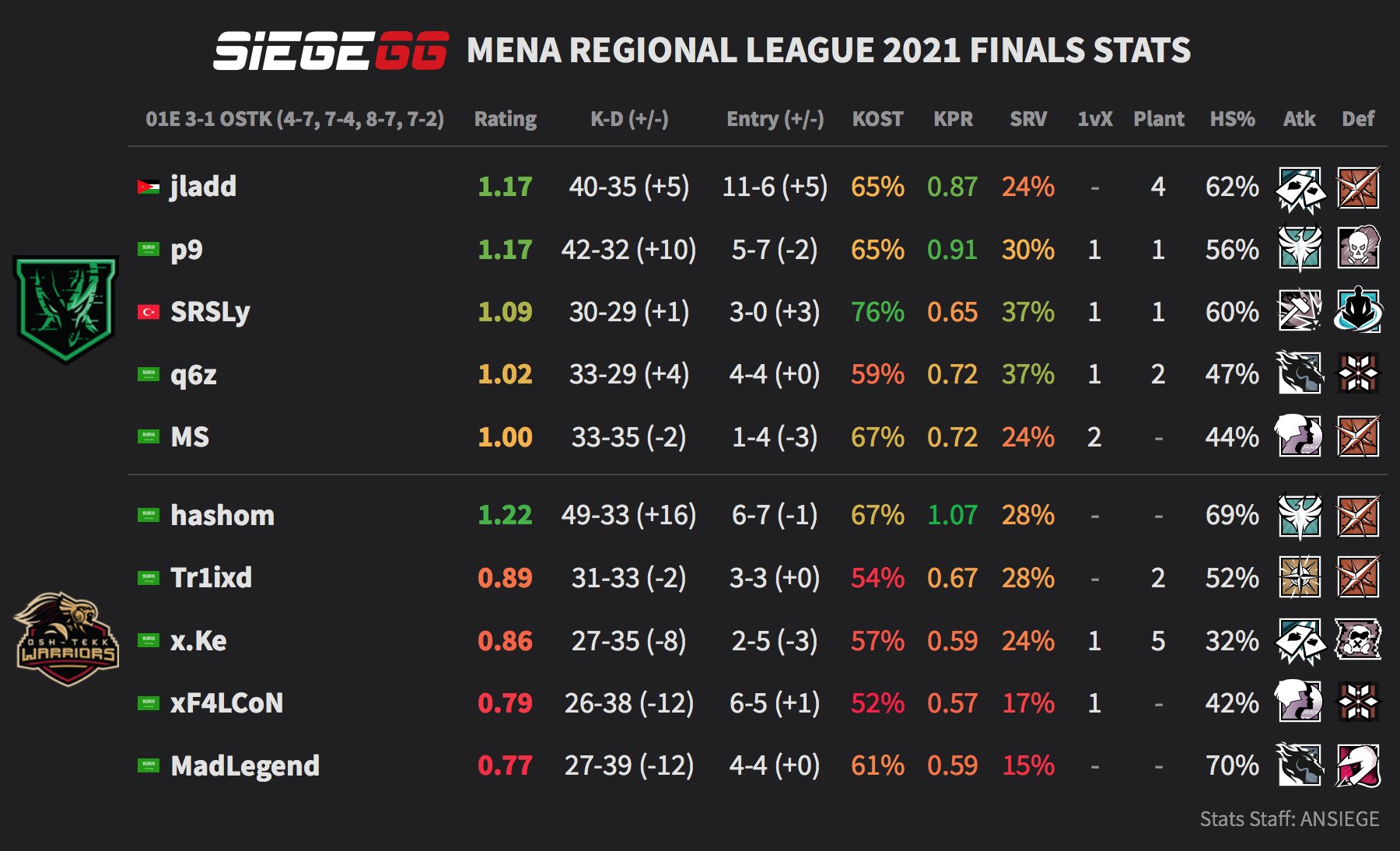 With this 01 are crowned the official regional champions, a major achievement considering most of the players didn't even compete in the tournament last year.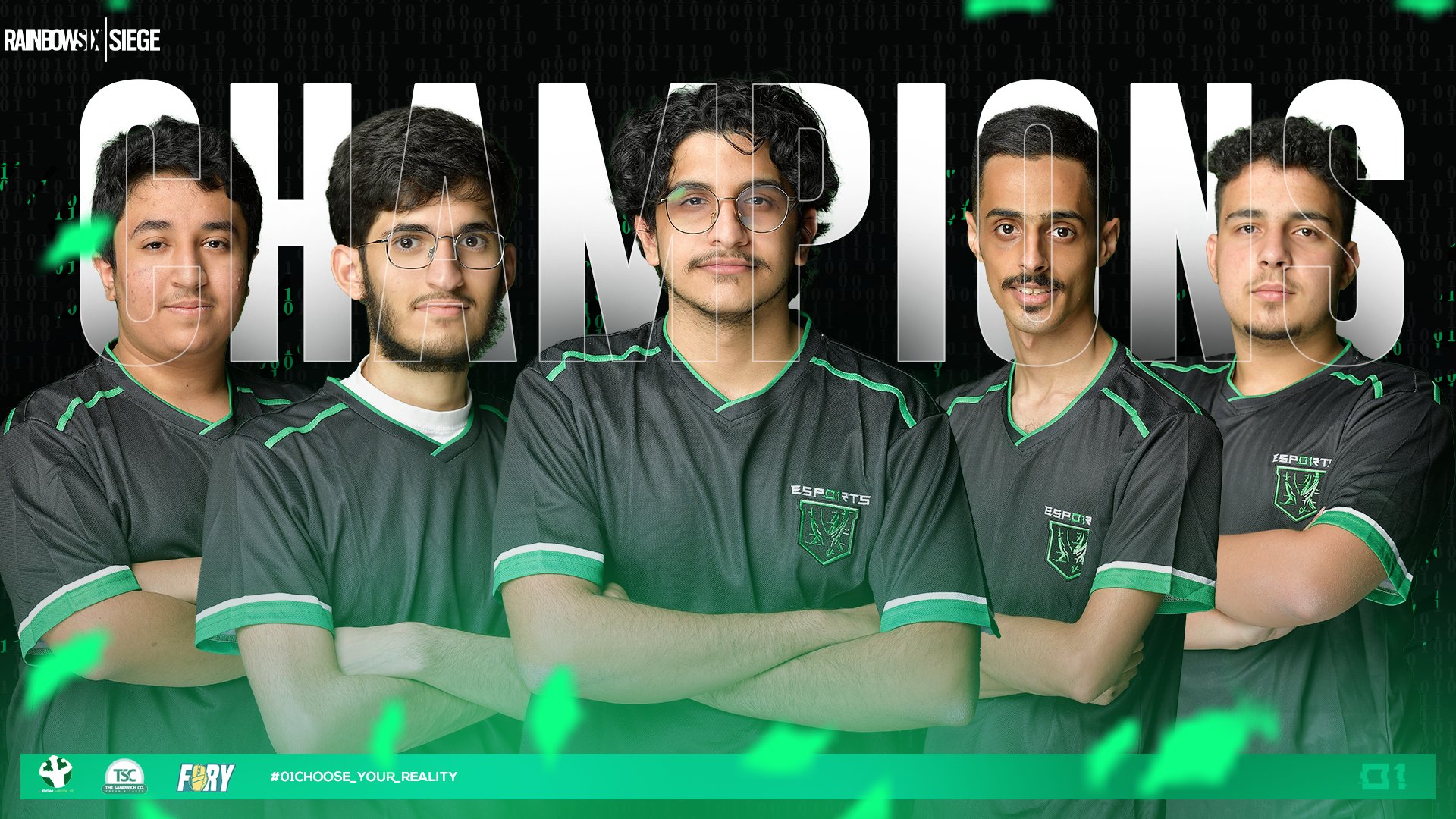 Saudi eLeagues
Just six days prior to this defeat, the Osh-Tekk Warriors also fell in the Saudi eLeague 2021 grand-finals. This $21k LAN tournament saw TheUltimates -- the team which Osh-Tekk beat 2-0 in the MENA League semi-finals -- take the title with a 2-0 win of their own.
With Osh-Tekk previously having won the Gamers Without Borders tournament against Empire and Vp.,the 2020 and both Stages of the 2021 Saudi eLeague tournaments, last year's MENA Regional League and was flawless through the group stage of the 2021 MENA Regionals, they very clearly were the team to beat here.
Now with two grand-final defeats in the space of a week against different teams it looks like the competition is heating up in Saudi Arabia.