Eight teams kicked off their campaign to become the MENA regional champions last weekend as the second season began. Read our league preview article to get up to speed with the teams and schedule and read below for a rundown on the first week of play.
Jump to:
Day One
The opening day saw two stomps from the two favorites with Osh-Tekk taking down down Bo team 7-0 and The Ultimates defeating Kamikaze 7-1.
The Osh-Tekk Warriors game saw all five players achieve a high SiegeGG Rating with MadLegend peaking with a 9-1 kill-death spread while x.Ke finished at 7-1. On the flipside, Bo's Frag1 ended with a 0.05 SiegeGG Rating — with a single one of his deaths being traded being the difference from a flat zero rating.
The 7-1 result was a lot less one-sided with four out of seven of Ultimates' round wins coming from clutches — a 1v1 and 1v2 from LoneSoldier, a 1v2 4k from JON, and a 1v2 from Eaglex99. The game eventually ended on the back of an ace from JON on round eight.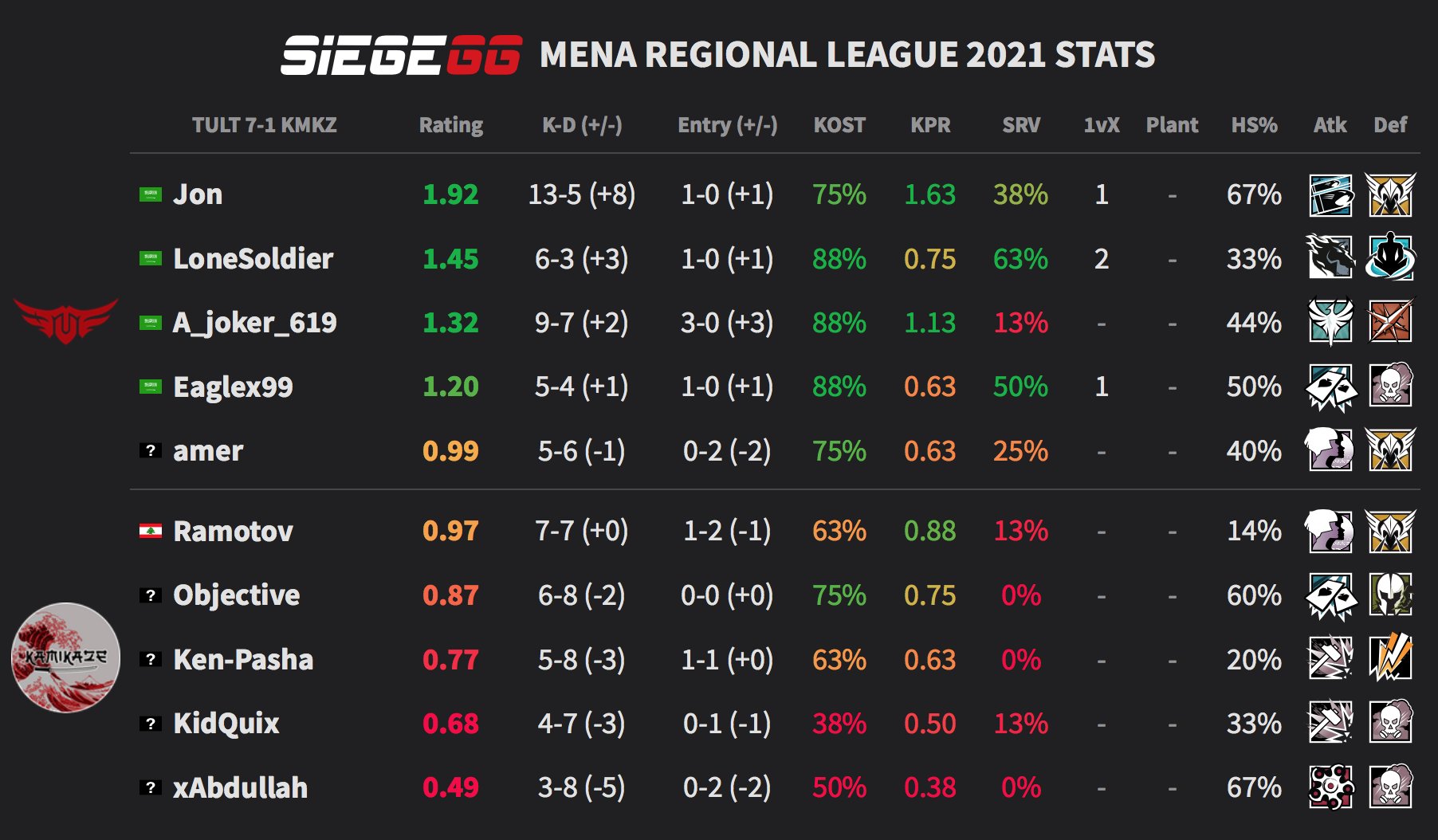 TheTorVA vs 01 Esports match was a completely different story, going all the way to overtime. An ace from Mantcal and a 1v1 from Guardz on TheTorVA was responded to in the second half with a 1v3 from SRSLy and a 1v1 from p9 to take the game to overtime. Here a fourth clutch from Dov2kkiin ended the game at 8-6 to TheTorVA.
Finally, ANKAA Esports vs Sudor Esports ended 7-4 to the Kuwaiti team of ANKAA as they managed to win three attack rounds on Villa. The game saw Joseph hit a 1.35 Rating for ANKAA while GoldenPickl3 led Sudor with a 1.26 Rating.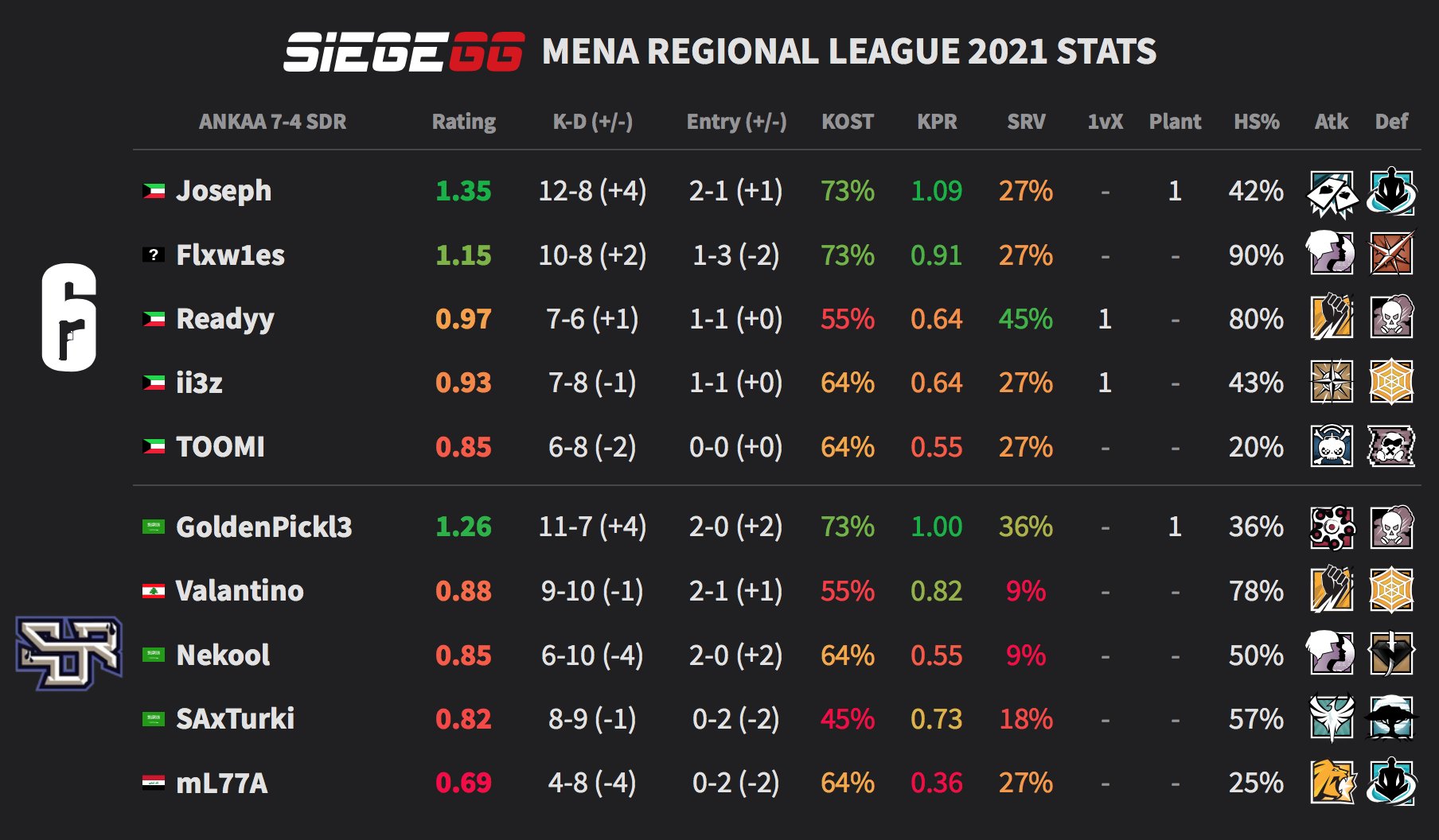 Day Two
After this win from ANKAA, the following saw teh squad fall 2-7 against The Ultimates. While FLAWLES managed to get the game's highest KPR at 1.33, he was the only well-performing player on ANKAA. Meanwhile, everyone on The Ultimates had a positive kill-death spread.
Similarly, Osh-Tekk got another strong win also taking down Sudor 7-3 meaning both The Ultimates and Osk-Tekk ended week one with six points and a +11 round difference putting them in joint-first place.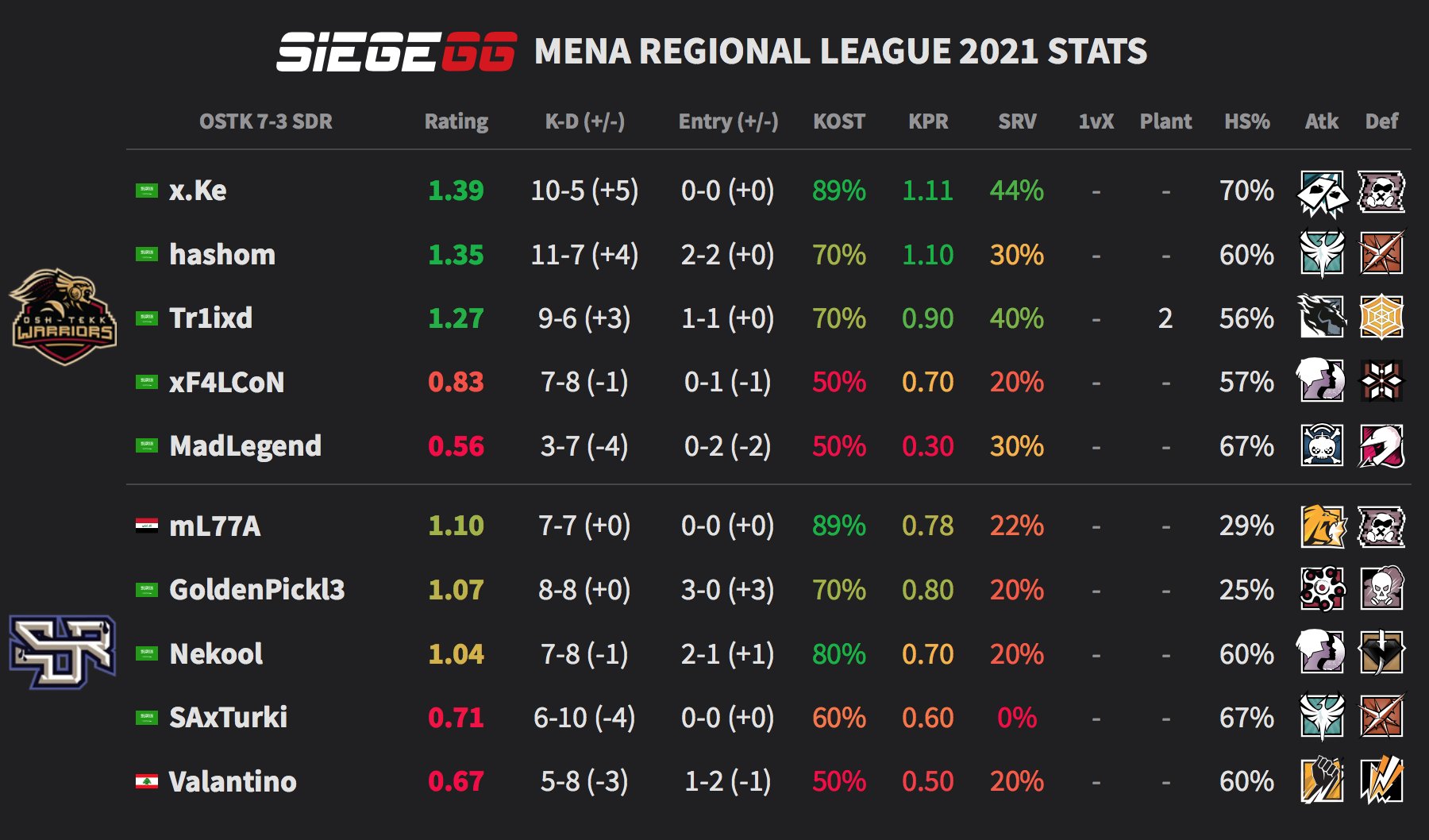 After their disappointing loss the day prior against TheTorVA, 01 Esports beat Bo team 7-2 on Saturday. Finally, TheTorVA won their second game, 7-5 over Kamikaze.
These results ultimately mean that as well as two teams tied for first, there's also three teams with zero points. In the middle, TheTorVA, 01, and ANKAA sit on five, four, and three points respectively.
This Week's Games
Play days three to five will take place this week from Thursday to Saturday. The times below are in Arabian Standard Time (GMT+3):
Thursday, November 18th:
17:00 AST -- Osh-Tekk vs 01 Esports
18:15 AST -- Sudor vs Ultimates
19:30 AST -- Bo vs Kamikaze
20:45 AST -- ANKAA vs TheTorVA
Friday, November 19th:
17:00 AST -- 01 Esports vs Kamikaze
18:15 AST -- Osh-Tekk vs Ultimates
19:30 AST -- Sudor vs TheTorVA
20:45 AST -- Bo vs ANKAA
Saturday, November 20th:
17:00 AST -- Osh-Tekk vs Kamikaze
18:15 AST -- Ultimates vs TheTorVA
19:30 AST -- 01 Esports vs ANKAA
20:45 AST -- Sudor vs Bo