Playdays 10 and 11 in the sixth PG National season took place on Tuesday and Wednesday, as all eight teams competed across 8 BO1 matches. Check out our pre-season guide on the teams, schedule, and format for a full roundup on what's going on this season.
Jump to:
Mkers falls once again
After losing 2-7 to Hmble the week prior, Mkers lost again to the Swedish Nubbles lineup this week.
This result on Chalet initially was going well for both teams as they tied the first half 3-3 thanks to a last-second 1v1 clutch from Lollo. However, as Mkers went onto the attack, they took their first lead of the game at 5-4 only to then lose three rounds running, which included a quadruple kill from the Jager of VITO on round 10, a 1v2 quadruple kill from JTc on round 11 and then a triple kill from REDGROOVE on round 12.
Overall, this game was really carried by VITO and JTc, who each secured more than three times the kills of their next closest teammates while on Mkers' even Lollo's 15-8 kill-death performance couldn't salvage the game.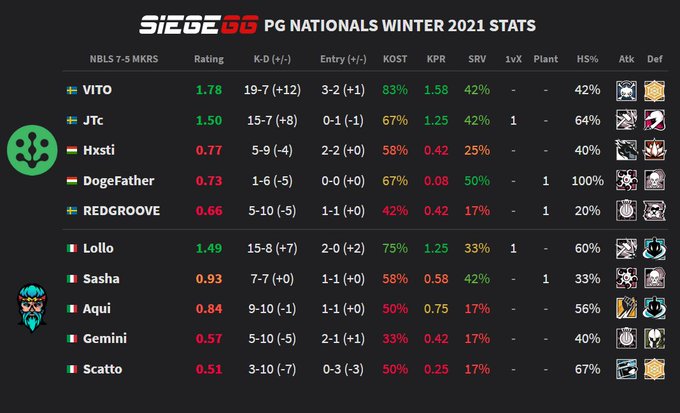 However, the day prior, Mkers did manage to take down another Challenger League-qualified roster in Totem Esports in what was a preview of their EUCL Playoff meeting this coming Friday.
Here on Villa, Mkers took an initial 5-1 lead on the defensive side as their Kapkan-main of Aqui secured eight kills across the opening three rounds. Mkers then quickly pushed onto match point before back-to-back 1v1s between DjuZ and Gemini saw each player take a victory each, giving the match to Mkers, 7-3.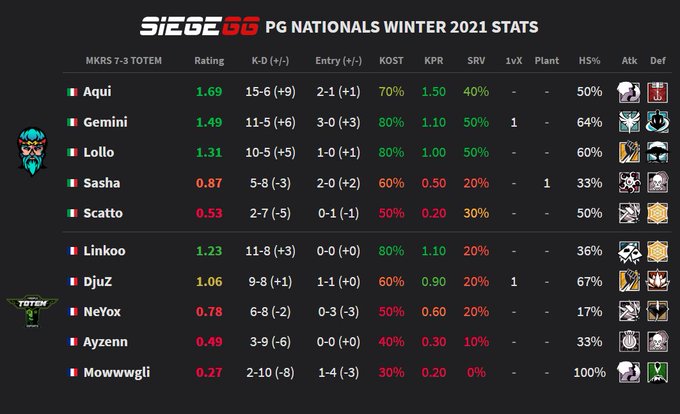 Despite this loss, Mkers remains in first place with games against the third, fourth, and eighth-placed rosters left to go this season. Just three points behind them sit Totem and MACKO, with the latter team holding the head-to-head over them, meaning they could lose their top position quickly if they suffer another surprise defeat.
Totem & MACKO remain tied after head-to-head
The battle for second place reached a crucial game this week as the two contenders of Totem and MACKO met on Wednesday. With their first meeting having ended at 8-6 to Totem, MACKO had to not just win this game but do so by a greater amount to hold the head-to-head.
Meeting in Oregon, MACKO's initial 4-2 lead was immediately lost as they went onto the defence and conceded two rounds running on the back of impressive plays from Totem's Ash player of DjuZ.
A 1v1 post-plant clutch from Sloppy on Jager was responded to with a 1v1 from Linkoo on Hibana as Totem came back to take round 12 with a very quick Dorms/Kids attack.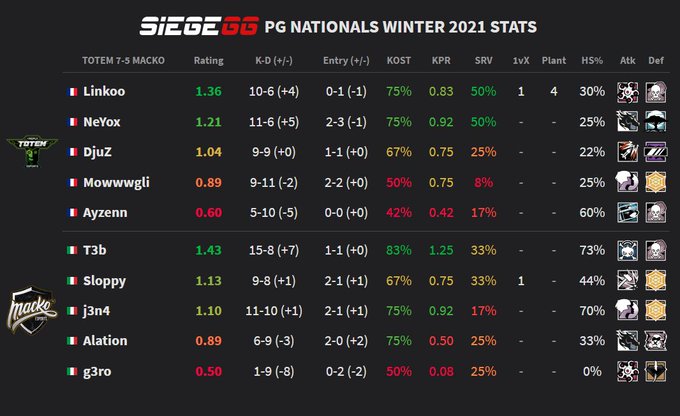 MACKO didn't leave last week empty-handed, as the day prior they faced Hmble on Oregon also. Here MACKO secured a worse offensive half than against Totem as they tied the game at 3-3 due to a 1v3 victory from wuK on round six.
MACKO looked much better on their defence this time as Hmble was consistently way too slow to start their execution, leading to a 7-4 result.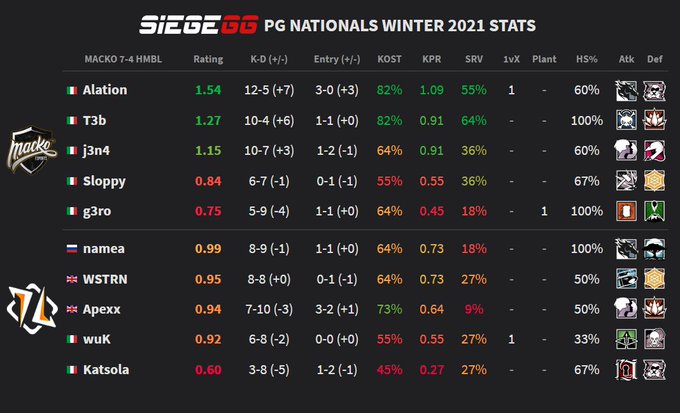 These results mean that MACKO and Totem gained just three points last week, hence they remained tied on points in the league table. Totem's two head-to-head victories, therefore, keep them in second place.
Next week both MACKO and Totem face the bottom two teams in the league; Axolotl and Outplayed. MACKO also faces the league leaders of Mkers while Totem plays sixth-placed Nubbles.
On paper, this gives Totem the easiest week of any team this season which is an excellent chance to put some distance between themselves and MACKO and maybe even overtake Mkers.
Axolotl guaranteed relegations with two more losses
Axolotl continued their season this week with two more weak showings against mid-table rosters.
Firstly, they played sixth-placed Italian Gaming Project on Kafe, which saw CHILE step up briefly to keep the two teams tied at 2-2. IGP then won five out of the next six rounds without any flashy plays or clutches to end the map at 7-3.
Considering both of these teams came up from the pre-season relegation tournament, IGP has definitely made the most out of this season, with this result suddenly making them a strong contender for the playoffs as they now sit just two points shy of Totem and MACKO.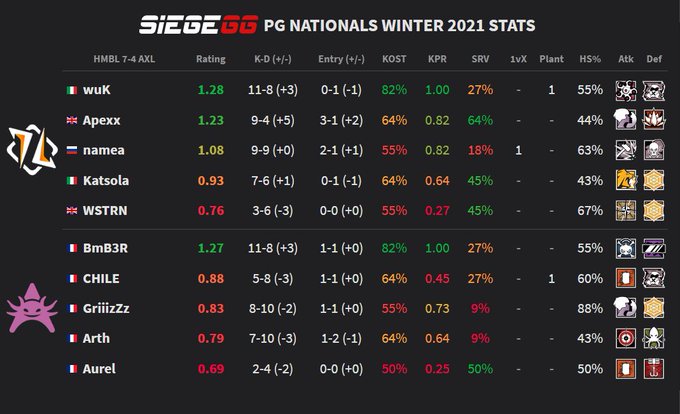 Axolotl's second game was against Hmble, who was fresh off a defeat against MACKO discussed earlier.
Here in Chalet Axolotl put up a good fight to begin with, only to then completely collapse on the attack. The one round they won was due to a triple kill from BmB3R, while namea then ended the game with a 1v2 clutch the following round.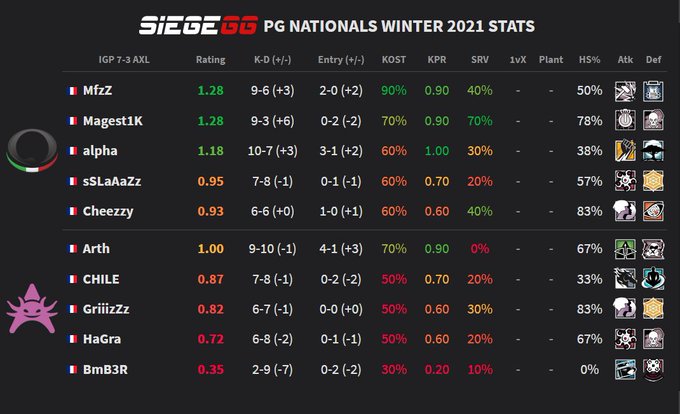 These results now put Axolotl in last place with just six points. They sit seven points shy of Outplayed in seventh and 10 points away from Nubbles in sixth with just nine points left to play for hence they are guaranteed a bottom-two relegation spot.
These results also had a crucial impact in the mid-table battle for fourth as these two wins over Axolotl has put IGP and Hmble in fourth and fifth respectively going into the final week of play.
Top Players
This week's two best individual performances came from a season-topping 2.16 SiegeGG Rating from Outplayed's Oscr against Nubbles, while Nubbles' VITO hit a 1.78 Rating in their victory against Mkers.
With SiegeGG Ratings of 1.31 and 1.49, Mkers' Lollo had the best performance across both games. Meanwhile, his teammate of Aqui remains top of the season leaderboard with a 1.19 Rating compared to MACKO's j3n4 at 1.14 and Oscr at 1.10.
Finally, the best individual play of the week was awarded to Aqui, who secured the following quadruple kill against Totem:
This Week's Games
This week will see three play days on Tuesday, Wednesday, and Thursday as the second half of the double round-robin league comes to a close:
Tuesday, October 26th:
18:00 CEST -- Nubbles vs IGP
19:15 CEST -- OP vs Hmble
20:30 CEST -- Axolotl vs Totem
21:45 CEST -- MACKO vs Mkers
Wednesday, October 27th:
18:00 CEST -- MACKO vs Axlotl
19:15 CEST -- Hmble vs Nubbles
20:30 CEST -- Totem vs OP
21:45 CEST -- Mkers vs IGP
Thursday, October 28th:
18:00 CEST -- IGP vs Hmble
19:15 CEST -- Mkers vs Axlotl
20:30 CEST -- MACKO vs OP
21:45 CEST -- Totem vs Nubbles