After four months of matches, the third 6 French League season will end this weekend, as a single-elimination final will crown the French national champion. For full details on who's playing, when to tune in and more, here's a quick rundown on everything you need to know.
Jump to:
The Games So Far
After a month and a half-long league stage, the three top teams -- Vitality, BDS, and Heroic -- progressed straight to the Finals, while the remaining five teams played in a gauntlet-style knockout bracket to determine the fourth team to join them there.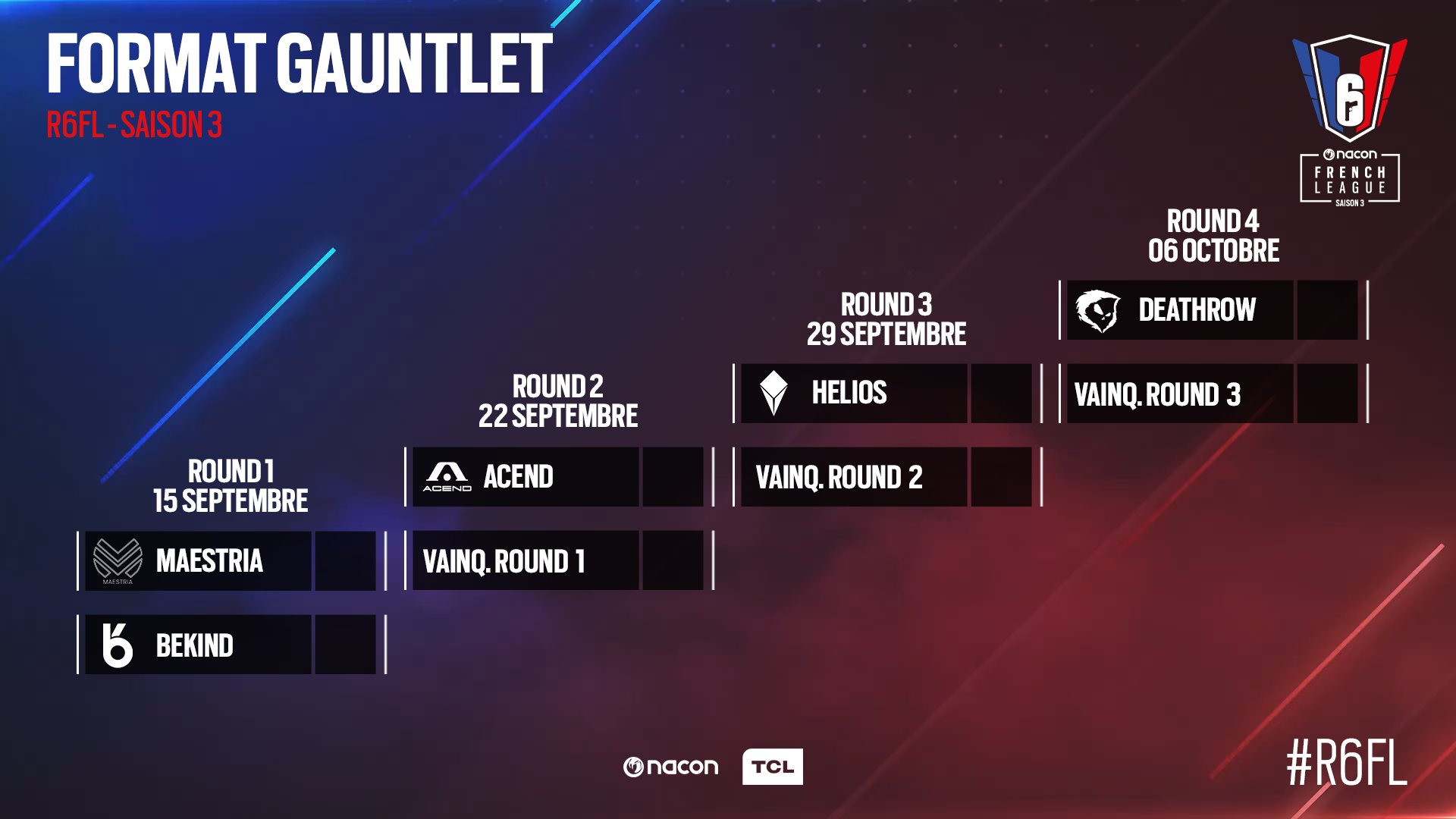 Starting with BeKind vs Maestria, these two teams failed to beat any other team in the 6 French League tournament, so this was less of a fight to reach the Finals and more about avoiding the auto-relegation spot down to the 6 French Challengers tournament.
While Maestria beat BeKind in their first matchup 7-3 on Oregon, that was while BeKind was playing with their substitute and coach playing. When they were able to play with their full lineup instead, they took the game in a 2-1 (3-7, 7-5, 7-4) scoreline.
As somewhat expected, BeKind then lost in a straight 0-2 (1-7, 2-7) against Acend, where Jean "RevaN" Prudenti secured a 1.54 SiegeGG Rating to push forward to round three.
This round saw Helios enter the playoffs after a mixed national season. The team has since excelled during the EUCL as one of the tournament's standout teams. At this point, however, they hadn't played the EUCL group stage yet, and struggled to put up too much of a fight against Acend.
Both Bank and Oregon ended 7-5 to Acend, as map one saw Helios go up 5-3, only to lose four defensive rounds running, while map two saw them win the first half 4-2, but then fail to lock down their attacks.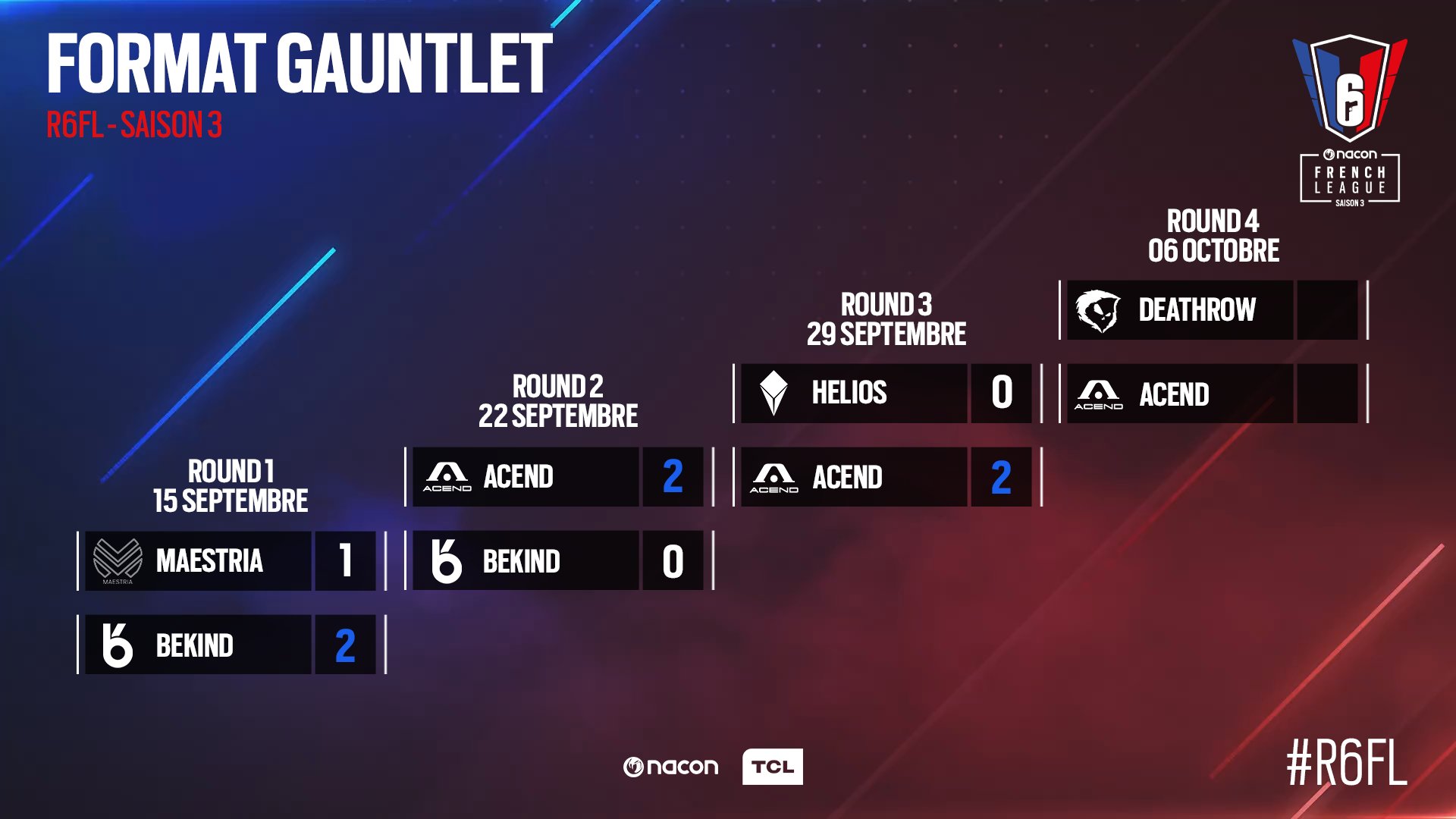 Finally, we then had Acend vs DeathroW for the 6FL Finals spot. With these two teams also in the same EUCL group, they likely didn't want to give too much away, and despite having two wins already under their belt, Acend couldn't add to their win streak and fell 2-0.
Here, the duo of Hugo "Ra1kos" Kneip and Bilal "FuZiion" Touaf both secured 1.28 Ratings, which made up for some lacklustre performances elsewhere on the team, while no one on Acend was able to excel during this game.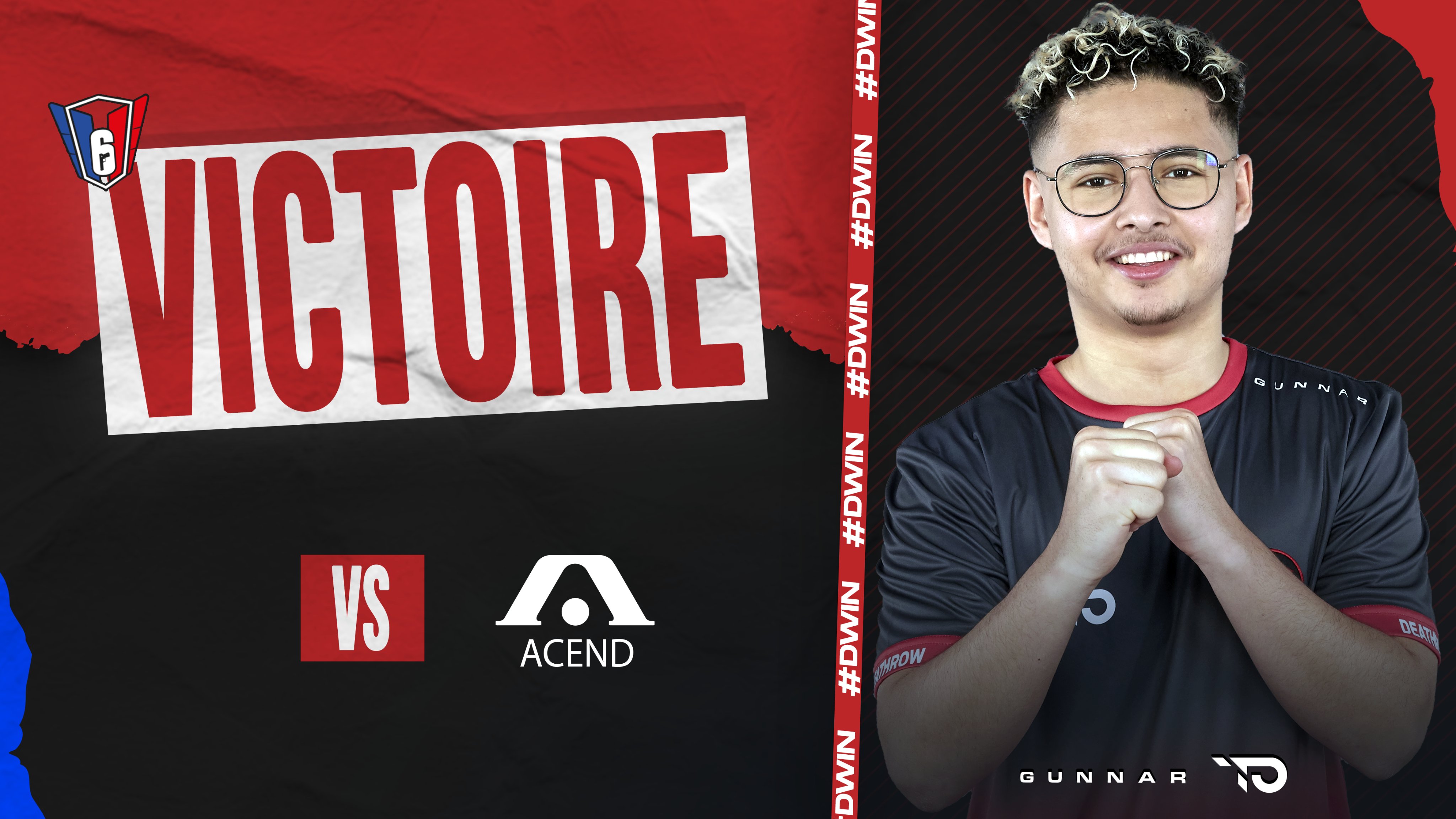 The Finalists
And so with this, the final four teams which will be competing this weekend are as follows:
Team Vitality -- BiBoo, risze, P4, Shiinka, Kaktus, Lyloun, and Helbee (two coaches)
Topping the 6 French League group was Team Vitality, as they finished with an almost flawless 6-1-0-0 record which included a 7-2 win over Team BDS.
This record, along with their Six Sweden Major qualification, makes this Vitality lineup the most impressive one in years, and so they'll be very eager to win what would be the Vitality organization's first title of any kind since 2017 this weekend.
Team BDS -- Shaiiko, Renshiro, RaFaLe, Elemzje, BriD, BiOs (coach), and eaglemees (analyst)
BDS, meanwhile, is the big name here and the likely favourite. While they did lose to Vitality, resulting in a 6-0-0-1 league record, they also beat Vitality 7-2 in the EU League this Stage in which they ended the season with a flawless 7-2-0-0 record.
As the reigning 6 French League champions, and arguably the strongest team in Europe right now, BDS will definitely have their sights set on this trophy.
Heroic -- Chaoxys, BlaZ, Voy, THUUNDER, Shoukri, and spokeN (coach)
Heroic has had a very messy year, having been dropped by two organizations and having been auto-relegated from the European League. They did, however, take their semi-final opponents of BDS to 7-8 in the EUL and are the only finalists who don't have either the Sweden Major or EUCL on their mind, which may give them a slight advantage.
DeathroW -- FuZiion, Ra1kos, JaKs, KuQuS, Neox, Nouda, Yntensity, and ChcickenRun (three coaches)
Finally, DeathroW came in via the 6 French Challengers tournament, and is currently taking Europe's Challenger League by storm, having topped Acend, Nubbles, and WYLDE to become one of four top-seeded rosters going into the playoffs.
DeathroW have shown that they can compete with the professional rosters, but now they must do it when it matters.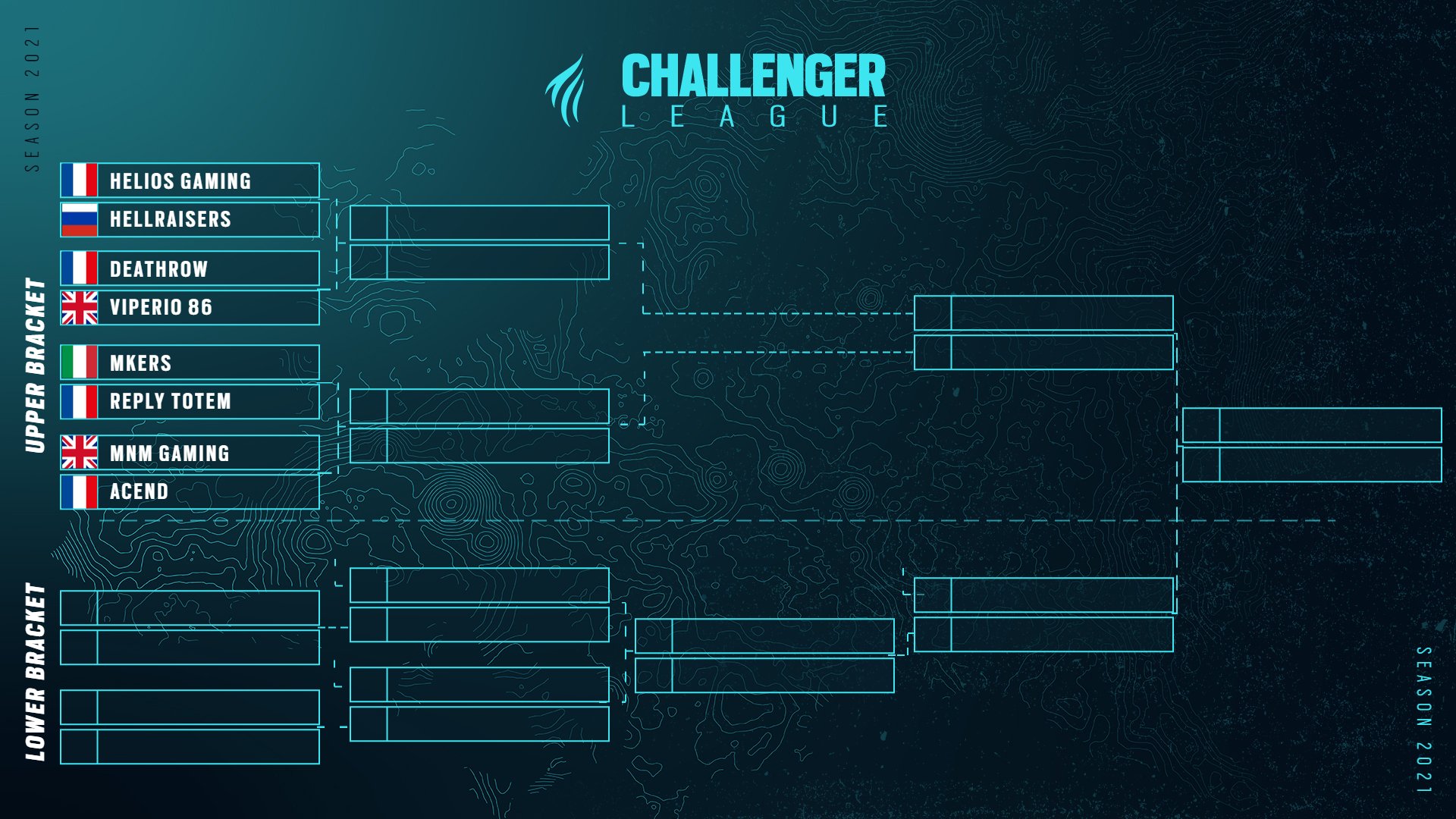 The Format & Schedule
The format is a simple single-elimination bracket with a third-place playoff.
All four games are best-of-three map contests, and each day will kick-off at 6 PM CEST (UTC+2):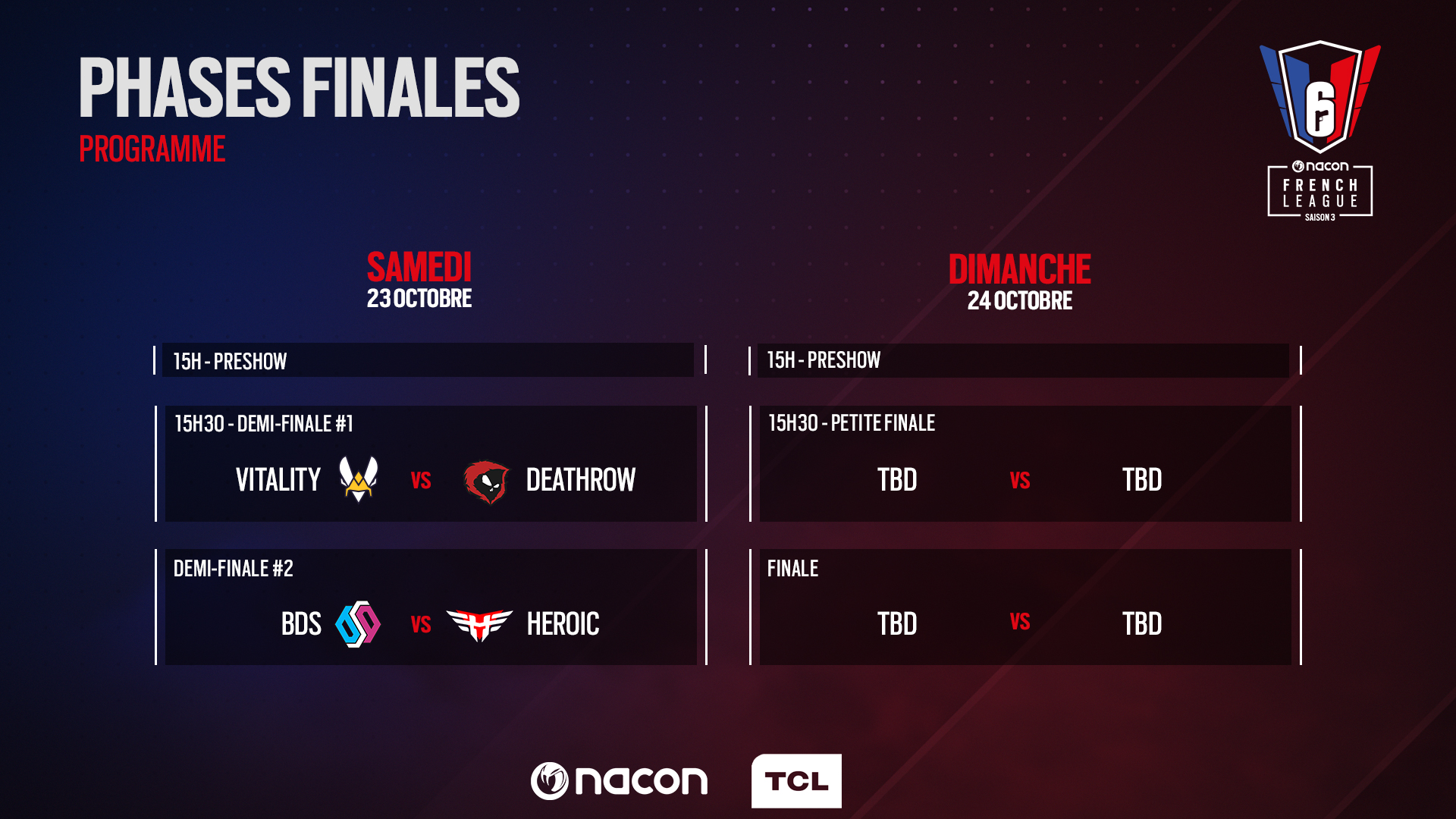 The games themselves are taking place in a closed LAN environment at Espot Paris, making this the second national tournament in Europe to run an offline Finals in two years, following the Polish Masters Finals last month.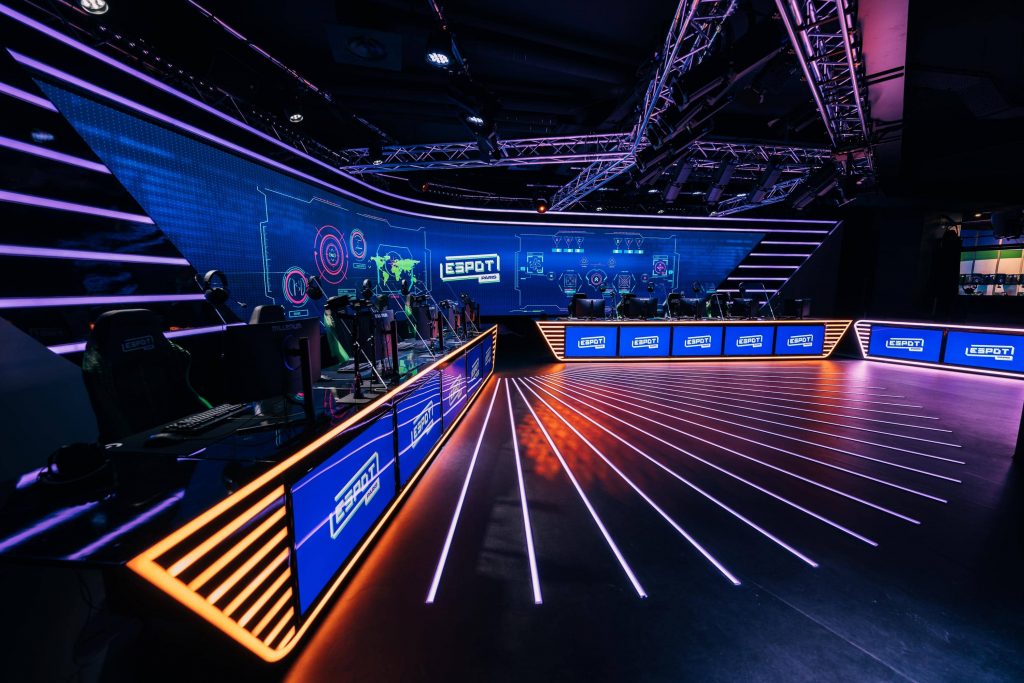 The games will be cast by Paul "Frenchi" Droal, Julien "Kivvi" Serrier, and Nicolas "Swish" Bouhier, and most likely observed by Tanguy "Kozak" Picavet on the rainbow6fr Twitch channel.
Unfortunately, no English language coverage will be provided.
---
Check back here at SiegeGG for full news and statistical coverage of this event as it unfolds.