(Banner image: Ubisoft/Kirill Bashkirov)
This week saw a three-day playoff tournament take place, which invited the second-to-fourth placed teams from APAC North and South, as well as the two South Asian victors to fight for the two remaining Six Sweden Major spots on the line.
Here's a rundown of all the action you may have missed and a look forward at what's left in the APAC calendar for 2021.
Jump to:
The Teams
The eight teams playing were the top teams across the three APAC sub-regions, with the exception of mantis FPS and Invictus Gaming, who qualified directly to the Six Sweden Major after winning the APAC North and South Divisions.
APAC North:
GUTS Gaming -- Lily, JJ, Li9ht, Yura, Merieux, Joghurt (Coach), OUDON (Analyst)
DWG KIA -- CATsang, yass, Woogiman, coted, RIN, HoundBird (Coach), EroSA (Asst. Coach)
CYCLOPS athlete gaming -- Anitun, SuzuC, gatorada, BlackRay, Ayagator, Fuji3 (Coach) Hybrid (Analyst)
APAC South:
Chiefs Esports Club -- Dgtl, GodLegion, Worthy, Fishoguy, Ethan, WarTurtle (Coach), Hell (Coach)
Elevate -- Sapper, DCH, Nay..Pew, sprOnigiri, Nerix, Dr.Bestsiaer (Coach), nanoKidz (Analyst)
Dire Wolves -- Ray, Pikan, Ed, Souffle, JackyWu, Odin (Coach), Ratio (Analyst)
South Asia:
MercenarieZ -- FATAR, Hasib, Mii7, SNoowW, Ayan
Monkey Hunters -- Jittery, Beat, Sandy, r4ttl3r, Ragnar, leoxard (Analyst)
Finally, MercenarieZ won their fifth straight South Asian Nationals season to qualify for these playoffs alongside their longtime rivals of Monkey Hunters (previously known as Union Gaming).
Upper Bracket
Quarter-Finals
Despite playing with Parabellum coach Varun "VBM" Bir Mohindra standing in, Monkey Hunters put up a strong fight against the Chiefs, almost taking them to overtime on Bank, but eventually losing 5-7. Their South Asian compatriots on MercenarieZ, however, didn't put up any fight as they forfeited their match against GUTS Gaming due to a "player unavailability".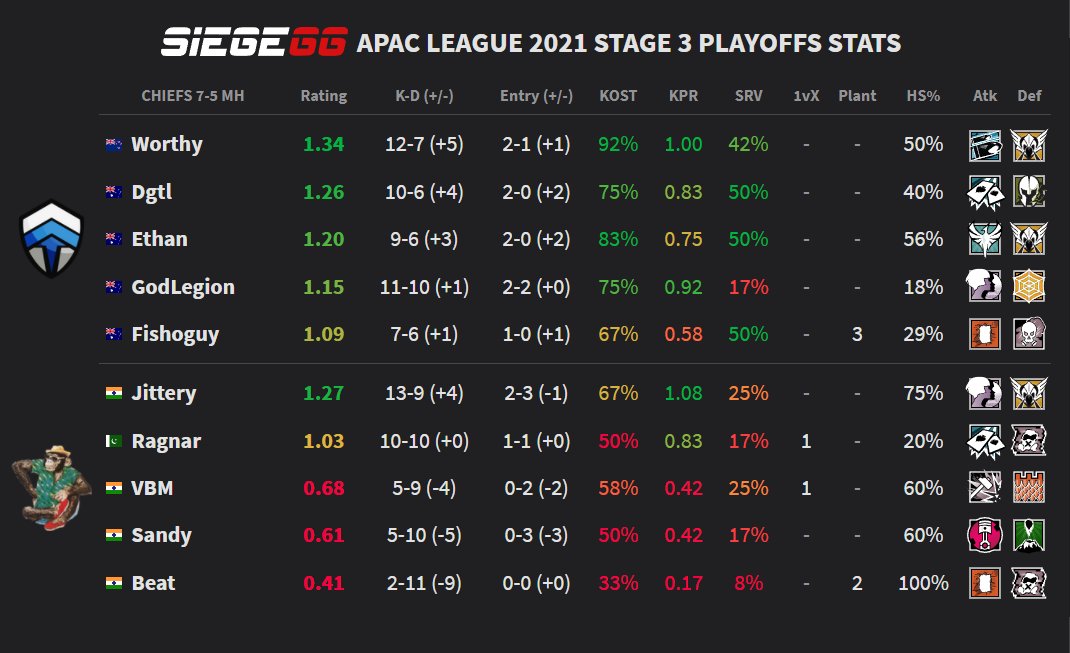 Elsewhere Elevate took down CYCLOPS in a fairly strong 7-4 on Kafe, led by a 15-7 kill-death spread from Sumate "Nay..Pew" Srimabut.
Finally, DWG KIA fell in a super close 7-8 against Dire Wolves, with a triple kill from the Wolves' substitute of Zong-Ci "SHADOW" Wu making the difference in the final round.
Semi-Finals
Moving onto the semis, another BO1-map game between Elevate and GUTS on Clubhouse set the scene. GUTS definitely struggled, as they had to play with Yuya "Cloud" Inoue in place of Takumi "JJ" Iwasaki, with Cloud ending the map as the lowest rated player at 0.65.
The map eventually ended at 7-5, sending Elevate to the upper-bracket finals for the second APAC Playoffs running. Elevate also qualified to the Six Invitational 2022 with that victory.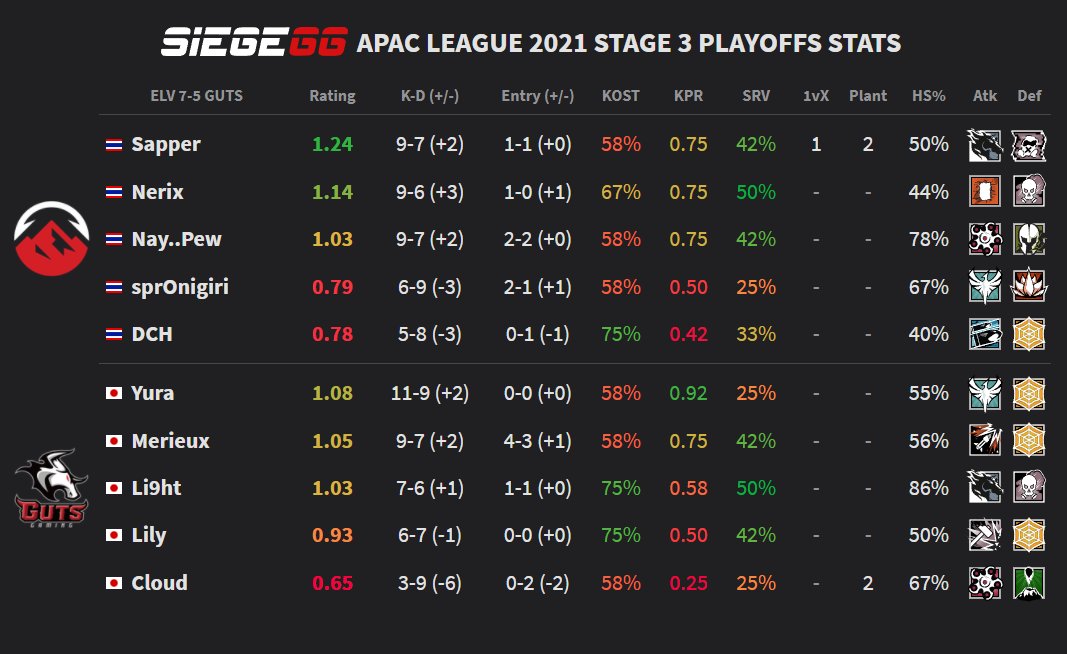 The second semi saw the Chiefs play Dire Wolves which was a stomp from the Chiefs, 7-2. Worthy once again excelled here with a 1.72 Rating, while every Chiefs player performed better than all the DW players.
Grand-Final
This left Elevate to face the Chiefs for a spot in the Major. While Elevate had quite a showing so far this stage, it was clear from the get-go that the Chiefs were the better team. The Australians went on to win four rounds on their attack onto Bank to seal map one, before taking Elevate's pick of Coastline in almost straight rounds, 7-1.
A standout performance from Trent "Worthy" Mitchell-Rose led the team as he was without a doubt the event's MVP.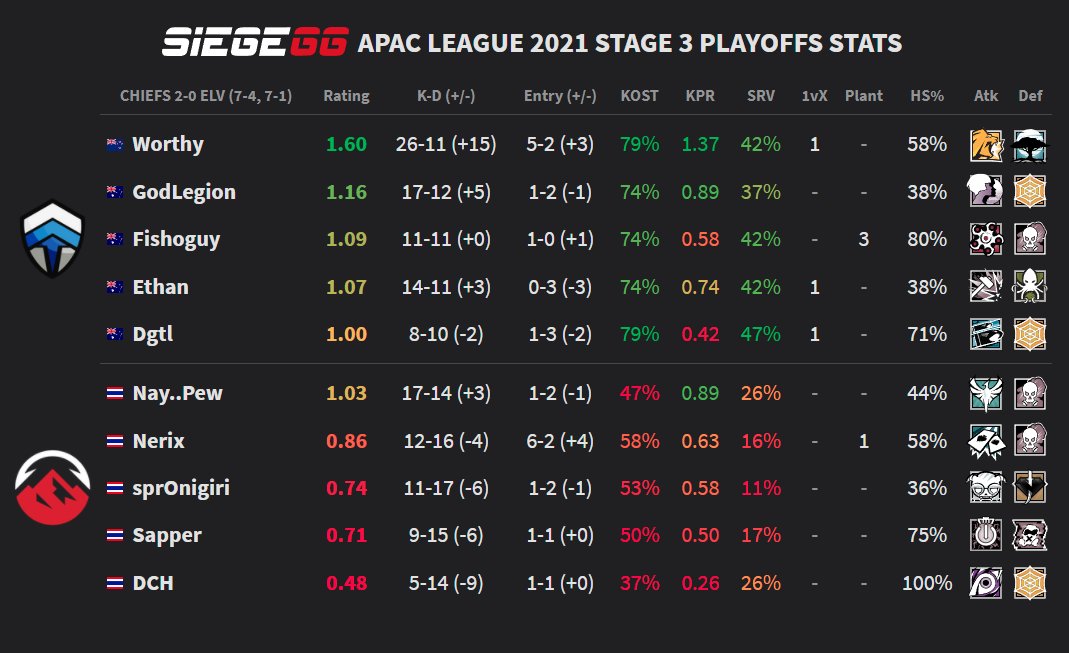 Lower Bracket
Round One & Quarter-Finals
Looking back a bit, down at the lower bracket, both South Asian teams went out in the first round as DWG beat Monkey Hunters 2-0 and CYCLOPS beat MRCZ 2-1. The lone map MercenarieZ won was an 8-7 on Villa, as they lost maps two and three 7-1 and 7-0.
The quarter-finals then saw CYCLOPS face Dire Wolves and DWG face GUTS, which saw both Japanese teams be eliminated in 1-2 scorelines.
This makes the Sweden Major only the third possible event in "Siege" history where Japan won't be represented with the last two being the Season 10 Finals in Tokoname, Japan and the 2020 Six Invitational.
This also makes Sweden the first global event this year in which the four traditional APAC sub-regions -- Japan, Korea, SEA and OCE -- aren't all represented.
Semi-Finals & Finals
Moving onwards, we then saw a rematch between DWG and Dire Wolves. After the Wolves won 8-7 on Villa during their quarter-final matchup, this BO3 then saw the match come down to map three -- Villa.
Unlike their first meeting, where the two teams tied both halves, DWG this time managed to win all four defenses to take both the map and series.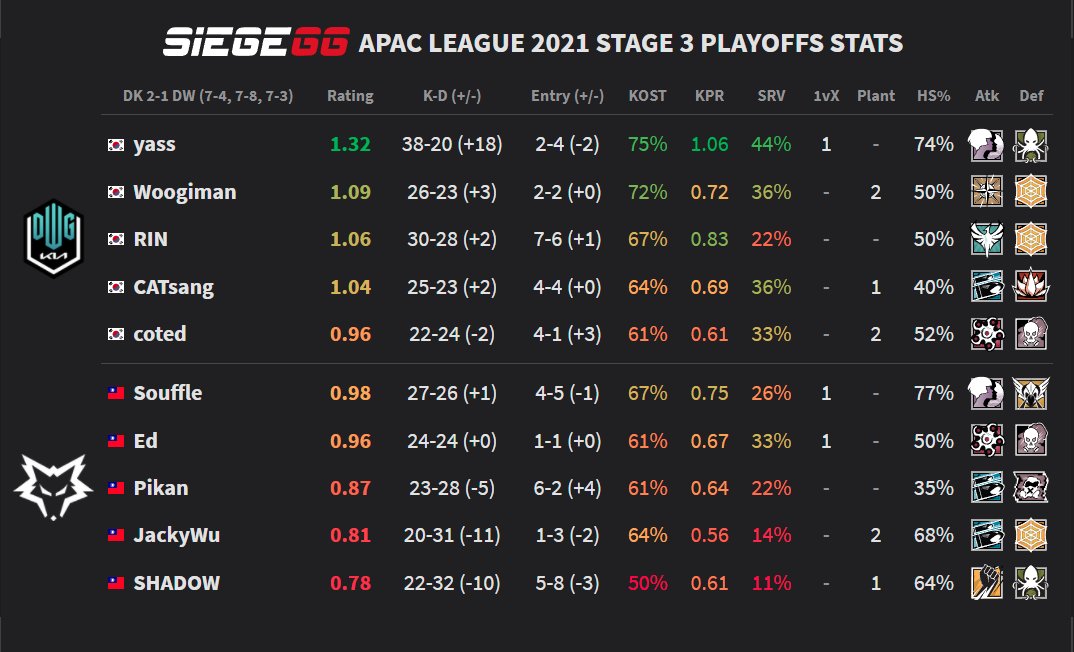 And so, Elevate met DWG KIA in the Lower Bracket Final for the final Major spot, which was the first time they met since DWG beat them in the Stage 2 Playoff finals.
While last time was a 0-2, this time was a closer 1-2 scoreline, as Elevate managed to win Clubhouse 8-7, but then lost Oregon (5-7) and Bank (3-7), giving DWG another global appearance and forcing Elevate to wait another three months to debut internationally.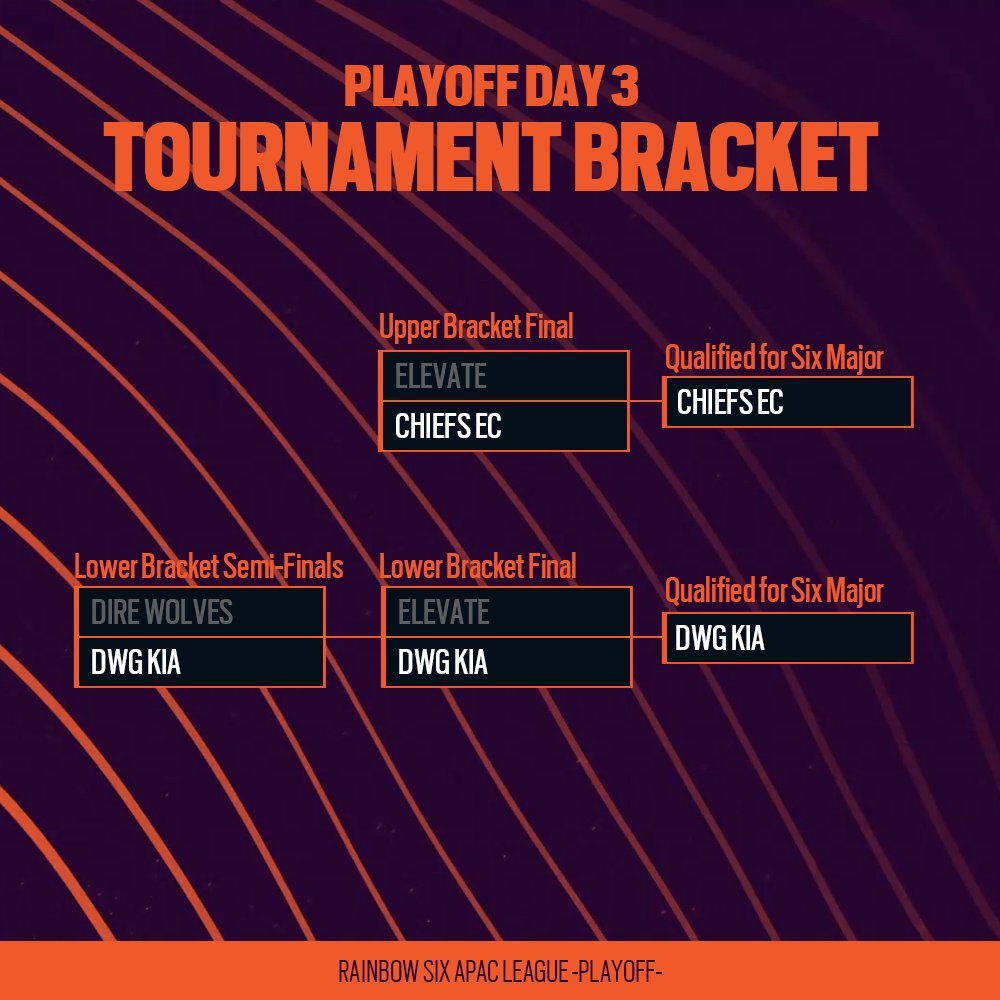 What's next for the APAC region
These results mean that SANDBOX Gaming (formerly mantisFPS) and DWG KIA from Korea, Invictus Gaming from Singapore, and Chiefs Esports Club from Australia will represent the APAC region in Sweden come November.
Elevate's third place finish, meanwhile, means they will be attending the 2022 Six Invitational, which will be the very first time a Thai roster has played in a global tournament.
Elsewhere, many of these teams that competed at this event will be fighting at the APAC Finals in December, but no details regarding that have been revealed so far.
Finally, the 2021 season will also come to a close in December, as T1 and Talon in APAC North and ORDER and Wildcard in APAC South will fight to retain their places in the Pro Circuit for the 2022 season.
Be sure to check back at SiegeGG for full details on all these tournaments and more over the coming months.