Playdays eight to nine in the sixth PG National season took place on Tuesday and Wednesday, as all eight teams competed across 8 BO1 matches. Check out our pre-season guide on the teams, schedule, and format for a full roundup on what's going on this season.
Jump to:
Mkers suffers unprecedented loss
This week, as the league leaders of Mkers' focus shifted over to the EU Challenger League groups, which took place this weekend, their focus shifted from the PG Nationals, leading to one of their worst results to date against sixth-placed Hmble.
The game on Clubhouse, a map Mkers is very familiar with, saw Mkers win just two rounds total, one of which came on the back of a zero second 1v1 victory by the Maestro of Gemini.
On Hmble's side, the British player of Apexx excelled in particular as he and wuK both hit 2.0 kill-death ratios which included a 1v2 4k from Apexx on Ash and a 1v1 from wuK.
Therefore, this 2-7 result is Mkers' second-worst best-of-one map they've ever played ahead of just their 0-7 defeat to OxG at the Six Invitational. Furthermore, when looking into BO3s and BO5s, this result was their joint-fourth worst map ever behind just the 0-7 against OxG and two 1-7s against Totem and DeathroW.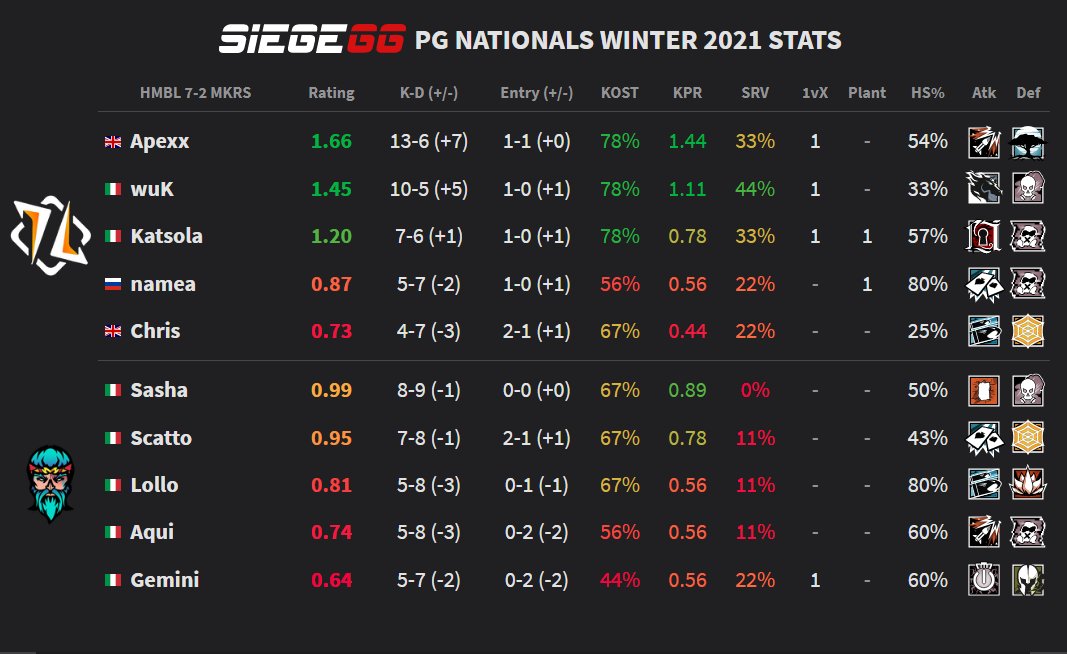 Mkers' second game of the week the following day was against fifth-placed Outplayed, which resulted in a more recognisable 7-2 scoreline for Mkers.
This result meant they kept first place over Totem and MACKO right behind them. However, with just a three-point lead over these two and with MACKO holding the head-to-head over Mkers, they may lose their long heald lead over the next two weeks of play.
Totem takes second over MACKO
Talking about MACKO and Totem, this week the latter roster managed to overtake MACKO into second place as they were the only team out of the eight competitors who could win both of their matches.
A 7-3 over IGP and an 8-6 over OP gave them the five points they needed as MACKO only won four from their 7-4 over Nubbles and 7-8 against IGP. This puts both teams on 17 points, meaning Totem's 8-6 win three weeks ago over MACKO is currently making the difference in the tie-breaker.
The games themselves saw Mowwwgli secure 13 kills in just 10 rounds in their first game, which was aided by IGP's Iana-main of Cheezzy getting zero kills to 10 deaths.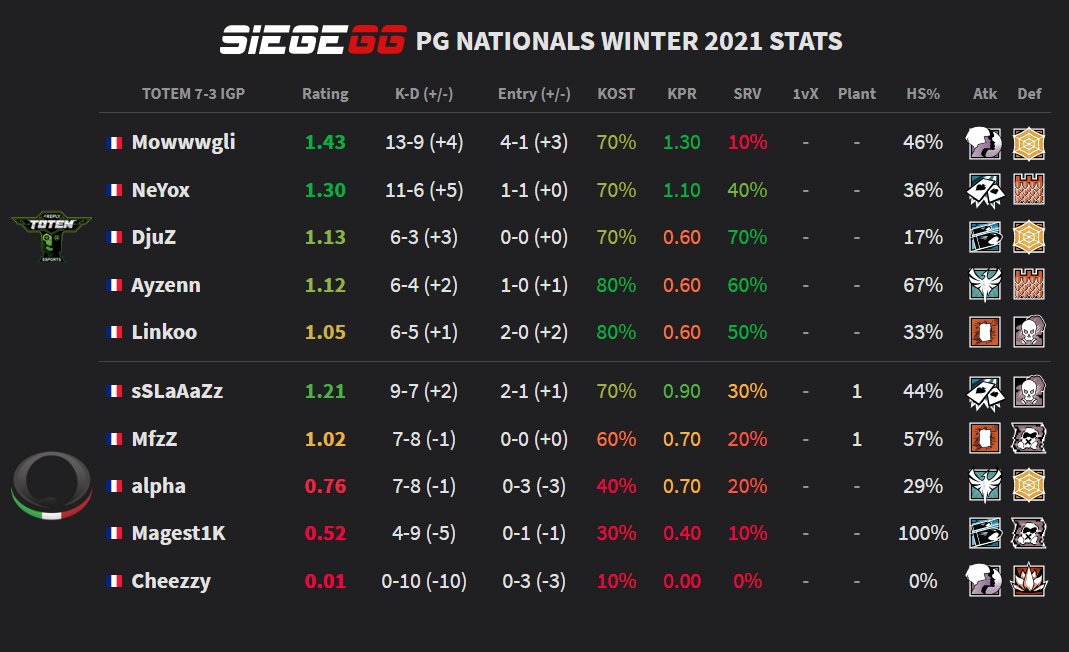 Meanwhile, MACKO's win saw T3b, Alation, and Sloppy all hit around a 2,0 kill-death ratio while Nubble's REDGROOVE did slightly better than Cheezzy at 1-9.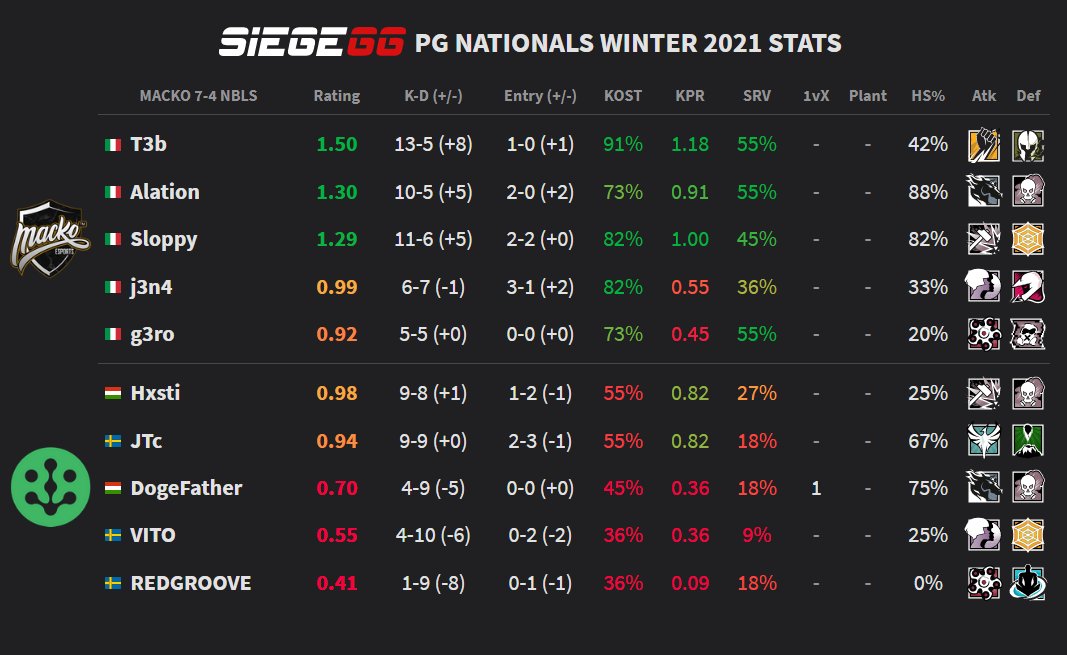 Four-way race for 4th developing
Just below Mkers, Totem, and MACKO sits Hmble in fourth place thanks to their win over Mkers and their single point gained against Totem. However, this position is unsteady as just one point below them sits Outplayed and IGP while Nubbles sits just one point below those two in seventh place.
This is setting up quite a sprint to win the last spot in the PG National Finals, with all four teams still set to play all three of their opponents across the remaining five playdays.
Last week none of these four teams had played each other. However, alongside the two Hmble results, IGP's 8-7 win over MACKO was pretty notable in this race as this meant they only earned two points across their two games compared to Outplayed and Nubble's three.
This meant they dropped down to sixth place, with both Hmble and Outplayed overtaking IGP. Considering IGP doesn't hold the head-to-head currently against either of these rosters, this makes the remainder of their season a particularly tough one.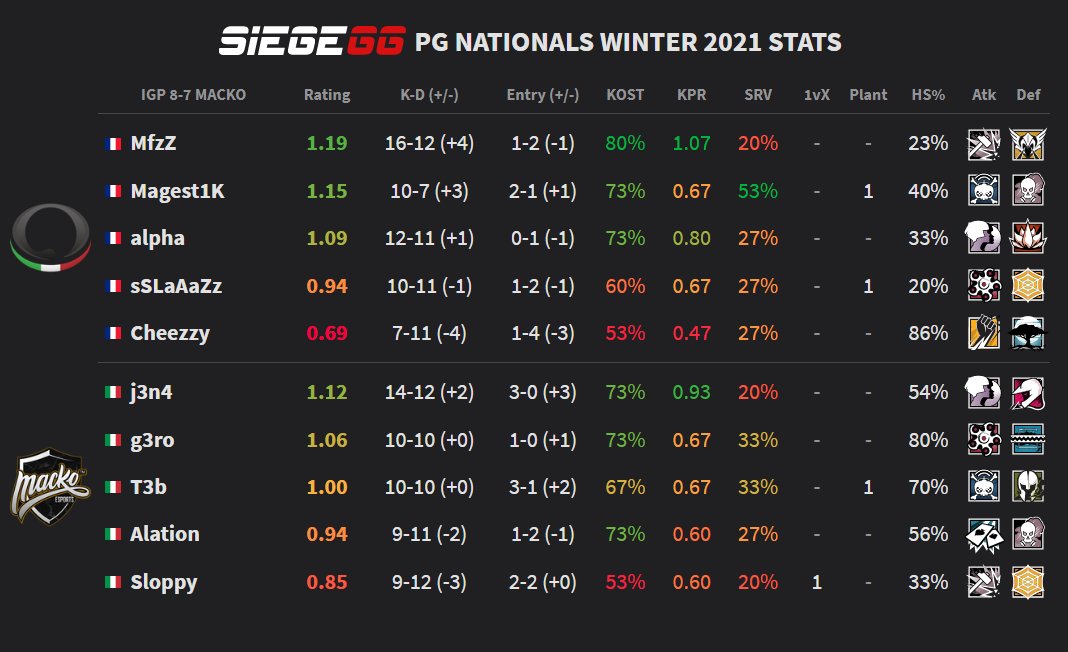 The one remaining team that hasn't been mentioned is Axolotl Esports who, with two more losses this week, sits in last place with almost half the points of their next closest competitors. While there is still time for them to escape this position, it's becoming increasingly unlikely, with their final four games of the season coming against Hmble, Totem, MACKO, and Mkers, the top four teams in the league.
Top Players
The two best individual performances this week came from Hmble's Apexx, who secured a 1.66 SiegeGG Rating against Mkers, while Nubble's REDGROOVE hit a 1.75 Rating with a four kill-death ratio against Axolotl.
Despite their significant loss this week, Aqui has remained the top overall rated player this season at 1.17, with MACKO's j3n4 just behind him at 1.15, followed by Scatto on 1.14.
Finally, the best individual play of the week was awarded to MACKO's Sloppy, who secured a 4k 1v2 with just two seconds remaining on the clock:
Next Week's Games
Next week will see three play days on Tuesday, Wednesday, and Thursday as the second half of the double round-robin league nears its end:
Tuesday, October 19th:
18:00 CEST -- Humble vs MACKO
19:15 CEST -- Axolotl vs IGP
20:30 CEST -- Mkers vs Totem
21:45 CEST -- OP vs Nubbles
Wednesday, October 20th:
18:00 CEST -- IGP vs OP
19:15 CEST -- Totem vs MACKO
20:30 CEST -- Nubbles vs Mkers
21:45 CEST -- Humble vs Axolotl
Thursday, October 21st:
18:00 CEST -- Nubbles vs IGP
19:15 CEST -- OP vs Hmble
20:30 CEST -- Axolotl vs Totem
21:45 CEST -- MACKO vs Mkers