The ongoing Autumn 2021 split of the Korean Open saw four of Korea's top names; DWG KIA, T1, Talon Esports, and the ex-Cloud9 roster mantisFPS continue competing with four of Korea's top upcoming teams for the ₩60,000,000 (~US$51,000) prize pool.
Here's a rundown of the final days of the league and a look forward at the games to come:
Jump to:
Day 12
Viper 7-3 GroovJam
Talon 7-4 T1
DWG 7-1 RECON
Mantis 7-1 D4RK
The two pro-tier lineups of Talon and T1 met this week on Villa, as they fought for third place in the league.
Talon, on defence first, did manage to take advantage of their favoured start side as they won four rounds in the half. They only lost on the Trophy site due to a triple kill from PJH, and on the Aviator site due to a quadruple kill from Arukaze.
When sides switched, Talon looked to close it out with a flawless Aviator attack, before PJH halted their plans with a 1v3 ace the following round.
T1 then went back and successfully won the Aviator site, but without a big play as before, couldn't hold either the Kitchen or Statue objectives. Talon thus needed little invitation, and was happy to take a 7-4 win.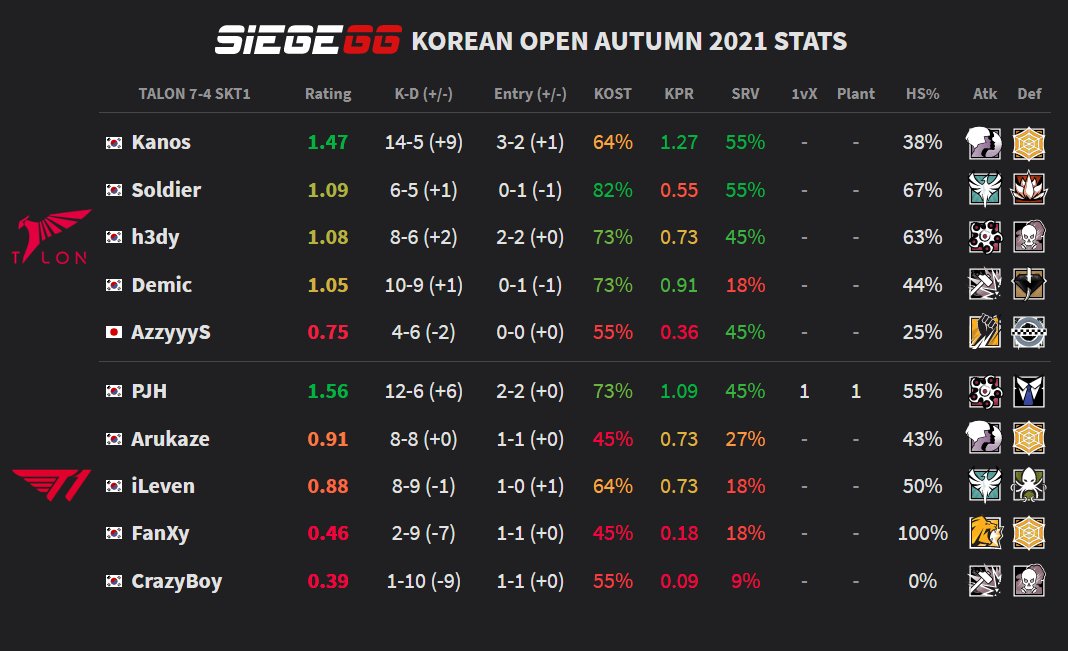 Day 13
Talon 7-4 RECON
Mantis 7-4 T1
D4RK 7-5 GroovJam
DWG 7-5 Viper
After RECON managed to take a point off of DWG KIA back on day five, Viper almost did the same this week, as they nearly took a bite out of APAC's top performers on the map of Clubhouse.
Here, Viper started the game with three defensive wins in a row, clearing their first rotation of sites without issue. Their Bar/Stock fight on round three was the most impressive, as it ended in a 5v2 situation in their favour.
DWG gained one offensive round before "KimJun" got a triple kill and "ZeroOne" got a quadruple kill to end the half 5-1.
This was an impressive performance so far, as Viper looked to end it quickly ,which would have been DWG's worst domestic result in seven months.
Fortunately for them, the side switch was a blessing. Without the need for clutches or flashy individual plays, DWG won six straight rounds, as Viper's Flores/Jager main of "LHM344" fell off in the second half.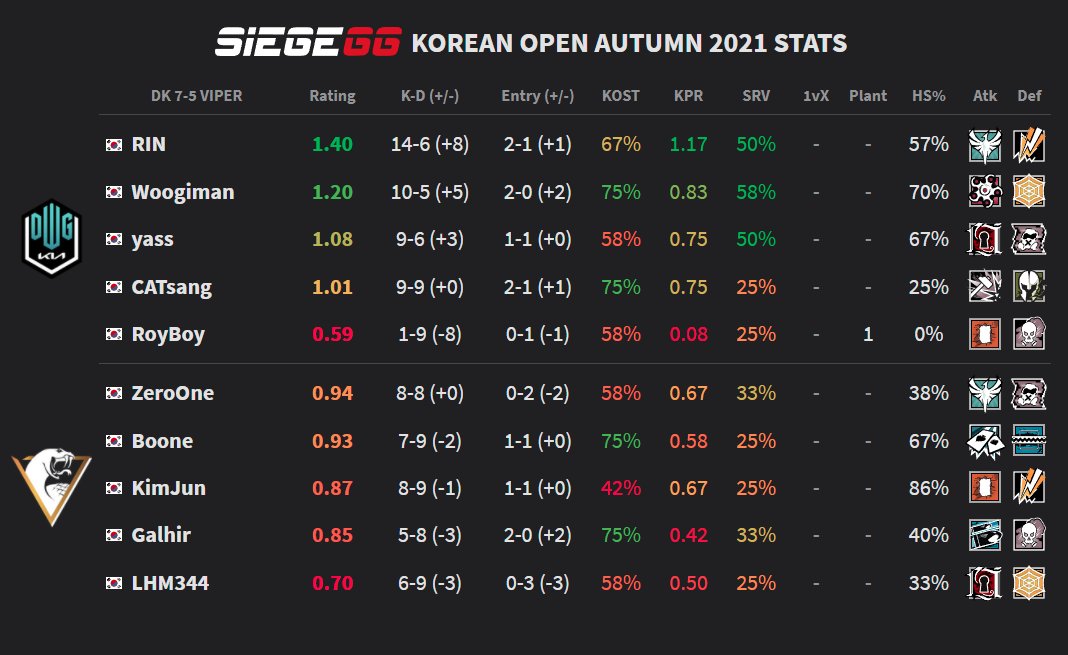 Day 14
Mantis 7-2 RECON
T1 7-5 D4RK
DWG 7-4 GroovJam
Talon 7-4 Viper
In what could have been a preview to a possible APAC North relegation matchup, the Korean Open Autumn 2021 season's final group stage game saw Talon Esports face Team Viper on Oregon.
After getting off to a very good start on their defences, the return to the Laundry objective on round four ended Viper's three-round win streak, as Demic got five kills across the following two rounds and the opening kill on round six. The two teams tied the half as they swapped sides.
Viper on attack was definitely not as strong, as "Galhir" on Maverick was the only one truly keeping up with Talon. While he did manage to claw a fourth round due to a 1v2 victory, the other four rounds played all went to the defenders of Talon, giving them the game 7-4.
What's Next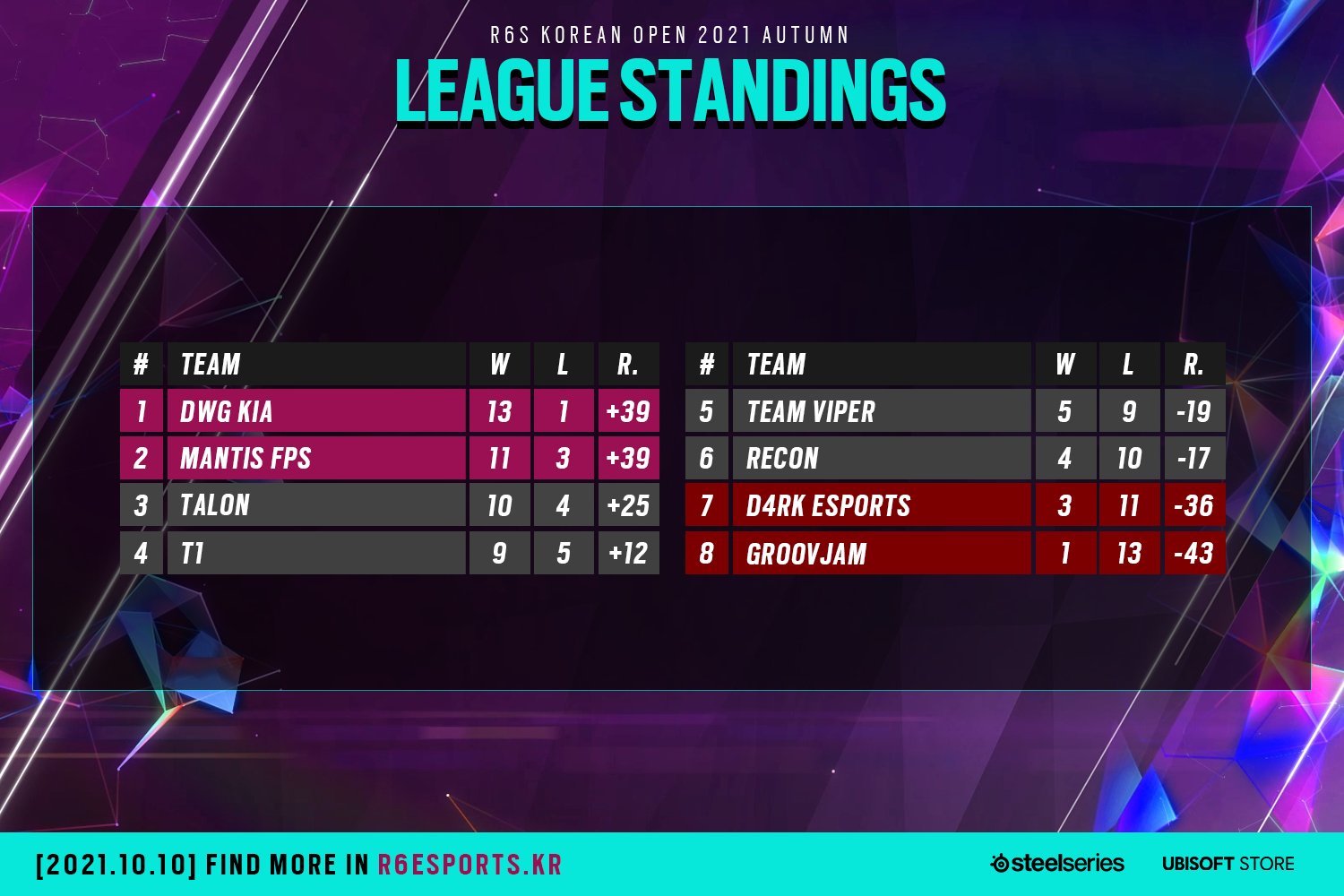 DWG, mantis, Talon, T1, Viper, and RECON will now compete in the Korean Open Playoffs next weekend from the 22-24th of October. DWG and mantis will progress straight to Saturday's semi-finals, while the four others will have to play in an initial quarter-final on the Friday first.
These results also mean that RECON and Viper will compete in the APAC North relegations, where they will meet T1 and FAV gaming from APAC North, and REJECT and Sengoku from the Japan League.