Play days six and seven in the sixth PG National season took place on Tuesday and Wednesday, as all eight teams competed across 12 BO1 matches. Check out our pre-season guide on the teams, schedule, and format for a full roundup on what's going on in the league this season.
Jump to:
Two easy wins for Mkers
After dropping four points during week two, Mkers dealt with their opponents this week fairly quickly.
Their first game against Italian Gaming Project on Kafe saw IGP take two initial rounds; both with two early kills that Mkers couldn't recover from. This meant the first half ended 4-2 to Mkers, an improvement on their one attacking win they got against MACKO on Kafe the prior Thursday.
As both sides switched, IGP then struggled a lot more on the attack. Round seven saw them unable to capitalise on a kill onto the spawn peeking Aqui, as a late round push allowed Pietro "Scatto" Scattolin and Luigi "Gemini" Ferrigno to clean up. Round eight saw IGP run out of time in a 3v3 situation leading to a round loss. And, finally, round nine saw an Aqui quadruple kill on Mira end the game in a flawless fashion.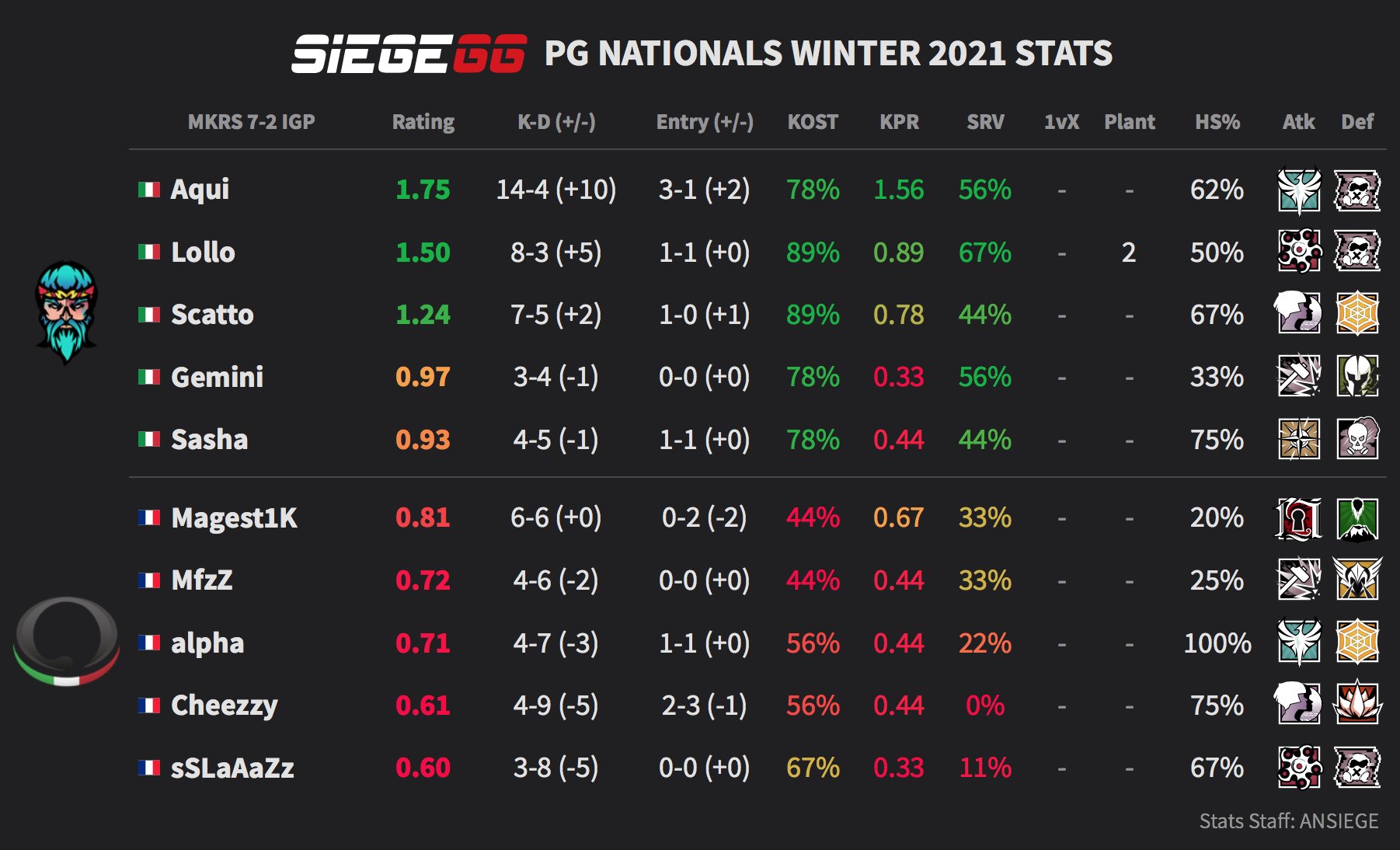 The following day, Axolotl didn't fare much better, as they managed to win just a single defensive round on Villa after a 1v1 by round timer from "CHILE" over Gemini. Across the five other rounds, Aqui racked up 10 total kills, leading to the dominant scoreline.
As sides switched, Mkers ended it quickly in just two rounds, though this did require a 1v1 from the Kapkan of Scatto on the final round.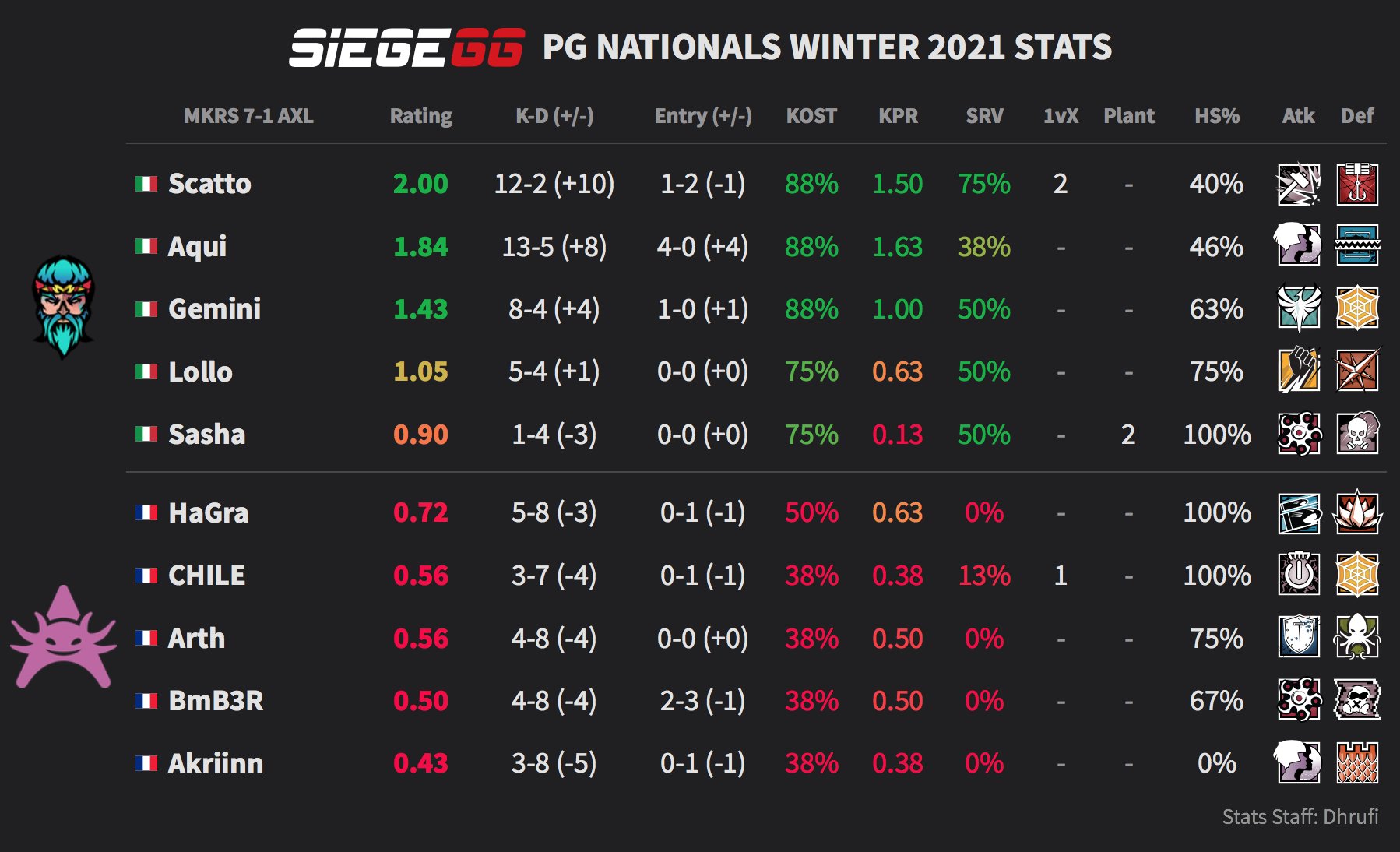 These results put Mkers pretty far ahead of the competition at the season's mid-way point, meaning they do have room to breathe as their attention moves towards the Challenger League later this week.
Nubbles drops down to seventh
Nubbles had a much worse week, as the Challenger League-qualified roster lost pretty decisively against the two lowest placed teams in the league.
Their opening game came against the eighth-placed mixed-European roster of Hmble, who at this point had a 1-0-0-4 record across the season. The game on Clubhouse saw Hmble initially take the advantage due to multi-kills from "Chris" and Alexandros "Kerv" Trantos, while Nubbles was only able to defend the Church/Arsenal objective successfully.
At 2-4, Nubbles then moved to the attack. After winning an initial round, they fell to a 1v3 from "Katsola" and a 1v2 from "wuK" to put Hmble on match point, which was then converted on round 10 as Chris got a two-second double-kill.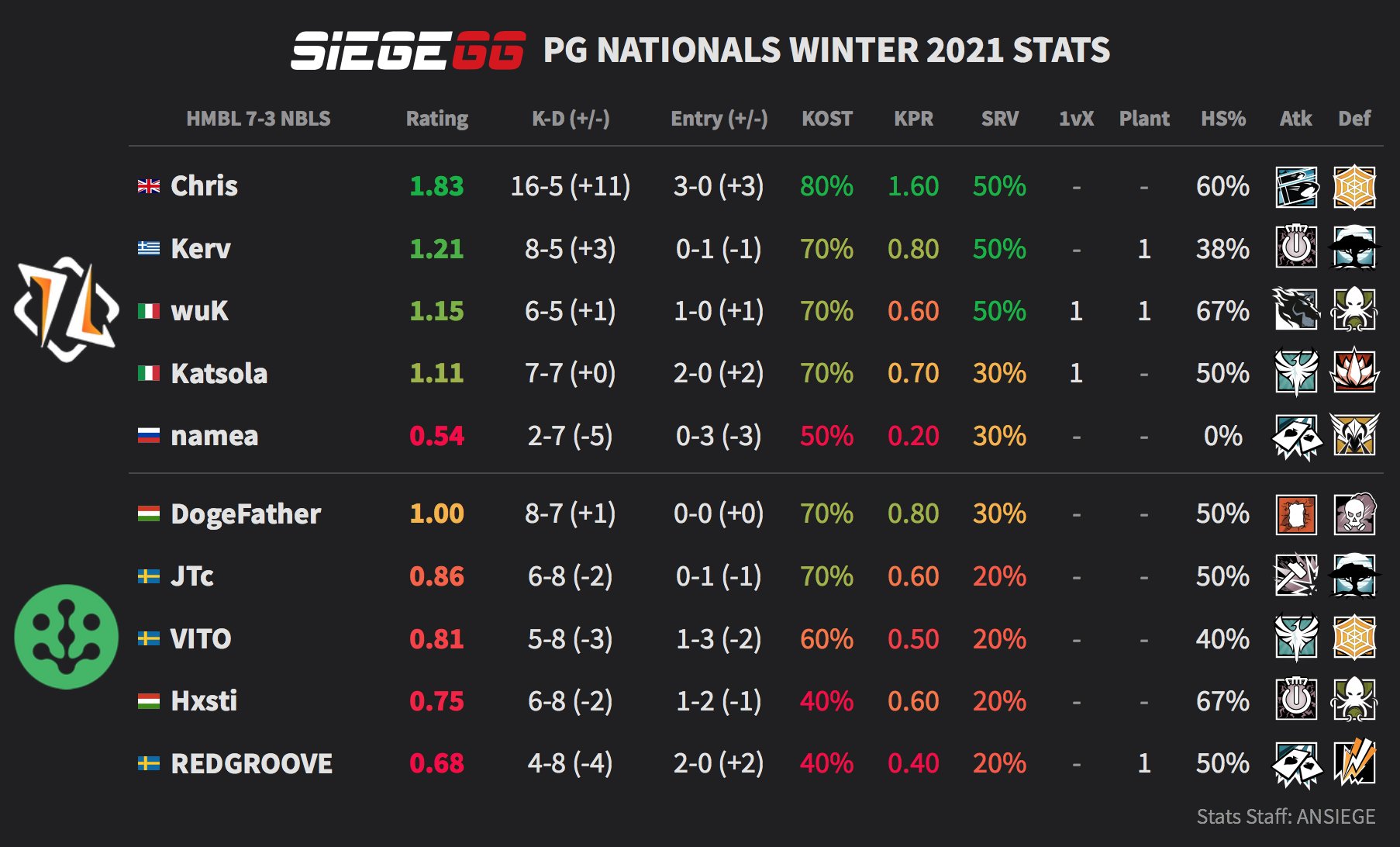 The next day, Nubble followed this up with a game against Totem. Totem had begun the week in seventh place, but had jumped up to fourth following a 7-3 win over Outplayed the day prior.
Playing against Totem on Villa, Nubbles started on the defense and managed to hold their own better than before, but lost all three attempts at holding the Trophy/Statue objective fairly quickly with around 40 seconds left on the clock each time.
As sides switched, the real test began, as they attempted to rack up some attack wins to no avail. Four round wins in a row came from Totem on the defence, which locked Nubbles into another 3-7 defeat.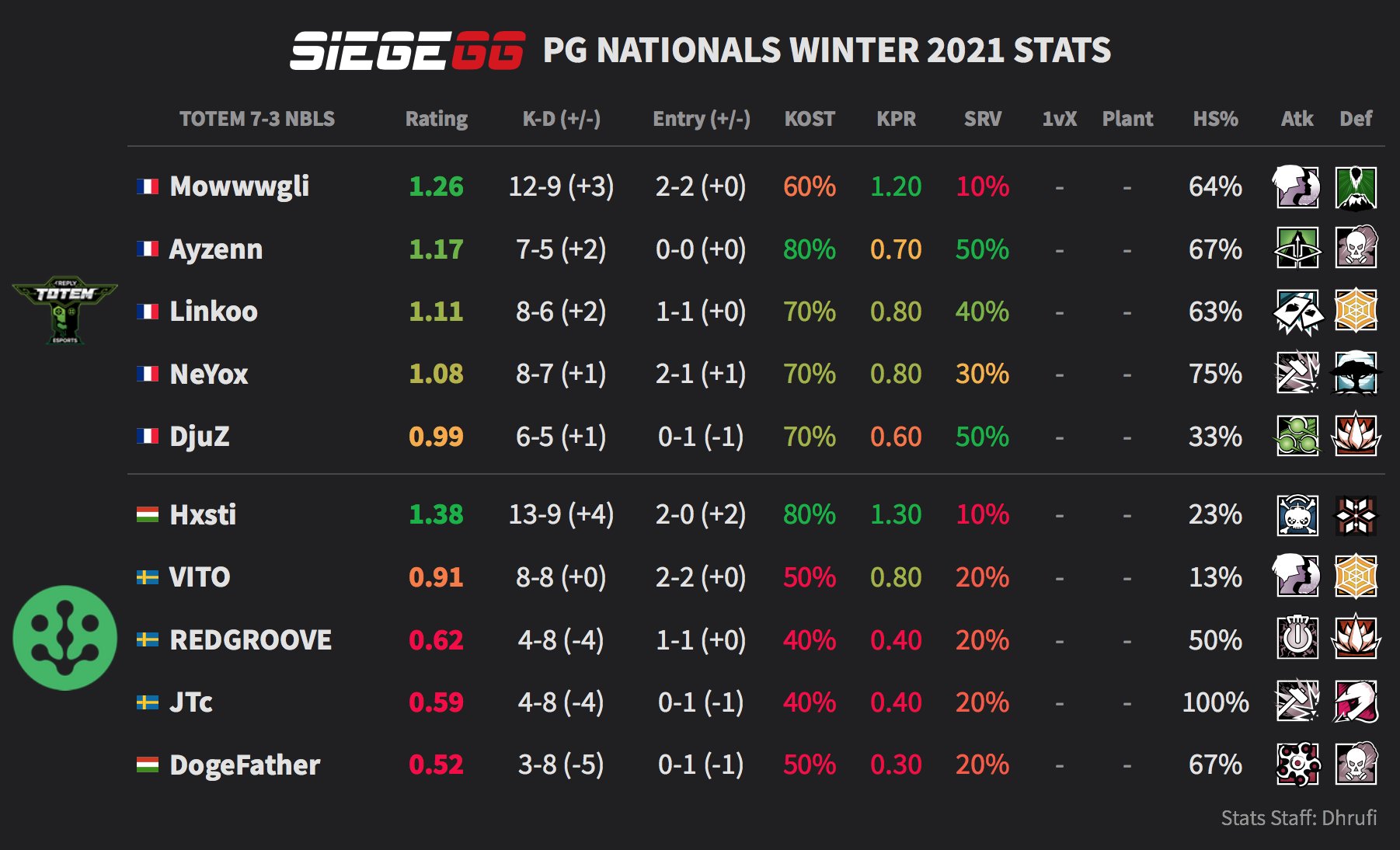 While Nubbles' attention would surely have been on their upcoming Challenger League campaign, as they hope to make it back to the European League for the 2022 season, these results don't inspire confidence in their ability to compete with the best in Europe.
MACKO recovers from tough start
MACKO Esports had also started this season with a middling few weeks, having lost their opening two games against Nubble and IGP. This week, however, they managed to continue their winning streak against last-placed Axolotl and fifth-placed Outplayed.
Starting with the Axolotl game on Oregon, the two teams were neck-and-neck during the first half as Axolotl kept on going down to the Laundry objective with mixed results.
At 3-3, MACKO then went on the defence and blew away their opponents. Michele "j3n4" Strambi got quadruple kills on rounds seven and nine, and stonewalled the attackers' execution with a quick double-kill on round eight. This put them on match point. which was converted by a 1v1 from the team's newest pickup of Manuel "Sloppy" Malfer.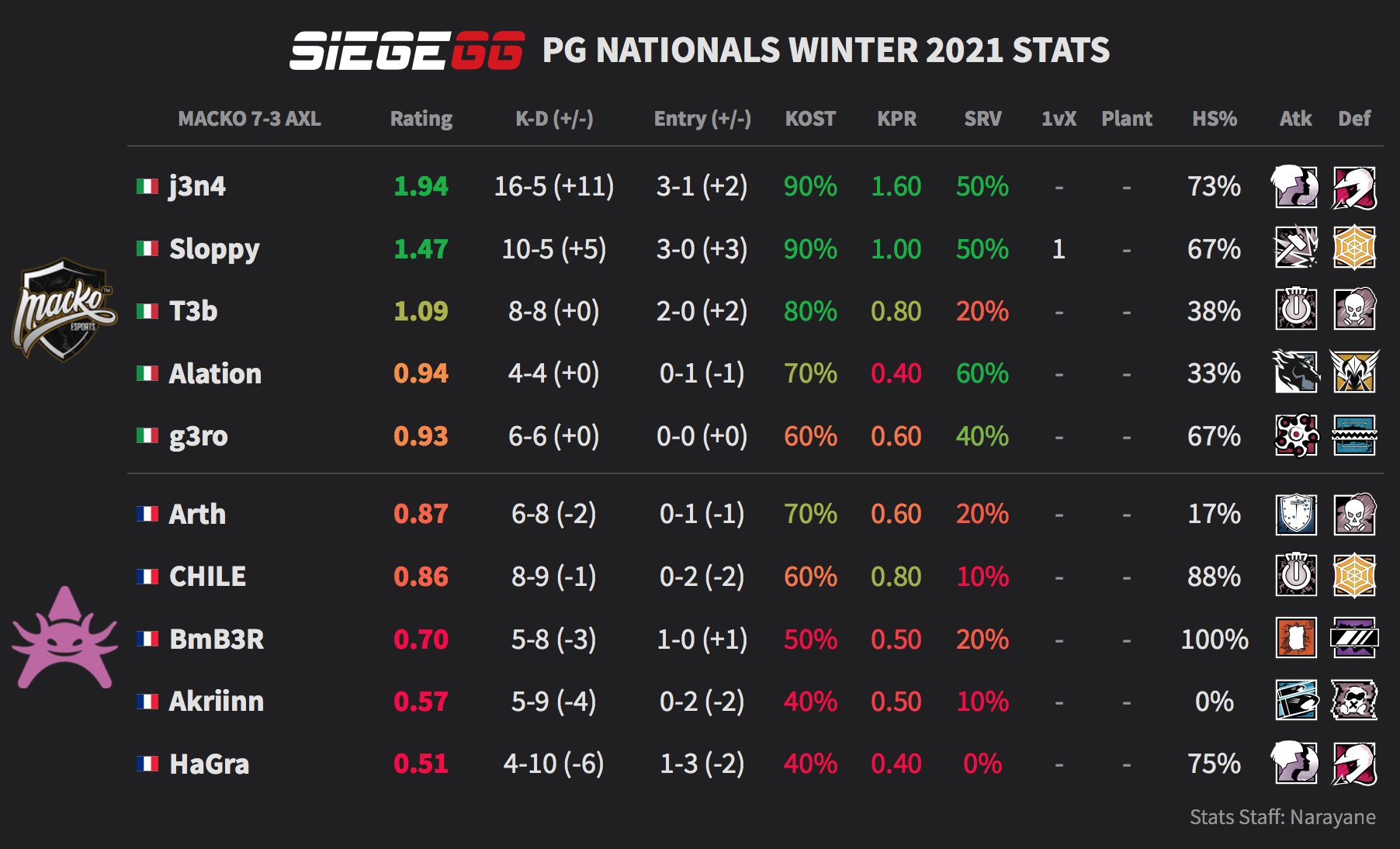 The next day, they faced Outplayed, who had had a promising first two weeks and were up in third place after losing 5-7 against Mkers and Nubbles. This changed for week three, as day six saw them lose 3-7 against Totem, while their game against MACKO ended in a similar 4-7 scoreline.
This game on Chalet started similarly to MACKO's previous match, with their offensive half being tied at 3-3. Unlike the prior game, however, this was primarily thanks to clutch plays with Outplayed's Sergey "skiteyyy" Bolotskov winning a 1v1 on time, before his teammate of Marco "Nyfuun" Dissaux won a 1v2 in the same manner.
As the sides switched, a triple kill from skiteyyy gave Outplayed one more round, but MACKO seemed very comfortable on the defence and managed to clean up the remaining rounds with the help from multi-kills from by Marcello "g3ro" Omobono and Simone "Alation" Gelsi.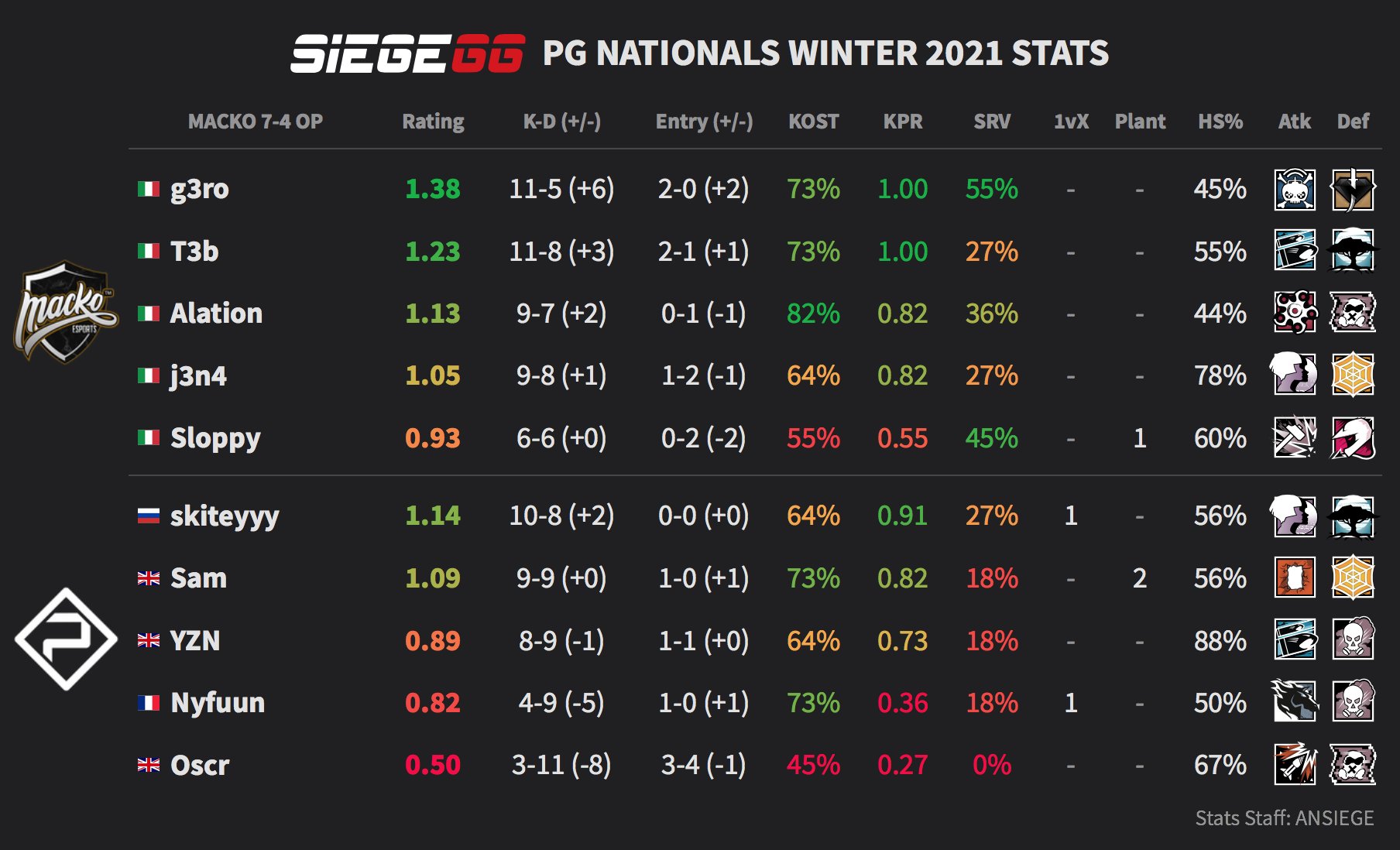 These results put MACKO up to second place behind Mkers, a position they are likely used to after the past seasons.
Top Players
The two best individual performances this week came from MACKO's j3n4, who secured a 1.94 SiegeGG Rating against Axolotl, while Mkers' Scatto hit a 2.00 Rating with a six kill-death ratio, also against Axolotl.
The best player across both their games, meanwhile, was Mkers' Aqui, who secured Ratings of 1.84 and 1.75 to keep his position at the head of the PGN individual Rating's leaderboard.
Finally, the best individual play of the week was awarded to Hmble's Chris, with the following quadruple kill:
Next Week's Games
Next week will see two play days on Tuesday and Wednesday as the second half of the double round-robin league starts:
Tuesday, October 12th:
18:00 CEST -- Axolotl vs OP
19:15 CEST -- Totem vs IGP
20:30 CEST -- MACKO vs Nubbles
21:45 CEST -- Hmble vs Mkers
Wednesday, October 13th:
18:00 CEST -- Nubbles vs Axolotl
19:15 CEST -- Totem vs Hmble
20:30 CEST -- Mkers vs OP
21:45 CEST -- MACKO vs IGP